NEWS & STATS
Media Availability: Coach Lamb, GM Soetaert
By: Alex Kinkopf
October 04, 2016 6:40 PM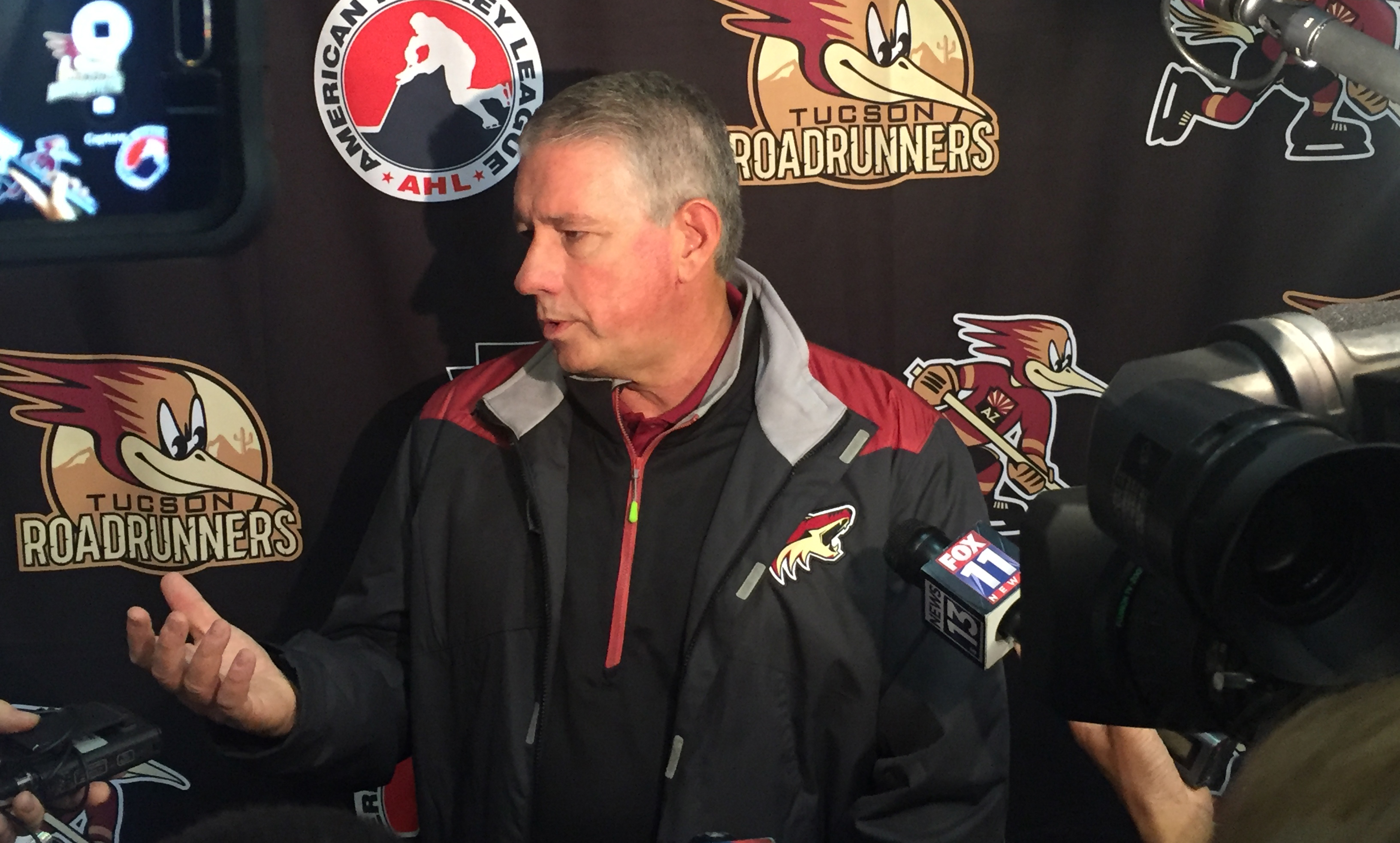 Media assembled at the Northwest corner of Tucson Arena's ice-level concourse shortly after the Roadrunners' second training camp session came to a close Tuesday afternoon.
Among those in the organization to address the publications in attendance were Head Coach Mark Lamb and General Manager Doug Soetaert, both of whom are still in their initial days as Tucson residents. Lamb and Soetaert touched on a myriad of topics, fielding questions about their new city, the team's roster, and how an American Hockey League team balances the fun of winning and the expectations of developing.
Lamb was hired on June 21, just three days after the Roadrunners' name, logo, and home was unveiled. During his 16-year professional hockey career, Lamb played 10+ seasons in the NHL, following that act as an Assistant Coach for seven seasons with the Edmonton Oilers and Dallas Stars. Lamb is coming off seven seasons as the Head Coach of the Western Hockey League's Swift Current Broncos, the same team he began his journey with as a player in 1980.
Soetaert was hired a month after Lamb on July 20, transitioning within the organization. Soetaert served as the Coyotes' Western Conference pro scout last season. In his 12-year NHL career, three of them were spent with the original Coyotes – the Winnipeg Jets.
Head Coach - Mark Lamb
Mark Lamb, on what the experience has been like since his hiring:
It's been excellent, the Coyotes organization. Going to main camp, and even [development camp] in the summer, getting familiar with the staff there, they've been excellent. Coming down here, the staff here, the new building, it's very exciting, doing the renovations in the building, it's all new, so it's going to be home. We've got to make our own way, we've got to give the building a little bit of character, and the way you do that is by winning some hockey games.
Lamb, on if the opportunity to coach in Tucson was appealing:
Yeah, it was. There were a few factors, being back in pro, I was in pro before I went to junior, I kind of learned my way in the Western Hockey league, which was a great experience for me in being a coach and the GM and kind of running the whole thing. I thought about it, it was a timing thing, hockey's always a timing thing, it was a timing thing where I was looking to get back into pro hockey, and when this opportunity arose, it didn't take me long to think about it at all. Coming to a nice climate is always nice, but the hockey part of it, the American Hockey League, it's a top league, and in the position where the Coyotes organization is at right now, the rebuilding part, a lot of the good young players are here. It's the starting part of the rebuilding of an organization; it's very exciting for myself.
Lamb, on meeting a new crop of players:
You're trying to put faces to names. When you're on the ice and you're coaching, you're looking at different trends, and you're trying to put numbers to faces and names, so today in the scrimmage I sat up top so I could look down at my sheet – you have your cheat sheet with you so you can see the players and what they're doing.
Lamb, on where he's at with familiarity to the team's roster:
All of the guys that were in main camp in Phoenix, I know them, but you get to know them every day. It's not about knowing them on the ice, knowing what type of hockey player they are, you've got to know what kind of person they are too, you've got to get to know them in the training room, you've got to get to know them in the locker room, you've got to get to know them in your office when you're having certain meetings with them and stuff, it's not just what they do on the ice.
Lamb, on the start of the season nearing:
Time flies, it's going to be upon us right away. I'd like to have a few more exhibition games just to get to know everybody a little better, but that's the situation and you have to deal with it. The opening of the season, I've been in hockey quite a few years now, and that opening game – whether you're a player, or a coach, or a trainer, or even a fan, that first game is exciting for everybody.
General Manager - Doug Soetaert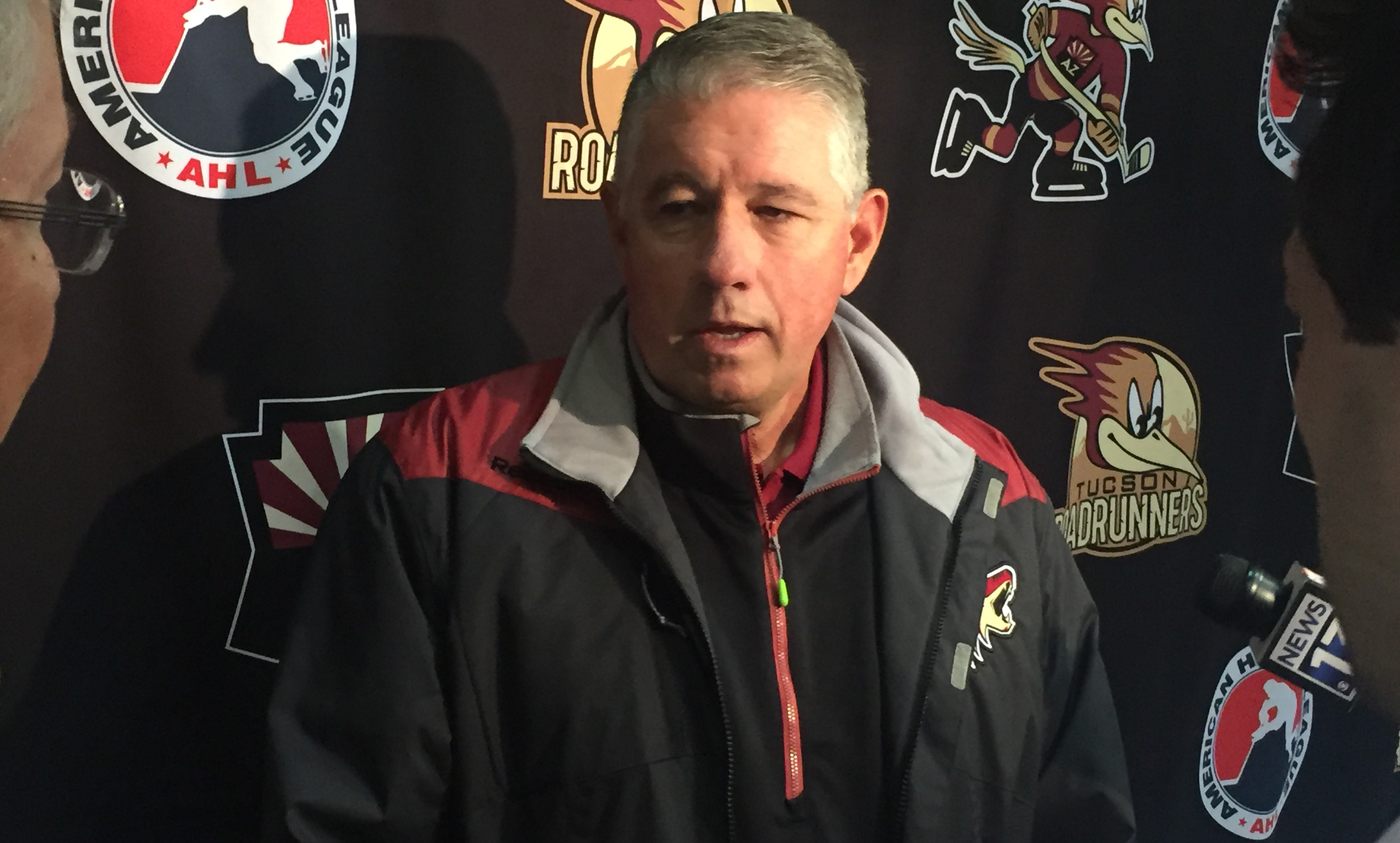 Doug Soetaert, on preparing the lineup, roster for the coming season:
I know all these players, I'm the one that basically brought them here, the free agents and the American Hockey League guys, and I've known the young players that are coming down from Phoenix, so it's my responsibility to understand the depth chart and how to put it together. I think we've done a decent job, obviously we'll see when the puck drops and how it works. But all in all, I think for getting the keys to the Cadillac here on Saturday, and getting in here – the TV's aren't up, there are different things, but obviously we're pretty happy to be in our building and practicing the way that we're practicing.
Soetaert, on the team's relationship with the Coyotes:
Well, we work with them, obviously they gave me the freedom to sign – I think we've got four players here on American Hockey League contracts that will fit in with our group, so they're all under the umbrella of the Arizona Coyotes. In regards to our training camp, it's just about getting it done, they've given me that opportunity to put it together and that's what we've done. I know [Mark Lamb] is happy and I think things are moving in the right direction.
Soetaert, on his impressions two days into camp:
Two days here with the building, and the work that they've been able to do since the end of May is absolutely incredible. That we've been able to accomplish getting the dressing rooms ready and up to American Hockey League standards and having the building ready – obviously there's minor things that still have to be done, but all in all, it's incredible.
Soetaert, on what convince him to accept the GM position:
Well, I was working with Arizona last year, I was their Western Conference pro scout, and what I did was evaluate all of the talent in the Western Conference, that's what I've done in the past. I've run professional teams and junior teams my whole life after retiring from playing, so it was a situation where they came to me and asked me if I'd have interest, and that's why I'm here.
Soetaert, on if there's any conflict between winning games and developing players:
There's a balancing act between winning and developing, and I know that the Coyotes want to win down here, but they also want to develop, and that was part of the entire picture of what we have going on down here. I think the real plus right now is that the Coyotes have done a very good job of drafting the last few years, and we've got talented young players that can come in and actually contribute. That's a big relief, in the sense that you've got the young players that are pushing to get to the National Hockey League, while still having the fill-in players who have had NHL experience. It is a balancing act, winning and losing, but when you own your own franchise, the emphasis on winning is probably a little bit greater, and the development side is as equally as important. We have to find that balance, and that's going to be Mark Lamb's and my job to do so.