NEWS
Hill lauded in 34-save performance vs Stockton
By: Alex Kinkopf
October 07, 2016 9:51 PM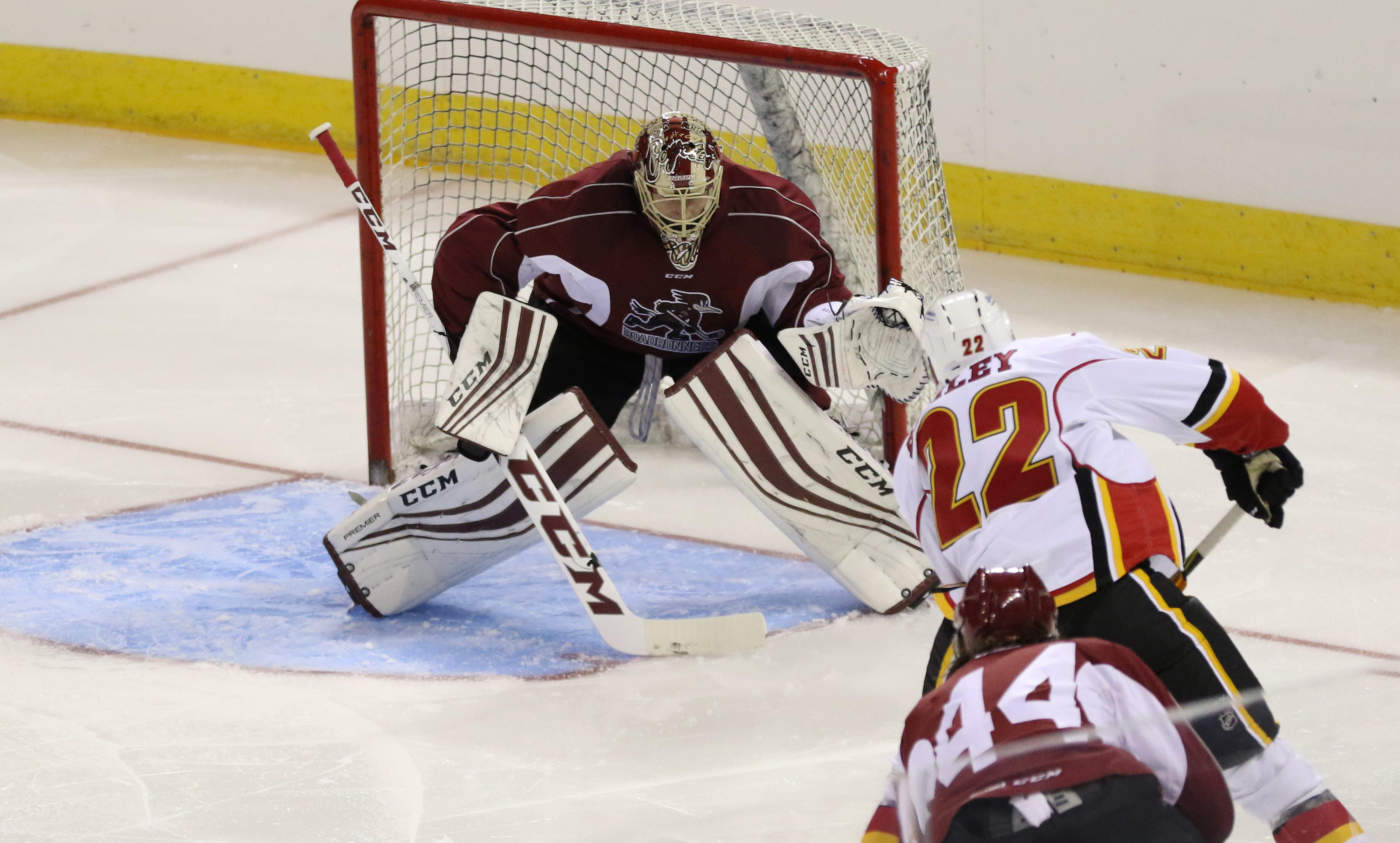 Although few were able to get a visual representation of
Adin Hill
's 34-save performance in the Roadrunners' 3-2 preseason loss to the
Stockton Heat
Friday night at
Stockton Arena
,
Brandon Kisker
painted the picture in words following the final horn.
"[Hill] was the most noticeable player on the ice. You've got to be a fan of this kid, he made a lot of spectacular saves, and he's someone that [fans in Tucson] should really be hopeful of in the future."
Kisker, Stockton's play-by-play broadcaster, expressed such vocables in mild bewilderment when the 20-year old Hill, a native of Calgary, Alberta, the city which hosts Stockton's parent Flames, didn't make the cut for the game's three stars.
Drafted #76 overall in the third around of the 2015 NHL Entry Draft by the Arizona Coyotes, Hill made his professional – and American Hockey League debut last season with the Springfield Falcons.
For Hill, it was his first appearance with the Roadrunners; Marek Langhamer started Thursday night's game in San Jose. "[My guys] were pretty good, we had a tough day traveling here, same day after a game last night, so I thought we played pretty well," Hill mentioned following the game. "We performed well, we got a couple of nice goals, so I just think we need to keep working at it, practice more, and just get ready for this season," he said.
Deadlocked in a 2-2 tie during the final minutes of regulation, Hill was the victim of an unfortunate bounce that led to Mark Jankowski's third goal of the evening with 1:08 left to play, the night's eventual game-winner.
"[It was] kind of a weird bounce off of the face-off, [the puck] went up in the air, I lost it for a second in the building – the stands are a little dark, but then I got a piece of it with my shoulder. Then, I think it might have gone up to the top of the net, I'm not 100% sure, I knew it wasn't in, and then next thing I know I just see it drop in the net, so I'm not sure what happened there, I'm definitely going to have to watch video on that."
An impressive performance it was for Hill, who, while aware Friday night's outcome won't have any bearing standings-wise, can't deny there's still a sting factor that plays into a loss, albeit in the preseason. "It's tough to get the loss because the goal at the end of every game is to win," he said. "You've just got to look forward, and look forward to the Red and White game on Sunday."
Hill, along with the rest of the Roadrunners training camp roster, will return to Tucson on Saturday ahead of Sunday's Red & White game, their final performance before the club's regular season opener on October 14 in San Diego.