NEWS & STATS
Recounting Craig Cunningham's 'special' franchise-first goal
By: Alex Kinkopf
October 16, 2016 12:27 PM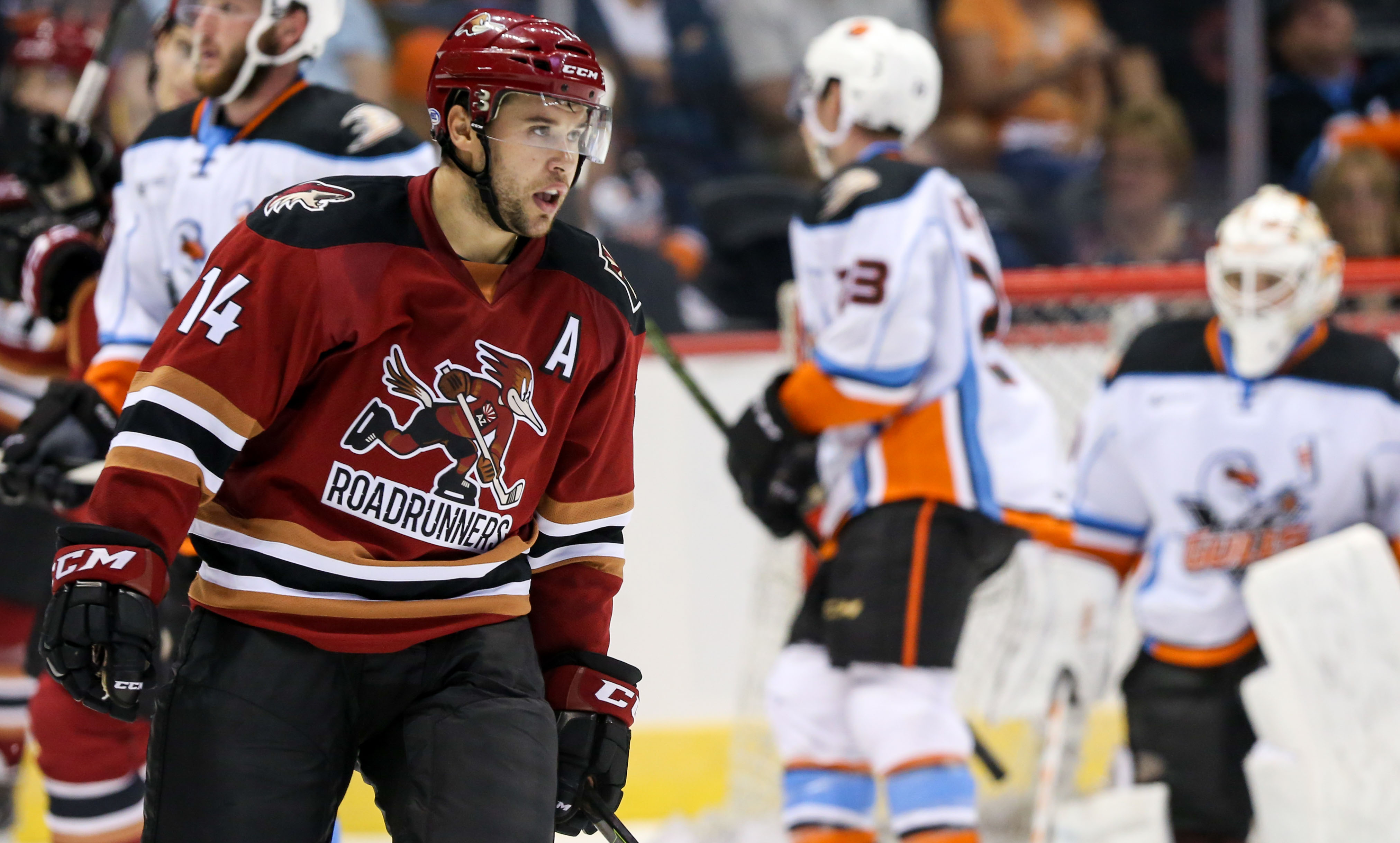 There will be plenty of firsts for the Roadrunners this coming season; such is the norm for a team during an inaugural campaign.
Some will be good, some will be bad, and some of that good will come with the bad.
For forward Craig Cunningham and the Roadrunners Friday night in San Diego, there were a bevy of firsts – highlighted by the franchise's opening goal, which came early in the second period of the team's 5-3 loss to the Gulls at the Valley View Casino Center.
Down 2-0 and preparing for their third power play of the evening, the Roadrunners lined up for an offensive zone faceoff that would see them need only 16 seconds from the drop of that puck to set-up and execute the first goal in franchise history.
Chris Mueller won the faceoff back to defenseman Kyle Wood, who's shot was then blocked, the puck caroming over to Anthony DeAngelo. After a quick flurry of movement and possession, the puck found its way back up to Wood, who fired a shot that was redirected off the post by Brendan Perlini. Cunningham, crashing the net, beat a Gulls defenseman to the puck and jammed it past San Diego's Dustin Tokarski.
WATCH: Cunningham Scores Franchise's First-Ever Goal:
Hockey players, and it goes without saying, are extreme team-oriented beings. So when that special goal comes at the hands of a 5-3 loss, they're going to up-front about how they're prioritizing the night's events.
"Obviously it's a special goal for the franchise," Cunningham said Friday. "Unfortunately, it didn't mean anything tonight, but it's nice to get the first franchise goal out of the way, I guess."
For the record books, and for future trivia questions that this team may find themselves a part of, Cunningham's power play marker was assisted by Kyle Wood and Brendan Perlini at the 2:17 mark of the second period.
Cunningham, who led the Springfield Falcons in scoring last season with 22 goals and 24 assists for 46 points, wasn't done after burying his first of the season. With 8:23 left to play in regulation, and while the Roadrunners were working on their fifth power play of the night, Cunningham one-timed a gorgeous feed from Chris Mueller to give Tucson a two-spot.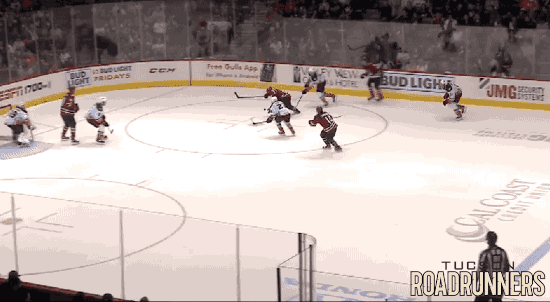 "I do a little bit of everything; I try and just get open," Cunningham said in regards to how he likes to score his goals. "When you play with a guy like [Chris Mueller], he makes plays, so I just try and get open, whether it's in front of the net or in the slot, I just try and get the puck back from him whenever I can and get to the front of the net."
Selfishness is tough to come by in the embodiment of a professional hockey player, and for Cunningham, Friday night's two-goal scorer, he made sure to bring awareness to Justin Peters' 38-save performance.
"I thought we competed hard, I think [Justin Peters] played great," he said. "He's been around the league a long time and I think he's going to be the cornerstone of our team, the guy that we really rely on every night."
And, as for the outlook leading into next week's match-ups against the Stockton Heat and Bakersfield Condors, it's right back to work on Monday for a team that is still seeking another one of those 'firsts' – a win.
"We've got some things to clean up, a whole week of practice. I'm sure we'll get back to work on Monday, get some video, try to correct some things, and try to get back into the win column."
The puck from Cunningham's goal was saved and set aside by the Roadrunners equipment staff during Friday's contest. The puck will be en route to the American Hockey League's Hall of Fame in the coming days for presentation and documentation.