NEWS & STATS
Defenseman Kyle Wood Impressing Early
By: Alex Kinkopf
October 19, 2016 4:57 PM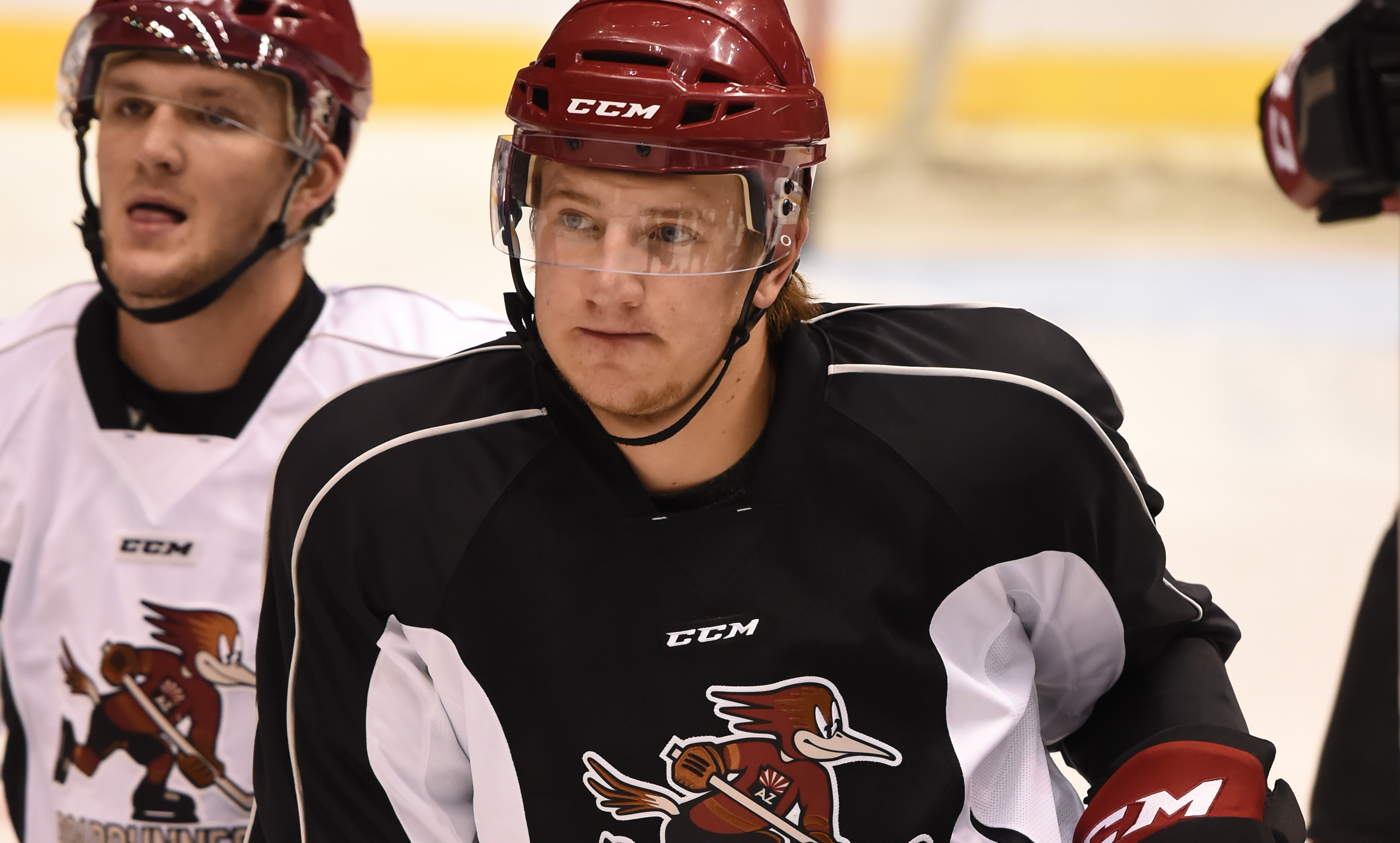 Along with his towering size, Roadrunners defenseman Kyle Wood, who stands at 6'5" and weighs in at 235 lbs., has showed to be a bright spot in Tucson's lineup through the early stages of the team's inaugural American Hockey League season.
Wood, drafted by the Colorado Avalanche in 2014, was sent to the Coyotes' organization prior to the 2015 trade-deadline, and agreed to a three-year entry-level contract with Arizona shortly thereafter.
Through three games in a Roadrunners uniform, albeit two of them preseason contests, Wood has found the back of the net in each, registering three goals and two assist in total, including a three-point performance (1G, 2A) in the club's regular season opener last Friday against the San Diego Gulls.
The key for Wood, so far, has been simple: Get the puck on net. "It's definitely a huge part of being a defenseman, when you get it back there [at the point], you just try and look for an open lane, get your head up, try and look for a stick, or just even try and throw it into the goalie's pads," Wood said. "But you know, you've got to get into position first to get that shot, have a lane, the big thing is to always have your head up, make sure you know what's around you, and if you have time, you can take a slap shot. With the one-timers, you can't think too much, you've just got to sometimes bury your head and just fire it at the net, and hopefully good things happen."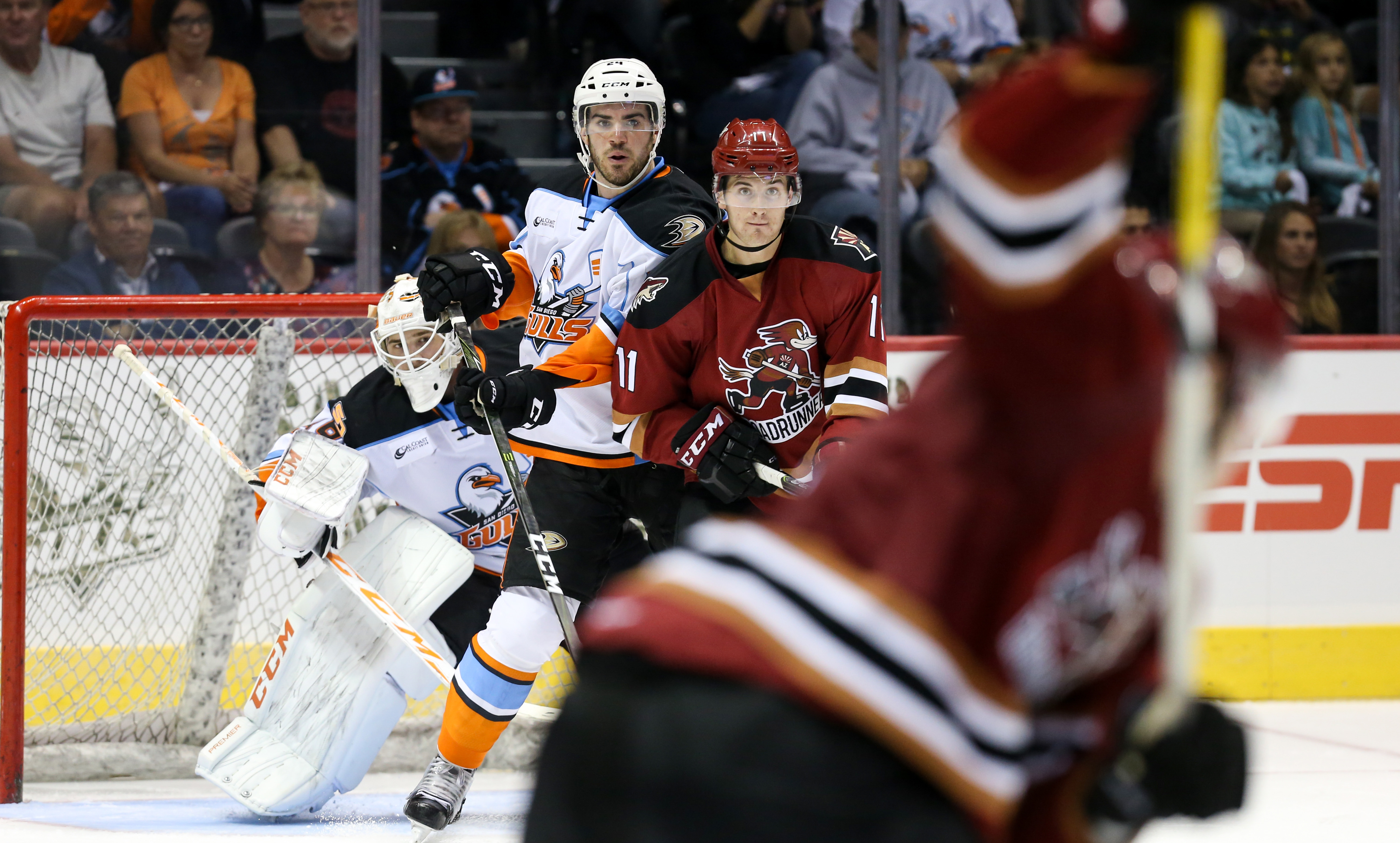 As much as the shots themselves matter, is the confidence needed to fire away.
"The coaches have always been telling me to shoot the puck whenever I have a chance, I think it's just confidence from my teammates, they've been telling me that too, whenever I have a chance to get the puck on net or there's a scoring chance. Good things happen when you throw it to the net, that's how I got an assist [on Cunningham's first goal], just by throwing it on net there, and good things happen for the team and for myself," he said.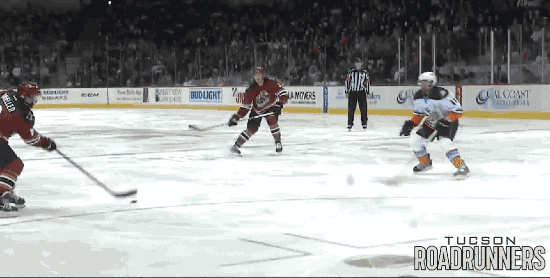 Wood worked alongside Anthony DeAngelo on the Roadrunners' top power play unit during the regular season opener – a tandem that produced all three of Tucson's goals.
"I think we just worked together well in that game, we just found success in setting up," Wood said of the team's power play. "The big part is getting pucks to the net, when we had a chance to shoot it, or a scoring chance, we threw it on net, and that's how things happen. Working with Tony, he's a great defenseman, he's so skilled offensively, he makes plays for everyone around him, and I think that's the one thing that helped our power play out the most in San Diego."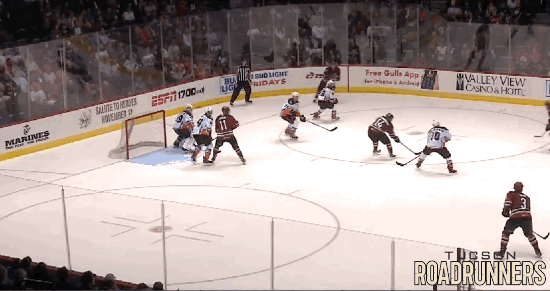 On the flip side of the things, the Roadrunners' penalty kill struggled mightily during its first tests of the season, Head Coach Mark Lamb stressing that it would be a focal point to the team's practices during the week as they approach back-to-back games Friday and Saturday against the Stockton Heat and Bakersfield Condors.
"The penalty kill has definitely been a big focus, we knew we had to improve on that the most," said Wood. "[San Diego] scored, I think, three or four goals on the power play, so we focused on that a lot, and the biggest thing was just settling down, getting in our positions, making sure everything stays quiet, and just being in our right positions all of the time and not trying to do too much, and then good things will happen, including getting the puck down into the other end."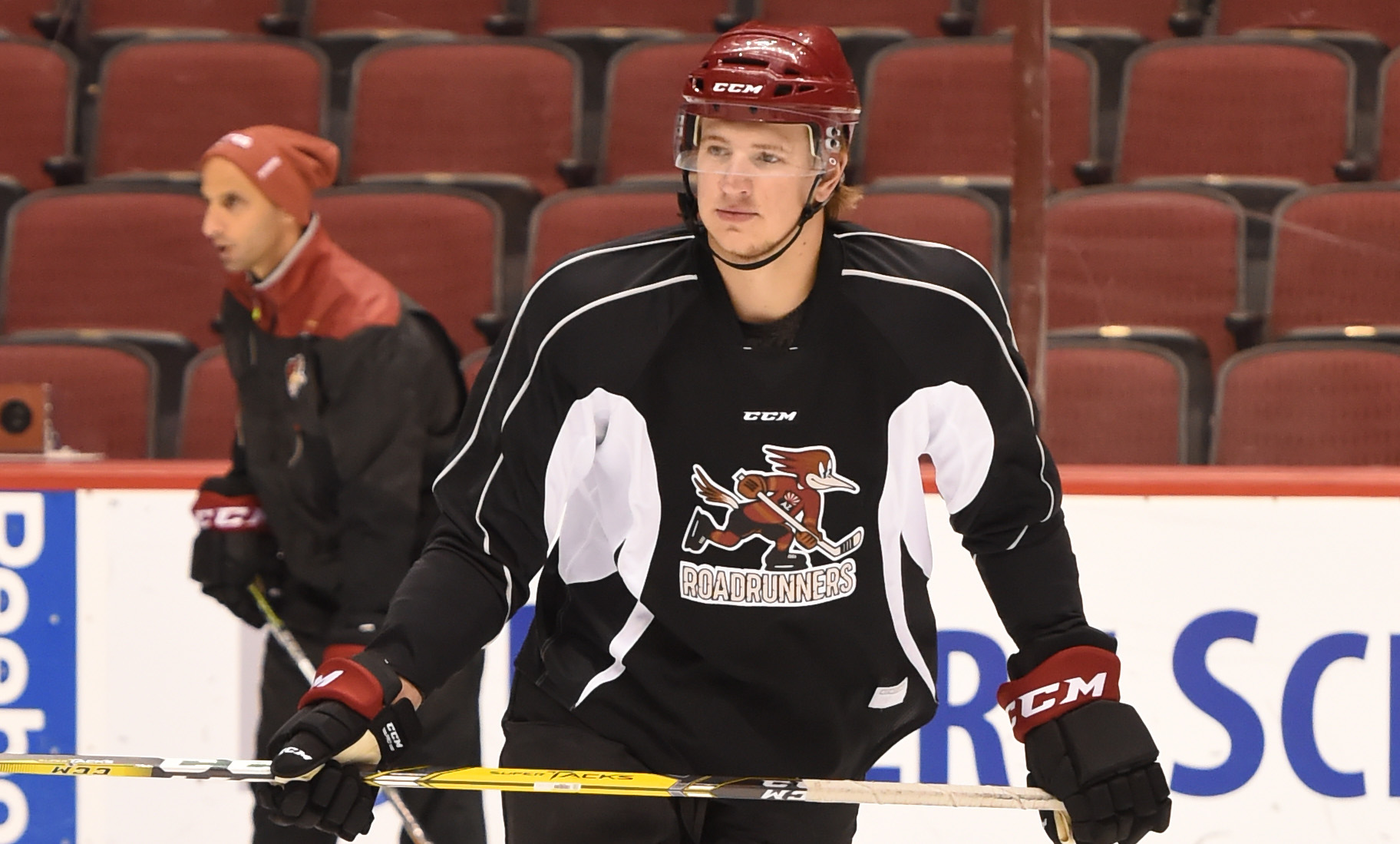 If the team does in fact find ways to settle down and learn from their penalty killing mistakes, some of that wisdom may come at the hands of defenseman
Zbynek Michalek
,
who joined the team Monday on assignment
from the
Arizona Coyotes
.
"It's definitely a big thing for our team, it brings a lot of experience," Wood said of Michalek's addition. "A young guy like me, I watch him in practice all of the time, just seeing the little things that he does, and he's been in the NHL for a while, he knows what it takes to play there. We've just got to learn from him, pay attention to the things that he's doing, and I think it's a big step in the right direction for our team, he brings some leadership and I think it's a good thing for us."
Wood, like everyone else on the team,
will have to adapt to a rotation of goaltenders
due to the injury Mike Smith suffered Tuesday night in Ottawa.
Marek Langhamer
will likely step into the team's starting role,
Adin Hill
has been recalled from the
ECHL
's
Rapid City Rush
.
In the American Hockey League, however, you must be accustomed to playing in front of a variety of goalies, it's something that comes with playing in a developmental league.
"We don't focus on it too much, every goalie at this level is obviously a great goalie," Wood said of the goalie carousel. "We talk about the communication, and it's basically the same for every goalie that comes and plays for us, so we're definitely on the same page with whoever's in there, and we trust whoever's in there. You've got to be a good goalie to be able to get to this level, so we have faith in whoever's in net."
The hulking 20-year old native of Waterloo, Ontario will skate with the rest of his Roadrunners teammates for one more practice on Thursday at Gila River Arena before the team packs up and ventures out to Stockton, California to begin a two-game road swing.