NEWS & STATS
Roadrunners Return Home Ahead of Friday's Opener
By: Alex Kinkopf
October 26, 2016 2:23 PM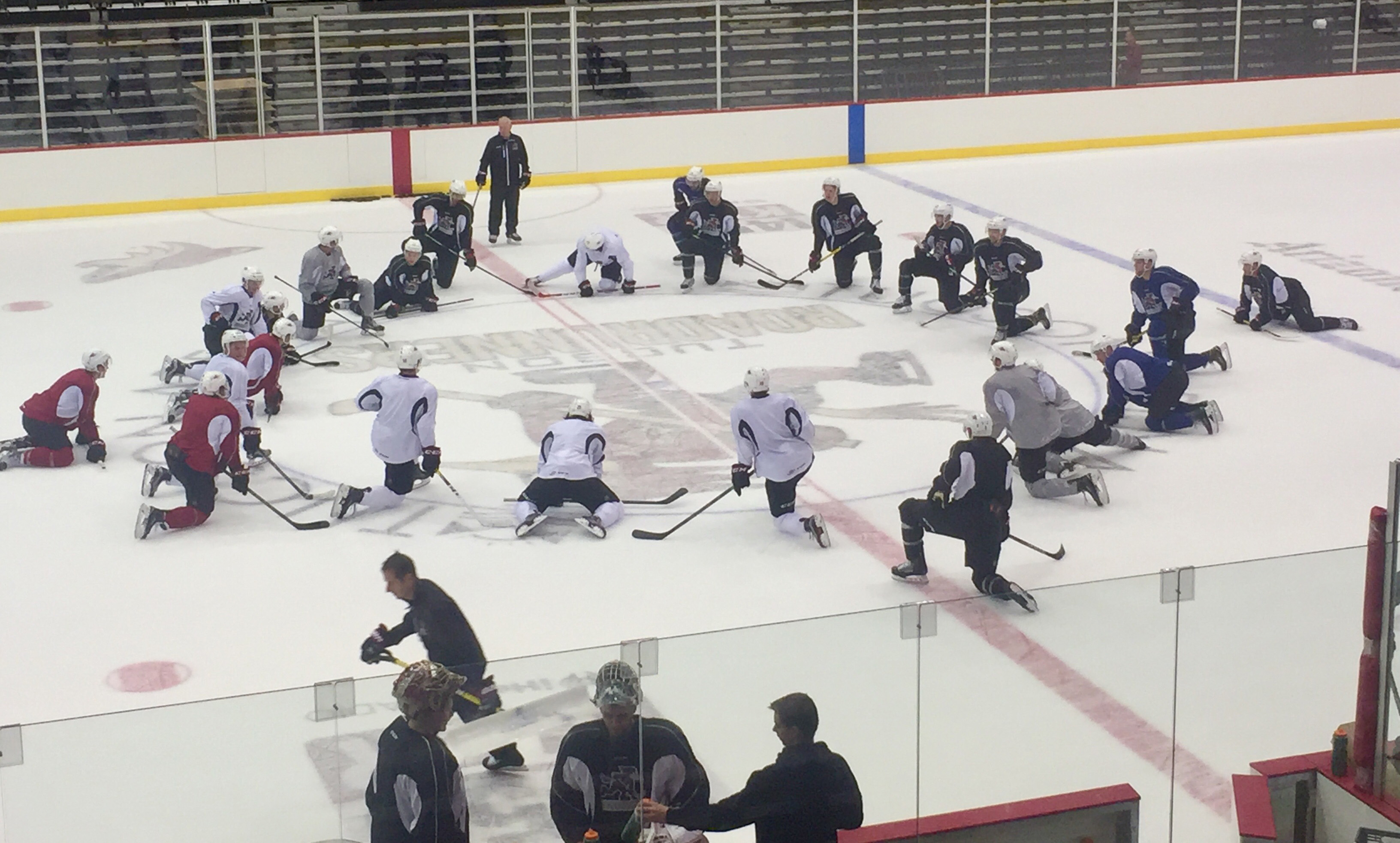 Good afternoon from Tucson Arena, where the Roadrunners continue preparations for Friday night's home opener against the Stockton Heat, which is scheduled for a 7:05 PM start.
Following a day of travel and some off-time, the team has partaken in two consecutive days of practice, furthering their familiarity with a home they've had little time to get accustomed to since the roster first skated together when training camp opened in early October.
"We've got establish a home base, get to know the city," Head Coach Mark Lamb said Wednesday of the team's return to Tucson. "The biggest thing is to get to know our home rink, building some character, building some consistency in playing in our home rink. Right now it's kind of like a visiting rink to us because we don't know it very well, we're trying to get to know the ice and everything, it's all new. We're getting comfortable with our new surroundings, the building and everything, and what every team wants to do, it to turn it into a tough place for teams to come in here and play."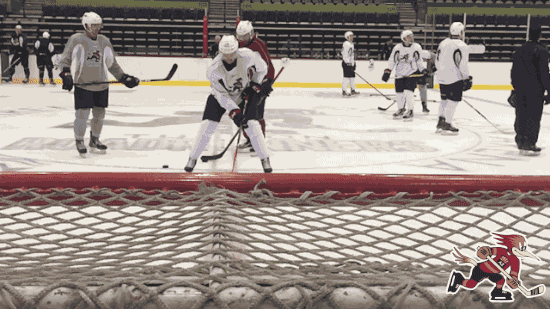 The team took the ice Monday afternoon at 3:00 PM for an hour-plus practice, and got an early start Tuesday as players trickled onto Tucson Arena's frozen surface just after 9:00 AM, where Coyotes skating coach Dawn Braid joined a handful of players to run through power skating drills.
While the last couple of days have involved practices and off-ice workouts, they can still be valued as somewhat of a breather for the team, who for the first time since the club's inception, can truly begin to get associated with their new digs.
"It's been a real tough go, and I have to give the guys a lot of credit just to hang in there while traveling back and forth, living out of a hotels," Lamb said. "It's not easy – people with family, with girlfriends, and a lot of people have animals too, which is hard to deal with when you're in hotels and everything. The consistency of getting down here, I think everyone was really happy to get down here, we had a good last weekend on the road, and we're looking forward to the home opener."
On Wednesday, 27 players took to the ice, including recently assigned defensemen Zbynek Michalek, Jarred Tinordi, and Jamie McBain. The Roadrunners continue to have three goaltenders on their active roster; Marek Langhamer participated in the early stages of Tuesday's practice, but took Wednesday off to rest. Adin Hill and Austin Lotz have been on for full practices each day.
Forward Henrik Samuelsson joined his first Roadrunners practice on Tuesday, and has been skating on a line alongside Mark Olver and Eric Selleck. Samuelsson missed the team's first three games after suffering an undisclosed lower-body injury during rookie camp.
The players, in color-coded uniforms, have been skating as such the previous two days:
FORWARDS (COLORS)
RED: BRENDAN PERLINI – CHRIS MUELLER – CRAIG CUNNINGHAM
GREY: GARRET ROSS – RYAN MACINNIS – CONOR GARLAND
WHITE: TYLER GAUDET – TREVOR CHEEK – CHRISTIAN FISCHER – MICHAEL BUNTING – STEFAN FOURNIER – MATIA MARCANTUONI
RED: ERIC SELLECK – MARK OLVER – HENRIK SAMUELSSON
DEFENSEMEN (BLACK)
DAKOTA MERMIS – ZBYNEK MICHALEK
JARRED TINORDI – ANTHONY DEANGELO – JAMIE MCBAIN
BRANDON BURLON – KYLE WOOD
DYSIN MAYO – JUSTIN HACHE
GOALTENDERS (BLACK)
ADIN HILL
AUSTIN LOTZ
MAREK LANGHAMER
"Our first skate back involved really a lot of skating and getting used to the ice, getting the ice a little bit harder – today the ice was a little better than [Tuesday]. [Tuesday] was pretty much like a 'no think' type practice, a lot of general things, a lot of skating, a lot of shooting, today was more system stuff, and tomorrow we'll do the same thing," coach Lamb stated following Wednesday's practice.
The Heat will be the first team the Roadrunners face for the second time this season; they beat Stockton 2-1 in OT Friday night.
"We'll make adjustments with every team, [Stockton] still has another game so we'll scout that," Lamb noted Wednesday. "We'll scout how we played them last time, take some tendencies that they have, and hopefully that will help us in the game on Friday night."
PHOTOS: