NEWS & STATS
October 28 postgame quotes: Tinordi, Hill, Selleck, Lamb
By: Alex Kinkopf
October 28, 2016 11:34 PM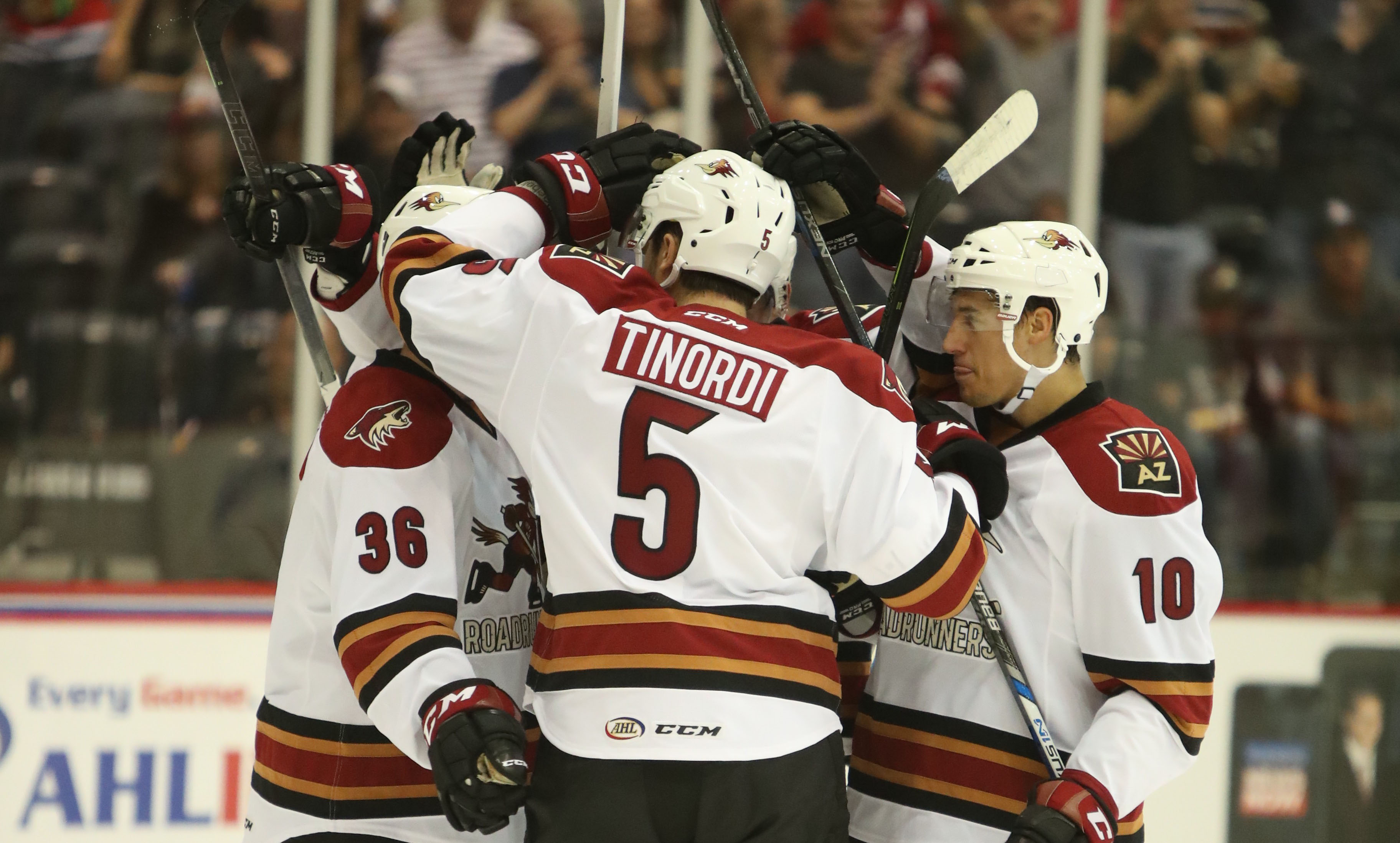 Jarred Tinordi, on getting the team on the board after falling behind 3-0:
I think we started a little bit slow, they're a hard team to play against, they get on you pretty quick, I don't think we were quite ready to start, but once we kind of found our legs a little bit and started to be a little more physical, I think the game opened up more for us.
Tinordi, on the team getting back to within a goal after the first period:
Yeah, that was huge for us, [Garret Ross] had a huge scrap, I think that gave the boys lots of life, something like that injects a little bit of fire into you out there, and that can do wonders.
Tinordi, on if he thought playing in front of home fans for the first time had an effect on their start:
They told us it was sold out before we came here but we didn't really know what to expect. The crowd was awesome tonight, I don't think it was the type of game we wanted to play, but I think the fans had a great time out there.
Adin Hill, on the start of the game:
Stockton came out hard, I don't think we came out completely ready, myself included. We had a slow start, but then we picked things up. It was a great comeback, a great team effort, and wins like that bring a team closer together.
Hill, on how important it is for a goalie's confidence for his team to respond:
Yeah, that was huge for the team, it was a big deal for us to get those two goals, and then we switched momentum there for the second half of the period.
Hill, on what he thought of Tucson Arena's atmosphere:
It was great, it was a pretty entertaining game for them considering we were down 3-0, a lot of goals, but the atmosphere was unbelievable, they were a loud, sold-out barn, so it was pretty great.
Eric Selleck, on the home fans:
I mean that was awesome, it was a packed, sold out barn. Us coming from Springfield last year, it was the opposite, so it brought a lot of energy, and it was a good game for the fans to watch, so it was pretty exciting.
Selleck, on the team's early timeout:
We just had to take a few deep breaths, we got off to a bad start, and we knew we just had to regroup. We knew we weren't out of it, but we knew we had to make some smarter plays, better plays, and keep working.
Selleck, on his game-winning goal:
It felt good obviously, we wanted the win. I kind of came out of the box, [Tyler Gaudet] had the puck, gave it to me, and I shot five-hole. It just kind of trickled through, it was a good shot, and I'm happy it went in.
Mark Lamb, on what was said during the early timeout:
We needed a timeout, we needed a change, and sometimes they work. It was a good time, we were scrambling, we were all over the map, we just wanted to settle things down and that's exactly what we did, they came back out and started playing the way they should.
Lamb, on if he thought the bad start had to do with the hype surrounding the opening festivities:
I think it had to do with all of it. You want to come out, and you want to really do good your first time, you want to do it for the fans, you want to do it for your teammates, and you feel good, but it tricks you. You don't do the things that you're supposed to with a big crowd and everything, so you just need to reset a little bit, and that's exactly what we did, we reset and went out and played. It was an up and down hockey game as the score indicated, but it was an entertaining, fun game.
Lamb, on what adjustments were made during the first intermission:
We had to clean up some things, [Stockton] had too much space in the neutral zone, they were coming at us on the rush, and that's what we do – we talk about it, we tweak a few things. There's a lot of things I liked in the game too, but in every game you learn a little bit more, we get to know our team more. For our first game here, it was really nice to get that win.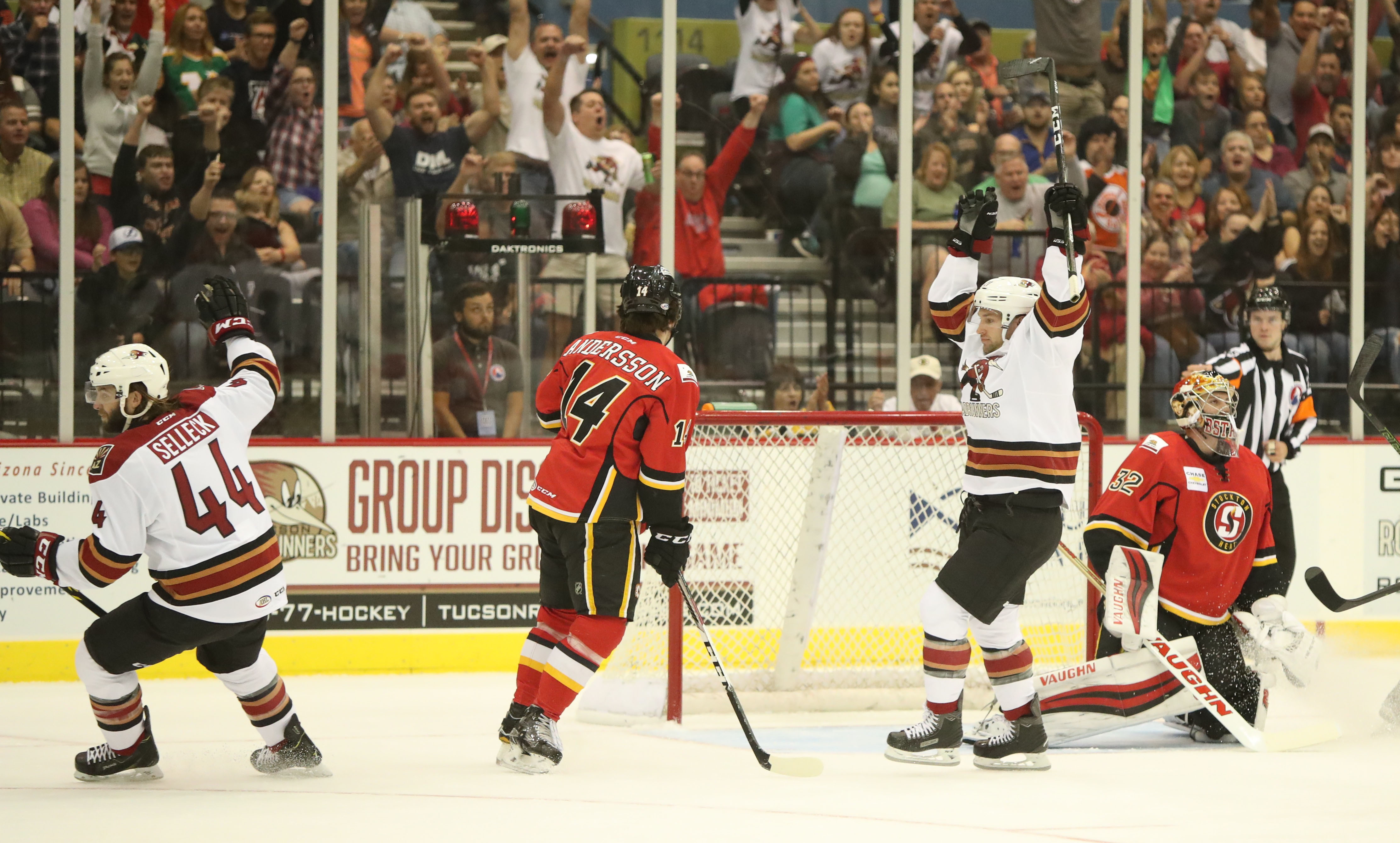 *Photos provided by Chris Hook