NEWS & STATS
October 29 practice notes; Thoughts on Stockton
By: Alex Kinkopf
October 29, 2016 1:39 PM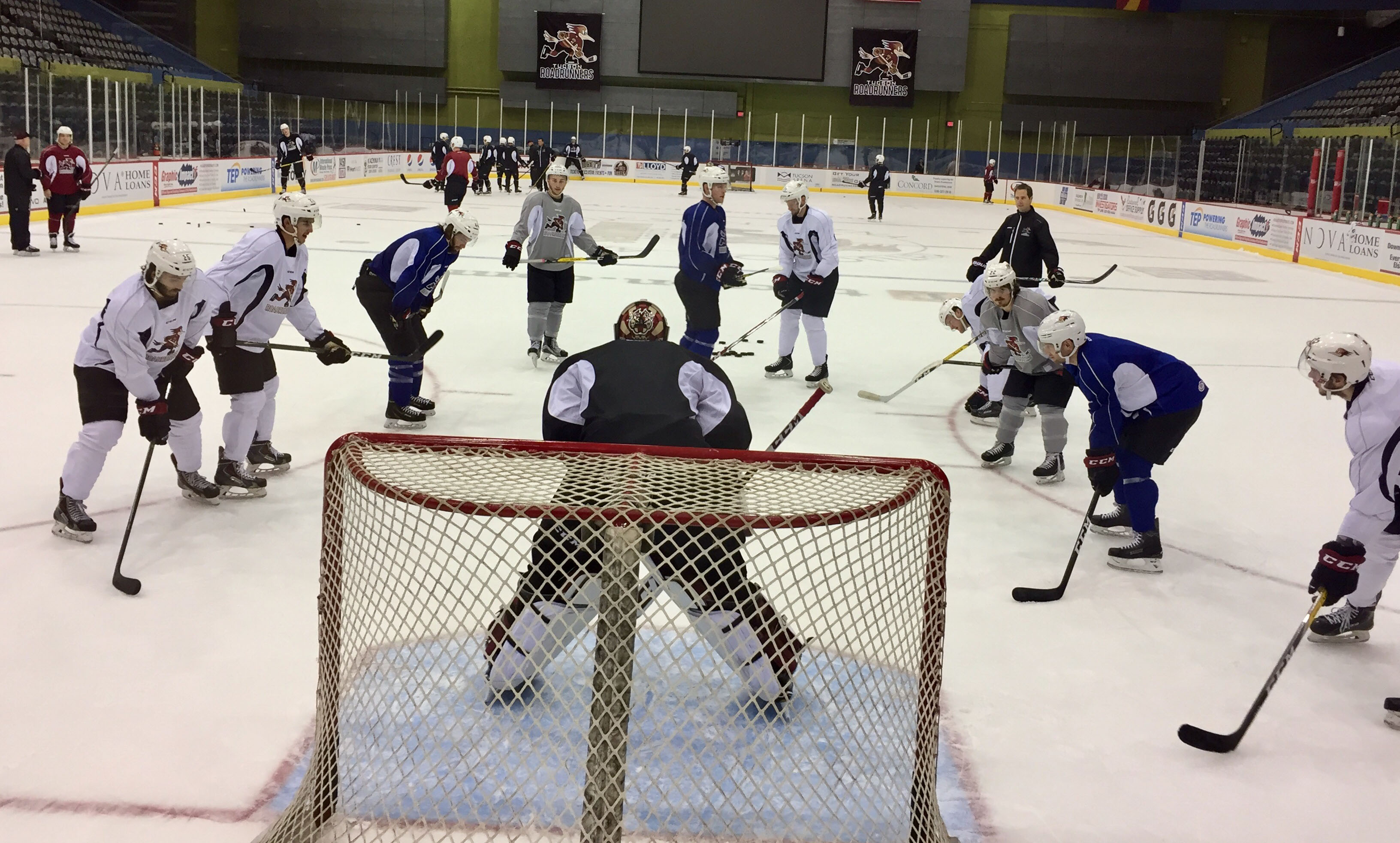 Good afternoon from Tucson Arena, where the Roadrunners got right back to work following Friday night's 6-5 victory over the Stockton Heat, taking the ice for an 11:00 AM practice after sitting in for early morning video sessions.
The team skated for just over an hour – and hard – a surprising, but impressive pace that was formulated by coaches Mark Lamb and Mark Hardy just 12 hours after an emotionally saturated and dramatic debut in front of home fans.
Al MacInnis, a 2007 inductee into the NHL Hall of Fame and the father of Roadrunners forward Ryan MacInnis, watched the team's practice from atop the arena. He was in attendance for Friday's contest, which saw his son score Tucson's fourth goal of the evening.
As far as alignment goes, there was only one change visible to the lines and pairings the team skated with Friday night. Conor Garland and Christian Fischer swapped right wing spots on the second and third lines, Garland moving up to the second unit with Michael Bunting and Tyler Gaudet, while Fischer joined Garret Ross and Ryan MacInnis on the third line.
On Saturday, the Roadrunners aligned thusly:
FORWARDS
BRENDAN PERLINI – CHRIS MUELLER – CRAIG CUNNINGHAM
MICHAEL BUNTING – TYLER GAUDET – CONOR GARLAND
GARRET ROSS – RYAN MACINNIS – CHRISTIAN FISCHER
ERIC SELLECK – MARK OLVER – HENRIK SAMUELSSON
STEFAN FOURNIER – MATIA MARCANTUONI – TREVOR CHEEK
DEFENSEMEN
BRANDON BURLON – JAMIE MCBAIN
JARRED TINORDI – ANTHONY DEANGELO
DAKOTA MERMIS – KYLE WOOD
JUSTIN HACHE – DYSIN MAYO
GOALTENDERS
ADIN HILL
AUSTIN LOTZ
The two consecutive games against the Stockton Heat this weekend presents the first of 23 times the Roadrunners will play the same team in successive affairs this season. With their win Friday night, Tucson has momentarily moved into first-place in the Pacific Division, leap-frogging Stockton, who's two losses have both come at the hands of the Roadrunners.
Garret Ross, who was sent to the locker room after his rather impressive and lengthy tilt with Stockton's Ryan Lomberg Friday night, looks to be just fine in the facial beauty department.
The Roadrunners held Stockton's power play scoreless on all six of their man-advantage situations; they have successfully killed off all 17 penalties taken during the span of their previous three games.
Head Coach Mark Lamb and forward Eric Selleck chimed in with a few thoughts following Saturday's practice:
Mark Lamb, on what adjustments were keyed-in on during Saturday's skate:
We looked at some video, obviously we're very happy with the win. You always look at things that you want to do better, and we did that before practice today. We looked at some of the areas in that first five minutes [of Friday night's game], where we need to clean up a little bit. It's good for the guys to see exactly what did happen, because when you look back at it – especially when you're right involved in it – you're like 'what did happen'? So, you show them exactly what happened, you make adjustments, and hopefully it's better for the next game.
Lamb, on seeing the Heat for the second time in as many games:
What you have to be really ready about, especially the way Friday's game played out, is that [Stockton] is going to be a very motivated team. They were up 3-0 and they were also up 4-2, and they ended up not getting a point in that game. They're going to come in here and they're going to want to get a split now, so they're going to be a team that's very focused and very ready to come in here, and we're going to have to be ready for that.
Eric Selleck, on the carryover of playing a team in consecutive games:
Obviously emotions are high and you never want to be on the end of a loss. They're going to be ready to go, we're going to be ready to go, and there's definitely some anger toward each other from the night before, and you just want to play hard, so it's definitely something to see.
Selleck, on what he expects to see from Stockton Sunday:
They can't be happy blowing a 3-0 lead to start, I'm sure their coach isn't happy, so they're definitely going to come out hard, and we're ahead of them in the standings after that win last night, so they're not going to be happy about that and they're going to want to be back on top.
Photos from today's on-ice session: