Roadrunners Features
Roadrunners depth 'producing, providing' in essential roles
By: Alex Kinkopf
January 09, 2017 4:19 PM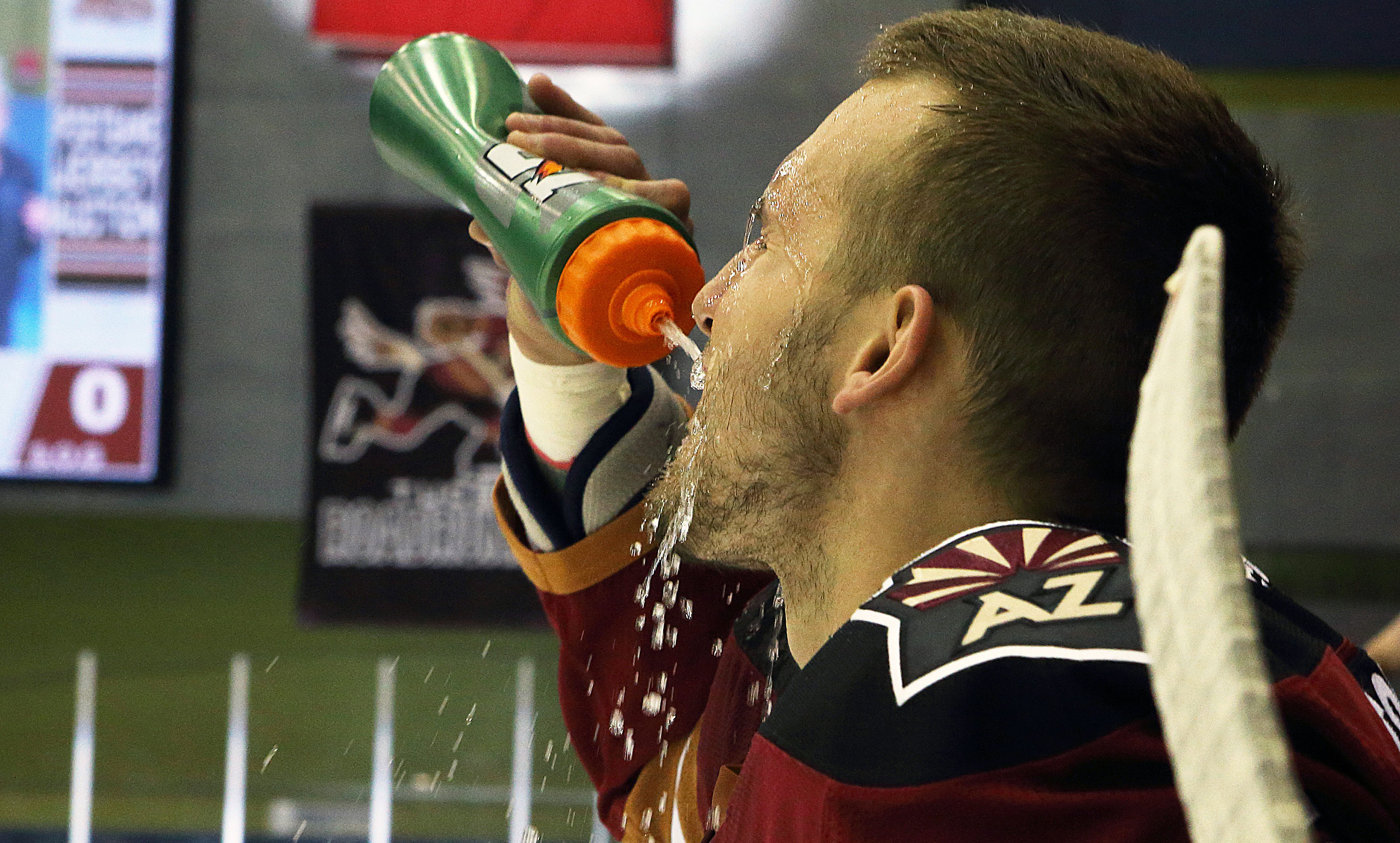 Depth, for as common roster adjustments are in the American Hockey League, is a vital aspect for clubs to withhold.
On any given day, the top names to grace the Roadrunners' roster are apt to come and go, feeding into the ultimate interests of the organization – which blossoms with recognition being paid at the National Hockey League level.
While Tucson has embraced the return of a few familiar names, those of which who are likely to be only making a pit stop with the Roadrunners while the Coyotes are on their mandated bye week, this team is coming off of a game on Saturday that showcased production from the names that make-up the club's third and fourth lines on a nightly basis.
"They've been excellent," Mark Lamb said of team's depth players. "They've provided; they've provided roles, they've gone out and played hard. Coming from the fourth line and winning their match-ups, they've done that. They've created some life into the team. We need secondary scoring, and they did that on Saturday."
Clawing their way back from an arduous deficit Saturday, it was the Roadrunners' fourth-line that gave the club a fighting chance.
Stefan Fournier is a fixture on the back-end of the team's offensive scheme; a body that's going to provide energy, hard physical play, all while creating space for the names on the Roadrunners' roster that are no strangers to the score sheet.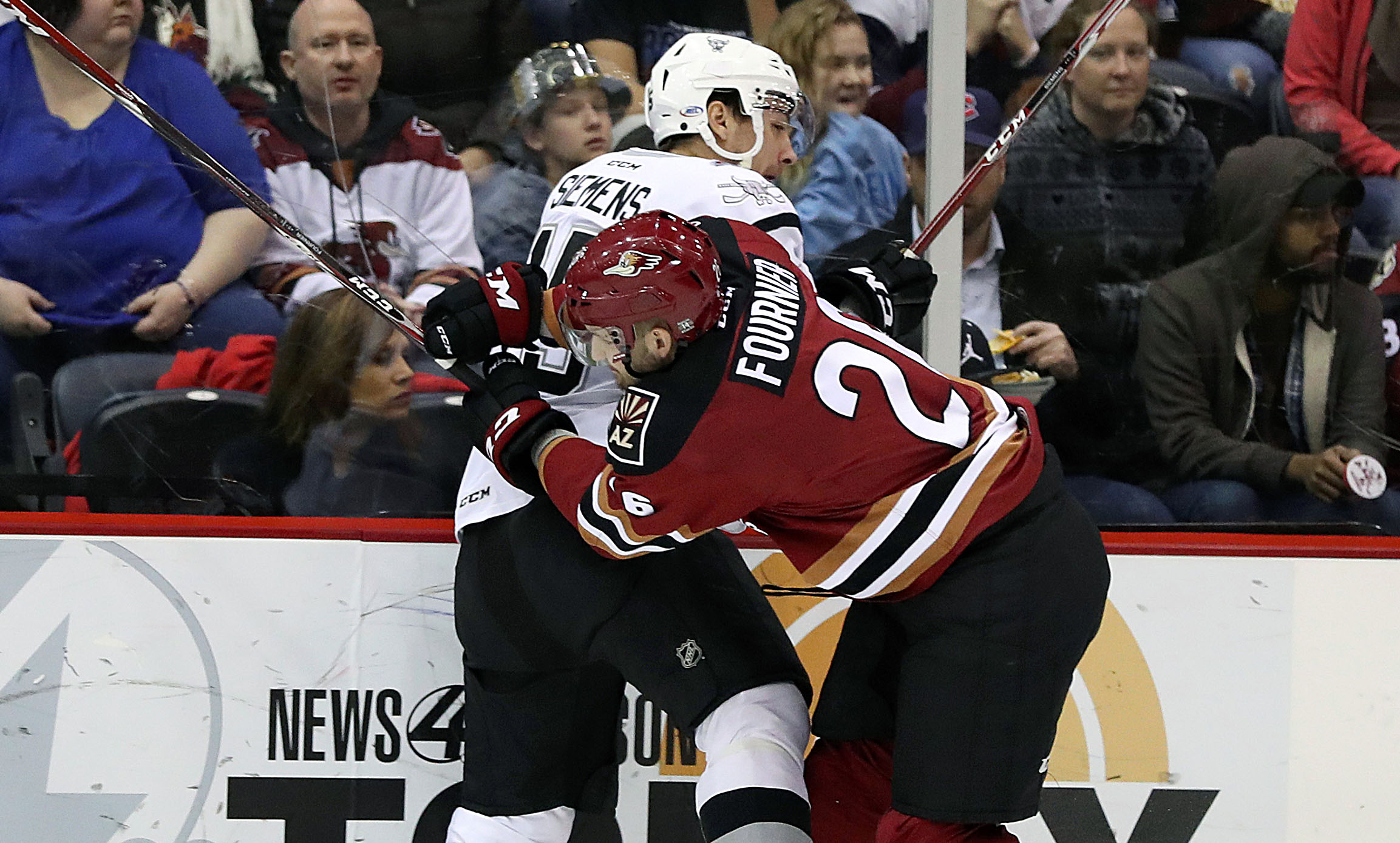 "I play a North-South game; my job is to get pucks in and finish checks," Fournier said of his role. "I try to give our top guys some momentum; I think essentially that's what our job is, that's why my job is to get out there, hold onto pucks, and try to take away the other teams' energy, but at the same time giving energy to our team."
Fournier netted his first goal of the season Saturday, driving hard to the net and finishing a handy sequence initiated by linemate Trevor Cheek.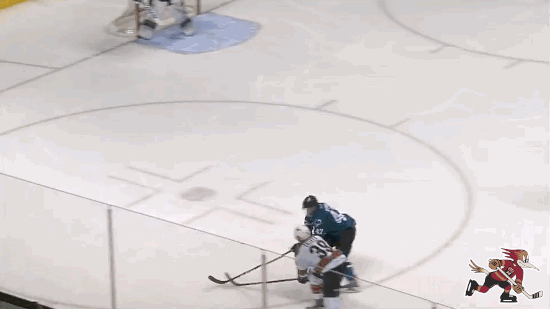 "Cheeker threaded me a perfect pass, and I just pretty much had a predetermined move where I was going to take it to my backhand afterward, and the puck happened to trickle in and I was pretty happy about it."
Cheek, who began the season in the ECHL with the Fort Wayne Komets, is finally getting accustomed to a consistent string of playing time on Mark Lamb's roster. A swingman of sorts, Cheek has seen time on all four of the team's lines this season. The Vancouver, Washington native is no stranger to the AHL, having played 146 games in the league prior to his time with Tucson.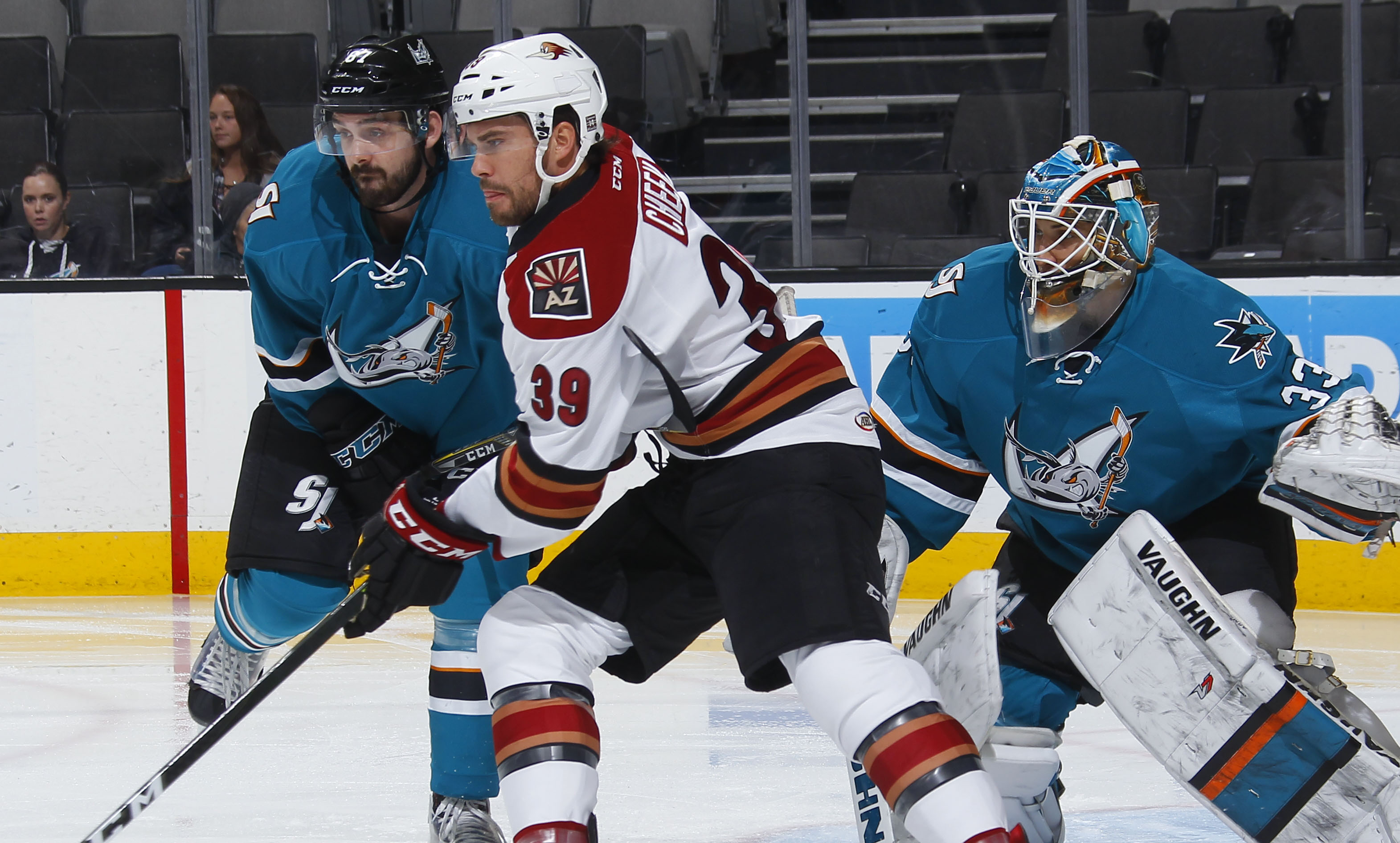 "I just try to create energy, make sure we're strong defensively," said Cheek. "I try to get pucks deep, lay a few hits, keep the puck down low as long as we can, and hopefully outplay their bottom lines – that's our main goal."
Whether he's manning the team's fourth-line, or filling a role on the first unit, Cheek keeps his game simple across the board. The 24 year-old practiced with the third line on Monday morning.
"I just try to make sure that I stay consistent, to work as hard as I can, make sure I'm paying attention to details, and try to play the same game every night no matter where I am in the lineup."
Forward Lindsay Sparks made his AHL debut on December 7, and has played with the team in 12 games since. The speedy, slinky forward has been a mainstay on the back-end of the team's offense since his recall, adding a source of pressure that he applies to opposing defenses with his knack for ruthless attacks on forechecks.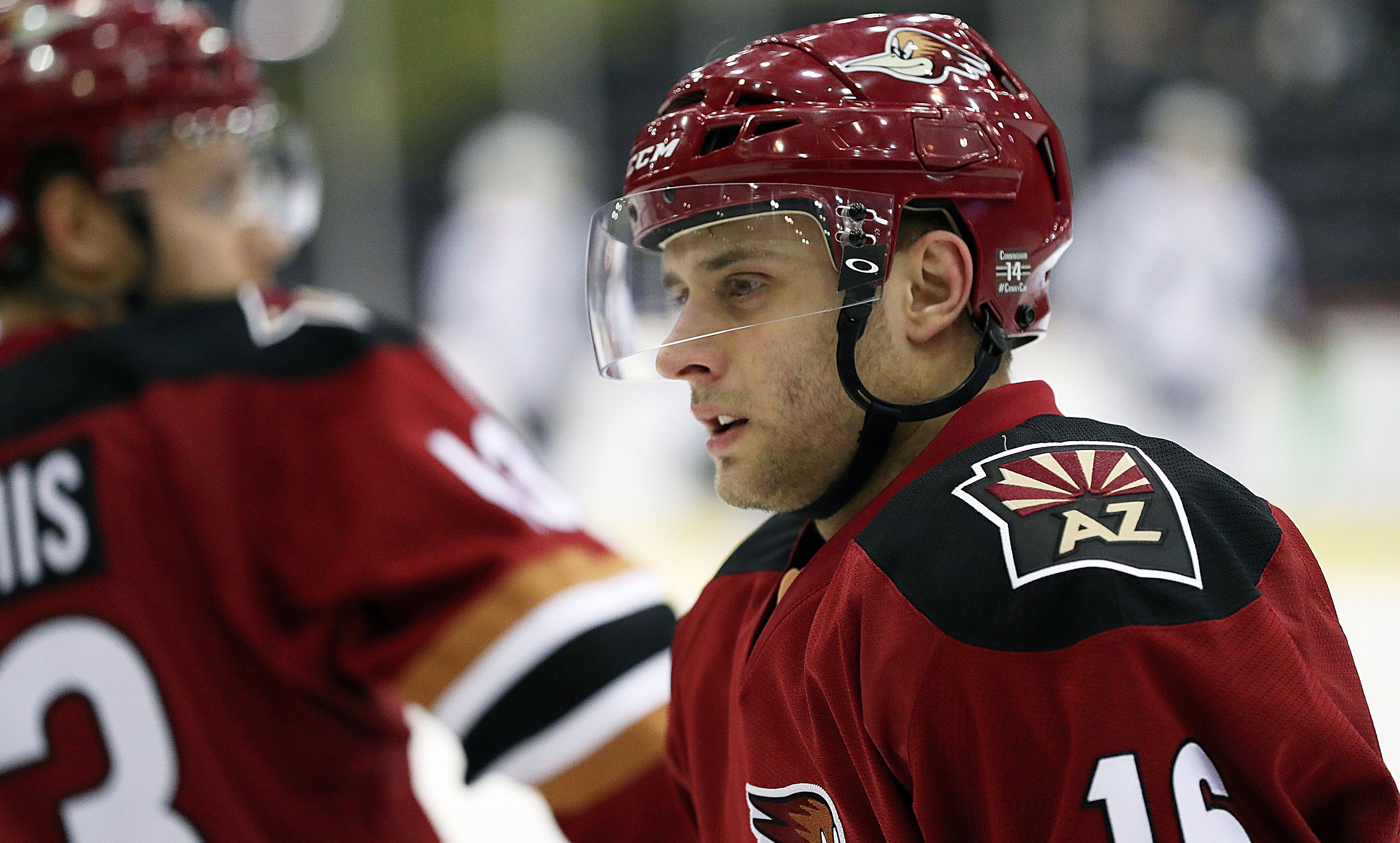 "I think my speed is a big asset no matter what line I'm playing on," said Sparks. "I just try to get in and create energy no matter what, finish my hits, play more of a pest-like role, dog the puck all of the time, always be hounding the puck, and when I get my chances try to finish on the goalie and use my skill when I can."
Sparks got his chance to finish on Saturday in San Jose, and did so, beating Mantas Armalis as he forged his way to the net to register his first-career AHL goal.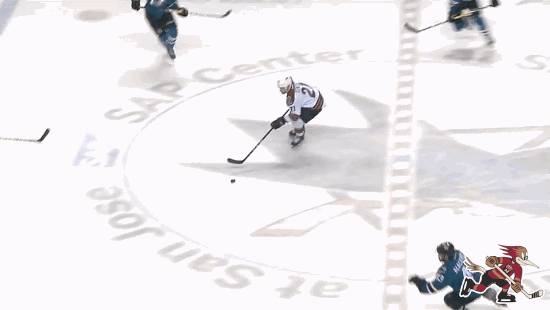 "It was a good play; it was off of a controlled breakout from deep in our corner. I beat my man up the ice, got a good chip from Fournier up the middle to Olver, and he threw it wide to me. I had a step on the defenseman, kind of just took the puck in hard to the far post, and it ended up going in for me."
During a season that's featured a plethora of scoring from household names, many who have gotten the call to the NHL due to said production, the Roadrunners are getting a nice taste of what a consistent set of depth, energy, and will can provide.
Will they be gracing the highlight reels? Maybe not.
Are their roles going to catch your eye? Who's to know.
But, you can bet your bottom dollar they'll be ready to provide on any given night. For a constantly fluctuating Roadrunners roster, that's just as important as the guys who are traveling to and from Glendale on the I-10.