Roadrunners Features
'Focus' is driving a displaced Roadrunners roster
By: Alex Kinkopf
October 12, 2016 10:20 PM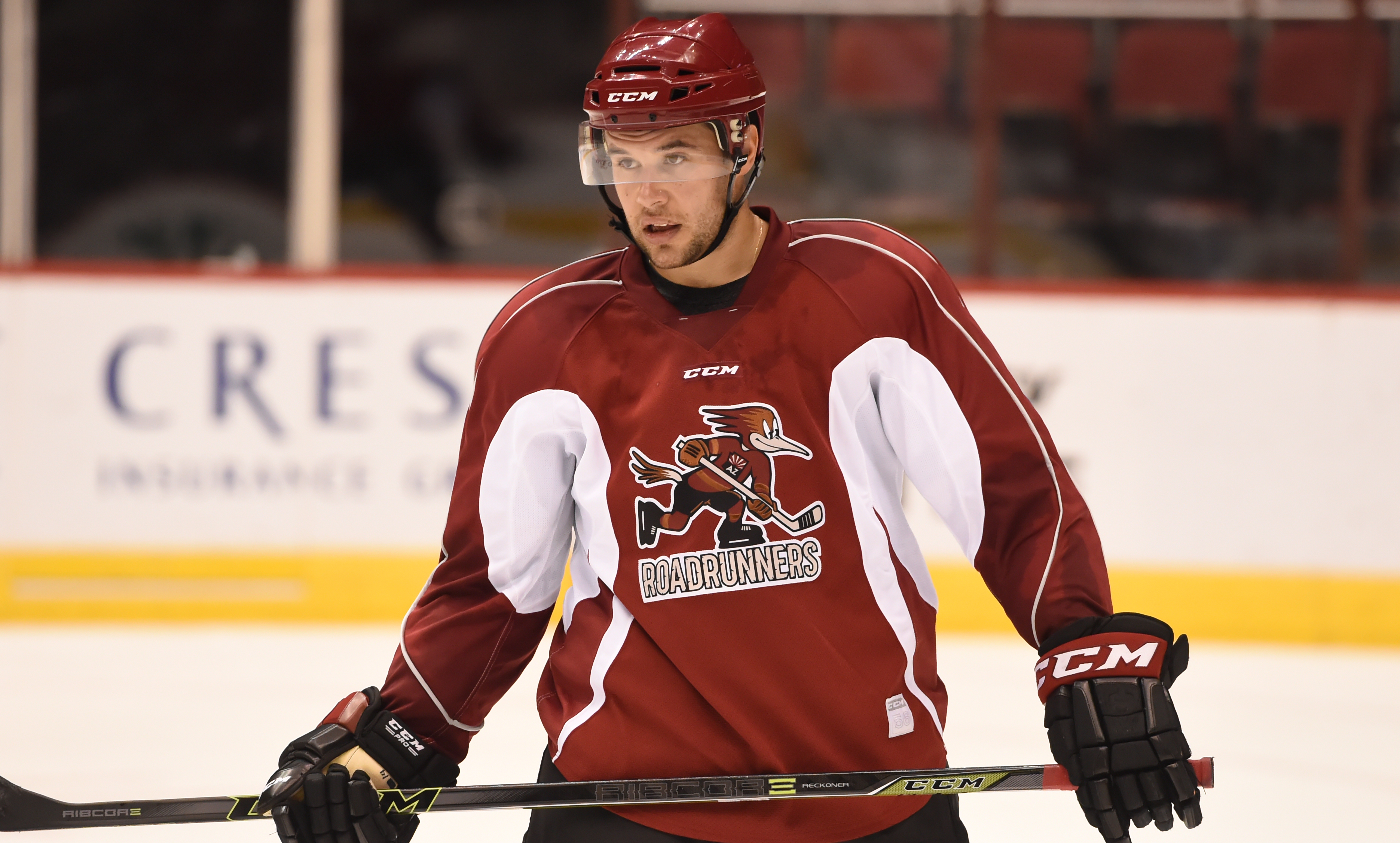 "When you walk into the rink, you've got one job and one job only, and that's what you should focus on," Roadrunners forward Craig Cunningham said strikingly outside the visitors' dressing room Wednesday evening at Gila River Arena.
That focus Cunningham is referring to is what's been driving this newly-acquainted roster through a tumultuous period, where many on the team have had barely any time, if any at all, to settle into their homes in Tucson.
Since the team reported for training camp on October 3, they've spent only five days in their new host city, only one of those being a full-fledged day away from the rink to cater to their non-hockey, personal lives. In a new town with a group of new teammates, familiarity is going to be difficult to come by, especially when there's not a set 'home' to call your own at night.
But alas, there's work to be done, there are duties to fulfill.
"We're all hockey players," said Cunningham. "When you come to the rink, I think part of being a professional is leaving everything else that happens at home or outside of the rink."
Toughness embodies this roster, like it does with most in the professional hockey world. After all, to be a player in the American Hockey League, you've got to have thick skin. "It's tough, especially for guys with families and girlfriends in town here," Eric Selleck said of the displacement. "It's tough on all of us, but at the end of the day it's our job and we've just got to battle through it."
For the Roadrunners, it's only a matter of two weeks until they're back local, settled, and debuting at Tucson Arena for their home opener on October 28, followed with a November schedule that sees the team play nine of their 12 games on home ice.
"We can finally see the light at the end of the tunnel here," said Selleck. "We're excited for the season to start, we've been focused for it, and then after that we should be headed back home. It's been tough, but it's been bearable for sure."
As for overseeing the group of players who are embarking on a journey that has seen them rest in a number of unfamiliar locations, Head Coach Mark Lamb has a good eye for the situation. "For the new kids, I don't think they know any different. For the veterans, I think it's a little bit tougher," Lamb said. "You can always say 'there's nothing like home', right? There's nothing like home, and that doesn't mean your home rink, it means your home bed, it means if you have a wife, or if you have a family, there's nothing like being with them."
Although the arrangements aren't choice, you'd be far-fetched to believe anyone on the team's staff or roster would let it deter their focus on hockey. "We don't make excuses, we don't make it a distraction," Lamb added.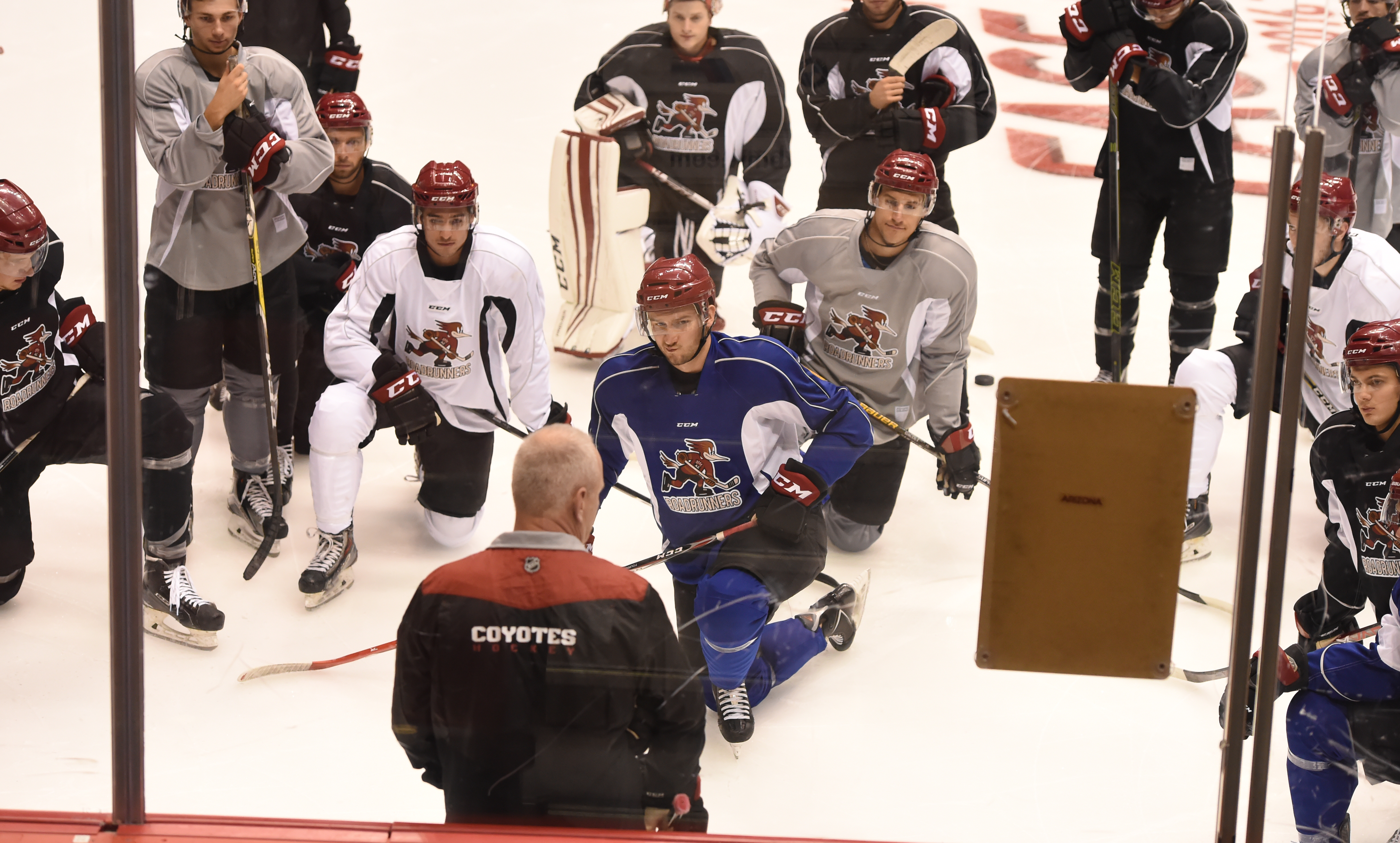 As with everything, there's always a silver lining, and quite often, it can return to be a blessing in disguise.
New team? New roster? New season?
"When you're on the road, no matter what city you're in, you're always with the guys," Selleck said. "You see them all day, there's no distractions, so you do get some bonding time, you get to go out for dinner with them, travel with them, so you really get to know them, and that's definitely a positive."
Call it a time for camaraderie, a chance for the team to really intertwine before they get settled into their Tucson homesteads.
"When you're on the road in the hotels, it's usually big groups of guys going for dinner and hanging out, and I think obviously with the new group here, it's kind of the best way to get to know each other even though we are living in the hotels, it's a lot of time around the guys," Cunningham said.
The Roadrunners, who are unable to practice at Tucson Arena for the next two weeks due to prior commitments the building made with incoming tenants before the facility was aware of the team's relocation, actually don't have it too bad at all.
The club's current situation might just spotlight one of the many pluses that are going to be seen with the parent-club Coyotes being less than a two-hour drive down the I-10.
"The Coyotes, the organization has been unbelievable in letting us use these facilities," exclaimed Lamb. "The guys on our team see exactly how the Arizona Coyotes are doing everything, and we're doing the same thing. I think we can use that as a positive."
Next destination? San Diego, California, for the team's inaugural game of their inaugural AHL season. The trip? About five hours, maybe six.
"When I was playing in junior in Vancouver we bussed I think 29 hours or something like that to Brandon, Manitoba for a game," Cunningham chimed in as he headed out after another day's work.
Now, that's tough.