Roadrunners Features
Coyotes skating coach Dawn Braid gets to working with Roadrunners
By: Alex Kinkopf
October 26, 2016 5:36 PM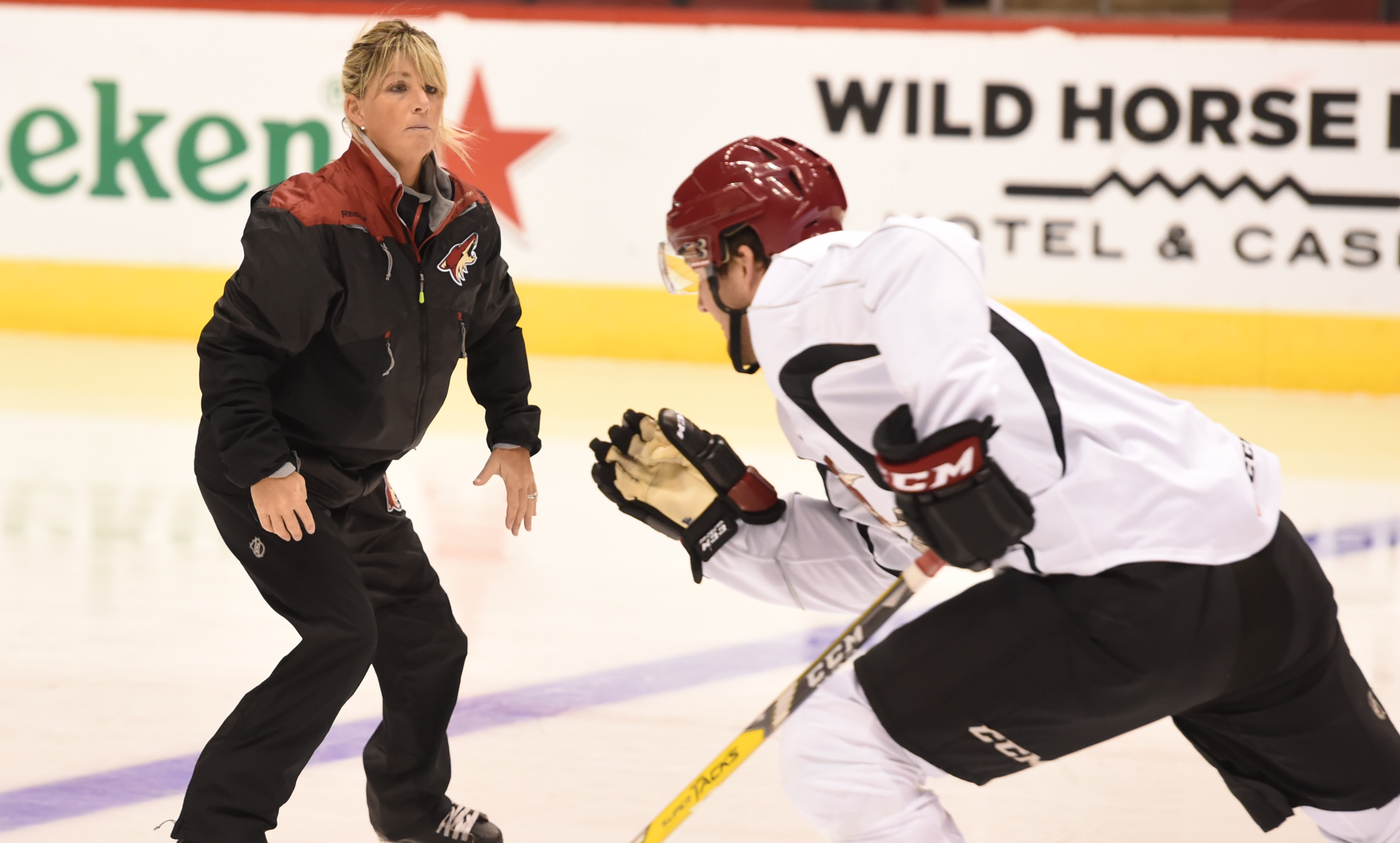 Now, she's in Tucson lending a hand – or might you say, a pair of skates -- to a young, prospect-heavy Roadrunners roster.
Once again, the relocation of the Coyotes' American Hockey League affiliate from Springfield, Massachusetts to a mere 120 miles down I-10 continues to pay off to benefit the organization's best interests.
Braid, a native of Woodbridge, Ontario, is scheduled to work with a select group of Roadrunners players for two days before returning to Tucson Arena on Friday evening to take-in the club's home opener.
"I'm employed by the Coyotes, and that entails working here with the Roadrunners as well, being that they've got a lot of their prospects down here," she said. "This morning I was out working with a few of the forwards, I'm going to spend some time with a couple more this afternoon, and then again I'll be on the ice tomorrow before and after practice with some of the defensemen. I'm down here for two days, I'll be back here for the game on Friday just to see the game. I have a schedule where I'll be in as much as they can get me in throughout the season when practice allows for it depending on the scheduling of games."
In 2005, the Toronto Maple Leafs hired Braid to teach at their development camp, and since then, she has worked with the Buffalo Sabres, Anaheim Ducks, and Calgary Flames as a part-time skating consultant.
"You're focusing on the same things, whether it be with the Coyotes or here with the Roadrunners," she said of her approach with the players in Tucson. "It's more about the individual player, so it depends on what the needs of that player is, it's not necessarily a template where everybody gets the same thing, it's more designed to be individualized for the players' needs."
Braid has worked as the New York Islanders' John Tavares' personal offseason training instructor since the #1 overall selection of the 2009 NHL Entry Draft was 17 years old, two years before he even made a name for himself on a professional stage. The Dallas Stars' Jason Spezza and New Jersey Devils' Mike Cammalleri are among Braid's other regular trainees.
And with her impressive resume of clients, comes plenty of respect earned.
"A lot of these guys come out [and work with me] because they want to come out," she said brimming with confidence. "They're used to what they're getting, they've seen results, they trust me, they know players with other teams that I've worked for and that I've had success with, so we have a mutual respect for one another in the fact that I look at them as very talented, elite athletes, and they trust me in what I'm doing in being there to help them get better in their skating."
Relationship building often comes to the forefront of most coach-player rapport, and that's no different with Braid and the professional hockey players she instructs.
"I'm fortunate in that a lot of the players I'm working with right now, I've already spent some time with, so they know what they're getting from me, they know what to expect," she said.
One of those players who knows what to expect from Braid is Roadrunners forward Conor Garland, who was drafted by the Coyotes in 2015 and on the ice with the organization's new skating coach early Wednesday morning before the rest of the team arrived for the start of practice.
"I've had the opportunity to work with Conor previously, so I know what I'm looking for," Braid said of her approach with the 20 year-old prospect. "Conor's game, he's really skilled with the puck and everything, we're just working on certain parts of his game down low to allow him, when he makes those moves, to be able to separate from the players. If we want to get detailed, we were working on his quickness coming out of his turns."
When Braid educates in Tucson, she's doing so to benefit the Coyotes' organization as a whole. The wisdom she brings is something the Roadrunners are fortunate to be the recipients of.
Back to work Thursday.