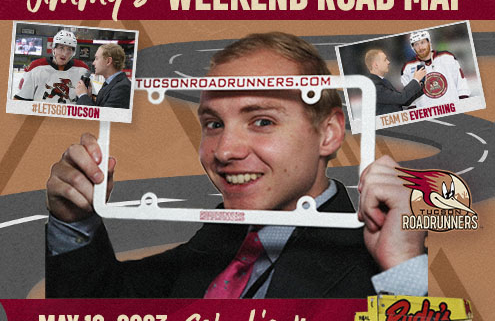 The Weekend Road Map is back for another week after navigating the thunderstorms we've had scattered around Tucson. With the University of Arizona done for the year and other Tucson students counting down the days until summer, it's somehow the perfect time for a Weekend Road Map titled "School's In," and you're about to see why.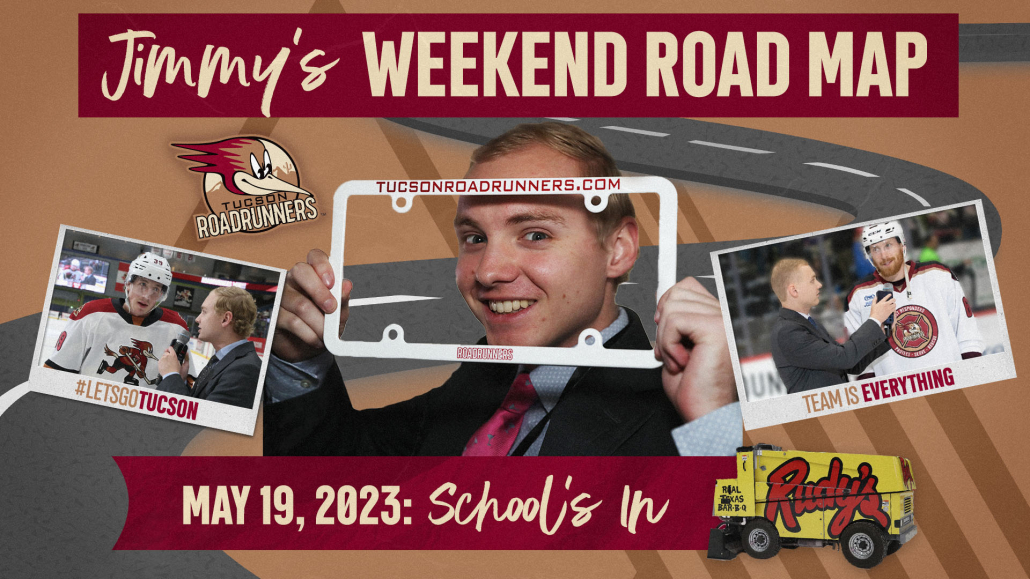 In Case You Missed ICYMI:
Earlier this month, we revealed the Roadrunners 2023 Opening Night date (Saturday, October 21) and ticket special. At the very end of last week (after the Road Map had made it onto the web), the team announced the return of a School Day Game for the 2023-24 season! Find out more and help make the game free for Pima County students at TucsonRoadrunners.com/School.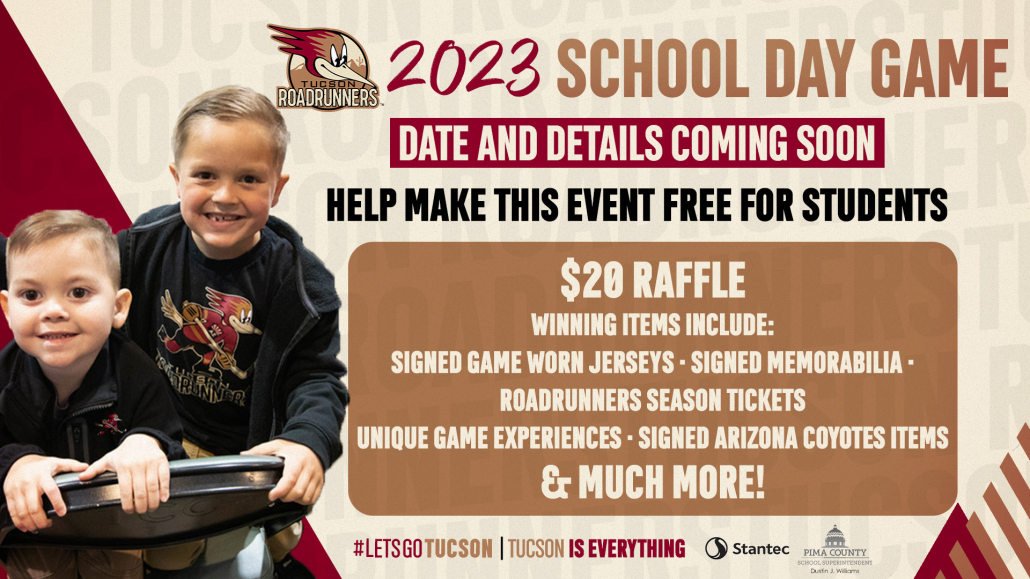 See? I told you "School's In" made sense. I can't guarantee everything else going forward will, though.
RRTV Guide
This week on RRTV, we gave you more details on the upcoming School Day Game and gave a shoutout to our latest Insider Podcast guest (more on that coming up). We also recognized former Roadrunners goaltender Adin Hill, who has been dominant between the pipes for the Vegas Golden Knights on their to the Western Conference Finals against the Dallas Stars. Adin Hill holds a number of Tucson franchise records, such as: games played by a goalie (134) wins by a goalie (66), playoff appearances by a goalie (9) and even points by a goalie (8 assists!) During the Golden Knights current playoff run, Hill has a 3-1 record with a .934 save percentage.
Cam Crotty On The Pod
This week on the Tucson Roadrunners Insider Podcast, "Voice of the Roadrunners" Adrian Denny and I were joined by defenseman Cam Crotty. Cam described his journey to the desert since being drafted by the Arizona Coyotes in 2017, as well as journey back to his hometown of Ottawa in the form of a three-day road trip. You can listen to the full episode below or by visiting TucsonRoadrunners.com/Podcast and the iHeartRadio app. You can also read the best from the interview at TucsonRoadrunners.com/ThisWeek. Usually, I'd tell you who we'll be talking to on next week's episode, but this time I'm only giving two hints: They're another defenseman, and they were nominated by Cam Crotty near the end of our interview with him.
Listen to "Cam Crotty Goes Cross-Country" on Spreaker.
El Lazo Swag (Yes, "swag" is still a word)
Unveiled this week was the first-time opportunity to customize your own El Lazo de Tucson Game Made Jersey. Anyone can buy one for $500, while season ticket members can add one to their collection for $399. $5 Raffle Tickets are also available with one lucky winner being selected after the event ends on May 22 at 9 p.m. Fans can customize the jerseys with a name and number, and can select their size based on availability with all proceeds benefitting Roadrunners Community Efforts in Southern Arizona. Check out the unique opportunity HERE or on the DASH App.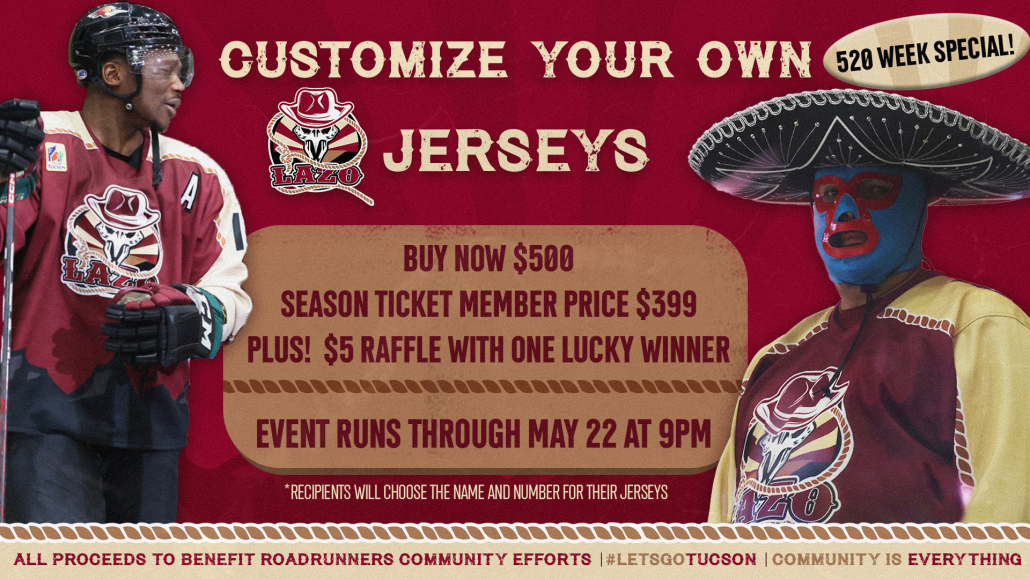 A customized jersey means you can represent the player whose El Lazo jersey you might have missed out on the first time, or you can be prepared for that magical day when the player of your dreams signs with the Roadrunners for one game only (I'm not giving any examples). Maybe you want to get really meta and have it say "Your Name" with the number 00… go ahead, I'm not the one making it.
Friday Quick Fact
With the announcement of a School Day Game during the 2023-24 campaign, I took a look back at our last School Day Game at the Tucson Arena on January 17, 2018. The 10 a.m. contest was in front of a sold out crowd of 6,521, and featured several prominent Roadrunners and current NHL players for a Tucson team that won the AHL Pacific Division title later that season: Laurent Dauphin (Arizona Coyotes), Lawson Crouse (Arizona Coyotes), Michael Bunting (Toronto Maple Leafs), Dysin Mayo (Vegas Golden Knights), Conor Garland (Vancouver Canucks), Dylan Strome (Washington Capitals), Kyle Capobianco (Winnipeg Jets), Lane Pederson (Columbus Blue Jackets) and Adin Hill (Vegas Golden Knights).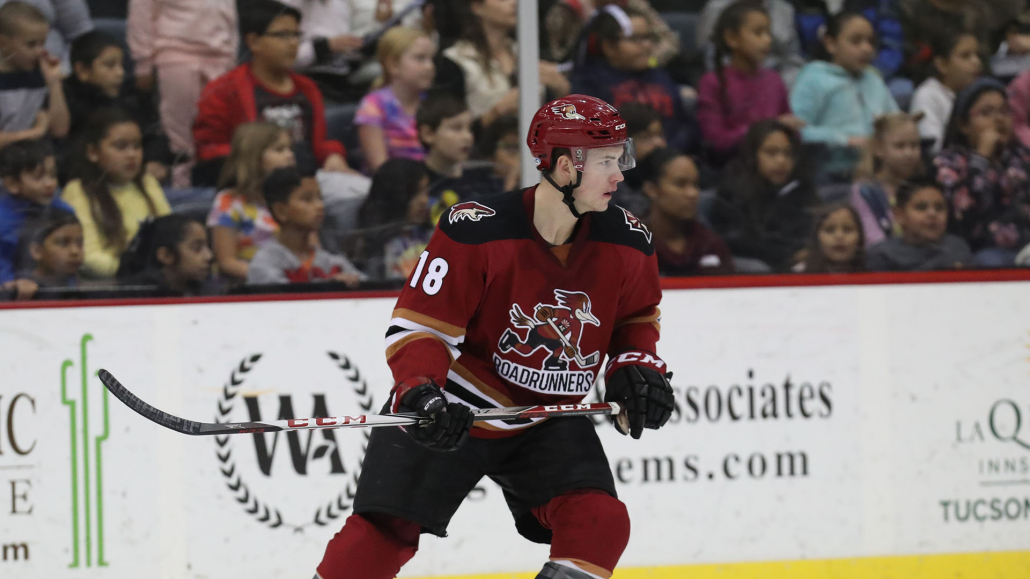 Bread Bandit At Rudy's B-B-Q
I was lucky enough to attend an end-of-season get together at Rudy's Texas B-B-Q with some of our Game Night Staff and AHL Off-Ice Officials on Tuesday. Though I (surprisingly) didn't have to sneak in, I almost managed to sneak out with a nearly full loaf of bread. Our fantastic PA Announcer and Roadrunners Happy Hour co-host Kim Cota-Robles caught me in the act and made me pose with my stolen prize: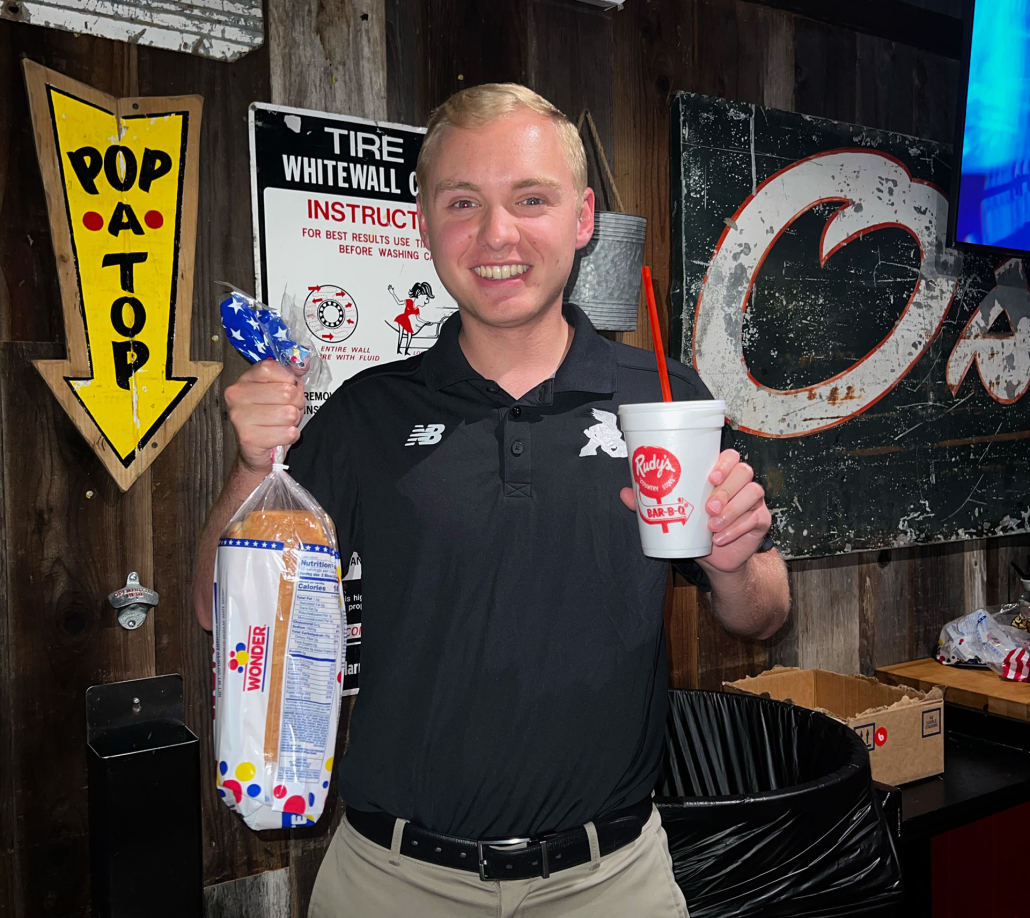 In her words, she's a "darn good photographer," but I think she just had a good subject to work with.
As always, a big thank you for checking out the Weekend Road Map! I'd love to hear any questions or comments from you, just email me at Jimmy.Peebles@TucsonRoadrunners.com or trash talk me on Twitter at @JimmyPeeblesAZ. Talk to you next week! #LetsGoTucson
//www.tucsonroadrunners.com/wp-content/uploads/2023/05/5.19-weekendroadmap_495x400.jpg
400
495
Jimmy Peebles
/wp-content/uploads/2019/06/web-header-logo.png
Jimmy Peebles
2023-05-19 08:00:00
2023-05-18 20:43:48
Jimmy's Weekend Road Map: School's In