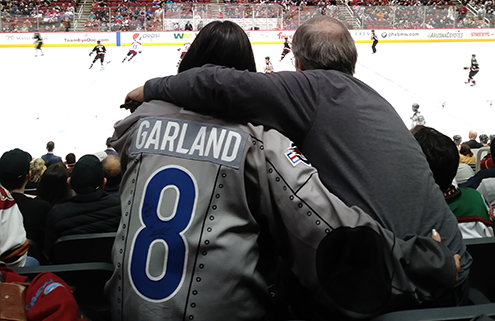 During Hispanic Heritage Month, "Voice of the Roadrunners" Adrian Denny will be speaking with some integral members of our community and sharing the conversations for you to enjoy and learn their stories. Roadrunners Season Ticket Member Cathy Soltero, who attends every game with her husband Mike joined us this week for a special conversation.
I know that you've been impressed with the Coyotes outreach to the Hispanic Community since Mr. Meruelo purchased the organization.
Glendale has one of the largest and most entrenched multigenerational Hispanic communities and when you make a Hispanic fan, you make a half of a dozen at a time. Being together and enjoying together, we want to be together.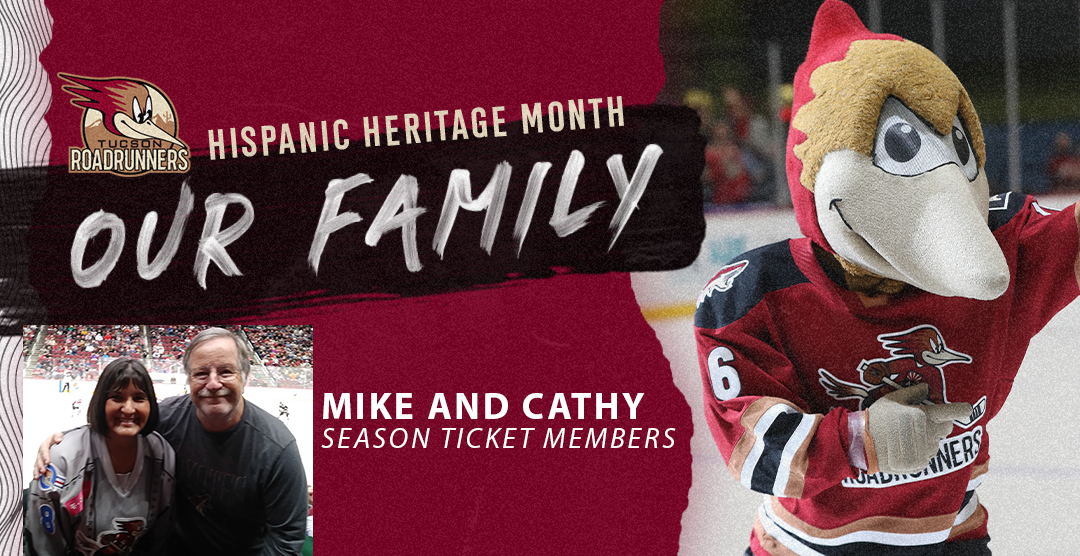 From Day One of the new ownership it was an important initiative for the organization to grow the game in the community and you've seen the efforts?
Mr. Meruelo comes out and the first thing he does is identify himself as one of us and he did speak in Spanish at the Press Conference and I like to watch Mexican news and there were things being said on the Mexican station about the Coyotes because any time a Hispanic person does something, as a role model, it's immediately on the news and he's getting free press and he ran with it. I went to the Ice Den and for the first time it had a Coyotes shirt in Spanish and I looked at the word and I wasn't familiar with it (Nuestra Manada) and I looked it up and it was "Our Pack" in Spanish and then he came out with the Coyotes Twitter account @LosYotes and it was really important that was there because even through I'm bilingual, I like to read stuff in Spanish; because you learn how to say words in Spanish that aren't common knowledge. When would I have learned how to say "puck" in Spanish?
What programs have you noticed that have jumped out at you engaging with the Hispanic Community?
I like that they're trying to include people, I like that they've gotten involved in the schools and started teaching Street Hockey at P.E. The kids already get it, you don't have to start at the beginning because soccer and hockey are the same game. The first time that I went to a hockey game, I immediately understood the game. I could follow the puck because I knew where the goal was and the objective of the game. The Hispanic community is prime to be hockey fans because the two games are so close. Mr. Meruelo has content in Spanish, he's very astute, both the Coyotes and Roadrunners have integrated Spanish culture in their various looks and they started immediately.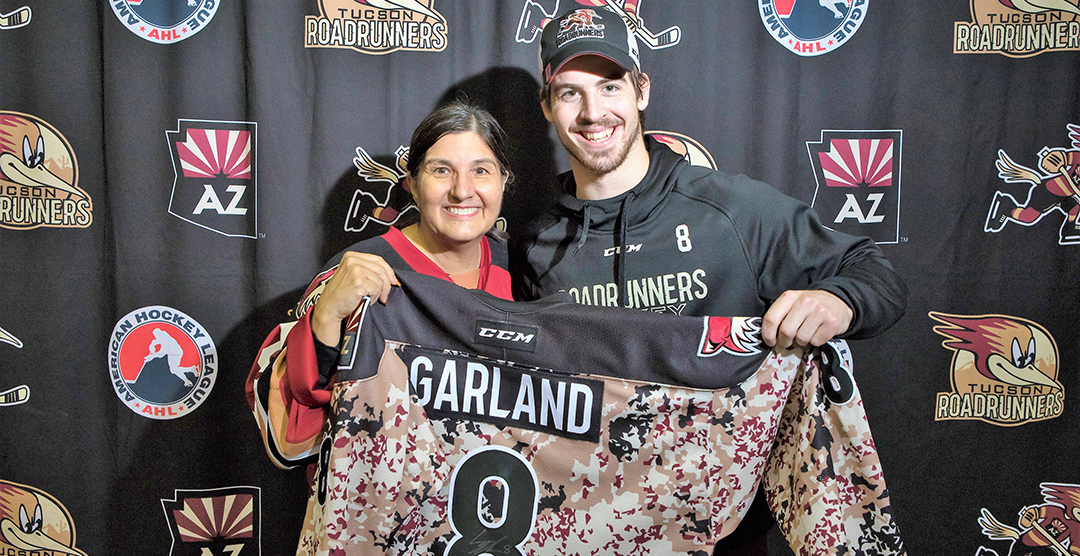 How did you get involved with the sport? I know your favorite player is Conor Garland.
I would go and watch Mike's game recreationally and saw something in a magazine that gave a discount for Coyotes tickets, because I thought they were very expensive, but they weren't. So I started going to Coyotes games with him. For the 2015 draft, I decided that I was going to figure this game out from the beginning and it starts with the draft. We were in Hawaii and we had to beg them to put the draft on. I had gotten The Hockey News magazine that listed the first 100 prospects in there. Then I saw that they had taken Conor Garland and when the draft was over, I'm sitting on the beach and reading everything I could about the players that we just drafted, and I'd found a whole bunch of stuff on Conor Garland and saw that he was quite a star in Moncton (QMJHL). Everyone was talking about Dylan Strome, because he was taken number three, and I'm saying he (Conor) had the same amount of points in the CHL and they tied for the scoring lead that year. So I'm saying oh my, I have to see this guy. So we went to Prospects Camp and I thought I'm just going to be a "GM" and watch and figure out who are the better players by the effort that they put out and then I'll see who they are. And the kid who stood out above everybody was Conor Garland. He was faster than everybody, he was more determined than everybody. It didn't matter that he was smaller than everybody. And Conor was going to do whatever it took and that was clear to me.
What have you enjoyed about driving down from Chandler for Roadrunners games?
The Roadrunners have really made my retirement something special. As a juvenile probation officer, I always had a caseload, I always had about 72 kids that I was involved with and then I lost that. I'm obviously very chatty, Michael Bunting nicknamed me "Chatty Cathy" because I was always talking their ears off. These guys learn the game and the work ethic that it takes in Tucson. The development in hockey is very much like the therapeutic development that you practice with in probation. There's a three-part process and I think it's the same thing in hockey; it's more than just the skill. It's not just going to a game, it's interacting with the fans. It's really a feeling of belonging, a feeling of family, a feeling of inclusion and it just tickles my little Hispanic heart.
What's your Game Night Routine?
Sometimes we'll meet other fans at El Minuto that's just nearby, but if we're not meeting other fans, we eat in the arena because we want to support the concessionaires, we like stimulating the economy. We get 50/50 raffle tickets every game. I won one time, so I'm only about $1,200 in the hole there, I won $800, but that's okay, it always goes for a good thing. I always buy the Roadrunners Give Back items, like the mystery bags and the little pucks because I want to support the team, support the charities and support the groups that support the team. It is a business and I understand business. Everything counts. We always stay for auctions, even if we're not bidding that night.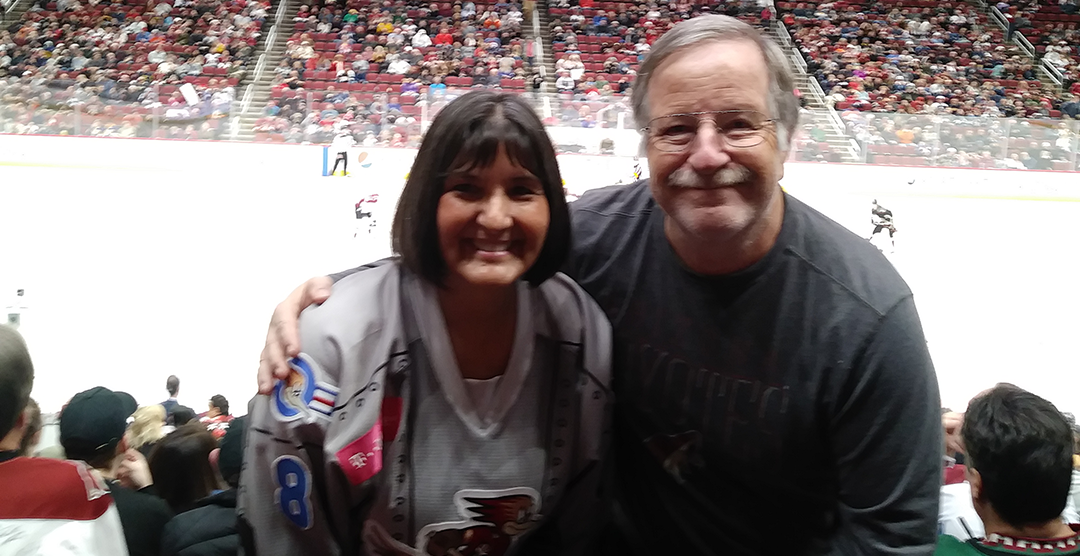 //www.tucsonroadrunners.com/wp-content/uploads/2020/10/495_500CathyMike.png
400
495
Adrian Denny
/wp-content/uploads/2019/06/web-header-logo.png
Adrian Denny
2020-10-02 19:56:03
2020-10-02 19:56:58
Our Family: Cathy's Story Comes Full Circle