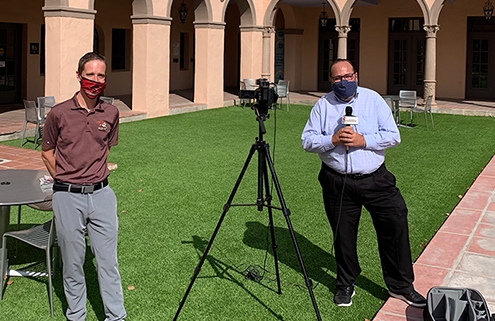 During Hispanic Heritage Month, "Voice of the Roadrunners" Adrian Denny will be speaking with some integral members of our community and sharing the conversations for you to enjoy and learn their stories. Felipe Garcia, Executive Vice President of Visit Tucson is today's feature.
How'd you land in Tucson?
I was originally born and raised in Monterrey, Mexico and came to Tucson in 1994; had a two-year plan to be in Tucson and go back to Mexico. I was trained in Mexico as an Attorney, came here, went to the U of A did a Master's in Trade and Investment Law; and for the last 16 years, I changed careers and professions, I'm now working in the tourism and hospitality industry and I love it!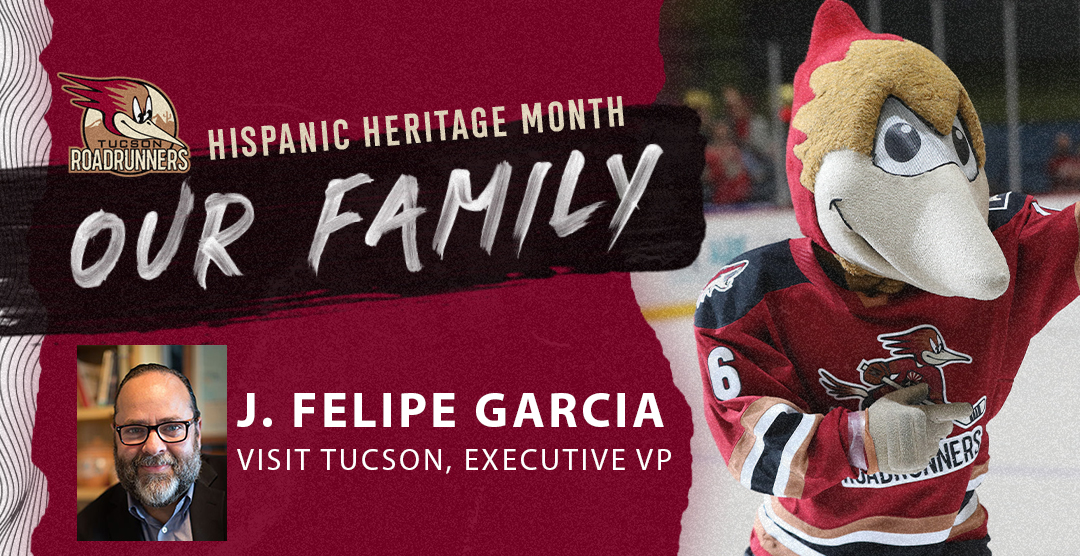 What about Tucson made it home?
When I got here, it was because of working on this think tank and I was very excited, but I found this amazing community and what I love about it is the diversity, the diversity of culture of people and we all embrace it. So I feel that I live in the community that is in the US that has all of the great things that this country offers to all of us. But it has a cultural feeling of Hispanic heritage of Asian American heritage, of Native Tribe heritage; it's a multicultural community and just the surroundings, the beauty and the space; it's truly unique. I've traveled for work to many places in the world and there's many places that all look exactly the same; it's copy and paste of other places. When you come to Tucson, it's unique, the Sonoran Desert, it's unique, there's nothing like it in the world. Those saguaros, they only grow here in our Sonoran Desert. The geography, the nature, but most importantly the people and the heritage that we can experience here in Tucson.
Tucson is a town of many unique neighborhoods and some are completely different like our: desert communities, resort areas, the University campus and all of the rich culture, where have you chosen to call home?
I live by the foothills and then I drive downtown, and I have no problem driving south to go to a taqueria. I live close to the desert, I love being at my home and watching critters: from rattlesnakes, the deer or whatever, look at the saguaros, look at the mountains; but I love being downtown and looking at the history and walking and seeing a Pancho Villa statue downtown, this beautiful building we're in right now (The Historic Pima County Courthouse) in the Presidio, I love going to south Tucson; driving 12th Avenue is one of my favorite drives and looking and seeing the little stores and I walk in and I talk to people. For me, Tucson is diverse and we embrace it. I don't feel that we have neighborhoods or sections where you only fit in one neighborhood. People here fit everywhere and we welcome people everywhere in Tucson.
What benefits and excitement have you noticed that the Roadrunners have brought to our community since arriving in 2016?
We have a group of ambassadors, we have a lot of Canadiens, a lot of people from the east coast, from all over the world and they come to this community and they're talking about it. You're bringing economic development, you bring teams from other parts, they stay at our hotels, they eat at our restaurants, they spend money here. But bringing professional sports to Tucson, you're bringing an amenity that brings us together. You see families cheering the team on, we're united by one sport, that's what makes it 's so unique and so different. I remember the first time I brought my son to a Roadrunners game, he said Dad, this is fun and I love seeing the families in the stands. We need to embrace it and support it. If you haven't been to hockey, go once, check it out and you'll have a great time and you'll go back because of the experience.
Soccer is big in this region, what parallels are there with hockey and soccer that the fans can relate to?
There's many parallels. Soccer is big and Mexico has been a soccer country for many years and both sports have enthusiastic fans. Hockey and Soccer, they share the goal, we score goals and the excitement that comes with it. Feel free to yell "goal" at a Roadrunners game too. But Baseball is very big in Mexico too, here you have this mixture, you 're using a stick to hit something, it's not a ball,  it's a puck, it's a little different, but just the experience. Fans enjoy going to the stadium for the environment, the crowds, it's a night out and that's what it shares.
At Visit Tucson, you've been preparing this entire time for travel to return to its peak, what has that entailed and what do we have going for us here in that aspect?
Travel has started returning, not at the levels that we were at six months ago. The first issue for us is about safety and public health for the tourists and for the employees. When we're talking to people about something very unique here: is our open spaces. One of our biggest markets here in Tucson is New York. When you're in Tucson you can see far away in the distance, you can see open space, open streets and that's amazing; that open space concept, that's what we're promoting, especially now as we keep our distance. The first stage of the recovery is people driving down from Phoenix, Southern California, Texas, New Mexico, even Tucson staycations. The second stage is a little bit more regional; other states, visitors from Mexico are very important to us of course. The third stage is when international travel comes back again, we know that it's going to take some time, but we're ready. We want to be ready in a way where we want to protect the visitor, the employees and be smart about how we're bringing business back to Tucson.
//www.tucsonroadrunners.com/wp-content/uploads/2020/09/495_400_FG.jpg
400
495
Adrian Denny
/wp-content/uploads/2019/06/web-header-logo.png
Adrian Denny
2020-09-18 20:12:59
2020-09-18 20:22:20
Our Family: Loving Life In Tucson