Tucson Roadrunners forward Ben McCartney joined "The Voice of the Roadrunners" Adrian Denny and TucsonRoadrunners.com's Jimmy Peebles on last week's edition of the Roadrunners Insider Podcast. The full episode can be found on the iHeartRadio App or by listening below.
Listen to "2022 Monsoon Season Preview: With Ben McCartney" on Spreaker.
Q: Ben, how's it going? What are you up to today?
A: Not too bad. I was just on the farm today helping out my Old Man, we're just finishing up seeding. It's been pretty busy these past couple weeks but it's going pretty good.
Q: You're back home in Manitoba, but we've seen two hometowns listed for you: Macdonald and Portage la Prairie. Can you tell us about the two?
A: I like to consider my home city Portage la Prairie because I was born there and I played all my minor hockey there and went to school there. But Macdonald is the small farm I'm close to. Where I grew up and where I live is about 20 minutes north of Portage and the closest village to that is Macdonald. I like to mention that too, because that's really where I grew up on the farm.
Q: This was your first full season with us, what did you learn?
A: There was definitely a learning curve for me. I learned a lot of things, and I had a great coaching staff and a lot of great teammates to help me out and make the year easier transitioning from Junior Hockey. One thing is just being competitive every day. Every day you have to try to get a little better, even if it's a rest day. That and just being consistent with the everyday routines.
Q: You finished second on the team for goals, with a lot of that coming in bunches. What is it about getting that first goal or first point that keeps you going for the rest of that game or weekend?
A: I think that's part of one thing I have to learn, which is trying to bring my A game every night and having a good B game if my A game isn't there. I think it's a part of maturing and getting used to playing pro hockey, and I want to get that done earlier rather than later. That's one of my goals for the upcoming season, being counted on every night and knowing what to expect out of me.
Q: When you think about players from Manitoba, you think guys that are honest and hard-working. I think it exemplifies you and the way that you play.
A: I think that's just where I'm from and being from a family with farming on both sides. When you're farming, things sometimes don't go your way and you have to do a lot of things yourself. I think I take that with me to my hockey play. Things are not going to go well at times and you just have to battle through it and work your way through it. You have to play rough and be a farm boy out there, it's a stereotype but I don't mind it.
Q: What differences were there between your four games with us at the end of the 2020-2021 season and your first full season with us this year?
A: Definitely the number of games and that they came in bunches. There's always going to be ups and downs during the season versus those four games just dipping my toes in the water. Every game is super hard, nothing comes easy. It always comes down to consistency, you can't have an off day. That was the hardest thing about the transition [to professional hockey].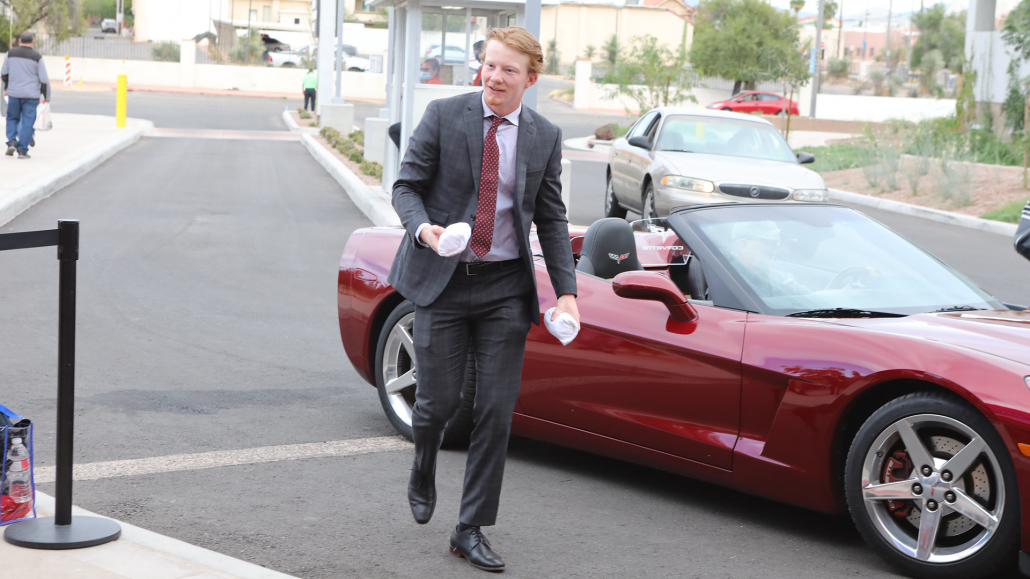 Q: Tell us about your experience getting drafted by the Coyotes in 2020. Were you watching? Did you have any idea where you might be headed?
A: It's been a crazy couple of years. I remember getting drafted, I was with my sister, and we were paying attention to it. But the Seventh Round isn't on TV, so I was just checking my phone every so often. Then one of my buddies texted me saying I got drafted. It was a really cool moment to share with my sister and her boyfriend. But at the same time, nothing is for granted so I had to get back to work the next day and keep trying to improve to be able to get that call from the Roadrunners for the short stint at the end of the 2020-2021 season.
Q: You had a great finish to junior career, you set a career high in penalty minutes with 105. How did that year pave the way to join us at end of 2020-2021?
A: Having that time off [in 2020], I was really able to gain some weight. I was really light in my 18-year-old season, so having that time off let me focus on gaining weight and building a more mature body. When I was 19, I was lucky enough to even have a season. We played 24 games and I played well in them and felt comfortable in my game. Then finally getting the chance to show myself in Tucson in a pro atmosphere and inking a pro contract was something I will never forget.
Q: You were up in Manitoba when you got drafted by Arizona. What was the reaction to finding out that you were coming down to the desert?
A: Being in Manitoba winters was a little extra motivation to make it to the desert. *laughs* It was an unreal experience [coming to Arizona], none of my family had ever been there. We all knew it was a nice place and a lot of the snowbirds from my hometown go down there. It was a really great opportunity but at the same time I knew I had to keep getting better to have the chance to come down there, and I still have a lot of work to do.
Q: You made your NHL debut with the Arizona Coyotes this season on November 5, 2021 against Anaheim. What was that experience like?
A: That was something I won't forget, I even had my parents and grandparents there. Getting to play against players I had grown up watching was such an eye-opener for me. When I was on that ice, I really knew what I had to do to be there. Being able to dip my toes in the water was something that made me want it even more. It was great to get a feel for it and know what my weaknesses are compared to the top players.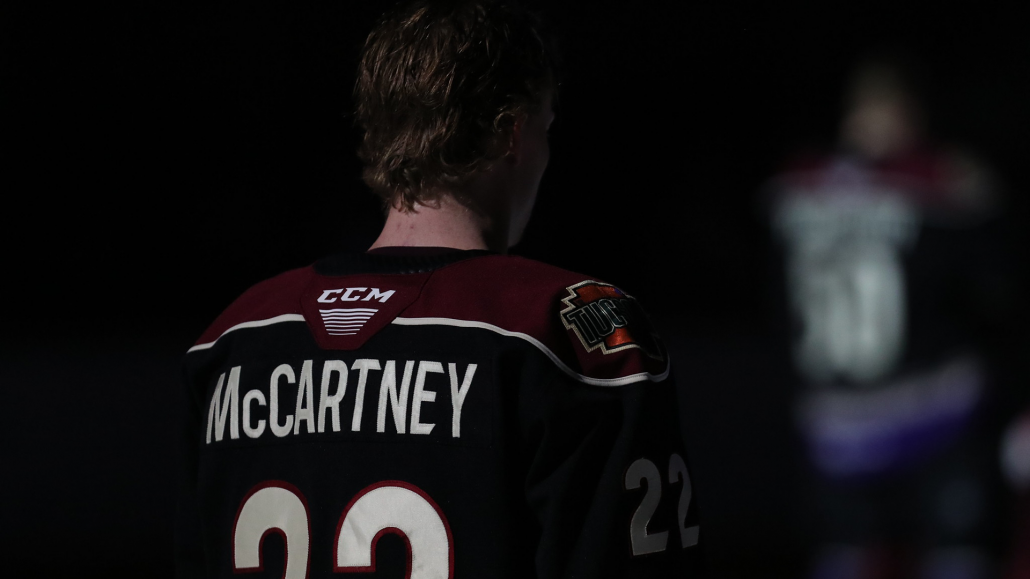 Q: We had a very strong class of rookies this year, including yourself. What is it like practicing and developing alongside them as the season goes on?
A: Everyone has a really strong work ethic, every practice was super competitive. We all pushed each other to get better and I think we had a really good group this year to do that. Everyone's a really good guy that you could easily become friends with. It was a really fun year and I was grateful for it.
Q: Do you see any teammates from Juniors up there in your area when you're home?
A: When I'm up in Brandon, there's a lot of guys that have been in and out of pro hockey, and some of my junior hockey buddies as well. I have the same group of golf guys I usually golf with, so I get to see a lot of my old buddies and teammates here.
Q: 40 points in your first 61 games with us. What do you work on this offseason to come back and continue to be a key piece next season?
A: I've been working with the Mental Skills Coach trying to work on little aspects you wouldn't normally think of. I've also been trying to take advantage of the nutritionists and trainers in Arizona. I'm just trying to improve everything about my body and mind. Another thing is that I want to get to be a little bit heavier to play against those older guys and to be able to play the way I want to every night.
Q: Have you been watching the Stanley Cup Playoffs?
A: Yeah, that's what has been filling up my nights this past month. Getting to watch the playoffs is one thing, but I really want to learn from it. I find a player on each team that kind of plays like me, and I want to learn from that and adapt from that.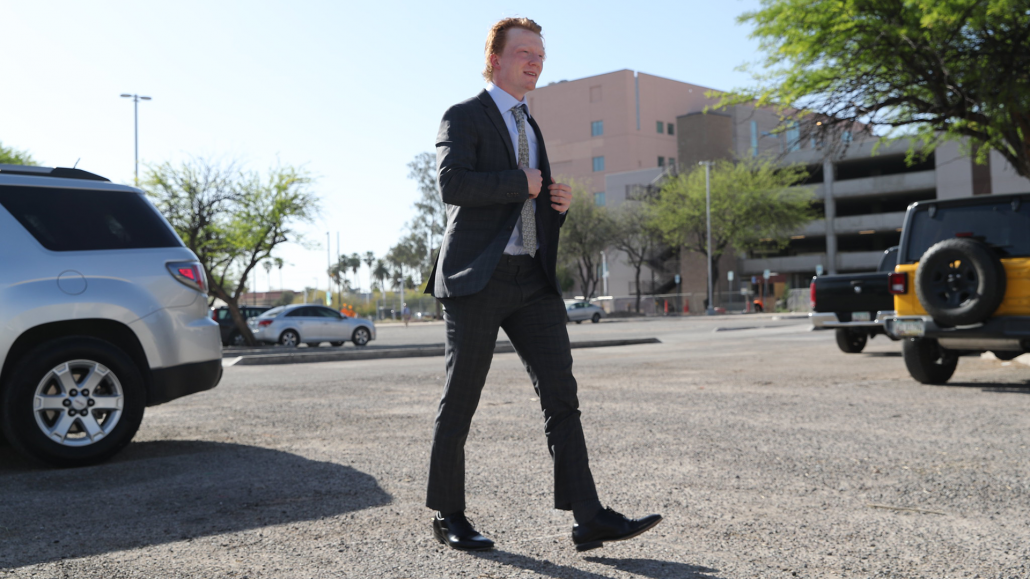 //www.tucsonroadrunners.com/wp-content/uploads/2022/06/BMcCartney495.png
400
495
Jimmy Peebles
/wp-content/uploads/2019/06/web-header-logo.png
Jimmy Peebles
2022-06-23 15:41:01
2022-06-23 15:41:03
1-On-1 With Forward Ben McCartney