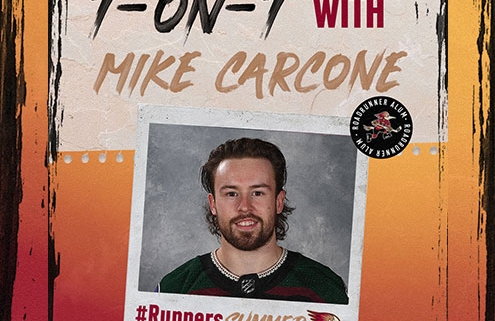 Arizona Coyotes forward and former Roadrunner Mike Carcone joined "The Voice of the Roadrunners" Adrian Denny and TucsonRoadrunners.com's Jimmy Peebles on last week's edition of the Roadrunners Insider Podcast. The full episode can be found on the iHeartRadio App or by listening below.
Listen to "All In The Family: With Mike Carcone" on Spreaker.
Q: What have you been up to today?
A: I had a nice workout over in the Toronto area, about an hour away from here. Then I came home and have just been a dad, hanging out with the boys. They have a little splash pad out here, so I got to see them play in the water. It was nice.
Q: What's a day like in the offseason for you with the kids?
A: I get a nice early morning start, make some breakfast, and then I'm out the door. I get back in the early afternoon from workouts and skating and I get to hang out with [the kids] and unwind. Before bed, we end up watching a little bit of hockey. Then we shut it down and do it all over again.
Q: Your kids don't get to see snow in Arizona, but has it snowed at all since you've been back in Ontario?
A: It's funny you say that. I think when [Roadrunners teammates] Hudson Elynuik and Andrew Nielsen went home they had a little bit of snow out in Calgary. I've been fortunate enough it's just been rainy and a little windy. Other than that, it's been clear skies and nice weather, so no complaints over here.
Q: How special is it to be able to have your kids around the rink and at games throughout your career?
A: It's awesome and they love it. Eli, my oldest, is three and always playing hockey. His younger brother Lennon, who's one, follows suit and he's trying his best. He went on the ice for the first time the other day and he could stand up, I was amazed. For his first time I was really impressed, I don't even know what I could do at that age.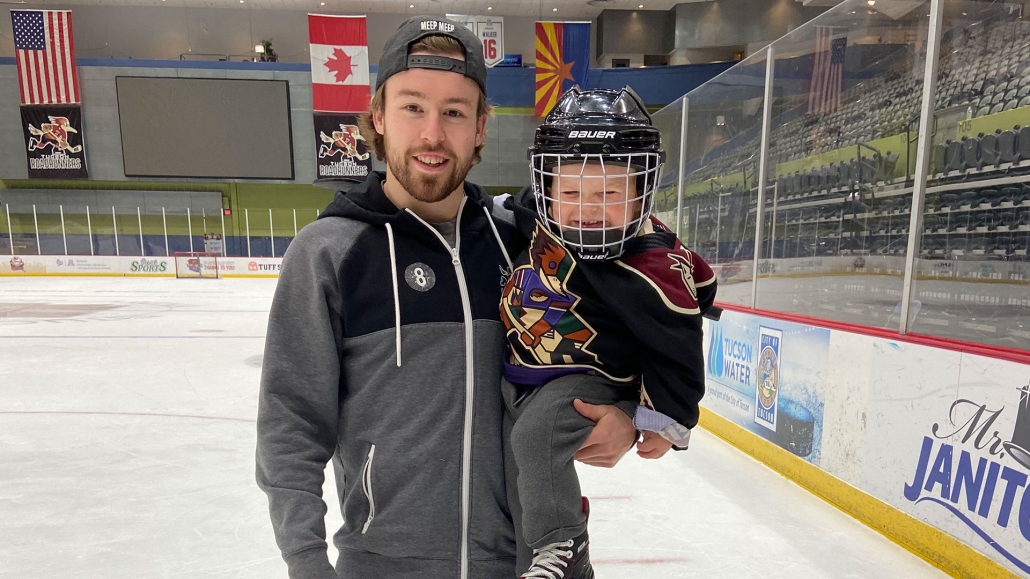 Q: You re-signed with the organization after playing for us on loan in 2020-2021. What brought you back to the desert and what did this season mean to you?
A: The big thing that brought me back was the guys in the locker room, they made it easy. I developed unbelievable relationships with the guys there. I think that was the biggest thing away from hockey, and my family obviously enjoying the weather and Arizona just being beautiful. And the staff, I had such a good relationship with the staff. They're genuine people that care about you and want to see you succeed. I think it was a no-brainer. It was about finding the right fit, and I think I found that here. I was more than happy to sign a two-year deal and I'm looking forward to being back.
Q: When did Arizona start to feel like home?
A: I think once I got Mia and the kids out there, it immediately started to feel like home. I wasn't sure what to expect, being on loan. I had been traded before, but this was a different situation. When I got [to Arizona] I didn't know what to expect. The guys that were in the room were so accepting and so happy to have us there, and we developed those great relationships. The guys love Eli and Lennon, so I think that made it easier too. But I would say [it felt like home] right away.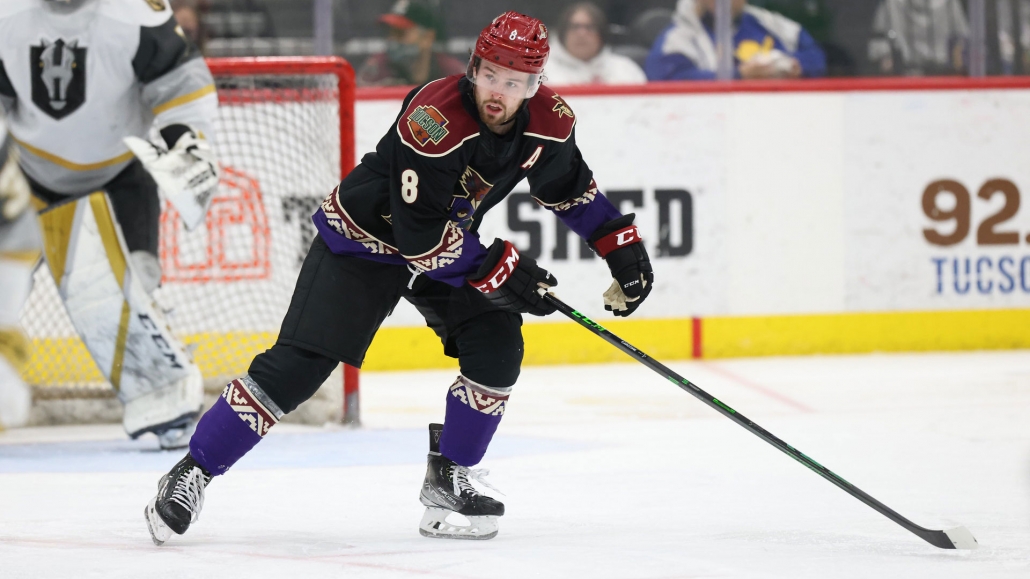 Q: You set a new franchise record for goals in a season with 24 in just 48 games. Were you aware of the record? How did you find out?
A: I can't remember how I found out, but I wasn't aware of it until around the 20-goal mark. For me, it was important to get that 24th goal. I remember getting it against San Jose and sitting on the bench and I just couldn't believe it. I couldn't have done it without the guys I played with. I mean, obviously Matias Maccelli is an elite player, and I played with Travis Barron for a lot of the year. Those guys wanted to see me be successful and our line be successful. I couldn't have done it without them.
Q: You made your NHL debut with the Arizona Coyotes this season on December 28, 2021. It was an eventful game against the San Jose Sharks (8-7 shootout). What was that experience like?
A: It was kind of crazy. We had our AHL games in Abbotsford cancelled so we ended up with an eight-day Christmas Break which is unusual, we usually have three or four days. So I hadn't touched the ice and I wasn't even supposed to play. Unfortunately, some other guys had Covid issues, so I ended up getting a text at 2 or 3 p.m. that I was going to play. It ended up being the highest-scoring game in the NHL that season at the time. It was unique and I didn't really know what to expect but it was cool just to take my first step out there.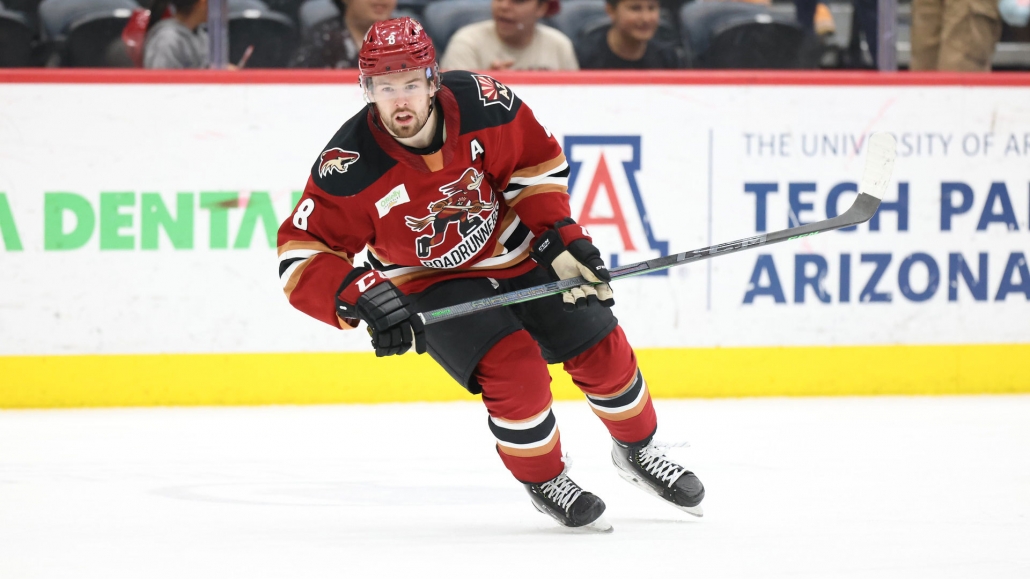 Q: What was it like playing in those NHL games alongside guys you had played with in Tucson when you joined the organization?
A: Absolutely, we grind together, and we all have the same goal at the end of the day, which is to make it to the NHL. When you can do it together, it makes it that much sweeter. You kind of look at each other and say, "we're here, we did it, let's make the most of it." It's awesome.
Q: What was the biggest takeaway from those 21 NHL games this season?
A: I have tons, you definitely learn as you go. The biggest thing was just not taking a shift off or taking anything for granted. Those guys are so good, if you take a shift off, they'll make you pay for it. You have to be dialed in for every shift and not lose focus. I think those were the biggest things. Sometimes you build bad habits and can get comfortable in certain situations. I think I learned the hard way when I was up a few times about staying focused and not making mistakes that were preventable.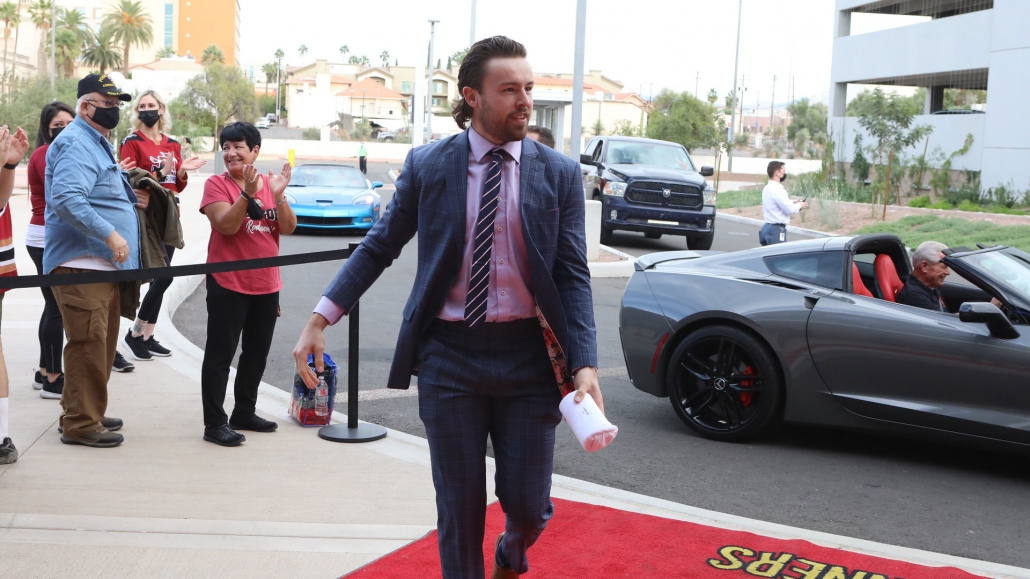 Q: What was it like watching the Stanley Cup Playoffs with the boys?
A: At first, they thought I was supposed to be out there *laughs* but then Eli would always ask who was playing. We usually just had our tub time and then watch a period or so. If someone scored, they were super excited, and we'd try to calm them down a bit because it was bedtime. There were a million questions that went on but I'm glad they enjoyed it.
//www.tucsonroadrunners.com/wp-content/uploads/2022/06/Carcy495.jpg
400
495
Jimmy Peebles
/wp-content/uploads/2019/06/web-header-logo.png
Jimmy Peebles
2022-06-30 13:35:48
2022-06-30 17:16:20
1-On-1 With Forward Mike Carcone