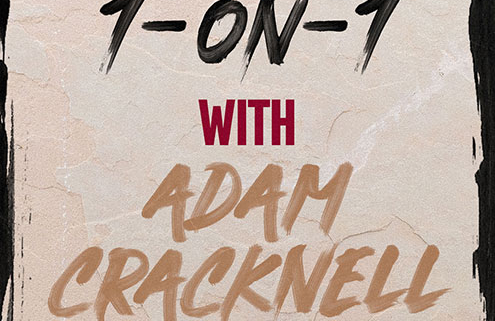 The newest member of the Tucson Roadrunners, Adam Cracknell, joined "The Voice of the Roadrunners" Adrian Denny and TucsonRoadrunners.com's Jimmy Peebles on this week's edition of the Roadrunners Insider Podcast. Cracknell recorded 47 points (21g 26a) in 58 games last season with the Bakersfield Condors. The 37-year-old forward has 998 professional games played, including time in the NHL with the St. Louis Blues, Columbus Blue Jackets, Vancouver Canucks, Edmonton Oilers, Dallas Stars, New York Rangers and Anaheim Ducks. The full episode can be found on the iHeartRadio App or by listening below.
Listen to "Into August: With Adam Cracknell" on Spreaker.
Q: Welcome to Tucson, not only to you but the entire Cracknell Family.
A: Thank you. It's me, my wife and three daughters who are all looking forward to it, as am I. I haven't been [to Tucson] since I was with San Diego (2018-2019 season), but I remember the city being beautiful, nice rink, good fans, and I'm really looking forward to being a part of the organization.
Q: Was it a family decision to come to the desert?
A: It definitely helps that there's no snow. The wife really likes the warm weather and so do the kids. [Tucson] was my first offer, and I didn't want to wait. I thought it'd be a great fit for both sides, and (Roadrunners General Manager) John Ferguson was saying that they want to be competitive and they want to win. I think it's a great spot for me to continue my career and I'm looking forward to getting down there and meeting the guys. I want us to be successful as a team and help get those players to the next level as well. That's something that motivates me. Going on 17 years now, it's still a lot of fun and the young players help keep you young, and I want to win and so do they. So that was a big selling point and I'm looking forward to seeing the city, meeting the guys, and I've heard nothing but great things.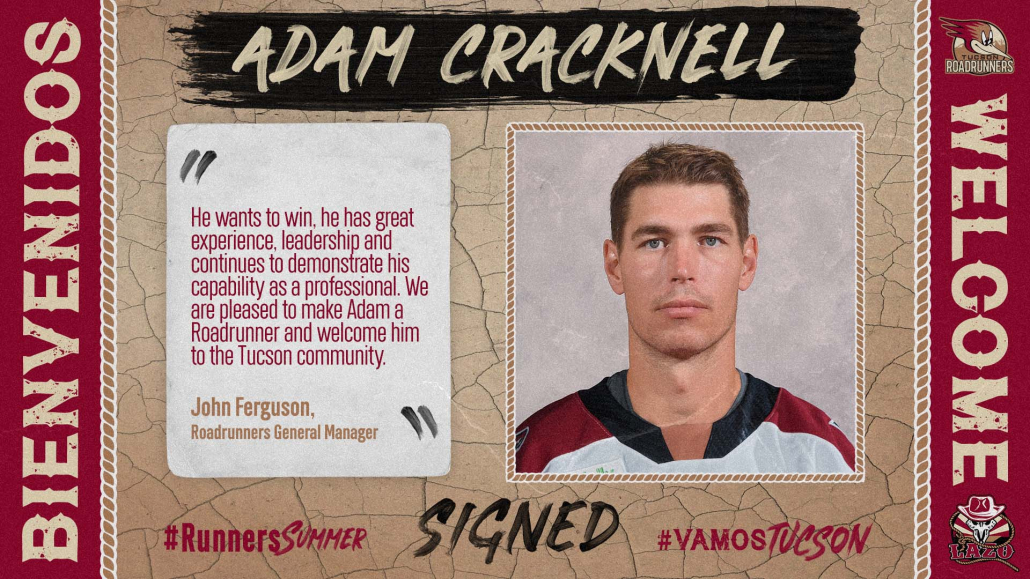 Q: What was it like coming to Tucson as an opposing player? Are you looking forward to being on the other side of things?
A: I definitely am, I remember the crowd being wild and loud. It's a hard rink to play in, the team (Roadrunners) definitely feeds off that energy, and I'm looking forward to being on the other side of it. I know our home opener is against Bakersfield, so I'll get that one out of the way pretty quickly.
Q: We didn't see you in January when Bakersfield was here for that three-game series, you were getting ready to represent Team Canada at the Olympics in Beijing.
A: It was quite the process to get selected for the team. There was definitely a long list of players that were eligible to go, and just to be on that list at one point was a huge honor, knowing that they're looking at you and doing their research. Obviously, we didn't have a tryout or anything where you can select teams, they just kind of selected [based on] how you were playing. Once I made the list, that was a little extra motivation and a little more determination on my end to make sure I was doing what I needed to do to be noticed and get selected.
Q: Any interaction with our Arizona hockey hero and Coyotes Chief Hockey Development Officer Shane Doan?
A: If you can find me a nicer guy, I'll call you a liar. He's a great person, he obviously had a great career. I was fortunate enough to play against him and watch him throughout his career. It was an honor to meet him and be selected by him to make the team. I messaged him after I signed with Tucson and I said "if you had anything to do with this, thank you very much." I'm looking forward to seeing him down in Arizona and reminisce about our time at the Olympics together. Obviously, it didn't go the way we wanted, but it was a huge honor to play for him and get to know him.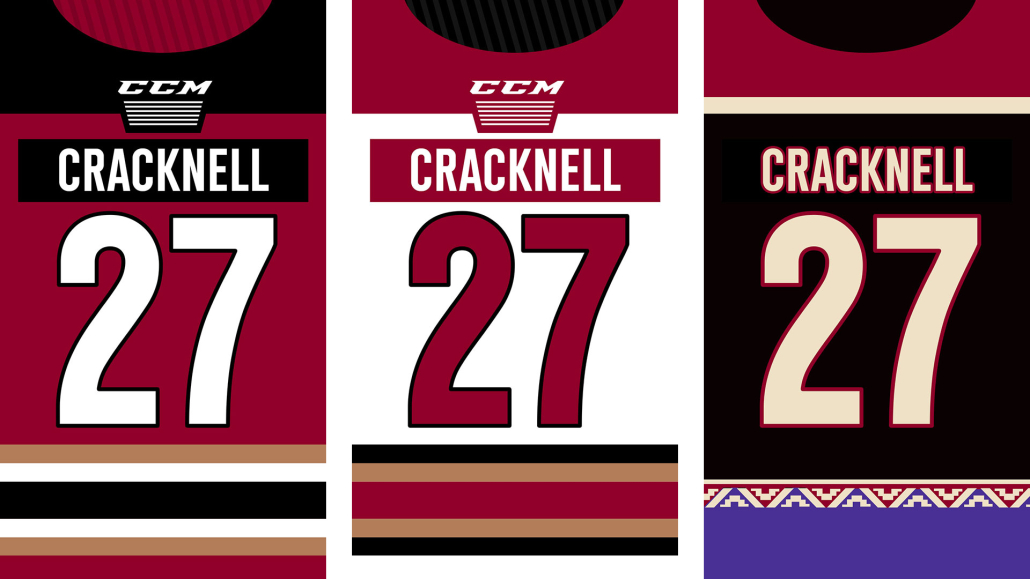 Q: For those that don't know, how would you describe your style of play and what will you bring to the Roadrunners?
A: My game hasn't changed a lot over the years, I think I'm more of a north-south guy, I like to play responsible. I'm not sure what position I'll be playing, but I've been center for quite some time now. I'm hard working, I try to be as physical as I can. On the power play, I'm more of a shooter than a "disher." I'm not blazing fast like some of the guys out there, but I've played long enough to where I can read the play quite well and get to where I need to be.
Q: We're a young organization with a lot of prospects, are you excited to show some of those guys the way around professional hockey? Is there anyone you're excited to be playing alongside in particular?
A: It's nice to be on Boko Imama's side **laughs**. I don't know the team too well, but I spoke to Mike Carcone and he gave me a bit of a rundown of the team. He's a super nice guy that's willing to help, he has a family too, so that will be great to help us with the transition. I'm looking forward to playing and helping the young guys. A lot of guys know, but I think it's about the consistency of what it takes to get to the NHL, it doesn't happen overnight. It's about growing your game and going through the ups and downs, because all of us have done that in our careers. You're not trying to do someone else's job either, you're going to get selected for what they need at the NHL level. I'm looking forward to helping guys in different situations and try to pass on the advice that I've learned from my experience or other players that I've played with.
//www.tucsonroadrunners.com/wp-content/uploads/2022/08/adam-cracknell-495.jpg
400
495
Jimmy Peebles
/wp-content/uploads/2019/06/web-header-logo.png
Jimmy Peebles
2022-08-04 11:56:29
2022-08-04 11:56:30
1-On-1 With Roadrunners Forward Adam Cracknell