Kim Cota-Robles Public Address announcer
Kim Cota-Robles becomes the first female full-time Public Address announcer in pr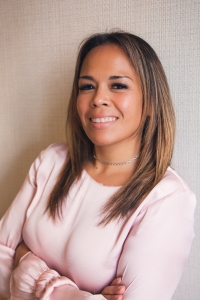 ofessional hockey. She is a fourth-generation Tucson native and has a minor, completely inexplicable kiwi allergy. She's a graduate of the University of Arizona, where she completed both her Bachelor of Fine Arts and her Master of Business Administration. She was an officer in the United States Navy for 11 years and her favorite duty station was Washington, DC (although she tells everyone Japan because it sounds more exciting). She only started her voice career several years ago but has been a hockey fan since before she saw Ron Hextall play against Dominik Hasek at Nassau Coliseum. She is a strong advocate of never wearing matching socks because life is much too short
Beef In-Game Host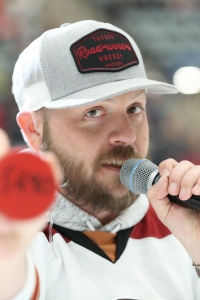 Entering his sixth season as the Roadrunners In-Game Host and the morning host at Tucson's Rock Station 102.1 KFMA, Beef Vegan is a legend in the D.I.Y. Arts and Music scene here Arizona. Beef has won multiple awards, including Best Radio Personality, Best Morning Show, and had his station listed as one of the 10 bests in the nation by USA Today. (This gave him opportunities to host concerts, festivals, comedy shows, and weekly television
Paul Cicala Public Address Announcer
Paul Cicala has been nominated for multiple Emmys in news and sports, and after a career that has taken him to Southern California, Las Vegas, Texas, and Mexico, Paul is proud to be back in the area he was born and raised – Tucson. As a Sports Anchor for KVOA News 4 Tucson, Paul Cicala has won Regional Associated Press Awards for "Best Sports Reporting." At KVOA, he has also been nominated for Emmys and took home first place as "Best Sportscaster" by readers of the "Tucson Weekly" and the Spanish-language magazine "Perfil Social" multiple years in a row.
Yasmine Lopez In-Game Host
Yasmine Lopez is a first-generation Mexican/American born and raised in Tucson. It was at Northern Arizona University where she found her passion for live television. Working on a production crew for Fox Sports Arizona on campus, it only took a simple "three, two, one, we're life!" to fall in love with live sports. Although a morning editor at KOLD News 13, she has taken a role as an AZ Weekend Reporter and the host of "Taste This Tucson," a segment that promotes the amazing food around the Old Pueblo.