NEWS & STATS
Roadrunners Host First-Annual Teddy Bear Toss
By: Tucson Roadrunners
December 05, 2016 3:02 PM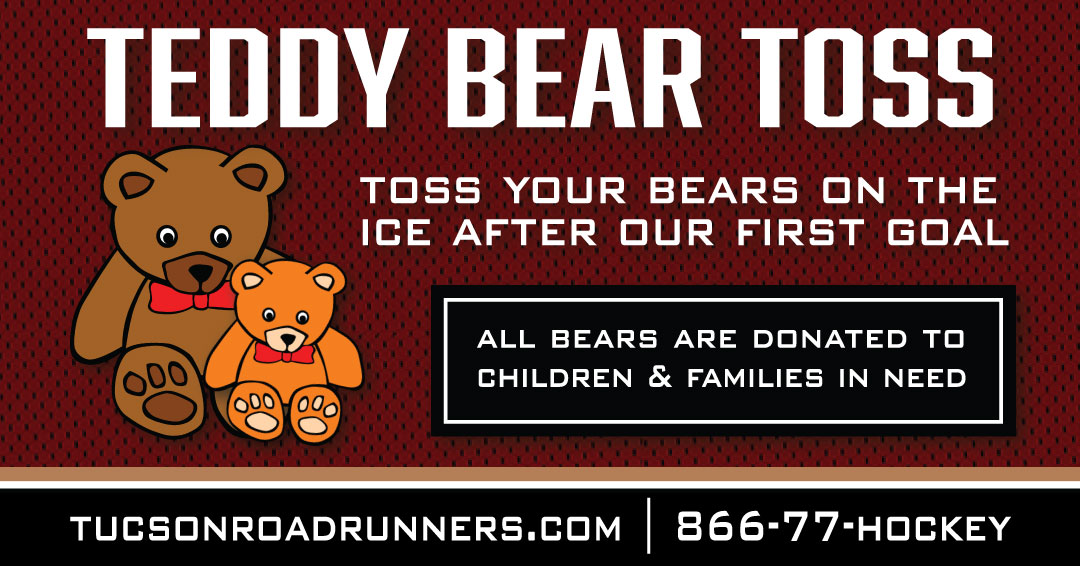 TUCSON, AZ - The Tucson Roadrunners, proud American Hockey League affiliate of the Arizona Coyotes, announced today specifics surrounding the team's first annual Teddy Bear Toss game Friday, December 9 in conjunction with iHeart Media, News 4 Tucson and Aviva Children's Services.
The Teddy Bear Toss has become a hockey tradition over the last several years. The premise is simple: bring stuffed animals to the game and when the Roadrunners score the team's first goal throw them on the ice! All toys collected are then distributed to local children and families in need right here in the Tucson area.
With 2016-17 marking the inaugural season for the Roadrunners, the team is pleased to partner with iHeart Media, News 4 Tucson and Aviva Children's Services for the game. Thanks to Aviva, a limited number of bears will be available for purchase at the game should fans forget to bring one with them. All proceeds from the sale of the bears goes back to Aviva.
The game is also part of News 4 Tucson's and Kristi's Kids Eighth Annual Season 4 Hope campaign.
For fans, the game is a chance to give back to the community while enjoying Tucson's professional sports team. Here are a few do's and don'ts for fans:
DO
· Bring as many stuffed animals as you wish – there is no limit to how many children and families you can help!
· Wrap the toy in a plastic bag to help keep it dry when it hits the ice.
· Only throw the animals after Tucson's first goal.
· Bring your camera or phone and help show everyone how great our fans are through social media!
DON'T
· Throw them after any other goal but the first Roadrunners goal.
· Worry about the size or number of animals you bring – we will find a match for everyone!
Game time is slated for 7:05 pm so be sure you're seated before puck drop – if the Roadrunners score fast you have to be ready to throw those animals!
Single game seats start as low as $14 and are on sale now through the TCC Box Office and online at TucsonRoadrunners.com. For further information contact the Roadrunners at 866-77-HOCKEY (774-4623).