Roadrunners Give Back

Roadrunners Give Back, a branch of the
Arizona Coyotes Foundation
, seeks to enhance the quality of life throughout Southern Arizona communities by supporting non-profit organizations that promote healthcare, education and cultural arts programs for children and service men and women. We are dedicated to health and wellness programs that stimulate the growth of youth sports and financially supporting programs that encourage teamwork skills while building future leaders in our community.
The Roadrunners are excited to return the incredible support the organization has received since moving to Tucson, by giving back to the community in significant and meaningful ways. With the support of corporate partners, private donors and local residents, we are committed to creating positive change and impacting the lives of thousands.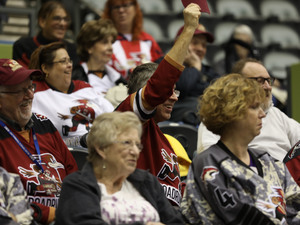 50/50 Raffle
50/50 Raffle tickets are sold every home game by uniformed sellers from the time gates open until the end of the second intermission. The winning ticket number will be announced during the third period. The winner will take home half the amount of money raised, the other half will go towards the nightly participating non-profit partner.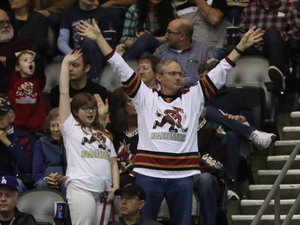 Scoreboard Messages
For only $25, Roadrunners fans can broadcast a special message on the scoreboard. You can welcome someone, wish someone a happy birthday or create a special message on your own!