0
Days
0
Hours
0
Minutes
0
Seconds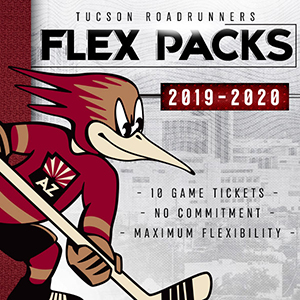 On this date in 2018, goaltender Adin Hill stopped all 26 shots faced against Grand Rapids, for his fourth of a career-high five shutouts during the season.
The perfect effort was the first of two during a record 182:33 shutout ...
Roadrunners 2-0 in the virtual realm
Thanks to News 4 Tucson - KVOA for showing some love to our Fan Appreciation Night! If you missed any of the report, you can view it below. 😊
Watch Now 🎥:
Congratulations to Hudson Fasching, who has been named our IOA/American Specialty Man of the Year for his outstanding contributions to the Tucson community! 👏❤️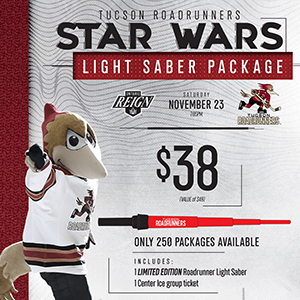 Thank You Fans!
Roadrunners players express their appreciation to the fans for their support so far this season on what was scheduled to be the team's Fan Appreciation Night on Saturday, April 4.
Coming up tonight at 5:30 and 10 p.m., News 4 Tucson - KVOA's David Kelly will have Roadrunners coverage for you! We hope you'll tune in with us. 😊
Over 50+ prizes given out and eight goals scored. We had ourselves one heck of a (virtual) Fan Appreciation Night! 🎉 https://t.co/nOUmXTIC9D
Brayden Burke records a hat trick and we take down Bakersfield 8-2 on Fan Appreciation Night! 🥳 Thanks to all who tuned in for an amazing evening.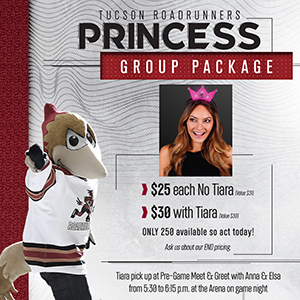 To-Go-options - TucsonRoadrunners.com
Don't forget to take care of yourself during this time! If you're up for a treat or some takeout, many of our local Tucson partners remain open and would love to take care of you today. 😋
Complete List 🍴:
The @arizonacoyotes have signed our captain, Michael Chaput, to a one-year contract! 🙌
Two goals from Kevin Hancock ushered us to our first-ever victory in the virtual world tonight! Thanks to all who joined us on YouTube for a 3-1 defeat of the San Jose Barracuda. 😄
One year ago today we brought the Kachina to Southern Arizona, revealing our alternate logo and uniforms. Oh, what a year it has been! 🌵
One Year Ago: The Kachinas Were Unveiled
"Expanding [our] identity is something that something we're looking to do and something that we're looking to do is grow the brand of the Roadrunners."
One year ago, President Bob Hoffman announced that we were bringing the Kachina to Southern ...
In light of ongoing developments resulting from the coronavirus, and after consulting with medical experts and convening a conference call of the Board of Governors, the National Hockey League announced today that it will pause the 2019-20 season beginning with ...
RRTV Game Day: March 11 Vs San Diego
We hear from forward Beau Bennett and goaltender Adin Hill as Tucson goes for sweep of midweek back-to-back as "Voice of the Roadrunners" Adrian Denny sets the table.
Three goals in just eight minutes during tonight's second period was good enough for a fourth straight win on our return to home ice! Adin Hill also earned a shutout with 26 saves to extend our division lead. 👍
RRTV Game Day: March 10 Vs San Diego
A big week starts at the TCC as the Roadrunners open a series with San Diego after a 4-1 win against them 14 days ago as "Voice of the Roadrunners" Adrian Denny hears from Head Coach Jay Varady and Forward ...
$12 Tickets Tuesday, $2 Hot Dogs Wednesday! We can't wait to start a big week with you at Tucson Arena tomorrow. 😋
RRTV Weekly: First Place Roadrunners Home All Week
As the First Place Tucson Roadrunners prepare for four games in six nights at home starting Tuesday, "Voice of the Roadrunners" Adrian Denny looks back at the team's just completed successful road trip and what they're looking to continue with ...
Despite trailing most of the evening, a two-goal third period guides us to a come-from-behind shootout victory! That's three wins in a row and we're finally coming home now. 🤗
RRTV Game Day: March 7 at Chicago
The Roadrunners look for a 3-1 road trip and four wins in their last five as "Voice of the Roadrunners" Adrian Denny previews the action with Jalen Smereck after his one goal, one assist game on Thursday.
Highlights: Tucson (4) at Chicago (2)
Jalen Smereck has his second career multiple point game, Adin Hill makes 23 stops and Tyler Steenbergen scores the game-winner late to give the Roadrunners some cushion atop the Pacific Division standings.
A multiple point performance from Jalen Smereck and 23 stops by Adin Hill guide us to a 4-2 victory tonight in Chicago!