0
Days
0
Hours
0
Minutes
0
Seconds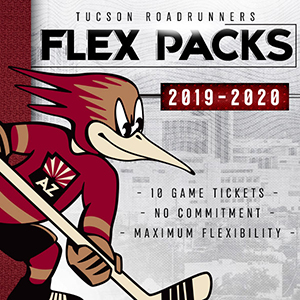 Signed stick from this player to one lucky fan if you can tell us who signed this friendly name tag.🖊️
Hint: Something in common with last week's signer.🤔
#RRSigningDay //t.co/86ROp2NhG2
Signed stick from this player to one lucky fan if you can tell us who signed this friendly name tag.🖊️
Hint: Something in common with last week's signer.🤔
If you answered in any order: Michael Bunting, Kyle Capobianco, Adin Hill, Dysin Mayo and Jalen Smereck, those are the 5! 🥳
@CaffeinatedinAZ is our random winner. DM us for Prize Information.👏🏻 //t.co/8mhfEjmD4h
Name the 5 Roadrunners players who have played for the team in each of the first four seasons in Tucson.🏒
#TriviaTuesday☺️ //t.co/bqzItKWm2E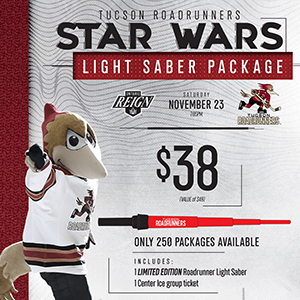 Name the 5 Roadrunners players who have played for the team in each of the first four seasons in Tucson.🏒
Trivia Tuesday☺️
RRTV Weekly: Back From The 4th
"Voice of the Roadrunners" Adrian Denny checks in for RRTV Weekly with a clip from Adin Hill, who recently spoke to the media in Glendale on the biggest challenge for a goalie after returning from a pause and a preview ...
ICYMI: Jalen's Road Less Taken
By Alex Kinkopf, ArizonaCoyotes.com
📕 //bit.ly/2YNzb7Q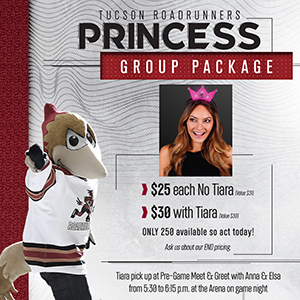 Another week in the books📚
Adrian Denny has the Friday Blog live.
✍️ //bit.ly/3dTy1fi
✔️Busy week of news and notes
✔️Road Trip Food Pics in Texas
✔️Dysin Makes It 7-1 In Play of Week
RRTV: Dusty's Blood Drive
"Voice of the Roadrunners" Adrian Denny with Vitalant from the team's Blood Drive held Wednesday, July 1 at the La Quinta on Alvernon north of Broadway. All Roadrunners fans (donors) got a free ticket, a free Whataburger and there was ...
RRTV Weekly: Dysin Back In Desert
"Voice of the Roadrunners" Adrian Denny from just outside of the team's new headquarters in the Presidio District of Downtown Tucson on Dysin Mayo's return to the Coyotes organization and there's still time to join us Wednesday.
RRTV Weekly: Father's Day Week
"Voice of the Roadrunners" Adrian Denny with our Tuesday Summer Feature and details on our Father's Day Packs plus more on an upcoming feature on Roadrunners Forward Andy Miele.
Message from Conor Garland
Coyotes #83 and former 3-year Roadrunner Conor Garland on how to get one of his bobbleheads!
Visit TucsonRoadrunners.com/seasons to get involved.
All fans who have purchased new and renewed season tickets by June 30 will get one bobblehead per seat.
Isn't That Mike: Volume 3
Roadrunners Forward Lane Pederson joins host Michael Bunting as the guys leadoff on The Last Dance, banter about their teammates and close with favorite moments of the year and favorite parts about Tucson.
2019-2020 Season Highlights
The Play of the Game from every win as the Roadrunners captured their second Pacific Division Championship in three years in 2019-2020.
Roadrunners Town Hall
Head Coach Jay Varady joins Team President Bob Hoffman, "Voice of the Roadrunners" Adrian Denny and Ticket Sales Manager Julie Sipe to answer fan questions and then coach will draw 12 season ticket members who will receive game worn jerseys.
Isn't That Mike Volume 2
Forward/Host Michael Bunting welcomes in longtime teammate and friend Blake Speers as this episode's special guest!
Isn't That Mike: The Premiere
Episode 1: Mike and Mike
Roadrunners #27 Michael Bunting welcomes in team captain Michael Chaput for the first episode as the two banter for your entertainment.
Thank You Fans!
Roadrunners players express their appreciation to the fans for their support so far this season on what was scheduled to be the team's Fan Appreciation Night on Saturday, April 4.