0
Days
0
Hours
0
Minutes
0
Seconds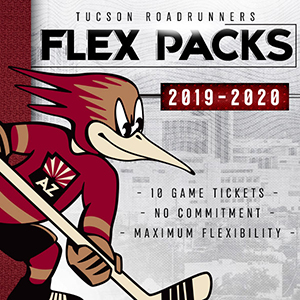 🚨 Michael Chaput 🚨
The captain! We're all knotted up at 1-1 with eight minutes to play in the first.
Bakersfield earns the evening's first goal. 1-0 in their favor with 14:30 to play in the opening period.
Game action in Southern Arizona, underway! 🌵
Listen Live 🎙️: foxsports1450.iheart.com
Watch Live [FREE TONIGHT] 📺: bit.ly/FB_BAKvsTUC
Live Box Score 📃: bit.ly/2uApk8D
For all of our fans that are unable to make it to Downtown Tucson tonight, you can watch this evening's important Pacific Division matchup for free courtesy of the AHL. 😀
Tucson Roadrunners shared a post.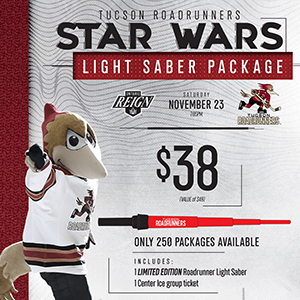 One final reminder, if you're purchasing a ticket at the Tucson Convention Center box office after 4 p.m., you're also going to get a coupon for a free Pizza Hut pizza! 😱🍕
RRTV Game Day: January 24 Vs Bakersfield
"Voice of the Roadrunners" Adrian Denny previews the return of Ivan Prosvetov and Adin Hill back to the TCC after rejoining team from the Coyotes during road trip, Kevin Hancock's excitement for returning home and the big night that he ...
Gregoire is Tucson's shorthanded specialist - KVOA
Through just 31 games Jeremy Gregoire has already matched our single season record for most shorthanded goals. What gives him the knack for scoring when on the penalty kill? David Kelly of News 4 Tucson - KVOA has the story! ...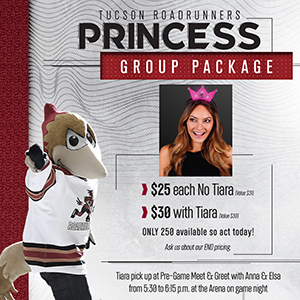 Hey, you! Yeah, you! We're back home this weekend, you going to come join us or what? 🤪
Thanks to multiple points from Kevin Hancock, Tyler Steenbergen and Aaron Ness on top of 39 stops from Adin Hill, we're coming home with another successful road trip and still the league's best! See you Friday at @tucsonctr. 😁👏
RRTV Game Day: January 21 At San Diego
"Voice of the Roadrunners" Adrian Denny wraps up the road trip in San Diego with Hudson Fasching after an overtime win in Ontario Saturday as Tucson looks for a big two points on their way out of town.
RRTV Weekly: All-Star GWGs and Gennaro's Return
"Voice of the Roadrunners" Adrian Denny back in San Diego as Tucson prepares for Tuesday night's contest before they return home for back-to-back home weekends as he hears from All-Star Brayden Burke and Matteo Gennaro after his first weekend of ...
#AHLAllStar Brayden Burke plays hero in overtime tonight as we take a 2-1 victory from Ontario! Ivan Prosvetov stopped 27 of 28 in his return to the lineup as well. 😄👏
RRTV Game Day: January 18 At Ontario
As the Roadrunners move on to Ontario at 26-9-1-0, "Voice of the Roadrunners" Adrian Denny on how good defense has led to good offense for the team all season and hear from Brayden Burke on his All-Star selection.
RRTV Game Day: January 17 at San Diego
"Voice of the Roadrunners" Adrian Denny from San Diego with news on Brayden Burke being named an AHL All-Star, plus Beau Bennett on the success that the team has had with him on a line with Andy Miele and Burke ...
Congratulations to forward Brayden Burke, who was been added to the 2020 #AHLAllStar Classic roster! He will join Lane Pederson, Kyle Capobianco and Head Coach Jay Varady at the event later this month in Ontario. 🥳🌟
Tomorrow night we add a third installment to our I-8 Rivalry this season when we take on the Gulls in San Diego. 😈😏
Western Conference defensemen that have more than 20 games played and a better points-per-game than our #AHLAllStar Kyle Capobianco? None. 😄🌟
Thanks to all of our wonderful Season Ticket Members that came to join us tonight at @daveandbusters for our annual Meet & Greet event! You are the lifeblood of our organization and we are so thankful to have your support. ...
The only Pacific Division team with three skaters in @theahl's Top 15 in scoring? That's us! 👋
RRTV Weekly: Second Half Starts With Big Win
"Voice of the Roadrunners" Adrian Denny talks about the team's ability to close out games by winning the third period and Tyler Parks who becomes the fifth Tucson goaltender to win a game this year as Forward and Alternate Captain ...
First American Hockey League start, first American Hockey League win for Tyler Parks! The newly signed netminder turns away 31 tonight as we snap Colorado's 12-game point streak, maintaining our best record in @theahl. 🥰🥳
RRTV Game Day: January 11 At Colorado
Tucson and Colorado wrap up their series tonight as Vili Saarijarvi and Andy Miele check in with "Voice of the Roadrunners" Adrian Denny ahead of the contest.
Nothing but love and congratulations for Tyler Parks, who made his @theahl debut tonight, stopping 18 in relief for us. 🥳💞
RRTV Game Day: January 10 At Colorado
"Voice of the Roadrunners" Adrian Denny as the Roadrunners get back to work after a week of practice as we open a series in Colorado between the top team in the league in Tucson and the hottest team in the ...
Who wants to come see the best team in @theahl when we return home January 24 & 25? TAG a friend in a comments that needs to come join the #FastFun and we'll select a random winner to receive two ...
RRTV Weekly: 5 of 6 Points To 25-7-1-0
Head Coach Jay Varady as the Roadrunners begin their week and the great weekend for Jordan Gross. Plus all of the details on when we return home and how you can help us celebrate our All-Stars with "Voice of the ...