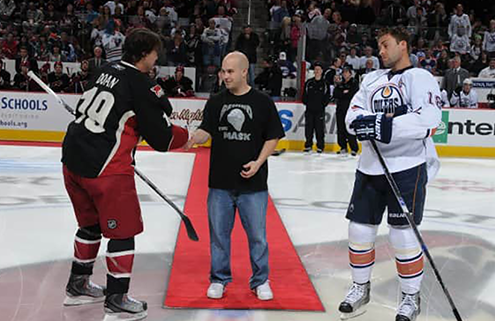 As a hockey fan living in Arizona, it can't get any better than to be Ryan Boas. The native of Chicago, who moved to Tucson via Kansas City in high school, has grown up to be a season ticket member for both the Tucson Roadrunners and the Arizona Coyotes.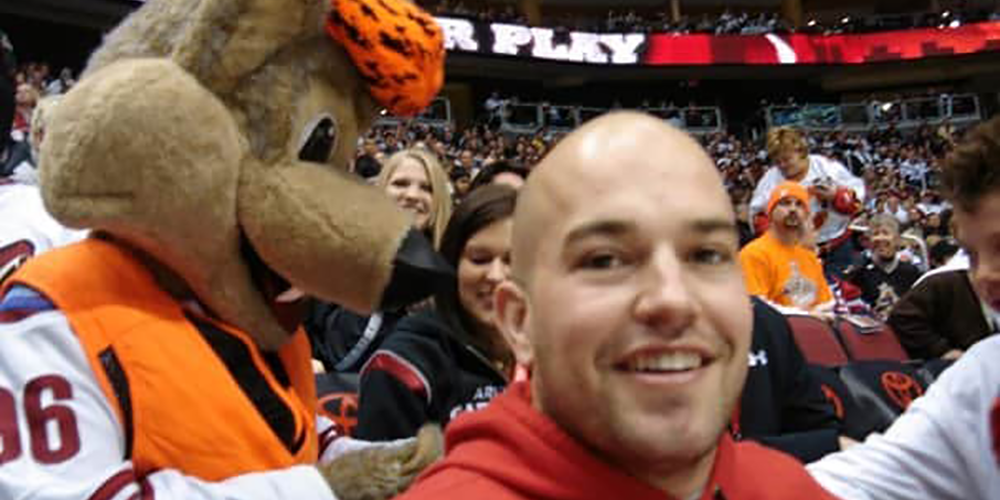 In what started in a family of Blackhawks fans with him instantly becoming a diehard Detroit Red Wings loyalist because of course right? To then cheering against the Phoenix Roadrunners as one of the many IHL teams that came into Kemper Arena to play the Kansas City Blades in the 1990s, Ryan literally helped build a hockey rink in Tucson during his senior year of high school and he has been involved in the game one way or another his entire life.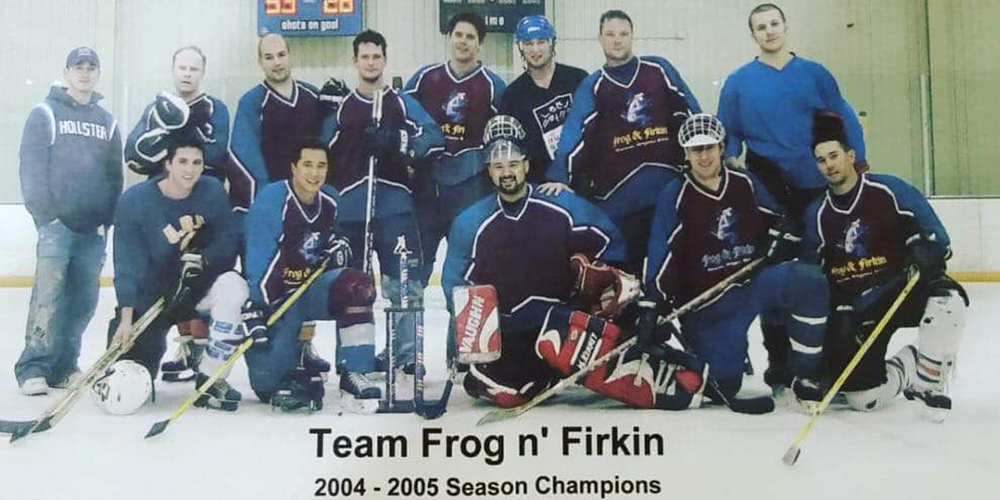 "I was a really close friend with the original GM of the facility and went and worked at Blade World building the hockey rink. I got paid to put in the tile, the glass. It paid for league fees, meals and I eventually just became a permanent employee of the place through my early 20s. I was a referee, running the leagues, running the clinics, getting asked to play on teams, getting paid to travel, won money for winning and getting merchandise, equipment, prizes as well," said Ryan.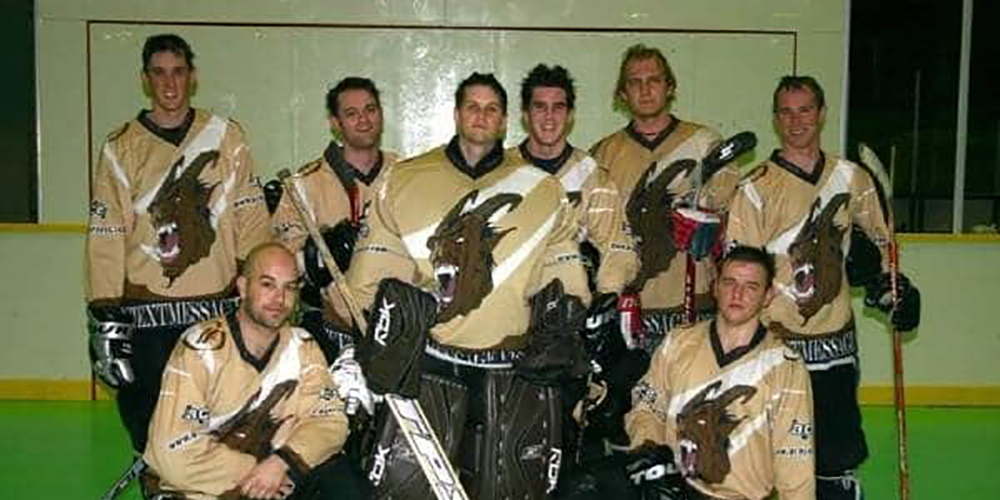 Hockey led Ryan to Phoenix at a time when the Coyotes were just starting to get settled in the Valley of the Sun, so on cue he got involved and one thing led to another. "As hockey started to bloom in Phoenix, we were up there a couple of times a month to play at a tournament or skate and then the Coyotes came. I had a friend who worked for the Phoenix Suns and asked if there was any way that he could hook me up with Coyotes tickets. And as I had more money to spend on hockey tickets, I eventually moved up to some better seats and getting involved with some friends and at one time we had seven Coyotes season tickets that we would share."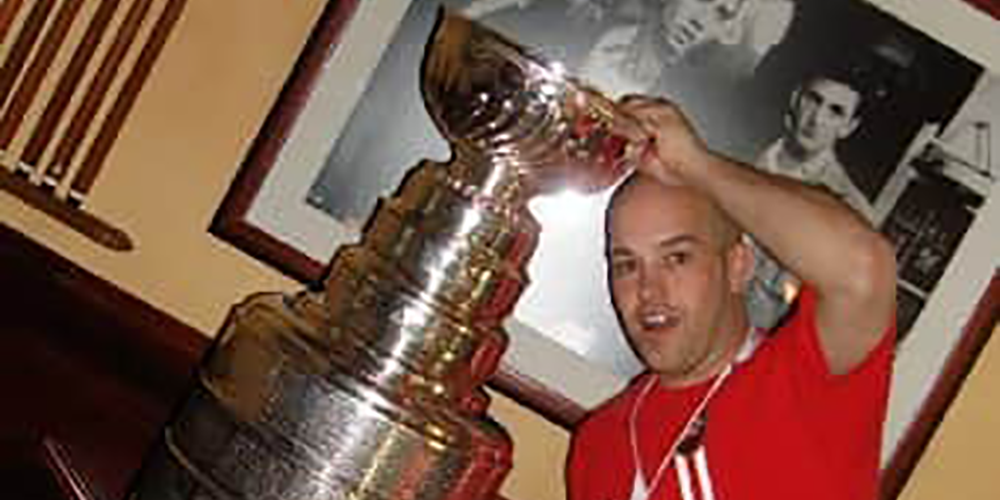 Seven eventually segued from Coyotes season tickets to Coyotes group tickets with as many as 30 people in Ryan's party heading up to see a game together. "Any sort of big game, we have a group of anywhere from 10 to 30 people that will all go up. I get group seats for everybody, we've gotten a suite here and there. We love to sit in the lower bowl where the visiting team attacks twice," said Ryan.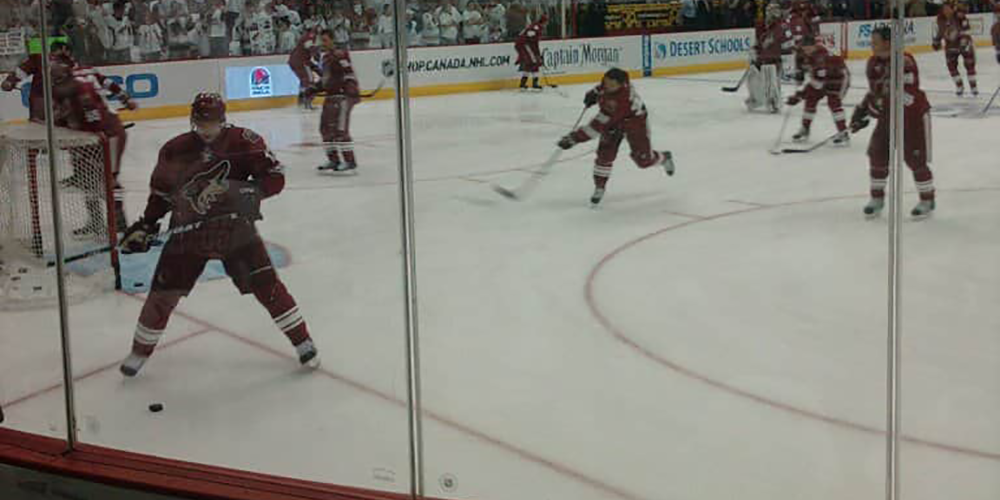 During his time in hockey, Ryan has even come into contact with his hockey idol Wayne Gretzky several times and even his younger brother Keith, who's currently General Manager of the AHL's Bakersfield Condors. Through his work at Tucson Hockey and Skates, a retail location, that pitched in to help back in the day when the IHL hosted several preseason games in Tucson, the hockey fanatic chipped in to help in any way needed. "Picking up teams at the airport. I almost ran over Keith Gretzky's toe. We were in a passenger van. I thought everyone was in, but the doors hadn't shut yet and I kind of took off. He joked with me that I could have killed him. I was just nervous," said Ryan.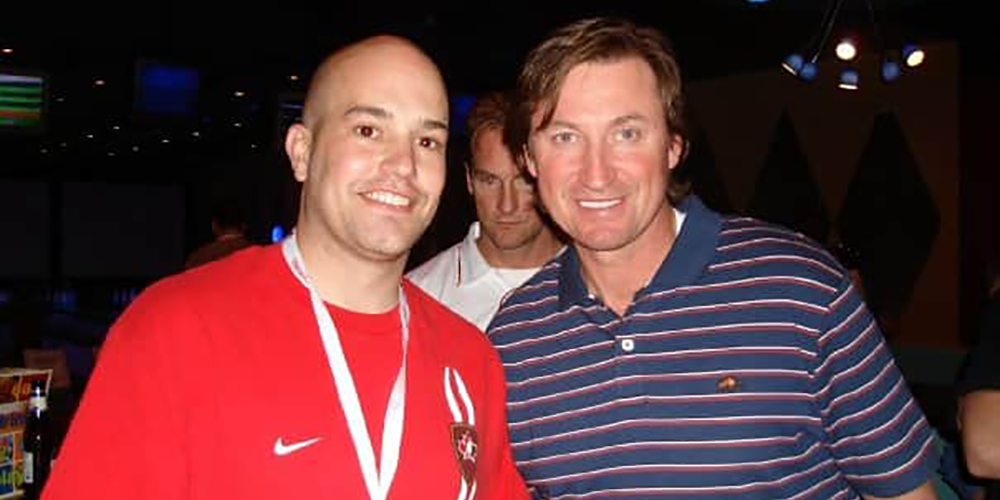 Now with the Coyotes playoffs coming up in Edmonton, Ryan will do whatever he needs to in order to stay connected with the games. "It's playoffs, it's a totally different season, I don't mind the whole format, I'm glad they decided and figured out a way to do it. It came at the right time for the Coyotes with Garland being out (in March). I would think as a player here's a shot," wrapped up Ryan.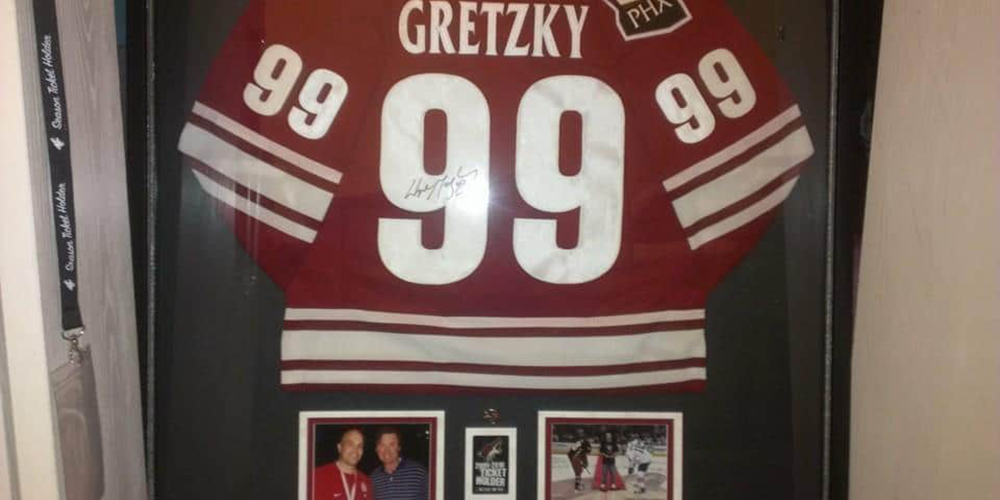 The Roadrunners and Coyotes season ticket member gets pulled in several directions during hockey season between Tucson and Glendale. He said he doesn't miss more than one or two Roadrunners games a year and tries to squeeze in as many Coyotes games as possible too; though he admits the coinciding dates and times sometimes make it hard.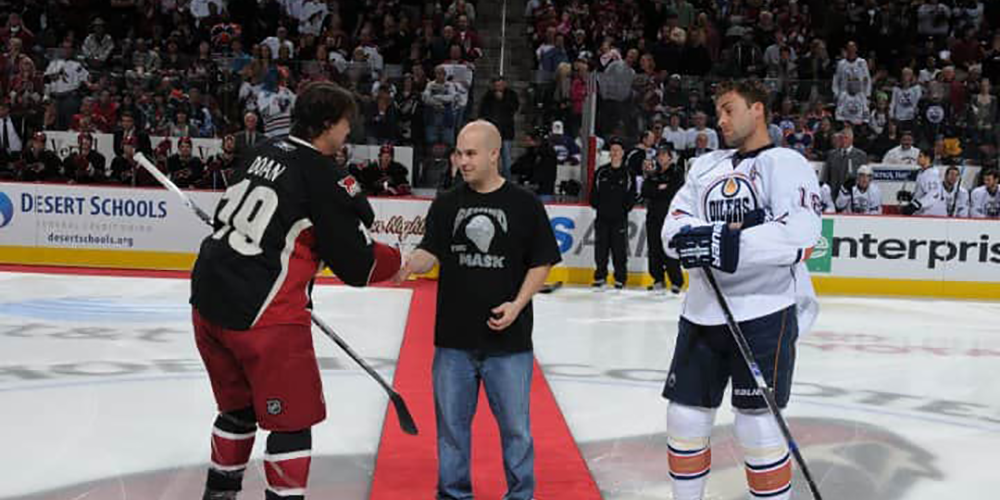 But without Ryan's grandfather who was his childhood best friend, he probably doesn't become one of the sport's biggest ambassadors in Arizona. While growing up in Kansas City, his grandfather took him to countless sporting events, including hockey and Kansas City Chiefs games before he moved to Tucson.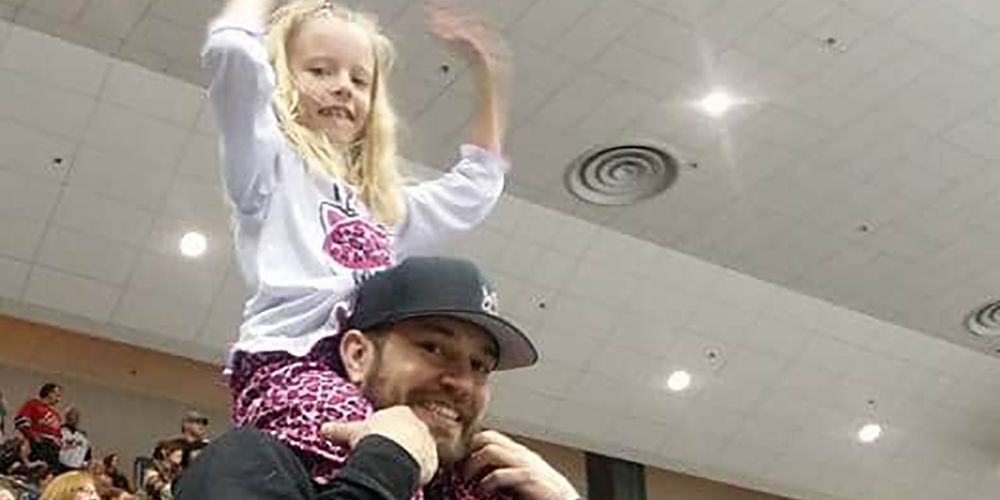 "I was unbelievably lucky while growing up in Kansas City. Thanks to my Mom and Grandparents. I would not be the hockey/sports person I am without them. My mom, family and friends all knew that I loved to watch sports live and I also collected every sports related item ever offered or given to me as a gift. From cards, sticks, helmets, skates, jerseys, action figures, and about anything else that was collectible, especially that had to do with hockey, I would hold on to it."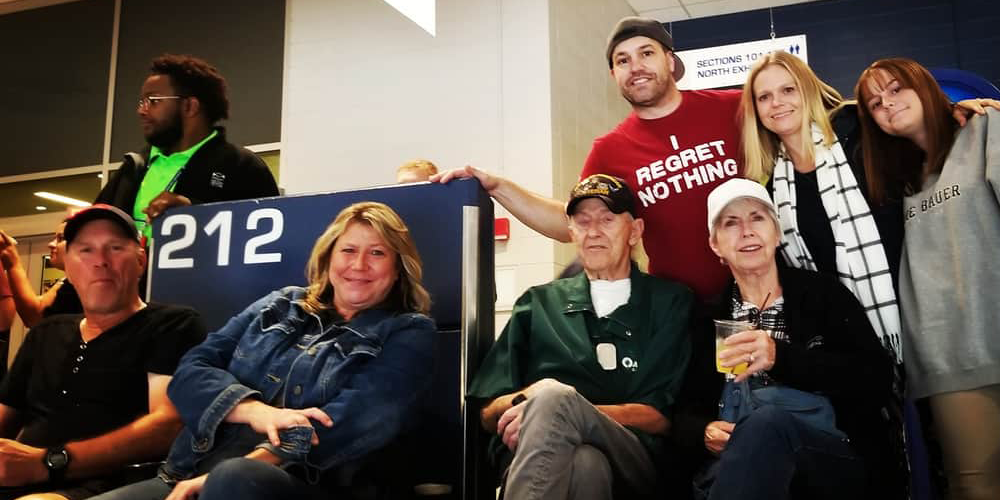 And for Ryan, what started with family has grown into a huge network of hockey friends, including some who used to be enemies he remarked, "over the years between working at the local rinks, I got to travel to play and coach across the country. I just kept expanding my hockey family and friends as I got older. Even the ones who hated me along the way at one time, I am now lucky to have as my best friends as an adult. Mike Jaret-Schachter, his brother Bryan, and their father Art are the family I share the Roadrunners tickets with. After our younger years hating each other and his family probably not liking me much either, Mike and his family are now some of my best friends. A lot of our mutual friends along the way have been shocked and laugh about it."
//www.tucsonroadrunners.com/wp-content/uploads/2020/07/495_Ryan-Boas.png
400
495
Adrian Denny
/wp-content/uploads/2019/06/web-header-logo.png
Adrian Denny
2020-07-28 16:26:19
2020-07-29 09:55:13
Our Family: Ryan's Pack of Coyotes and Roadrunners Fanatics