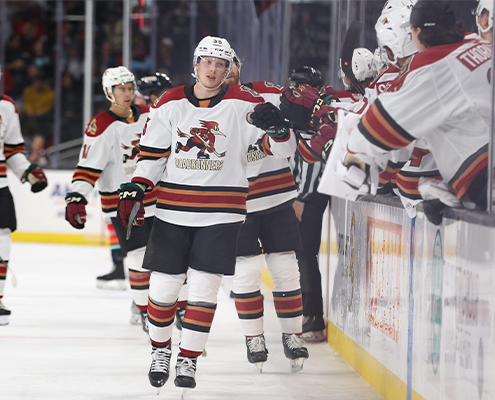 Game #11: Tucson Roadrunners at Coachella Valley Firebirds
SOG: TUC (49) – CV (48)
PP: TUC (1/3) – CV (0/3)
COACHELLA VALLEY SCORING: Gustav Olofsson (1), Jemery McKenna (1), Marian Studenic (4)
TUCSON SCORING:  Aku Raty (1), Milos Kelemen (2), John Leonard (1), Cameron Hebig (1), Cameron Hebig (2)  

ROADRUNNERS OFFENSE SHINES IN 5-3 VICTORY OVER COACHELLA VALLEY FIREBIRDS IN PALM SPRINGS, CA
PALM SPRINGS, CA – They may not have released the Coachella Music Festival lineups yet, but the Roadrunners brought the music as they defeated Coachella Valley 5-3 on Sunday night to improve to 7-4.
YA GOTTA SEE IT
Tucson Roadrunners Forward Aku Raty finds the back of the net for his first career AHL goal in Sunday night's 5-3 win over Coachella Valley.
DON'T OVERLOOK It
YOU GET A SHOT, YOU GET A SHOT, YOU GET A SHOT – Sunday night's game in Coachella Valley featured 97 shots on goal combined between the two sides. Tucson's netminder Matthew Villalta had 45 saves on 48 chances against. Villalta had a career high with those 45 saves and has a three game win streak heading into next weekend's matchup. Shots are not just against however, the Roadrunners offense has scored four or more goals in three of their last four games. Tonight featured an AHL first for Aku Raty, and season's first for Cameron Hebig. Travis Barron and Cam Crotty recorded their first points of the season as the Roadrunners offense came out swinging.
LOOK AT THIS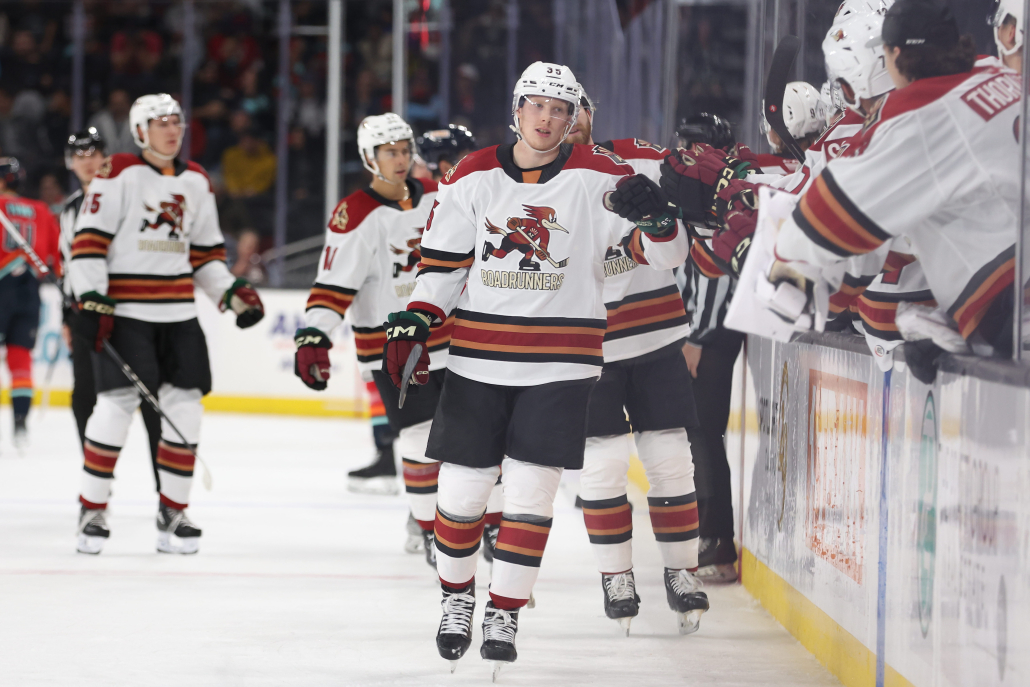 Tucson Forward Aku Raty skates through the handshake line after scoring his first career AHL goal in the first period of Sunday's night's game in Coachella Valley. Raty would finish the night with a goal and an assist in Tucson's 5-3 win.
THEY SAID IT
We came out tonight ready to go. They played last night so we tried to jump on them early and I thought we did a good job of that.

Forward John Leonard following Sunday night's 5-3 victory over Coachella Valley.
THE RUNDOWN
Period one started what would be a game full of shots for both sides; 97 to be exact. Aku Raty wasted no time in tonight's contest scoring his first career AHL goal and giving Tucson a 1-0 lead. Raty was assisted by Cam Crotty and Dylan Guenther on the play. Guenther recorded his eighth assist on the play which leads all Roadrunners. Just a minute and ten seconds later Milos Kelemen would find himself lighting the lamp for Tucson. Kelemen was assisted by Travis Barron and Victor Soderstrom. A successful penalty-kill and some big saves from Matthew Villalta would send Tucson into the first intermission with a two-goal lead.
Coachella Valley would come out in the second and score to bring the Firebirds within one. Talk about a quick answer, just 20 seconds later John Leonard would put his first of the year in the back of the net. The quick power-play goal from Raty was assisted by John Leonard and Victor Soderstrom. Soderstrom ended the night with three assists, one going to Aku Raty, one going to John Leonard and one in the third to Cameron Hebig. Following the Leonard power-play goal, the Roadrunners penalty-kill unit would deny the Firebirds of two power-play chances to end the period with a 3-1 Tucson lead.
In the third period, or the "Cameron Hebig Period" as we like to call it, it would be the Firebirds lighting the lamp first. At the 7:21 mark Coachella Valley scored, bringing the game to a 3-2 score. Despite it taking a little longer than 29 seconds this time, Tucson would answer back with a Cameron Hebig goal, his first of the year. Hebig was assisted by Travis Barron. Hebig would come back in a big way adding another goal for the Roadrunners just two and a half minutes later. Milos Kelemen and Victor Soderstrom assisted the second Hebig goal and that would make it a 5-2 Tucson lead. Coachella Valley would answer back with a goal of their own, but it would be too little too late with the stellar play of Matthew Villalta and the Tucson Roadrunners. Villalta would end the night stopping 45/48 chances against him and picked up his sixth win of the season.
//www.tucsonroadrunners.com/wp-content/uploads/2023/11/webbbbbb.png
400
495
Cole Schoepke
/wp-content/uploads/2019/06/web-header-logo.png
Cole Schoepke
2023-11-12 22:54:25
2023-11-12 22:54:27
Game #11: Tucson Roadrunners (5) vs Coachella Valley Firebirds (3)