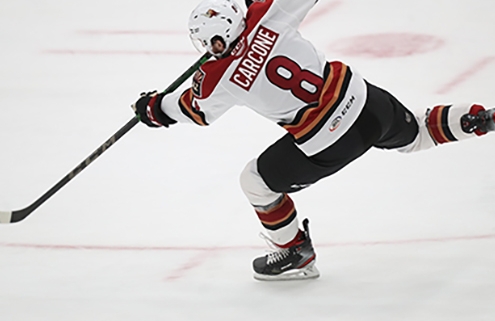 Tucson, Arizona – The Tucson Roadrunners have announced the official launch of #CarconeMVP, in an effort to recognize Roadrunners forward and the AHL's current leading scorer Mike Carcone as the 2022-2023 AHL's Les Cunningham Award Winner. The Les Cunningham Award is given to the league's Most Valuable Player as voted on by AHL media and players. Mike Carcone highlights posted on TucsonRoadrunners.com and on the team's social media accounts for the remainder of the season will feature the hashtag #CarconeMVP, with fans encouraged to use the tag in support of Carcone.

Current 2022-2023 Stats (with AHL rank):
As of Sunday, April 17
**Carcone has also played in nine games with the Arizona Coyotes this season**
Points: 85 (1st)
Goals: 31 (5th)
Assists: 54 (3rd)
Power-Play Goals: 14 (3rd)
Power-Play Points: 33 (2nd)
Penalty Minutes: 127 (9th)
Shots On Goal: 273 (1st)
Longest Scoring Streak: 15 Games (1st)
Team Records Set This Season:
Goals: 31 (Previous Record: Mike Carcone, 24 in 2021-2022)
Assists: 53 (Tied For Previous Record: 48, Chris Mueller)
Points: 84 (Previous Record: Chris Mueller, 67 in 2016-2017)
Power-Play Goals: 14 (Previous Record: Brayden Burke, 13 in 2019-2020)
Shots on Goal: 263 (Previous Record: Mike Carcone, 180 in 2021-2022)
Longest Scoring Streak: 15 games (Previous Record: 9, Multiple Players)
Quick Facts:
The Roadrunners are 16-3-6-0 when Carcone scores a goal this season.
Has led Tucson in goals in all three seasons with the team (20-21, 21-22, 22-23)
One of six players in Tucson franchise history to reach 100 total points with the team, and his 150 points are the second most behind current Toronto Maple Leafs forward Michael Bunting (180 points).
His 25 multiple-point performances are the most in a single season in Roadrunners history.
One of three players in Roadrunners history with a point per-game average or better in their career with Tucson (minimum 18 games played) with 151 points in 148 games played, joining current NHL forwards Matias Maccelli and Dylan Strome.
Was the first player in the AHL this season to reach 40 points, 50 points, and 60 points.
Recorded a most shots on goal in a game in team history with 11 on April 9, 2021. Carcone scored four total goals in that game.
Scored 20 goals over Tucson's first 36 games.
His five fights are currently the fourth most on the Roadrunners.
His five game-winning goals this season are tied for the third-most in Roadrunners team history, and the most since Brayden Burke scored seven in 2019-2020.
Mike Carcone 2022-2023 Milestones:
October 15, 2022: Recorded his first points of the season with a pair of assists against the Henderson Silver Knights.
October 28, 2022: Scored his first game-winning goal of the season in a 5-1 victory over the San Jose Barracuda.
December 13, 2022: Recorded his sixth career AHL hat trick as part of a four-point performance (3g 1a) in a 7-2 victory over the Coachella Valley Firebirds.
December 17, 2022: Began a 15-game scoring streak with four points (2g 2a) in a 9-4 victory over the San Diego Gulls.
December 20, 2022: Scored two power-play goals, including the game-winning score, to hand the Coachella Valley Firebirds their first loss at the Acrisure Arena in Palm Desert.
December 27, 2022: Made his season debut for the NHL's Arizona Coyotes at Mullett Arena against the Colorado Avalanche, scoring a goal in a 6-3 victory over the defending Stanley Cup Champions.
January 3, 2023: Named the AHL's Player of the Month for December 2022 after leading the league with 10 goals and 10 assists for 20 total points across 10 games played. With the award, Carcone became the first Roadrunner in team history to be selected as Player of the Month.
January 10, 2023: Made his return to the Roadrunners lineup from his first NHL call-up of the season by recording two goals and an assist.
January 11, 2023: Selected to his first career AHL All-Star Classic, then recorded his second-straight three-point game against Milwaukee with a goal and two assists.
January 19, 2023: Recalled by the Arizona Coyotes for the second time on the season.
January 28, 2023: Tallied a season high nine shots on goal as part of his third four-point performance of the season (1g 3a) in a 6-3 win against the Abbotsford Canucks.
February 5, 2023: Finished second place in the AHL's Fastest Skater event with a time of 13.282, which would have won five of the last six Fastest Skater Competitions in the NHL. Carcone also competed in the RONA Accuracy Shooting and Upper Deck Breakaway Relay events.
February 6, 2023: Tallied four assists in four three-on-three matchups in the AHL All-Star Classic, as the Pacific Division earned their first ever victory in the event. Carcone's four assists led all skaters.
February 25, 2023: recorded his 25th goal of the season to set a new Roadrunners franchise record, surpassing his own mark of 24 from 2021-2022.
March 10, 2023: Set a new Tucson franchise record for points in a single season with a two-point performance (2a) to reach 68 points on the year (26g 42a).
March 21, 2023: Netted his 14th power-play goal of the season as part of a two-point outing (1g 1a) to set a new team record.
March 26, 2023: Scored the overtime game-winner for the Roadrunners against the Colorado Eagles, his second goal of the game.
March 31, 2023: Notched his fourth-straight multiple-point performance to simultaneously set a Roadrunners season high with forward Jan Jenik.
April 7, 2023: Three points in the third period notched his 25th multiple-point game of the year, his 11th game of at least three points and his ninth game of at least seven shots.
April 14, 2023: Carcone became the first Roadrunner ever to be named to the AHL First Team.
April 17, 2023: Officially won the AHL scoring title with 85 points in 65 games on 31 goals and 64 assists.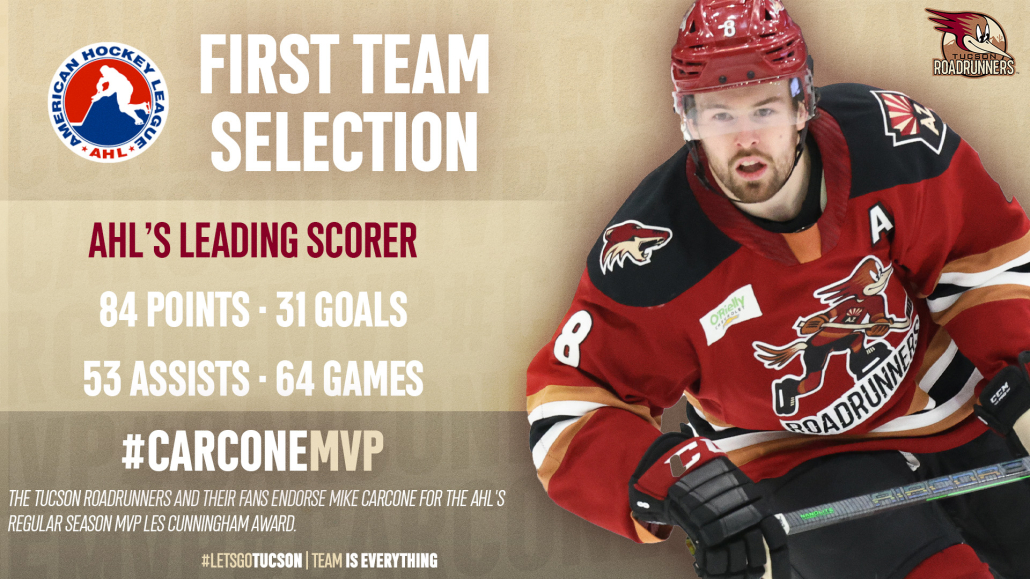 //www.tucsonroadrunners.com/wp-content/uploads/2021/07/carcone495.jpg
400
495
Tucson Roadrunners
/wp-content/uploads/2019/06/web-header-logo.png
Tucson Roadrunners
2023-04-02 11:45:33
2023-04-16 18:38:56
Roadrunners Launch #CarconeMVP