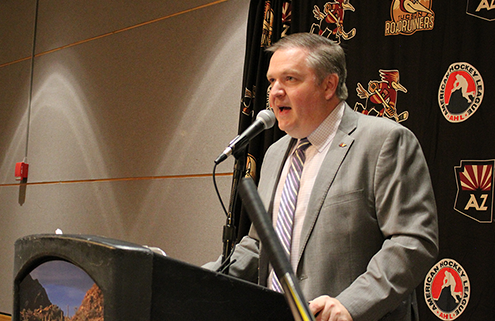 Roadrunners Team President Bob Hoffman recently answered questions from our Roadrunners Season Ticket Members. Below is a transcript for some of the answers.
ON WATCHING THE FORMER ROADRUNNERS WITH THE COYOTES IN THE PLAYOFFS
It's always such a source of prIde when you see the guys who have made their way through Tucson and that our fans have had the privilege and ability to cheer for and become fan favorites. When I see a Christian Fischer jersey in our crowd or Conor Garland, Lawson Crouse and to see those guys in the National Hockey League and making a dent and making a mark it provides a great deal of satisfaction and lets us realize that we've been able to accomplish one of our main goals with the organization and that's to develop players and move them to the Coyotes.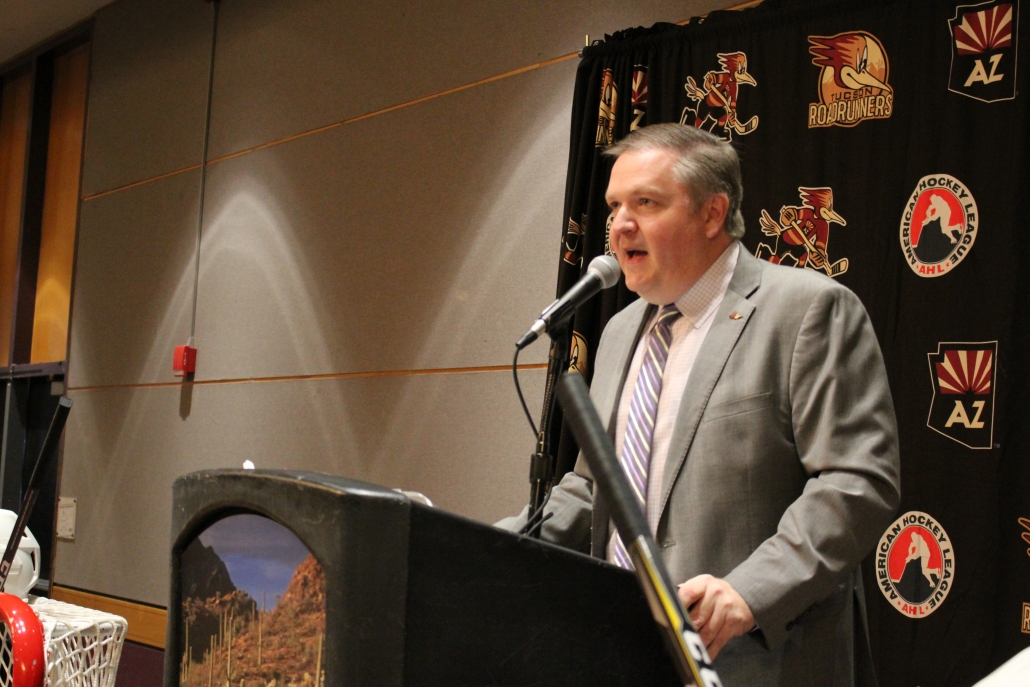 ON MOVING FORWARD TO 20-21
The last five months have created things to think about that you've never thought about before and things that you didn't have to deal with. The pandemic has created the need to look at safety first for our staff, for our players and with our fans mostly. We need to make sure that everyone has the confidence to come into the arena and know that they're in a safe place.  It's a fluid situation obviously with the number of infections and with hospitalizations tracking down and hopefully staying down. We're certainly hopeful that it's headed in the right direction that will allow us to expand a little more from where we are. With the announcement that the American Hockley League that the soonest the team would start would be December fourth it gives us the time to really put a great framework in place to make fans feel comfortable with the safety that they would have. All things are in play, we're continuing to evolve on how we're going to approach from a safety standpoint for the 20-21 season. I think the biggest takeaway for me is I really do believe that we're going to be playing in front of fans. What that's going to look like as far as number of games, all that we know is the soonest it would be is December fourth and the rest of it, we hope for the picture to be a little more clear in the coming weeks. 
ON THE RETURN OF OTHER SPORTS, LEAGUES AND TEAMS IN RECENT WEEKS
Sports leagues are coming back to play; baseball, hockey, basketball, golf, granted not in front of fans. But what they're showing at least is the models to be able to do it safely for the players which I'm sure will be duplicated when it comes to a training camp when it comes to a season. We've already taking precautions to keep our staff safe and are doing those things each and every day.  And the way that it's going to be done with fans, we're not going to have to invent the way to do that. There's going to be those plans in place. We're following very closely what health officials say, but also what other teams are putting in place. We have a list of protocols that we're going to release to our season ticket members and to our partners in the coming weeks that'll show that we're on top of this and we're going to do everything we can to make it a safe environment so that our fans can come and cheer on their hometown team.
HOW WILL FAN BENEFITS CHANGE
It seems like most things right now whether it's dining out or going to a store to shop, "different" is probably the keyword for 2020. We're trying to make it as seamless as possible with as few differences as possible that a fan would notice. But the reality is there's going to have to be some alterations and changes. The one thing that I can say for sure is that when we're putting these plans together, and right now it's a daily process, trying to make sure that we're ready to host fans and put on a great show, it's our season ticket members and corporate partners that are at the forefront of our mind. Those are the folks that are going to have the first seats in the building, those are the folks that are going to be invited to everything that we do. We know from a support standpoint, we've had strong support over our first seasons. Those folks have been family to us and we want to be right there with our family as we move into our fifth season. For our season ticket members, who might  have benefits tweaked a bit, we'll make it up in a new way.
ON HOW FANS CAN SUPPORT THE ROADRUNNERS UNTIL WE'RE PLAYING AGAIN
I really appreciate that question, it just shows what amazing fans that we have. Them supporting us is why we've had success over the last four years and how we continue to be a successful Tucson sports franchise and right now the times are challenging. We had a really competitive team and we'll never know how far this team could have gone. Bittersweet to win the Pacific Division Championship for the second time in three years, but this team had much bigger hopes and goals. Just stay supportive of us by being a fan. Have that excitement and energy knowing that we're going to get on the ice soon. Talk about the Roadrunners, tell your friends, tell your neighbors, tell your co-workers about the best sporting experience in town. Support our sponsors, support our partners. Over the last five months, they've had some hard times, 80-percent of all businesses have. Any opportunity that we have had, my family and I to support any of our restaurant partners, any of our stores. It gives them the chance to continue to be involved with us and part of our game experience to continue that great environment at the Tucson Arena. We'll be back at it before you know it. 
ON THE ORGANIZATIONAL SUCCESS WITH THE ROADRUNNERS AND COYOTES
It's an organizational thing, the best thing an organization can do is win the Stanley Cup and a Calder Cup and whenever that Stanley Cup comes, if it's this year or next year, the Roadrunners are a vital part of that in fueling that team and fueling that growth of the organization. The practice squad, the group running the power-play against the penalty-kill, those are our guys, those are our Roadrunners, maybe not getting on the ice in the actual game. The Adin Hills, the Ivan Prosvetovs, have to be sharp so that a Phil Kessel, a Taylor Hall, a Conor Garland can get sharp before the game and I know that General Manager Steve Sullivan and Coyotes Head Coach Rick Tocchet would tell you how valuable that they've been. It's really organizational in that success. That creates an environment and culture of winners. You want the people in Tucson, the players being drafted, you want them to understand that they're coming into a winning culture. 
//www.tucsonroadrunners.com/wp-content/uploads/2020/08/495_400-Town-Hall-8_8.png
400
495
Tucson Roadrunners
/wp-content/uploads/2019/06/web-header-logo.png
Tucson Roadrunners
2020-08-10 13:40:29
2020-08-10 13:40:30
Season Ticket Member Q and A: Bob Hoffman