1-On-1 With #94 Liam Kirk
This week, Roadrunners Forward Liam Kirk joined "The Voice of the Roadrunners" Adrian Denny and Kim Cota-Robles on the Tucson Roadrunners Insider Podcast. For the full interview, download the episode from the iHeartRadio App or by listening below.
Listen to "Special Guest Host With Special Guest Liam Kirk" on Spreaker.
Q: Hey Liam, what's going on today, where are you at, what are you up to?
A: I'm just at home, back in England, just a day out today with my fiancé and my nephew.
Q: We saw that you just got engaged? How long have you both been together?
A: When I went home around February, with the injury and stuff, I got engaged. We don't have a confirmed date, but we're looking at Summer 2024. That's the provisional plan. We've been together for seven years now, it'll be eight in December. We've been together since just before we turned 15, we went to school together.
Q: So we understand that you're close to being back out onto the ice and being ready for opening night after that tough injury last year in November? You had a had a great start to your first pro season in North America.
A: It's been a long process and journey, but I got back on the ice just over a month ago. Just before the season ended, I was skating in Tucson and for a few weeks after the season ended, I was skating up in Phoenix, just to make sure I was in a good place to go home and do some more training at home. I plan on coming back in mid-July to do some summer training in Phoenix and that's the plan: to be ready to go for Opening Night and hopefully get a full season under my belt.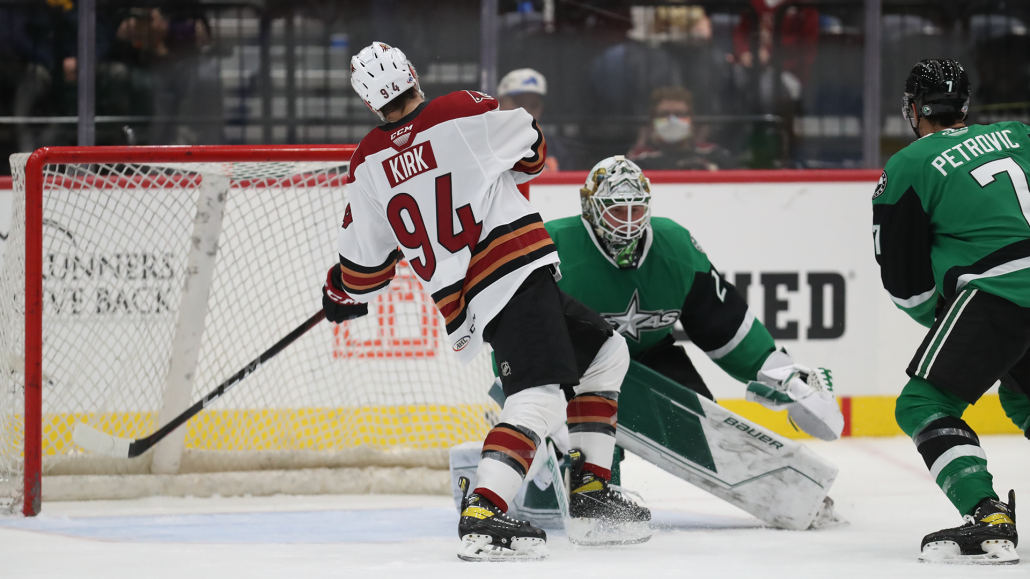 Q: You weren't with us on the ice after the injury, but you were with the team, around the guys and we expect a bunch of them back next year with a lot of excitement for the 22-23 season and having you back on the ice.
A: When you get injured like that, you get the full choice of where to do rehab and for me it was important to be around the team and the environment and getting to know the guys on a more personal level and same with all the staff and now I know the area a bit more as well. So it won't be a huge adjustment that I have to go through and I can just focus on playing and getting off to a good start in the season and hopefully a good successful long season.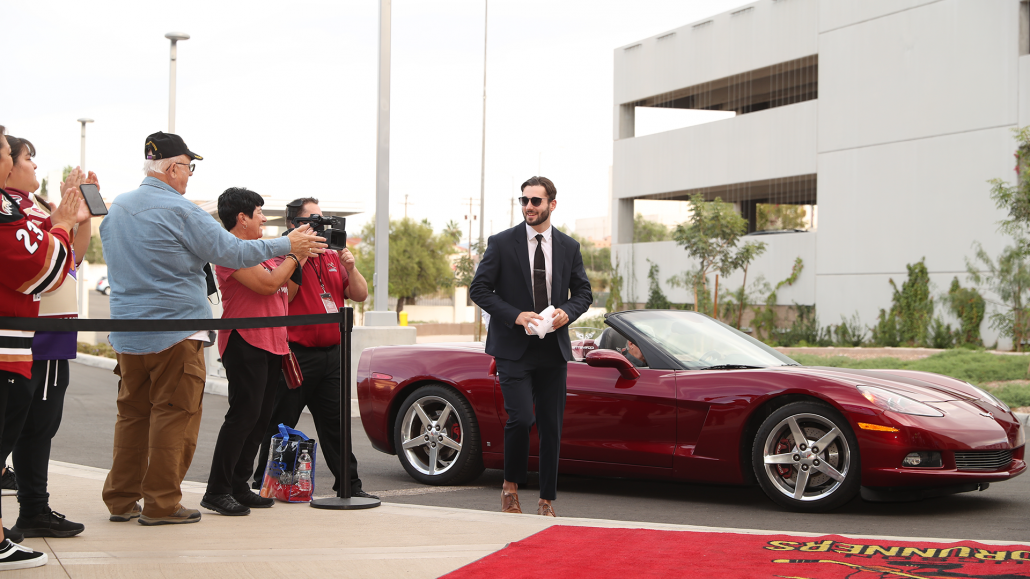 Q: So not being able to be on the ice the whole time that you were out here, did you get a chance to maybe enjoy the sun? You said you were more comfortable in Tucson now that you know the layout, were you able to get out and experience Tucson?
I couldn't at first because I wasn't allowed to do much walking, so it was just kind of slow. When the guys went on the road, I stayed back and did my rehab and had more alone time to explore the surrounding areas and stuff and got familiar with the road signs and the names. For the first five months, I just had Apple Maps for everywhere I went and by the end of it, I could get where I needed to be. It's nice when you get like that, the more comfortable that you are, the more adventurous you get for seeing the sights and getting in the sun.
Q: What did you enjoy about the AHL in the eight games that you were on the ice and what excites you about coming back for a 72-game season?
A: The standard is just so high, there's so much expectations and you put it on yourself as well. It's a level below the NHL. There's so much opportunity. You just want to make sure that you come in every night and play the right way. Everyone else is doing the exact same thing so the competition level is just so high. And so you compete in practice every day and every game the switch is on and I just liked that challenge for me. And being from England and it's not seen as a hockey country and the opportunities are a lot harder to come by. I've always had my dreams and goals higher than the average person playing hockey would, just because of that. I just love that challenge and it just motivates me more to reach my goals. And especially when you're on a team like Tucson and you have so many great prospects and the team chemistry was just so good and we gelled together so well, it just makes it fun to come to the rink every day. You come and you're competing with each other and you're battling and at the end of the day, you get to go enjoy a coffee in the sun. It's been a really good year, obviously not playing as much as I would have liked with the injury. But my first year was a real enjoyable one and I can't wait to get back and get some more time in Tucson and just be with the guys again.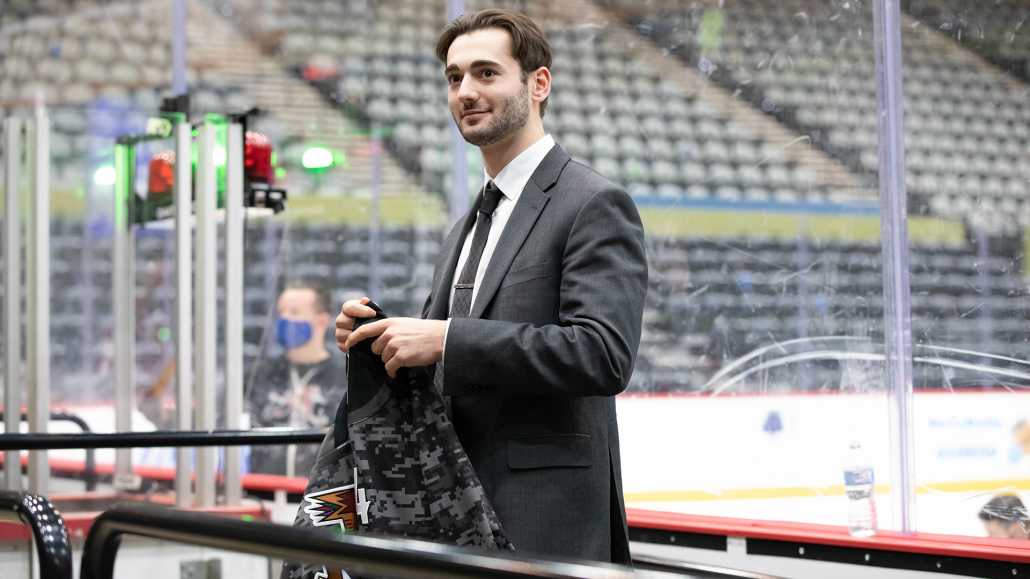 Q: You go to the net, you grind, you're in the tough spots. Is it like that in England or did you have to adapt to North American pro hockey and how hard you have to work to score? Because we look at your goals early on and you're right in the blue paint right there.
A: I think a lot of it was adaption for me, I had to adjust my game. In Europe, the ice is bigger and it was an adjustment at first and it was an eye opener and one of the big things was, as you said, grinding and getting to the net and getting to the hard areas, so that was something that I tried to implement into my game and did my best to work on that. It wasn't really something that I had in my skillset and in my game so it was something I really focused on. In video, I tried to pick apart ways I could do that more and watch how others players play. Like Benny (Ben McCartney) is so good at getting to those areas and grinding and even though I couldn't play this year, I could watch and watch Benny and the way that he got to the net and identify it and ways that I can improve my game.
Q: The U.K. isn't a "hockey country", how did you get into it and at what point did you think that I could do something with this? Was the NHL ever are on your radar?
A: There was a team in Sheffield which I obviously grew up and played for. They came into the league in 1990-91 My parents started watching games and my older brother Jonathan started playing right about when I was born, so ever since I was born, I grew up around hockey and my parents said I was pretty naturally gifted when it came to skating, so I found my feet on the ice pretty quick. I've always loved it as long as I can remember and it's something that I've always dreamed of; making a career out of and playing for as long as I can. Early on, my dream was just to play for Sheffield in the Elite League, they were the hometown, so I started watching games and it made me really want to play. Up around the time that I was 16, 17, the NHL was just so far away, we never had anyone come through the ranks in England and get drafted. It wasn't something that kids ever saw as an opportunity. It wasn't until I had some interest of playing in Juniors somewhere in either the OHL, WHL or the Quebec League (QMJHL) that I really thought of the prospect of being drafted and having an NHL contract and having the opportunity to one day play in the NHL. So when that happened and I had some interest there; then my second season playing in Sheffield, when I was 17, my coach said that there was a scout from an NHL team in the arena and watching the game and that was when I realized that there was an opportunity for me to get drafted and go to a level that I didn't think was possible when I was growing up. When you talk back on it now, how crazy it seems, just a kid from England, getting drafted and then a contract, it's pretty awesome for me and I'm super proud of it.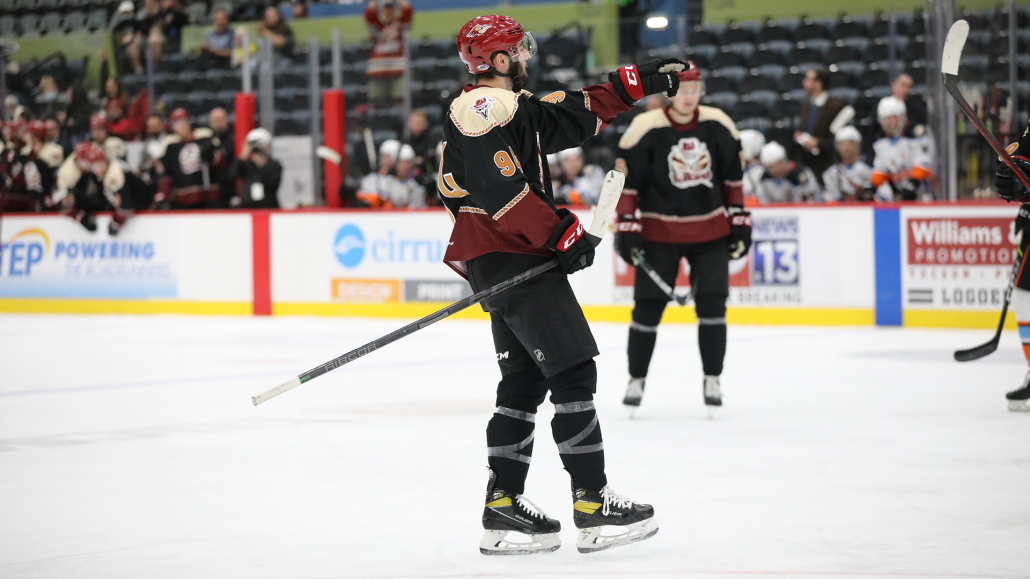 Q: What's it like to be the first from England to blaze this trail in hockey?
A: For me, I'm just on this journey and just trying to learn daily and adjust to it. It's such a huge challenge and kids in North America grow up knowing that pathway and I'm just enjoying the journey and working hard to get to that next step.
Q: That's a good league in England, we recognize names of guys who played Major Junior and Pro Hockey in North America. That doesn't look too far from the AHL from a talent standpoint?
A: There are players that played in the NHL, AHL and ECHL. Justin Hodgman with Sheffield this year played seven games with Arizona (2014-2015.) The league in England is definitely growing and getting better and better and more competitive. That's huge for the young British talent that they can hopefully play in that league and be exposed to that level of hockey.
Q: What other sports are you into? Have you gotten into basketball?
A: I've never really been into basketball until four or five weeks ago. I had some friends from England come over and we went and watched game five of the Suns and Mavericks playoff game. I fell in love with it, the atmosphere was incredible, the game was incredible. I grew up playing cricket up until I was around ten and then began focusing more on ice and roller hockey. Three years ago, I got into golf, everyone plays golf. I couldn't get out until the last month of the season, but as soon as I got the go ahead, I was on the course the next day and we played quite a bit. I'm an average golfer, but you can't complain, when you're driving around and it's 40 degrees (104 degrees Fahrenheit) and the views are incredible in Tucson.
//www.tucsonroadrunners.com/wp-content/uploads/2022/06/1RR_22_1on1_Summer_495_400.png
400
495
Tucson Roadrunners
/wp-content/uploads/2019/06/web-header-logo.png
Tucson Roadrunners
2022-06-03 09:07:10
2022-06-03 10:23:16
1-On-1 With #94 Liam Kirk