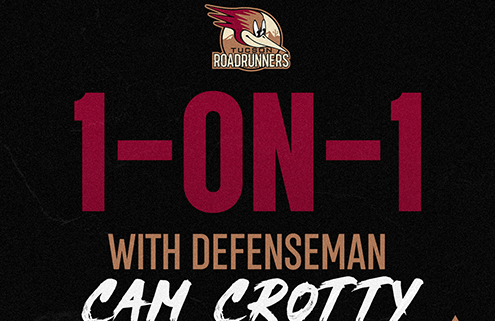 Tucson Roadrunners defenseman Cam Crotty stopped by Roadrunners Happy Hour before Tucson's matchup against the Condors in Bakersfield on Tuesday, January 31. Join Adrian Denny, Brett Fera, and Kim Cota-Robles every Tuesday at 5 p.m. on FOX Sports 1450AM and the iHeartRadio app. A podcast version of the full episode can be found on the iHeartRadio App or by listening below.
Listen to "Sticking with Tradition with Cam Crotty" on Spreaker.

Q: Cam, that was a nice home stand. We won five of six, and now we're ready to take that success out on the road.
A: For sure. We had a tough stretch there not too long ago, so it was about time we strung together a good couple of games. Obviously, we want to continue doing that. It was a huge home stand for us, we played well against some teams that we need to beat, and we got the job done.
Q: We snapped a losing streak here in Bakersfield a few weeks ago on January 14. Was there anything that stands out from that game that got us on the stretch we've been on now?
A: It's such a fine line. For a lot of that tough stretch, we weren't playing our best hockey but it definitely wasn't our worst either. I think in that game, guys were just fed up. We always talk about having belief regardless of what's going on, and I think that was it. Guys make some big plays and we were able to force ourselves back into that game. We kept believing and we knew we could beat them right to the end.
Q: There was a different energy to the team over the six-game home stand, the effort was incredible. Do you think other teams expect that coming into Tucson, which could be described as a non-traditional hockey market?
A: I've been fortunate enough to have only played in Tucson [in the AHL], so I don't have their perspective on that. Abbotsford is above us in the standings but we weren't too far behind them, so they were expecting tough competition from us. Maybe fans in Tucson from a visiting team might think that though. We just went out and played well, it didn't matter what their expectations were. We knew we were going to come out and give them a good battle, and we were fortunate enough to go out and get four-straight wins.
Q: We were also able to get you back in the lineup during the home stand after missing some time.
A: It's never fun dealing with injuries and going through that stuff. I was able to watch some games from up top and get something out of it, but I definitely prefer being on the ice. I was happy to be back out there.
Q: We've seen guys go into the gym after playing a full game. What does that involve?
A: It kind of depends on what game it is. If it's the second game of a back-to-back, we'll do a workout with the day off the next day. It's a good time to get everything you can out of your body, then relax and recover the next day. If it's the first game of a back-to-back, it's more of a cooldown thing. It's more about movement, cooling down, maybe just hopping on the bike. Guys get banged up during the game and it makes you tighten up a bit. From the outside, it might look like a lot, but it's not too bad. If you've won a couple of games, it's usually good vibes with good vibes, and guys are chirping each other. It's not too bad.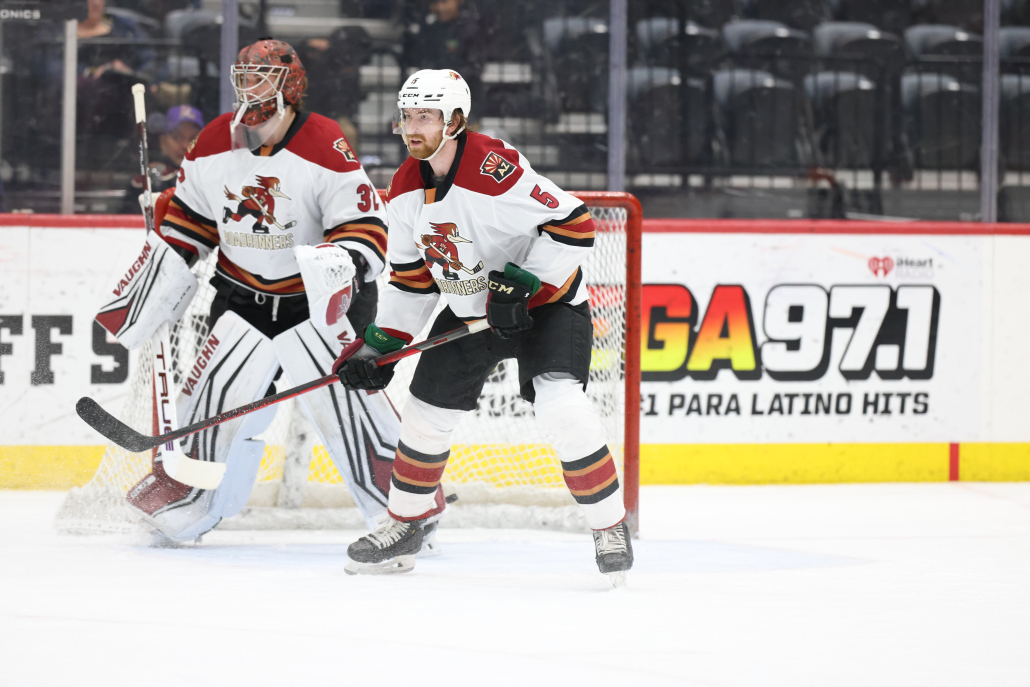 Q: Sometimes the Tucson Arena plays you guys answering "This or That" questions, and you chose Arizona State University over the University of Arizona in yours. You understand why that got boos, right?
A: It was funny, it played in one of the games I was sitting out as I was up in the stands. I was laughing my head off because I knew no one was going to like my answers. I guess I was trying to be a little different, I wanted to give a shoutout to [Roadrunners forward] Colin Theisen because he played there. A lot of people didn't like me picking Lebron James over Michael Jordan either, I had a few hot takes.
Q: We're starting a stretch of seven games on the road, who's your travel roommate?
A: Travis Barron. I don't know how they pick them, sometimes it's based on age or years pro, but sometimes it's just alphabetical. We have some good roomie chemistry though, he's a great guy. 
(Photo Credits: Kate Dibildox/Chris Hook)
//www.tucsonroadrunners.com/wp-content/uploads/2023/02/thumbnail.png
400
495
Jimmy Peebles
/wp-content/uploads/2019/06/web-header-logo.png
Jimmy Peebles
2023-02-02 17:31:50
2023-02-02 18:09:17
1-On-1 With Cam Crotty