Tucson Roadrunners Forward Colin Theisen joined Roadrunners Happy Hour from Las Vegas on Tuesday, April 4, before Tucson and the Henderson Silver Knights went to a shootout the following night at The Dollar Loan Center. Join Adrian Denny, Brett Fera, and Kim Cota-Robles every Tuesday at 5 p.m. on FOX Sports 1450AM and the iHeartRadio app. A podcast version of the full episode can be found on the iHeartRadio App or by listening below.
Listen to "Staying Strong with Colin Theisen" on Spreaker.
Q: Colin, thanks for joining us. You guys have to have your eyes on the playoffs, but that starts with finishing the regular season with some wins here on home ice.
A: We definitely want to finish the season strong, and we'll take it one game at a time. It was a great road trip for us, and now we've got four more at home. Those two games in Bakersfield, everyone said that was playoff hockey. They were hard-fought battles. One bounce here, one puck hits the post here, and those are tie games. I liked our team's effort and our fight throughout those two games, and I'm looking forward to more playoff hockey coming up here.
Q: You say the two games in Bakersfield felt like playoff hockey, it seems like the last two months have felt like playoff hockey at this point.
A: It definitely has. You look at the standings, and it's been tight ever since Christmas. It's an ongoing battle until the end of the season. We're in this spot where San Jose is right below us and we play them last, but we're hoping to be well ahead of them before those two games.
Q: What's the mood as the team closes out the last road trip of the year?
A: The boys are doing great. Long road trips like this, the boys get closer and closer and we hang out all the time together. There's been pool time, and there's so many great restaurants. There's plenty to do, but we're all staying focused on our games.
Q: What has it been like playing on a line with your 2021-2022 Arizona State teammate Josh Doan, along with Roadrunners Captain Adam Cracknell?
A: It's great. I've played with Adam a little bit throughout the season, and he's a great player and great leader. He's very experienced and had one hell of a career, so playing with him is always an honor. And having Josh Doan come up, I played with him all of last year so I'm used to the way he plays and we have a good style together.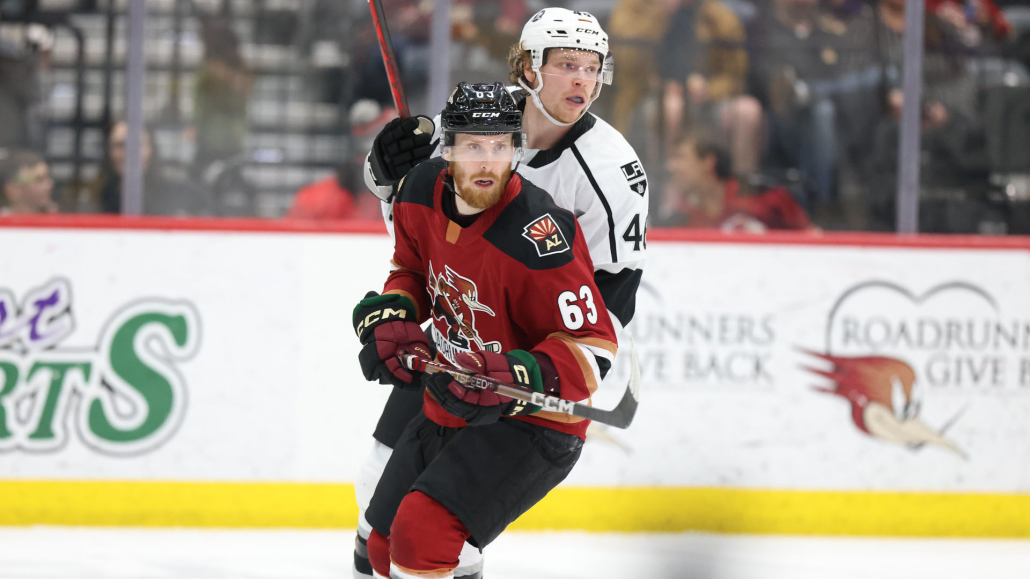 Q: We see so many ASU hockey fans at the Tucson Arena for our games this season, how does it feel to have them and Roadrunners fans supporting you here in Tucson?
A: It feels good and it's probably even better for Josh Doan, being from Arizona and everything. I've been in Arizona for two years now, I loved it in Tempe and I love it here in Tucson too. My wife and I call Arizona our second home away from Michigan and we love every bit of it.
Q: You had a great month of March with 11 points (5g 6a) in 12 games. What's been clicking for you?
A: You play with good players, and they'll help you get success from yourself. I think that has a lot to do with it, but this whole season I've also tried to stay positive whether I was in the lineup or not. That attitude helps you once you're in the lineup, you keep things simple and you know what you're doing. You stick to your game, and coming in and playing my game to the best of my ability is what I'm trying to do.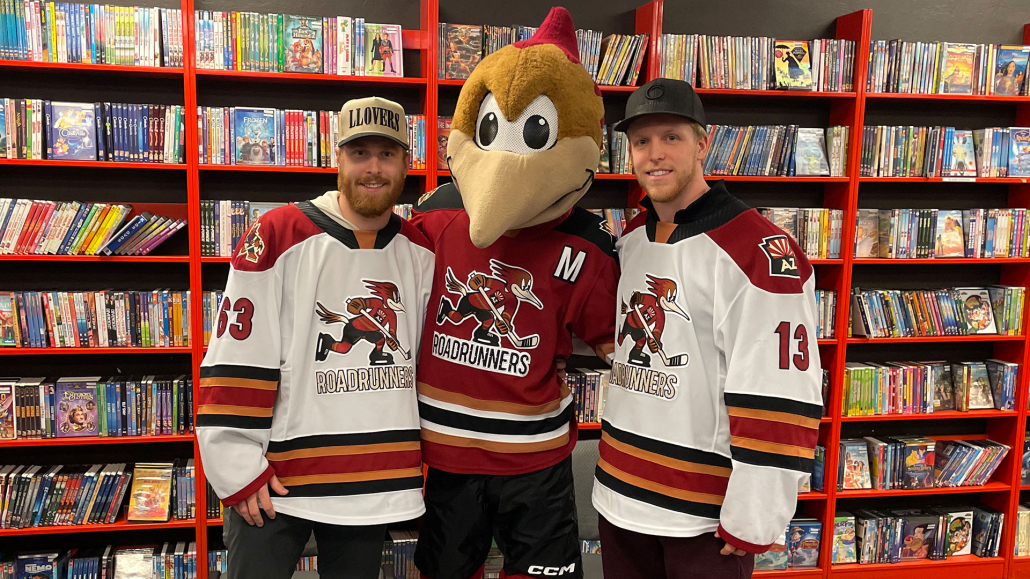 Q: You've been a great example of the "Next Man Up" culture our organization has. Do you think that has led to some of our recent success?
A: It's a huge part of it, especially at this level. With all the movement, everyone has to be ready and I think that goes to show how deep our team is and how well our coaching staff handles that situation. Guys that go up [to the Coyotes] like Nathan Smith go there and play great, and then they come back and continue to play great with us. That's exactly what you want to see.
Q: The Roadrunners debuted #CarconeMVP last week to campaign for your teammate Mike Carcone as the AHL's Most Valuable Player. The guys have to be in agreement that he's the most deserving of the award this year.
A: Absolutely. We see him every day in the gym and in practice, and we'd all strongly argue that he's been the best player in the AHL this season. It's been fun to watch him every single game and see him do what he does. It's special.
//www.tucsonroadrunners.com/wp-content/uploads/2023/04/495-theisen.jpg
400
495
Jimmy Peebles
/wp-content/uploads/2019/06/web-header-logo.png
Jimmy Peebles
2023-04-06 15:23:08
2023-04-14 14:36:57
1-on-1 With Colin Theisen