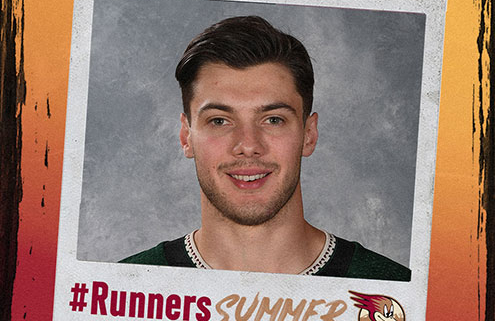 Original Tucson Roadrunner and current Arizona Coyotes defenseman Dysin Mayo joined "Voice of the Roadrunners Adrian Denny and TucsonRoadrunners.com's Jimmy Peebles on the Roadrunners Insider Podcast to talk about the upcoming NHL season. The full interview, including Dysin's most memorable AHL experience, can be found on the iHeartRadio App or by listening below.
Listen to "Around The Leagues: With Dysin Mayo" on Spreaker.
Q: It's good to see you, Dysin. The last time we saw you was at the Coyotes Draft Party, were you in Arizona all summer?
A: Yeah, pretty much. I went home [to Canada] for a little bit then came back down at the beginning of June. This was my first full summer in Arizona, and it was definitely hot here.
Q: You made your NHL debut, scored your first goal and never looked back, appearing in 67 total games. What was that experience like for the first time?
A: It was a whirlwind of a year, I wasn't really expecting that to happen going into the season. It was a great opportunity that was given to me, and I'm fortunate that I had the support of the coaching staff. They really believed in me from day one, that gave me a lot of confidence. I also played with great players all year, I played with Shayne Gostisbehere and a little bit with Jakob Chychrun. Those were two guys that were easy to play with and showed me the ropes.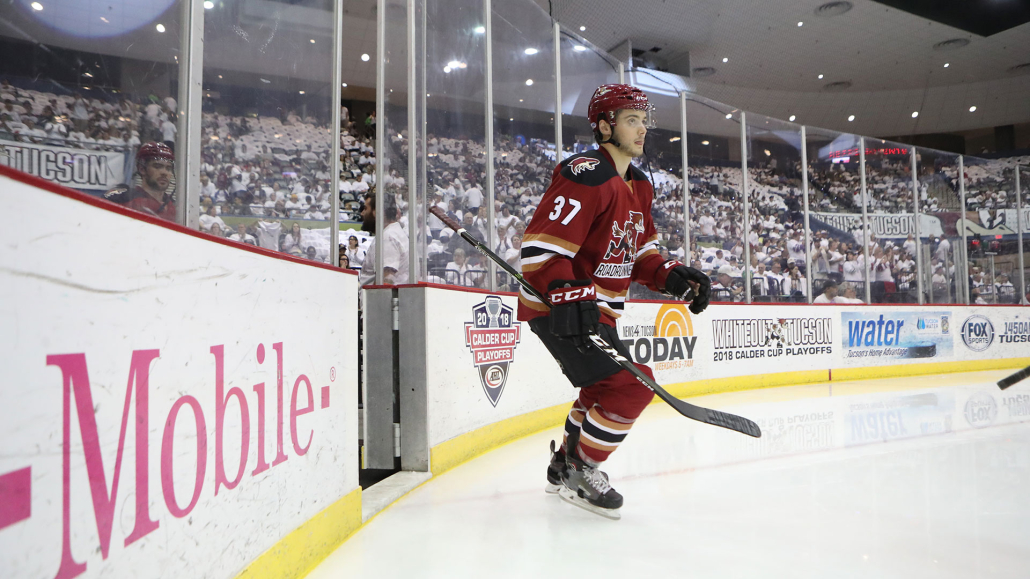 Q: Shayne Gostisbehere was your D-partner for most of season, how did that start and what made him such a good fit with you?
A: I think our games molded well together. He's really offensive and likes to push the pace and jump into the play, while I stay home a bit more. I think I gave him the confidence to play his game, knowing that I'd be there to cover him.
Q: You played just two games with Roadrunners before being called up after the game in Stockton. What was your reaction to the news?
A: I was surprised. When I came to Tucson, it was about trying to show [the Coyotes] I belonged. I wanted to have a strong season and show them that I deserved an opportunity. It came quicker than I thought but it was nice to get the opportunity, that's for sure.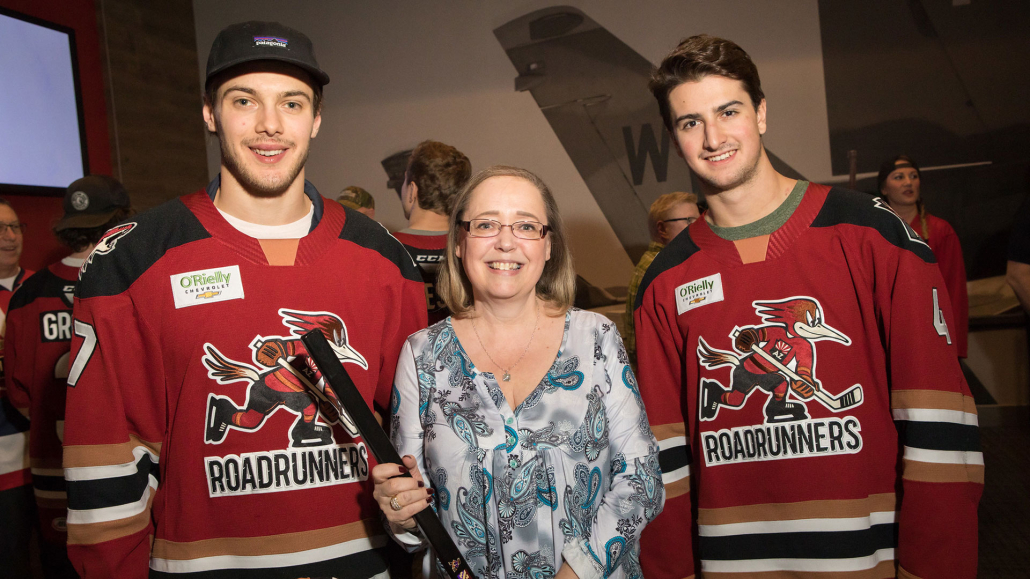 Q: You were the first Roadrunner to make his way up to the Coyotes last year, how was it welcoming more and more of your Tucson teammates as the season went on?
A: It was nice to have some guys I was familiar with [on the Coyotes], it made the transition a little easier. It's always nice to have some friends around and I was happy for those guys too. A guy like Cam Dineen, it's great to see him get his shot and I think he made the most of it as well.
How have you been preparing for the upcoming season, technically your first full NHL season?
A: I've been here in Phoenix the whole summer trying to make the most out of everything here. The training, the ice, the nutritionists, I'm trying to advantage of that. It's a different feel going into camp this year, being on a one-way contract gives you more confidence going into camp. It'll be nice to get things going here.
Q: Are you looking forward to being back in Tucson with that preseason game on September 25?
A: I'm hoping I get the opportunity to play in that one. It'd be good to come back down to Tucson and play a game there.
Q: How great is it for you to see your former coaches Jay Varady and Steve Potvin move up the coaching ladder? Jay as an assistant with Detroit and Steve as our Head Coach.
A: I had great relationships with those two, as well as [Roadrunners Assistant Coach] John Slaney. To see them continue their success is awesome to see. I knew Jay was going to move up at some point, he's one of the best coaches I've ever had. He's such a player's coach, very knowledgeable, knows how to communicate with his players. It's good to see Steve get that opportunity, and John Slaney as well. I've worked with him for a long time and he's been the best D coach I've ever had. He's shown me the ropes and kept me going all these years. It was hard for me, not getting that [NHL] opportunity, and he knew that. He would communicate with me all the way, helping me get to the next level.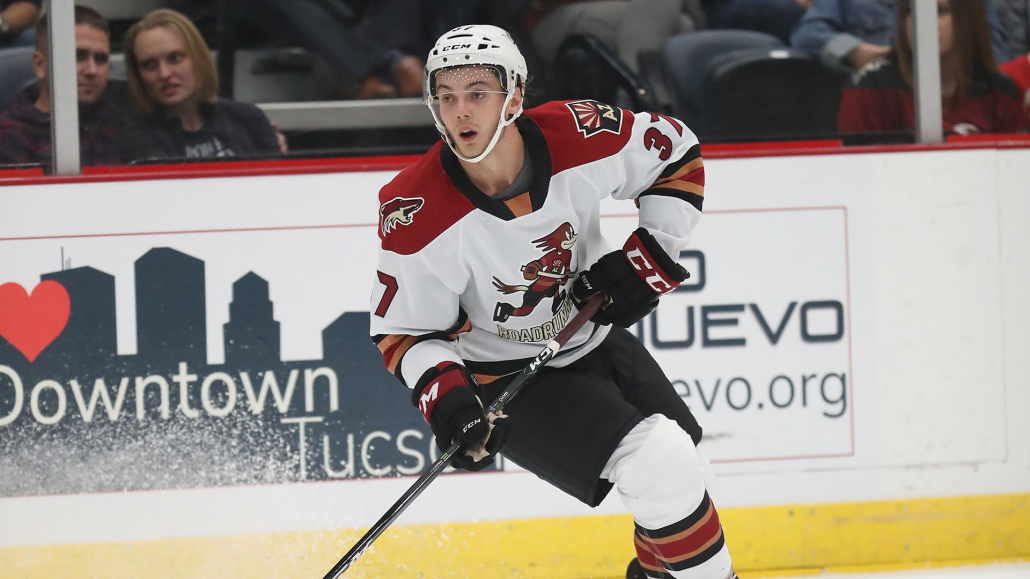 Q: I assume it's a much closer commute for you to the arena in Tempe and practice rink in Scottsdale compared to over in Glendale.
A: I think everyone's looking forward to that. Pretty much everything is going to be out of our home base there in North Scottsdale, where most of the guys live. It's definitely going to shorten up the commute.
//www.tucsonroadrunners.com/wp-content/uploads/2022/09/Dysin495.jpg
400
495
Jimmy Peebles
/wp-content/uploads/2019/06/web-header-logo.png
Jimmy Peebles
2022-09-01 12:56:28
2022-09-01 13:00:37
1-On-1 With Coyotes Defenseman Dysin Mayo