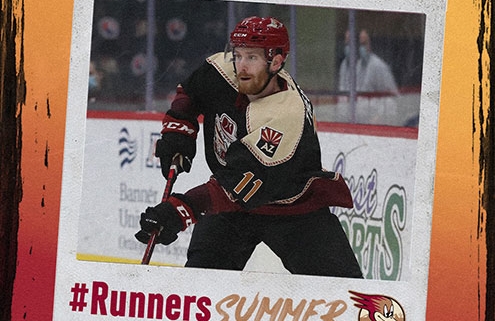 Recently signed Roadrunners forward Colin Theisen joined "The Voice of the Roadrunners" Adrian Denny and TucsonRoadrunners.com's Jimmy Peebles on last week's edition of the Roadrunners Insider Podcast. The full episode can be found on the iHeartRadio App or by listening below.
Listen to "A Day Late And A Draft Preview: With Colin Theisen" on Spreaker.
Q: You were announced as our first signing of the offseason, has your cell phone been as active as the response on social media?
A: A lot of people have reached out. It just shows how grateful we are to be able to play the game of hockey. I look forward to another season, I'm very excited.
Q: What are you up to today? Are you back in Michigan?
A: Yeah, I'm back home in Michigan. I actually have a wedding coming up (Sunday, July 10), we're (Fiancé Alexa) getting ready to tie the knot. I've just been enjoying workouts here and golfing with buddies I haven't seen in awhile.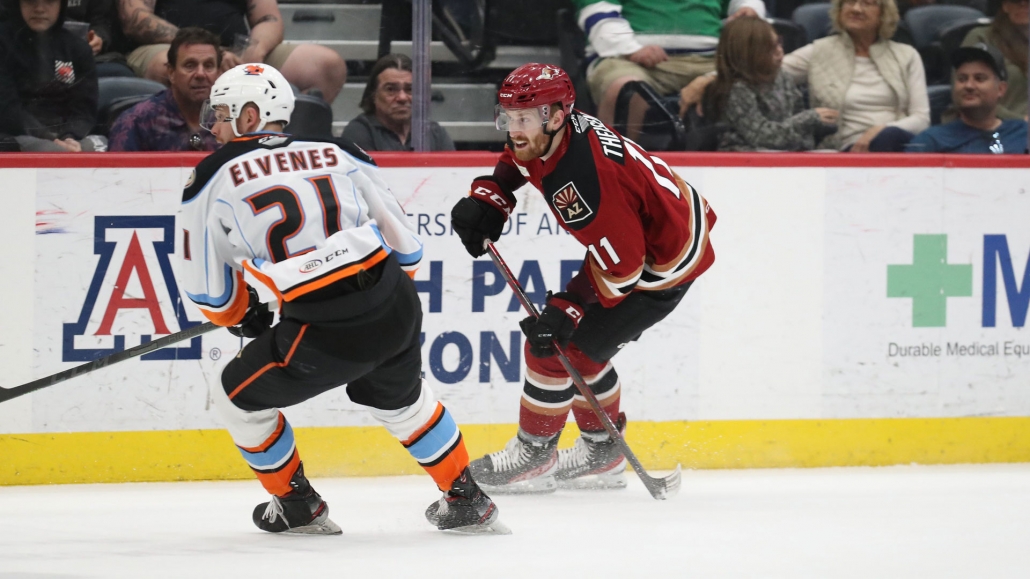 Q: You signed a contract with the organization to stay in the desert. What brought you to the desert from Notre Dame to Arizona State University? What kept you here?
A: With Covid, we all got that extra year of eligibility. I loved my four years at Notre Dame, they have a great staff and I loved all the guys there. We all kind of went our separate ways, and I really liked what ASU had to bring to the table. They have a winning culture there, it's up-and-coming, and I liked everything their coaches were about. All the boys welcomed me in there, and I really enjoyed my time there and we had a blast. I wish them nothing but the best, they're going to have some good seasons coming up in that new building.
Q: What was your first contact with the Coyotes and when did you get the feeling you might be staying in Arizona?
A: [The Coyotes] were one of the first teams that reached out to me after my season ended at ASU. I talked to my agent, and once we figured some things out we knew Arizona was the right place. It was a great opportunity, I had heard nothing but good things about their staff, and I liked everything the organization was doing.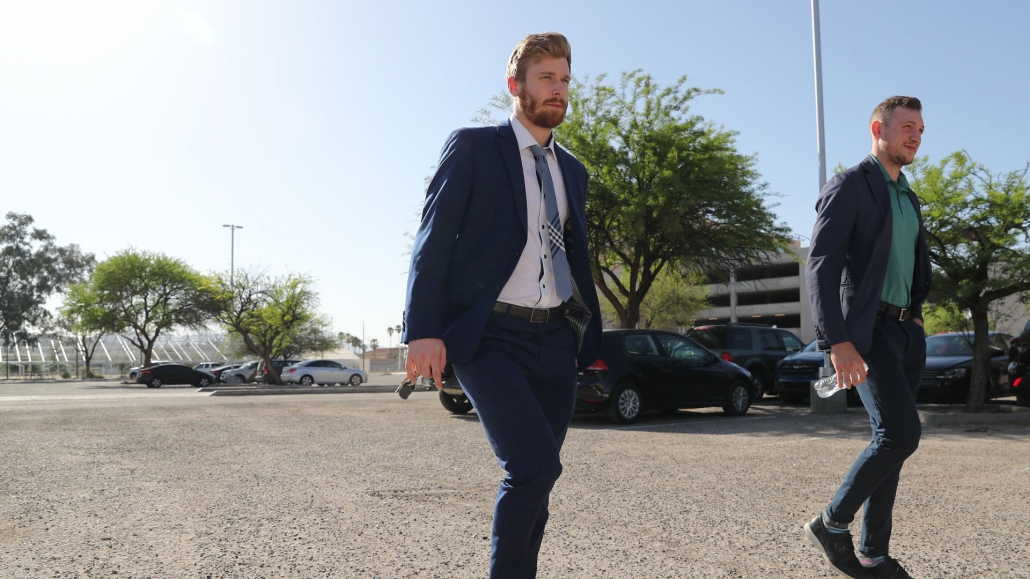 Q: Being from Michigan and going to Notre Dame, you had always played in the Midwest up until last year. This was the first time that you were playing somewhere that was a flight away from home.
A: I spent my whole career basically in the Midwest, so this was my first year playing away from there. I'm used to my friends and family coming to all of my games, but this year it was just a couple weekends. It's great when I can play that close to family [on the road] and they can come and watch me again.
Q: It didn't seem like you needed much of an adjustment coming from college to the AHL, what was that transition like?
A: The transition was good. From the start, I liked learning from the older guys like I did in college. I think we had a good group of older guys that I could watch to see how they practiced and how they took care of their bodies. I just wanted to go out there, play hard, finish every check, and make a play if it was there to be made.
Q: There were several other guys like yourself who had just joined the team from college. Did that make your transition easier?
A: It's always nice when you have guys you can connect to like that. I knew [Mitch Lewandowski] from a while ago, I had played against him my entire life. I didn't know the other guys but I had friends that had played with them, so that helped. The older guys did a great job of implementing us into the group and teaching us, and we leaned on them to learn the ways of the team and how the systems work and all that. But it was very fun and an easy transition for us for sure.
Q: You notched 11 points in 16 games with the Roadrunners to close out the season (5g 6a). What was the biggest takeaway from that stretch?
A: My biggest takeaway came from the coaches. They did a great job with me, watching video with them and them helping me out during practice. I think that was the biggest thing, they made me feel comfortable and helped me to just play my game. When you're having fun like that, you're going to perform well.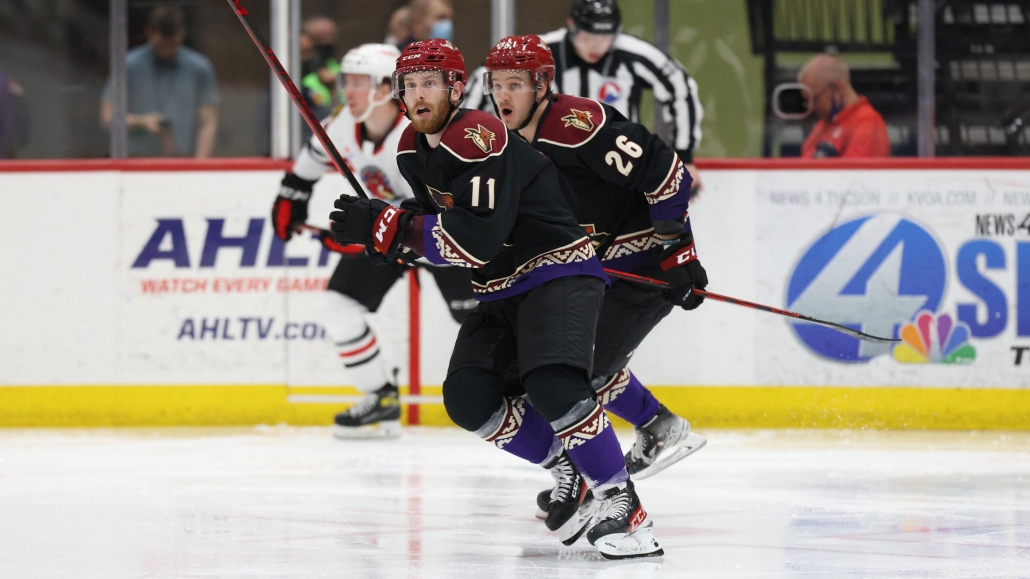 Q: You came up big in our final weekend of the season with a three-point performance (1g 2a) followed by that game-winning shootout goal the next night. What was that weekend like at the Tucson Arena?
A: The energy was awesome. We knew it was our last two games as a group together, so we wanted to fight for one another. Coming in, you could tell how close the group was. The guys were joking about how we wanted to play as long as we could in that last game, and it was fun to finally get that win at the end there.
Q: That was a pretty nice move you made in the shootout, when was the last time before that you had taken a penalty shot?
A: That's a good question. I don't think we ever went to a shootout when I was at ASU, so it had to have been at Notre Dame or even in the USHL. You do them so many times in practice, so you kind of know which moves work for you.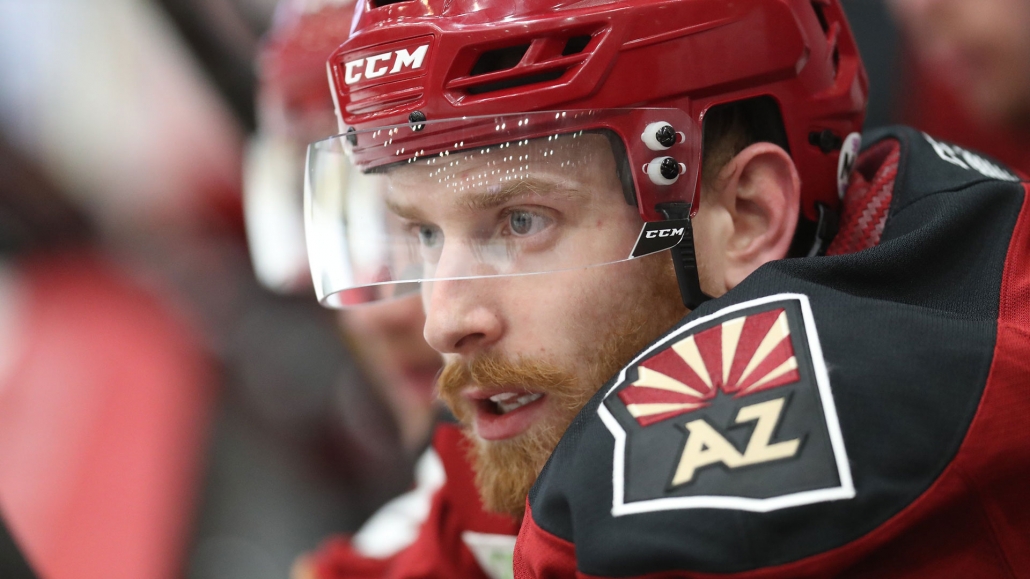 Q: What are you most excited for with a full professional season coming up?
A: There's a lot to be excited for. I'm having a big summer trying to get bigger and stronger, then it's going into Training Camp and trying to show that I can stick [with the organization]. I like playing with a chip on my shoulder and having a challenge, so hopefully I can be with the Roadrunners all season and have a good year with the guys. I want to form that culture and those tight bonds with the guys next season like we had this year.
Q: What excites the ASU hockey program about having the Arizona Coyotes in the same building?
A: It's definitely big for ASU. From a fan perspective, they're going to have a lot of eyes on them. With the way ASU has played for the last six years and that coming to fruition by becoming a Division 1 program and getting this new arena. There's a lot of guys transferring there from top-notch schools, and I think they're going to be the team to beat for the next five or ten years.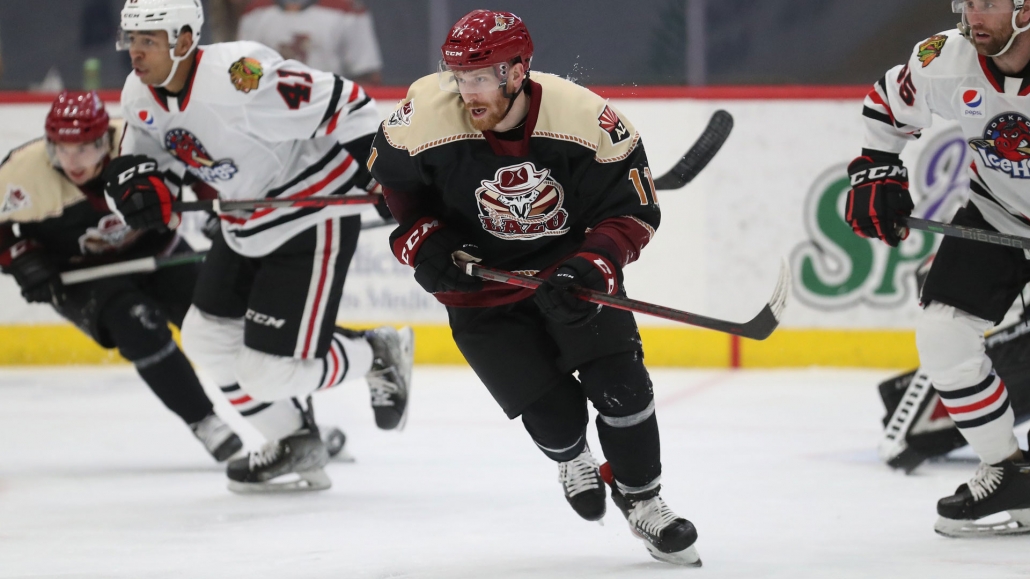 Q: Have you gotten a behind the scenes look at the arena?
A: I personally have never been inside [the new arena], but I know the guys that were returning have been inside it a couple of times. It's right downtown by campus, so I drove by it every day. It's going to be a beautiful arena.
Q: You're the first Sun Devil to sign with the Coyotes but Josh Doan, drafted last year and was a teammate of yours, he had a really good year too.
A: He's a great kid and a great player. Obviously, he's been around the game for a long time watching his dad [Shane Doan] and being around the rinks and locker rooms, seeing how it is. He's very mature and he'll have a very strong, long career. I played with him for the majority of the year and tried to help him out wherever I could. He's very young, but it doesn't look like it with the way he plays and the way he acts off the ice. I have nothing but good things to say about Josh.
//www.tucsonroadrunners.com/wp-content/uploads/2022/07/CTheisen-495.jpg
400
495
Jimmy Peebles
/wp-content/uploads/2019/06/web-header-logo.png
Jimmy Peebles
2022-07-07 14:54:37
2022-07-07 15:39:07
1-On-1 With Forward Colin Theisen