Roadrunners coach Steve Potvin joined Adrian Denny, Kim Cota-Robles and Brett Fera on this week's edition of Roadrunners Happy Hour to talk about coming to Arizona in 2009 and the season so far. Catch Happy Hour every Tuesday at 5 p.m. on Fox Sports 1450 AM and the Roadrunners Happy Hour Podcast on the iHeartRadio app.
Listen to "Coaching With Steve Potvin" on Spreaker.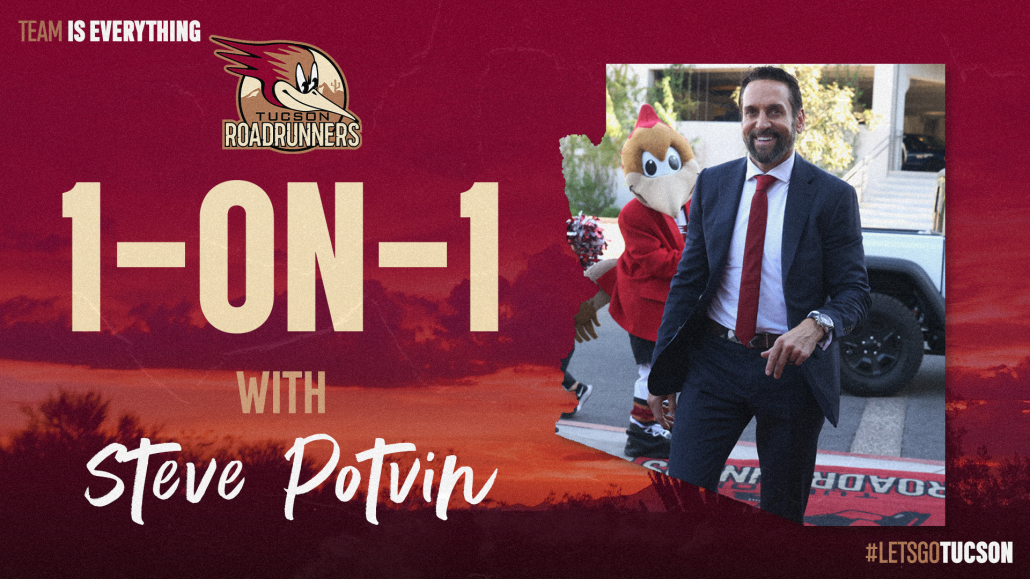 Q: How did you feel about the game Sunday? It's always nice to leave Coachella with two points in our pocket.
Yeah, no doubt. We felt pretty good about our first 10 minutes. I felt like we came out pretty hard. We knew that they had played the night before, so it was important to get off to a good start. So far the theme of our season has been to score first. We usually have success when we score first so that that gives us a little bit more confidence. But I can't tell you that I was too amazed with the second period. It was like a ping pong match, you know. You watch the second period and it's literally your neck is going left and right all night. It was entertaining for the fans I could imagine, but for a coach that doesn't always get you excited.
Q: Can you give us some insight into the new personalities that are on the ice with us this season?
It's no secret how well our guys have adjusted to Tucson and the players in the culture that we're trying to breed. The players that we have are good humans. They're good people. They're guys that have been around the American Hockey League and from what we can see so far, they're very selfless. They care about the guy next to them and that's important. You know, if you can do all you can for your team and your teammates, it's amazing how much you improve in the process as an individual; so we're trying to carry that mindset and we're trying to build leaders and they're building themselves. I couldn't be happier with the type of quality character that we have in the room thus far.
Q: Forward Dylan Guenther said that this is a completely different team than what Coachella saw three weeks ago. Do you agree with that? Especially after the game this past weekend?
Yeah, we've had a lot to work through. We've added some structure pieces and we're making some slight adjustments to our offense. Then if you look at the personnel that we have, Dylan had just gotten into town so you're kind of coming in trying to acclimate. You're not really sure how it's going to be and where you're going to go and how it's going to look. I don't think it's taking them a long time to adjust, but for him as a player; now you're starting to understand the league a little bit more and understand the things that he needs to improve on. It's just now you get both solid feet on the ground and you go to work. The guys are willing to put in the work. We've got a lot of players that actually enjoy the process. It sounds like an easy thing to accomplish when you're a hockey player, but there are a lot of players that don't always enjoy the process. Our guys enjoy being at the rink every day and they enjoy putting the boots on and trying to find an inch in their game. That should be a common thing for every player and a theme, but it's not so we don't take it lightly. We appreciate the type of character and people that we have in our in our room.
Q: How did you get your start in coaching?
Well, you know what, there was an opportunity when I finished playing to stay in Europe and coach, but I didn't feel that it was the right move for my family. We had purchased a home, a rental home in Arizona with the hopes of getting our Green Cards and building a family here. My son started playing minor hockey in Scottsdale and I started coaching my son in minor hockey and I just then realized how much I love the game and love being around it. I didn't want to fail the kids that we were instructing, and I didn't want to let the parents down either; so I started looking into how to improve and went to a lot of resource centers to try to find any solution I could how to communicate with parents. I just got into all of the different types of levels that USA hockey was offering and just honestly tried to coach as much as I could. I really enjoyed being with the kids and my son especially and it just kind of evolved from there. I was lucky enough to be with some great people and that gave me an opportunity to become a Skills Coach (with the Arizona Coyotes) and then from there it just kept evolving.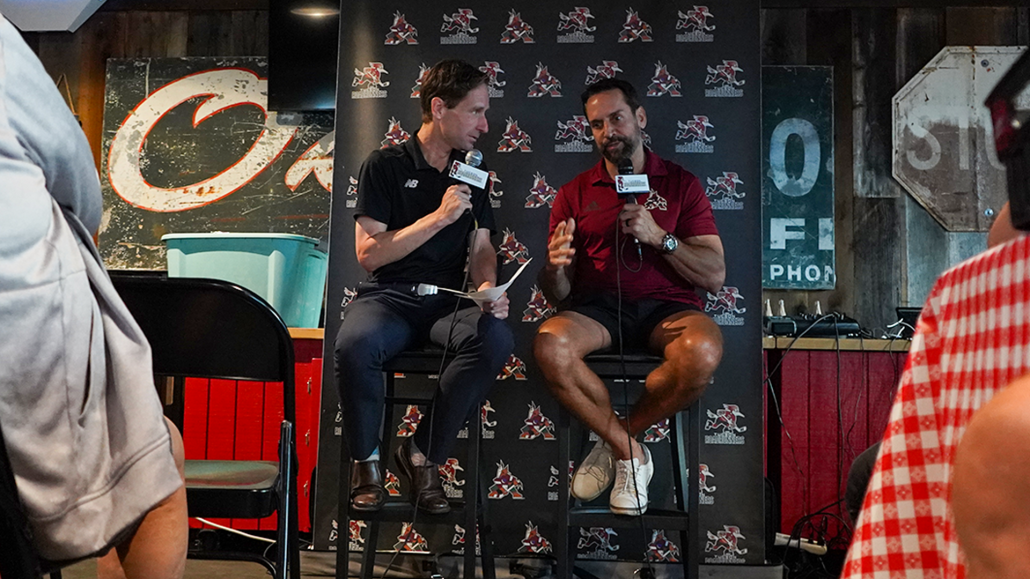 Q: How did you develop your leadership and coaching style? Have you ever taken one of those personality tests? It seems that everyone enjoys playing for you.
I don't know. I think that's always a work in progress. I don't want to say that they like playing for me just yet. I feel like we're getting closer to that stage, but I just never feel like we're there quite yet; but my leadership style is really trying to figure out exactly who you are. I think a lot of times you can't lead unless you know exactly who you are. I have done some digging in and tried to answer those questions internally to myself. What are my strengths, what are my weaknesses and then it just kind of stems from what you value and what you stand for and then from there, it's pretty simple once you understand who you are, what your strengths and your weaknesses are, what you value and what you stand for. You know, once you clearly identify that it's pretty easy to understand your style and then what's going to help motivate the players and hopefully keep them accountable to what the belief is and what the standard will be in Tucson.
Q: Milos Keleman got called up after our game in Coachella on Saturday. He's the fifth player to get called up this year already. How do you think his off season work and work so early in this season have helped him?
He was an absolute beast in the last game. It was only fitting that he got called up. Just watching some of his training sequences over the summer. It's no surprise, he trains really hard in the summer. He puts himself in some real uncomfortable positions on the ice and those are the positions that you're often in and you have to get yourself to a position where that's just part of the business and you're just comfortable with it. He's trained hard and it's great to see him have success. Honestly, you could put him up and down the lineup with any parings and he'd just make that line really good. He just fits in well with every line. It's good to see him have success.
//www.tucsonroadrunners.com/wp-content/uploads/2023/11/Untitled-2-3.png
400
495
Brad Koerner
/wp-content/uploads/2019/06/web-header-logo.png
Brad Koerner
2023-11-16 18:12:19
2023-11-16 18:12:20
1-on-1 with Head Coach Steve Potvin