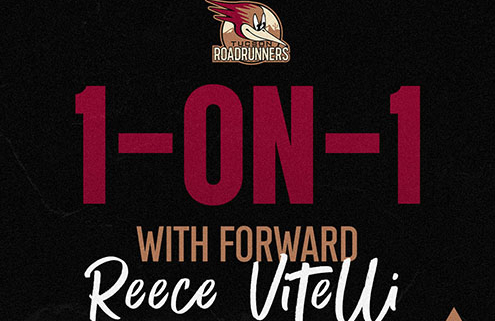 Tucson Roadrunners forward Reece Vitelli appeared on Roadrunners Happy Hour this week after scoring his first AHL goal in his Roadrunners debut. Join Adrian Denny, Brett Fera, and Kim Cota-Robles every Tuesday at 5 p.m. on FOX Sports 1450AM and the iHeartRadio app. A podcast version of the episode can be found on the iHeartRadio App or by listening below
Listen to "Bonjour Reece Vitelli!" on Spreaker.

Q: Reece, it was great to have you join the team in Texas and score a goal in your American Hockey League debut. What was that experience like?
A: It was good to get into a pair of games in Texas after the call-up (Vitelli was recalled from the ECHL's Atlanta Gladiators with forward Colin Theisen), and scoring in my first [American Hockey League] game was pretty cool. I'm looking forward to this weekend in Tucson.
Q: Was there a point in your debut that served as your "Wecome to the AHL" moment?
A: I think it was right away in the first period. The speed of the game was a little faster than I was used to and I thought, "okay, I'm here now [in the AHL], it's time to really dial in."
Q: It was a quick turnaround for you and Colin Theisen between the Atlanta Gladiators and joining us in Texas. You played in Greenville on Wednesday, bused back to Atlanta that night, then flew out to Austin and joined us the next morning.
A: It was a chaotic morning. I packed when we got back after the game in Greenville, it's only an hour and a half away luckily. I had a couple hours of sleep, then was off to the airport. It was a quick turnaround, but I wouldn't have had it any other way.
Q: You played six years of junior hockey in the WHL, your last three were with the Prince Albert Raiders. Did you have any rivalry with the Brandon Wheat Kings and your new teammate, Ben McCartney?
A: Me and Benny go back a long time, we didn't grow up too far from each other. We played spring hockey together when we were about 10 or 11, and we've been playing against each other ever since. He's a great player who had a great Junior career, and Brandon was a tough team to play against. We had some really good battles, and we still talk about them when we're on the ice now and then.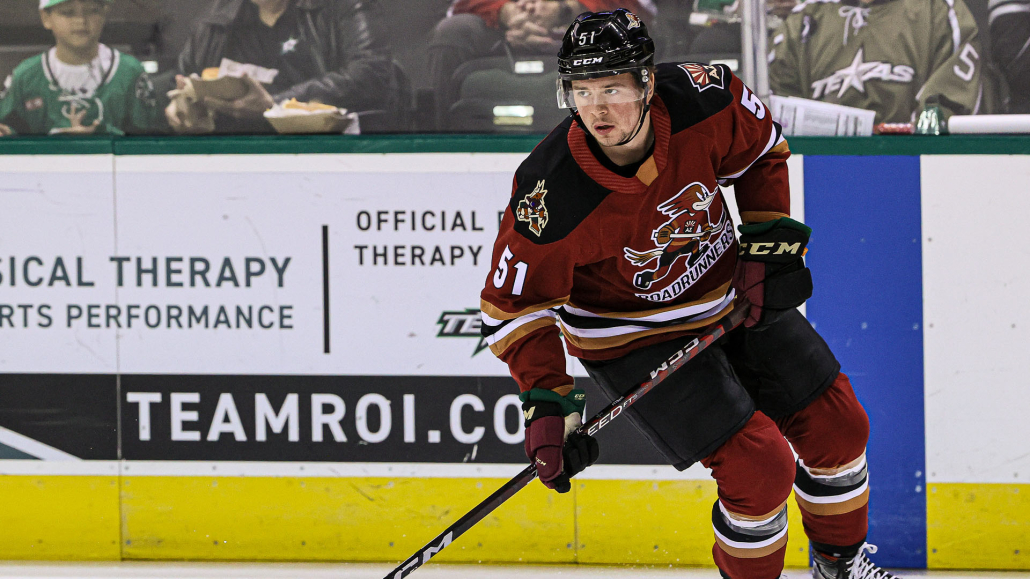 Q: What are you looking forward to the most about being in Tucson?
A: I'm looking to keep going one day at a time. I want to be a sponge and take everything in and learn as much as I can. I want to watch the older guys to see how they perform and how they treat their bodies right every day. I want to make it up to the NHL one day, and this is the next step in the process.
Q: What was it like realizing that you could make a career out of playing hockey? Do you view it as that?
A: I have so much passion and love for the game. I go to the rink, and I get paid to do what I've loved since I was a kid. It's amazing to do what I do, but you have to look at it as a job as well. You're battling every single day, trying to live your dream. I wake up in the morning knowing that I'm going to the rink and it's the best thing in my life, but you have to look at it as a job too.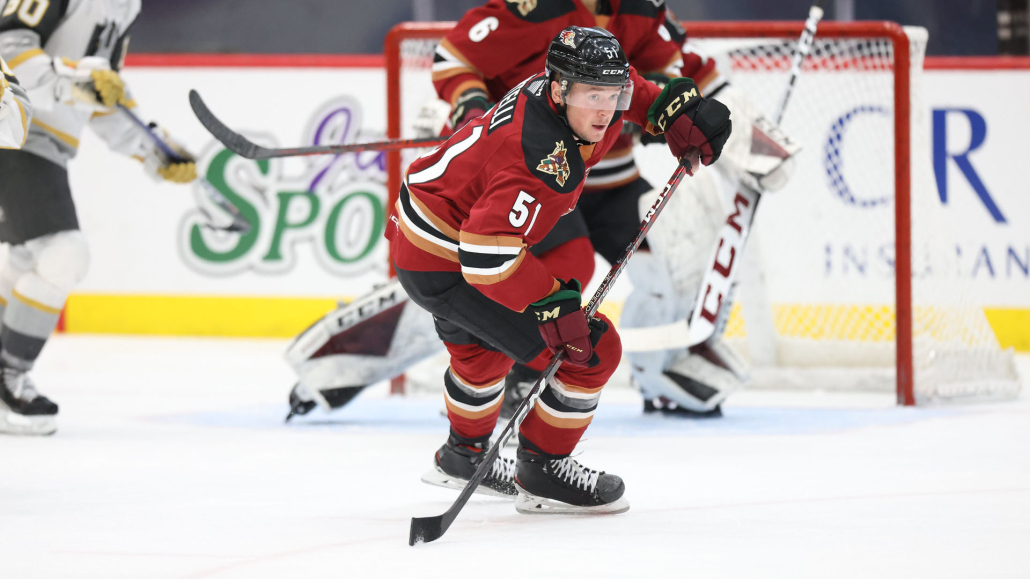 Q: Is there a better organizational path in professional hockey than Atlanta to Tucson to Tempe?
A: I've been in all three spots over the past few months, and I don't have a bad thing to say about any of them. They all have their different characteristics, but it's been really cool to experience all three of them and grow the game too. I've been soaking it in.
(Photo Credits: Kate Dibildox/Chris Hook/Texas Stars)
//www.tucsonroadrunners.com/wp-content/uploads/2023/01/1.4-1on1-495.jpg
400
495
Jimmy Peebles
/wp-content/uploads/2019/06/web-header-logo.png
Jimmy Peebles
2023-01-04 19:08:30
2023-01-04 19:08:32
1-On-1 With Reece Vitelli