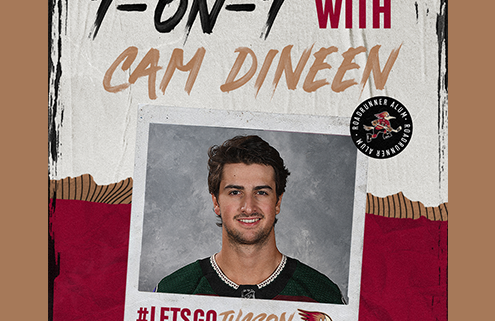 1-On-1 With Roadrunners Alum Cam Dineen

Last week, Arizona Coyotes defenseman/former Roadrunner Cam Dineen joined "The Voice of the Roadrunners" Adrian Denny and Jimmy Peebles from TucsonRoadrunners.com on the Tucson Roadrunners Insider Podcast. For the full interview, download the episode from the iHeartRadio App or by listening below.
Listen to "There's The Connection! With Cam Dineen" on Spreaker.
Q: Congratulations on a great season, your first in the NHL and we saw a lot of hard work pay off.
A: Thank you, obviously [this season] was a big step for me. Overall, I was happy with how everything went this year and I'm grateful for the opportunity. I think there's still more to come and more in my game, so I'm just going to work hard and see what happens over the offseason.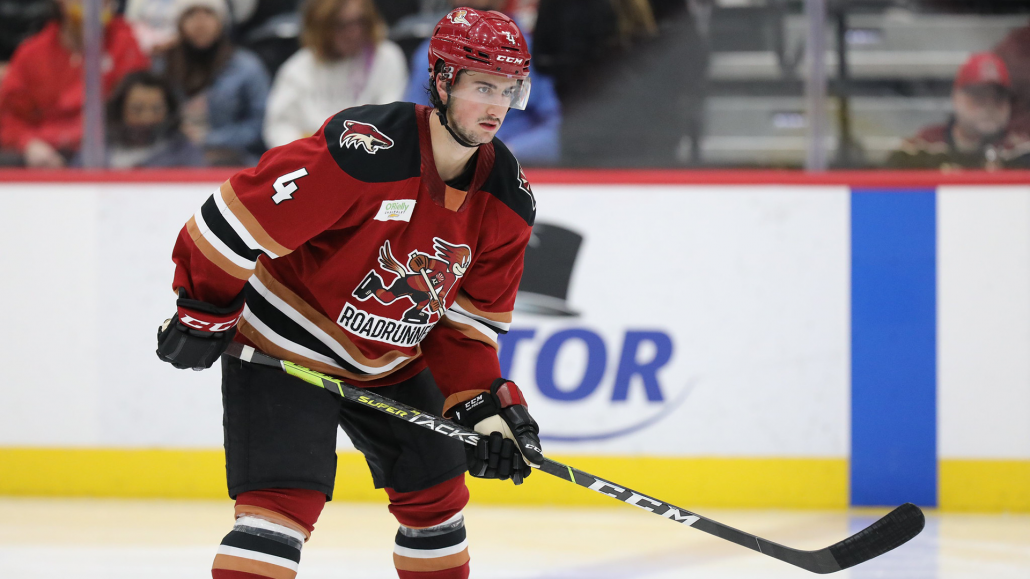 Q: Are you back home in New Jersey for a little bit?
A: Yeah, I'm back in New Jersey now, the Jersey Shore living at home with my parents for now. But I'm going to rent a place on the beach here for myself and my girlfriend so that'll be fun, but we haven't moved in yet.
Q: When you're back home, there must be all your friends and family that you haven't seen you since you left that are excited about the season that you had. Are they excited to see you back and congratulate you in person?
A: Pretty much all my family members: cousins, grandparents, obviously my parents, watch every game whether it be Coyotes or Roadrunners. To take that step and for it to be an NHL game for them to watch on TV is really cool for them. They all have their ESPN+ accounts and there were even a couple games where we played the East Coast teams where it'd be on local TV. So it was cool for them to see it that way.
Q: This was a big year for you, career highs in assists and points for us in just 21 games, and 34 games in your first season in the NHL. What did this season mean to you?
A: Going into this season and starting in Tucson, I wanted to upgrade my role. I came out of juniors as an offensive guy but I had to learn the pro game and figure out the defensive side, which was what really got me called up I believe. What I did the last two or three years in Tucson away from the puck in the defensive zone, because I really made improvements with John Slaney and Alex Henry working with me and doing video. That stuff was really big because they knew I had that offense but there were other things that had to be improved on. So I came in and wanted to make that next offensive push in my game, which I knew I could do. It started off pretty good the first couple games and then got the call-up. I played a couple of games there and I think that gives you confidence when you come back. I came back for those 17 games with the Roadrunners and you almost feel like a different player in a way. You just gain another level of confidence that maybe you didn't have before, and I think that really helped me. When you realize that you maybe have an extra second with the puck, you can make that extra play, so it was really good to come back and produce at that level. Going back with the Coyotes at the end of the season was a really good opportunity, we faced some injuries. But being in the lineup every night was a fun experience for those last 20 games or so, and I think I did well with that opportunity.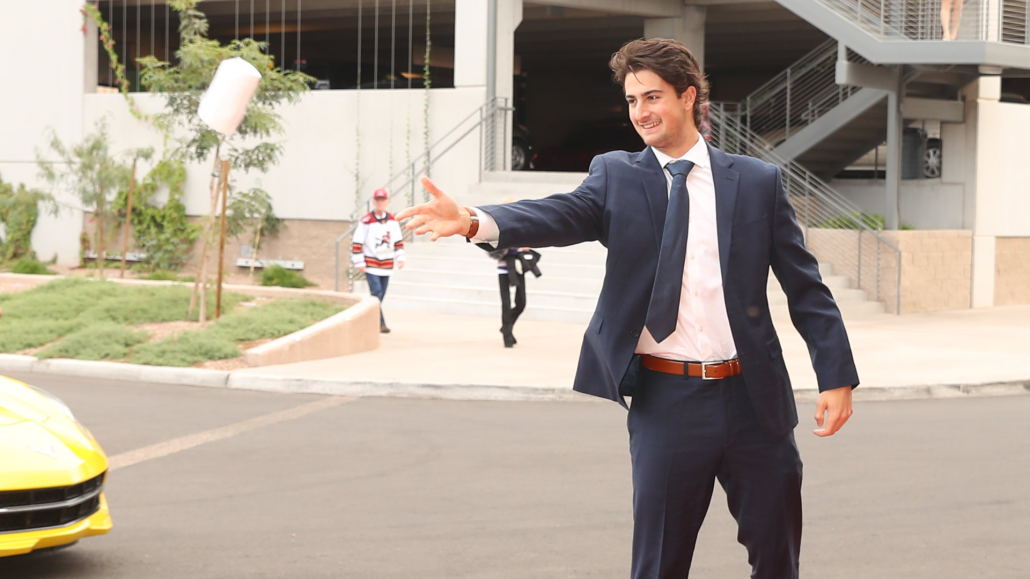 Q: Organizationally, you checked every box of the process: drafted by us, rookie camps, development camps, NHL camp, a couple years in Tucson and then up to the NHL with the Coyotes. That's the goal for everyone in the organization.
A: It's crazy because that's been the path for a lot of the guys I first came into Tucson with. They were maybe older than me like Michael Bunting or Lane Pederson and last year they got their chance. It was just cool to kind of follow in those footsteps. Not everyone's going to make that jump right away and they played for some years in Tucson and then finally made that jump, and obviously both are doing well. That's the goal and I think Tucson as an organization, the coaches, the staff, everyone, they do a great job of giving the players what they need. Trying to get us to perform at our best, and ultimately make that jump [to the NHL] and be ready for it when we do.
Q: Tell us about your NHL debut. It was November 5 against the Anaheim Ducks, and you were in the lineup along with Tucson teammates Barrett Hayton, Dysin Mayo, and Ben McCartney also making his debut.
A: It was an unreal moment. I joined the Coyotes on the East Coast trip for five games but didn't play in any of them. Then we went home for a practice day and I went in the locker room and saw my name in the lineup with Ilya Lyubushkin so I thought, "I guess I'm playing." No one really said anything to me and I went about the practice. Then after practice, the coaches came in said "you're going to play tomorrow night and we're going to get your parents to Anaheim to see that game." So it was great and I really appreciate the organization doing that. My parents were able to fly in the day of the game and see it, so that was really cool.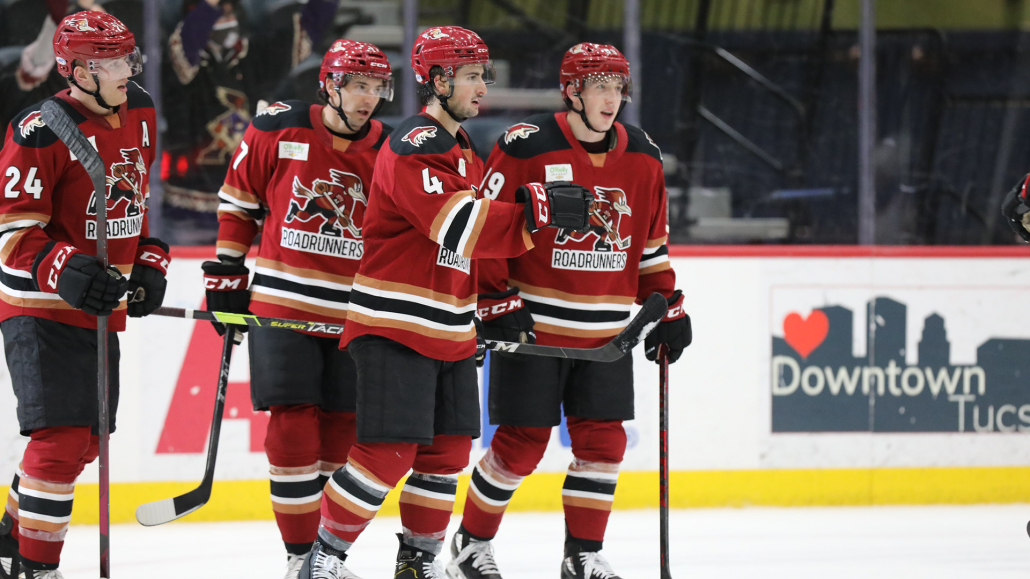 Q: Your girlfriend Samantha has been with you out here, with you going from Tucson to Glendale, was she able to go immediately?
A: It was a bit crazy. She works remotely online so she can kind of pick up and do what she needs to do just from her laptop. We were in Tucson when I found out I got called up, I met the Coyotes on that East Coast trip and she actually ended up flying back to the East Coast to be here with her parents my parents just in case I played in one of those games. Then she flew back to Arizona and found out about that Anaheim game being my first, so she drove to Anaheim from Tucson with our dog in the car and she was able to come see that first game and be with my parents. I think she stayed with my parents and our dog, just bunked up in the hotel room with them. So it all worked out but it was a bit crazy.
Q: What advice or experience did you take from Tucson that helped you at the NHL level with the Arizona Coyotes?
A: I think the biggest thing is kind of what I mentioned, just that it's a process and not everyone is going to step right in. You have to trust that process and keep trying to find ways to get better every day. Obviously, there's a reason why I was in the AHL while other guys were in the NHL, so you have to do whatever you can to push that. In the gym, practice days, you have to take advantage of it all and try to make that push. In the end, it's a process and you have to believe it. I think nowadays with the NHL, there's not really an age restriction as far as when you can break in or when you officially become a full-time player, so you just have to believe in that, believe in yourself, and I think there's a lot of good examples of that. Especially in Tucson.
Q: As the season went on, we saw more defensemen make their way up with you to the Coyotes. JJ Moser, Vlad Kolyachonok, Victor Soderstrom, to name a few. What was it like having a defensive unit that was at one point at least half former Roadrunners?
A: To me and I think to the other guys that went through that, it was pretty cool. We all felt comfortable with each other, we were all in similar spots, pushing to become full-time players. I think it was cool to start in Tucson and we had a pretty good team and a good D core, but young. Then guys like JJ Moser and Vlad Kolyachonok made that jump and did really well with it, that was good to see. I think they're going to be players for the Coyotes in the future and it's that same thing with Victor Soderstrom as well. They're all pieces the Coyotes want and that we'll have around for a while. Once again, I think it just shows what the Roadrunners staff and coaches do, because all those guys made the jump and did well and reacted to it well. The coaches really pushed us and helped us be able to do that.
Q: What do you think it is about our coaching staff that helps guys take that next step into the NHL and be ready to compete and stay in the lineup?
A: I think the coaches just give you all the resources, and they push you in certain ways. Whether it's practice days, in the gym, video sessions, they supply you with all the tools that you could possibly need. It's up to us to go out there and perform and make those adjustments. I can't say enough about the coaches in Tucson, I honestly can't imagine playing there and not having those guys there. They're staples and I think they do an amazing job.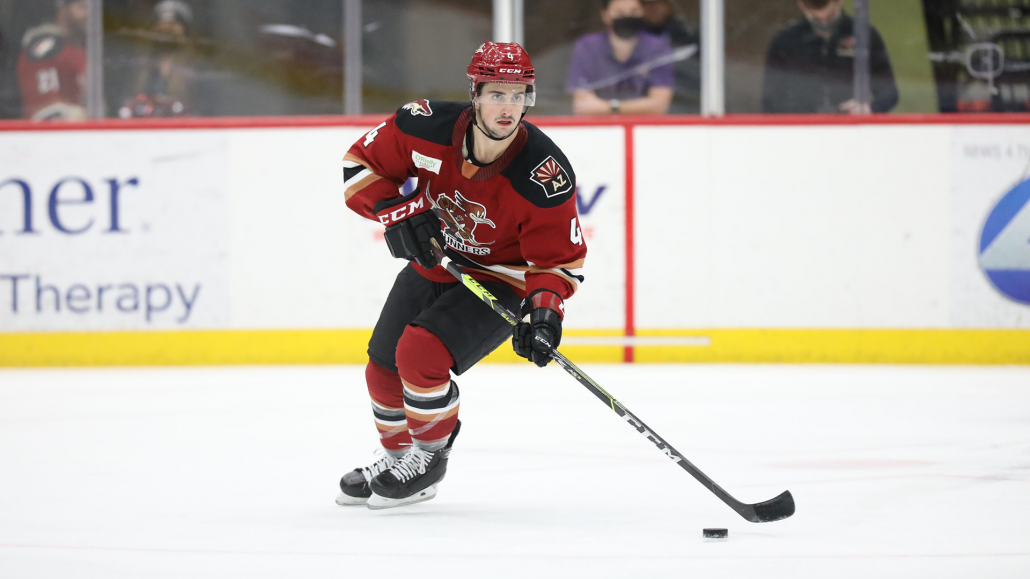 Q: What do you focus on from this season in the NHL during the offseason to prepare for the next season?
A: It's been a long season with a lot of craziness, so I've just been decompressing over the last couple weeks. It's nice to do that and go over what the plans are [for the offseason]. As a smaller defenseman, I have some room to get stronger off the ice, make some improvements with explosiveness and skating stuff like that. I think a lot of it for me is the mental part of the game and the way you think and what happens when adversity hits or if you make a mistake. A big goal for me is to work on that mental part.
Q: Have you been keeping up with the Stanley Cup Playoffs?
A: I've been watching most nights. It's pretty exciting and a little different of a perspective watching now that I've played against some of the guys and the teams. It's cool, but at the same time it's a good learning opportunity for myself.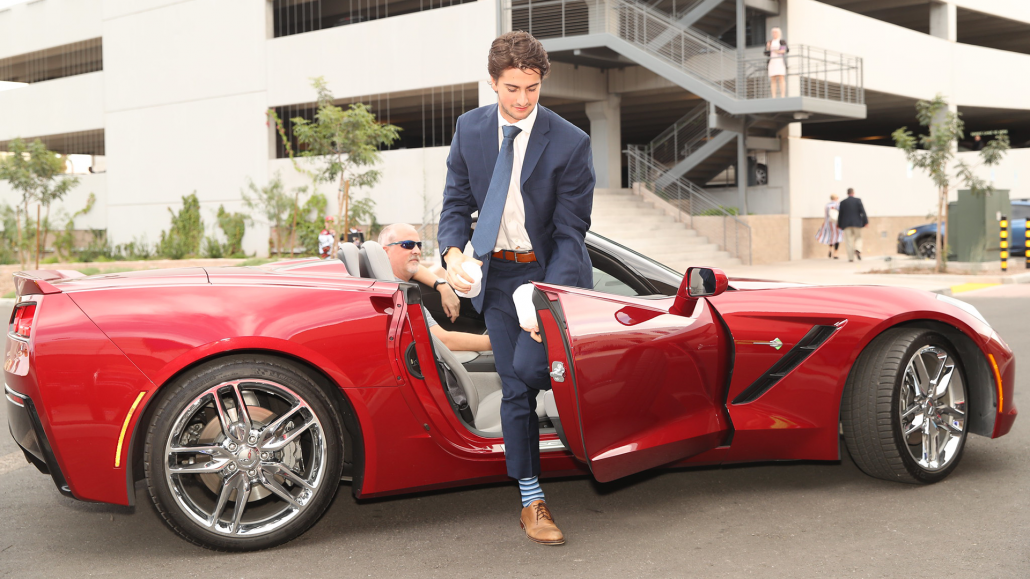 //www.tucsonroadrunners.com/wp-content/uploads/2022/05/Dineen-495-2.png
400
495
Jimmy Peebles
/wp-content/uploads/2019/06/web-header-logo.png
Jimmy Peebles
2022-05-26 12:00:50
2022-05-26 12:18:05
1-On-1 With Roadrunners Alum Cam Dineen