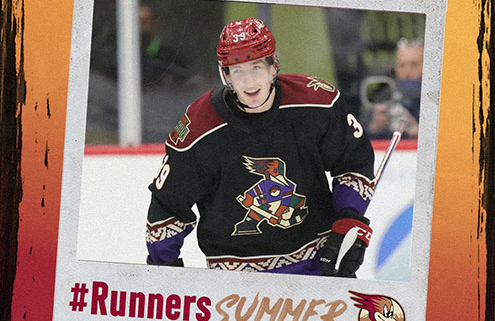 Tucson Roadrunners Forward Cameron Hebig joined "The Voice of the Roadrunners" Adrian Denny and TucsonRoadrunners.com's Jimmy Peebles on this week's edition of the Roadrunners Insider Podcast. The full episode, including Cam's favorite things to do in and around Tucson, can be found on the iHeartRadio App or by listening below.
Listen to "Completing The Trio: With Cam Hebig" on Spreaker.
Q: You're coming back to Tucson for year three, we announced you and fellow forward Travis Barron were signed to one-year deals last week. How excited are you to be staying in the desert?
A: I'm very excited to be back with Tucson, how can I not be? I'm looking forward to another season, it's hard to believe it's just around the corner. It's a great group and a great staff [in Tucson] and I look forward to seeing everyone again and getting this season started. It's always a fun time of the season, getting everyone back together and getting things rolling again.
Q: Are you going to be the Honorary Mayor of downtown again living near the TCC
A: We will see *laughs* I lived downtown last season and it was perfect for me, I would just walk to the rink every day. I know some guys like to get away from the rink, but I enjoyed living there and being so close. It was so convenient for me especially after getting in late after a long road trip and not having to get into a vehicle to drive home. That was always a bonus.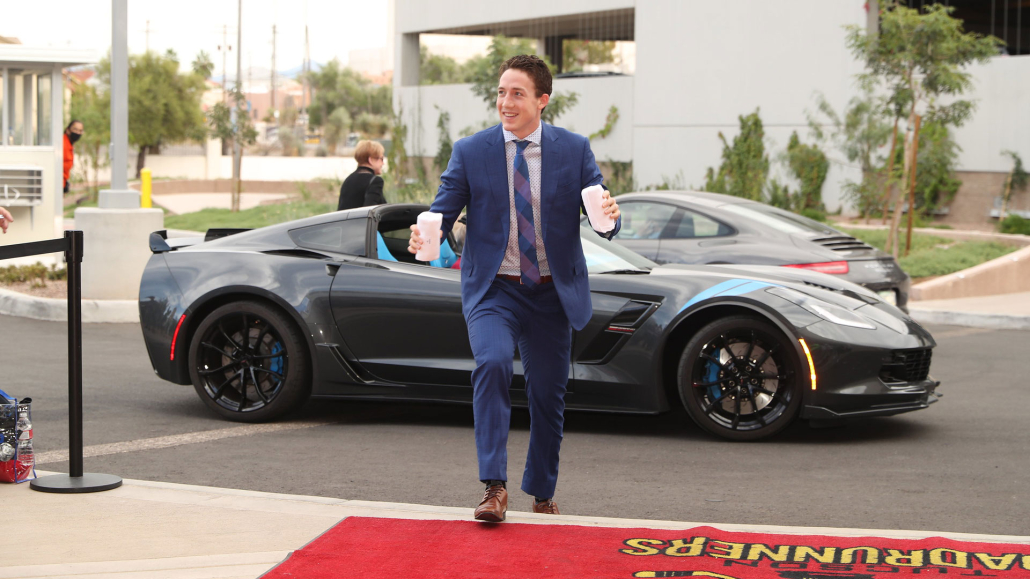 Q: Do you bring a car?
A: I had my vehicle with me last season, though it didn't get much use. I would just walk to the rink every day, so I mostly used it to get my groceries. But of course, it's nice to have if you ever need it. I also like having it for when I have family in town to show them around, so we'll see for this season.
Q: We found you before the 2020-2021 season. You came here for that training camp having played against us for two years and now it's already time for year three with us.
A: It's definitely flown by. That season (2020-2021), we weren't sure about anything, really. Even when the league would start back up with the uncertainty of the pandemic. When the opportunity came to go to Tucson's camp I jumped at it, and I'm glad I did. I've learned so much from my time here, I've met lots of good people, and it's a great organization to be with. They give you all the resources to help you get better, work on your game and become a better player and a person. Whether it's the on-ice skill coaches, off-ice strength coaches, mental coaches, nutritionists, it's been a great place to grow. I look forward to more of that in year three, and continuing to work towards winning games.
Q: A career year with us last season (13g 12a, career high for goals), what went well? How do you build off that momentum for this year?
A: I think it was playing with good players, and I've really learned a lot from the coaches in Tucson. They all have so much to offer so every day, I just tried to soak it in and use it to help my game. [It's about] just trying to get better every day, and when you're surrounded with good people that have given you an opportunity, you want to make the most of that. For this season, I think it's a new year and a new opportunity. I look forward to proving myself, finding a role and doing what I can to help the team win.
Q: What is it about who you are as a teammate, as a person, and the way you play has made you such a good fit in the organization?
A: I just try to come to the rink every day committed to working hard. I try to bring a good attitude and be positive, I try to not take anything for granted and make the most of each time I step on the ice. I always want to learn and come in each day looking to get the most out of that day. I hope my dedication and work ethic is a good example as a teammate.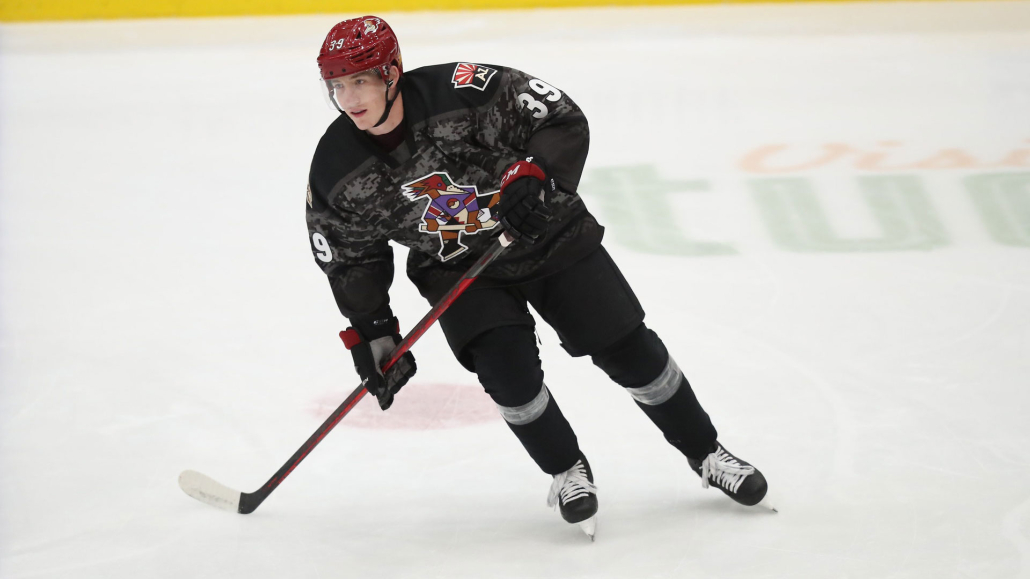 Q: You were one of two players (and two Cams) to appear in all 68 games last season. How you were able to stay fresh and stay healthy on a nightly basis?
A: I was extremely grateful to get to play in every game. I just tried to focus on one game at a time, I think if you look too far ahead it doesn't help you stay in the moment. My mindset was that I had one game in front of me, and to give it my all for that one game, because you never know when it might be your last. I've learned that you can't take anything for granted and you can't take nights off. My goal was to compete consistently one game at a time.
Q: You had a two-point night during our final weekend of the season against San Diego. How did you and the guys feel about that end to the season, and was that a sign of things to come for this year?
A: That was a fun weekend. Everyone was looking to finish on a strong note, I think that was important for everyone heading into summer. It was fun to end the season with a shootout win. Everyone has had a chance to reflect, and we can take those positives [from that weekend] and take what we can do better into our summer training. We can use that to come back better, come back regrouped, and come back refreshed and ready to go.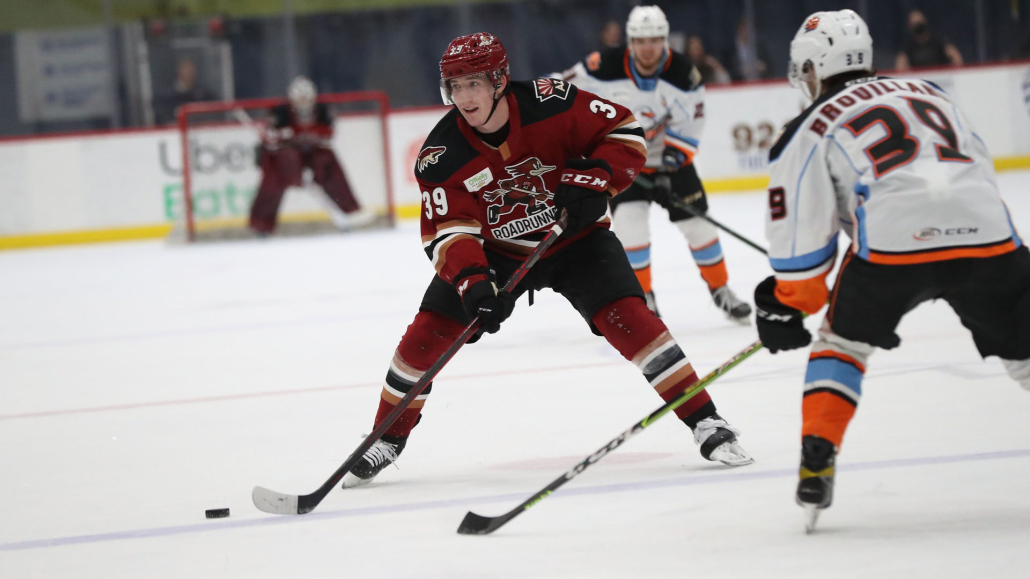 //www.tucsonroadrunners.com/wp-content/uploads/2022/08/Cam-1on1-495.jpg
400
495
Jimmy Peebles
/wp-content/uploads/2019/06/web-header-logo.png
Jimmy Peebles
2022-08-11 15:14:41
2022-08-11 15:14:42
1-On-1 With Roadrunners Forward Cameron Hebig