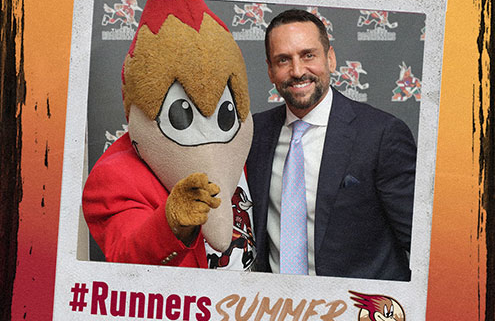 After being announced as Head Coach of the Tucson Roadrunners, Steve Potvin joined "Voice of the Roadrunners" Adrian Denny and TucsonRoadrunners.com's Jimmy Peebles for an in-depth interview. The complete conversation will be released on Monday, August 22. Watch below for some of the best moments from Thursday's Press Conference where Arizona Coyotes General Manager Bill Armstrong and Roadrunners General Manager John Ferguson joined us at the TCC to once again introduce Steve to Tucson and tell us what makes him such a great fit as Head Coach.
Q: Congratulations Steve, we're so glad you have you as Head Coach. You're entering your seventh season in the organization and sixth behind the Tucson bench.
A: I'm totally excited, these types of opportunities don't always present themselves. I'm very appreciative of the organization possessing the trust in me to lead this young group and the time that I've spent with both Mike Van Ryn and Jay Varady. I'm looking forward to implementing what I've learned over the years as their assistant.
Q: We also just named Zack Stortini as an Assistant Coach, who had a great pro career as a leader and as a winner. What does he bring to your staff?
A: We're excited to have Zack. He's a guy that sees things in a positive light first, and he's a real selfless individual. I think every team needs a guy like Zack. He had an NHL career, but he had to work to get there. He's a guy that really appreciated his time in the NHL, but I think he appreciated his time in the AHL even more. He's been a champion a couple of times and we're going to lean on him. He's a well-respected man and I think he's going to be liked in our locker room. He's going to be a huge asset for us.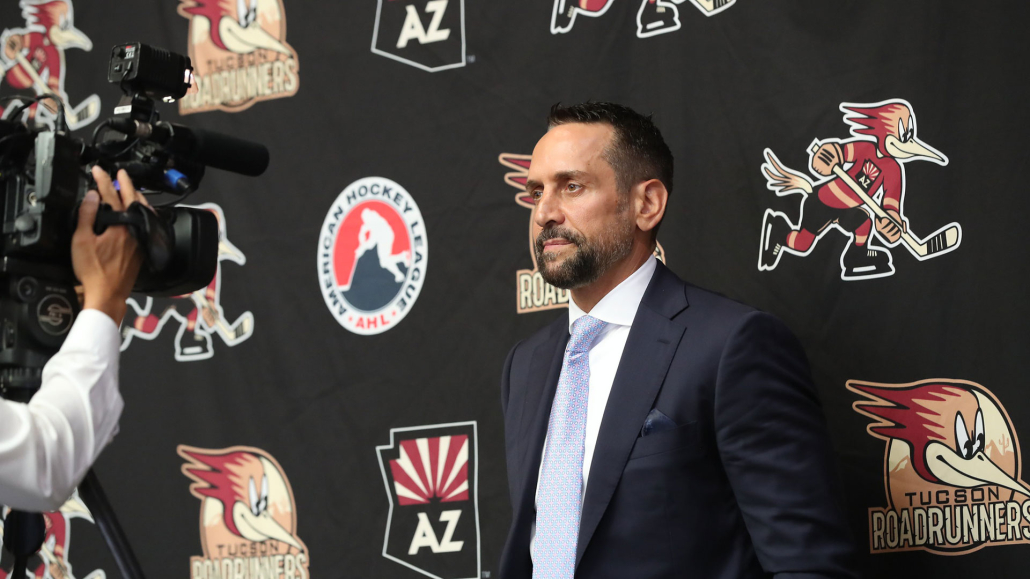 Q: What's the offseason routine as we get closer to training camp?
A: Right now, it's obviously changed a little bit. We have to make sure to manage our schedule and know what's ahead. The other thing is we're starting to set what our daily structure will look like, and also what our staff roles will look like over the course of a practice or game day. Each coach has a skill that they touch on and they're really good at, and we're going to try to maximize their skills so they can maximize touches with the players. They'll be able to implement what they've learned and what they know to pass it on to the players. We're going to make sure we're all in sync with the same message.
Q: John Ferguson joined our organization as Roadrunners General Manager right before last season, could there have been a better fit from an experience sand human standpoint on what we're all working towards here?
A: Honestly, I don't know if there's a better fit. [John] has a wealth of experience, he's a really smart man, he knows what he's doing, and he's very committed to our process. He understands the ins and outs of how to have success, and we're going to lean on him for his wisdom and his guidance. We couldn't be happier to have him here in Tucson.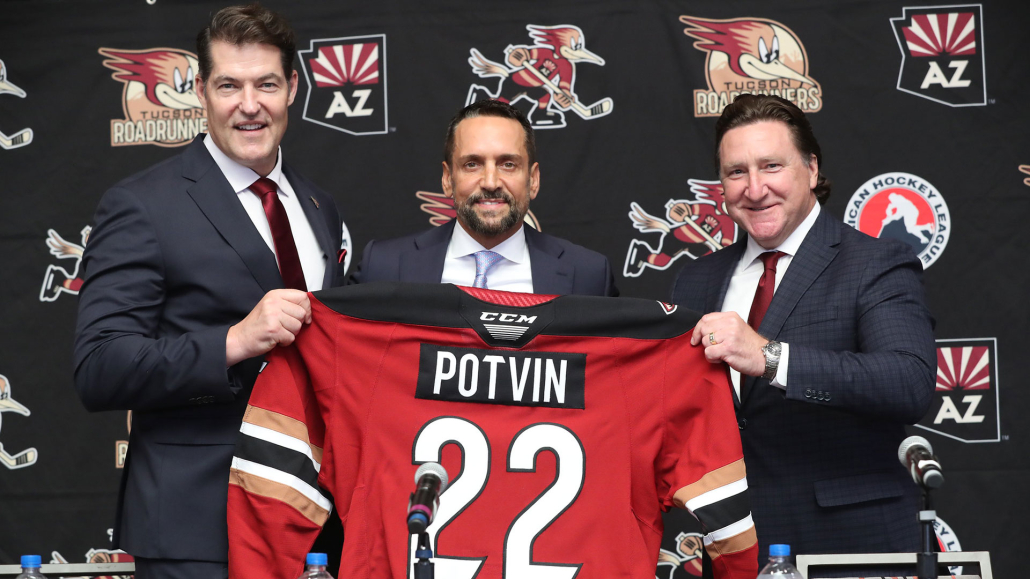 Q: One of our biggest strengths as an organization has been our continuity in the locker room and on the staff, yourself included. You and [Assistant Coach] John Slaney are both entering your sixth year together behind the bench. You've led the forwards, he's led the defense. What about you two has been such a great fit for the Roadrunners?
A: We're at the point where we can probably order each other's meals (laughs). The good thing about us is that we're like-minded, and in areas where we're not like-minded there's still a good balance. I think it's important to have good, strong communication and dialogue. You even need to have some disagreements so the environment can be made better. You don't always have to agree on everything in the locker room, but as soon as you leave the coaches' room the message is consistent. We've been working together for so long we understand which buttons to push, and it makes for a good environment. I'm going to lean on John's knowledge and background and strengths, and I can't wait to work with him again.
Q: You've had a unique journey to becoming our Head Coach. Your playing career across North America and Europe, to coaching kids in Phoenix, to developing our pros and being behind the bench for us. What has been the key to your success?
A: I've been through it as a player, and I got to a point in my career where I needed to take the next step and get after an NHL contract. I got to that point, but there was a short amount of time where limiting beliefs entered my mind. I feel that those limiting beliefs actually derailed my plan of playing in the NHL. So I know that these players go through that during a season, and you can almost feel it and sense it. I think part of my success has been being aware of and understanding their goals and what they want to accomplish. When I sense it's not going in the right direction for them, I have to step in and really make sure they don't have those limiting beliefs. The other thing is I don't think I would ask any of our players to do something I wouldn't do myself. Whether it's waking up early in the morning, eating a certain way, working out, or just staying disciplined to the process. I think that's my biggest strength, understanding the players and what their goals are.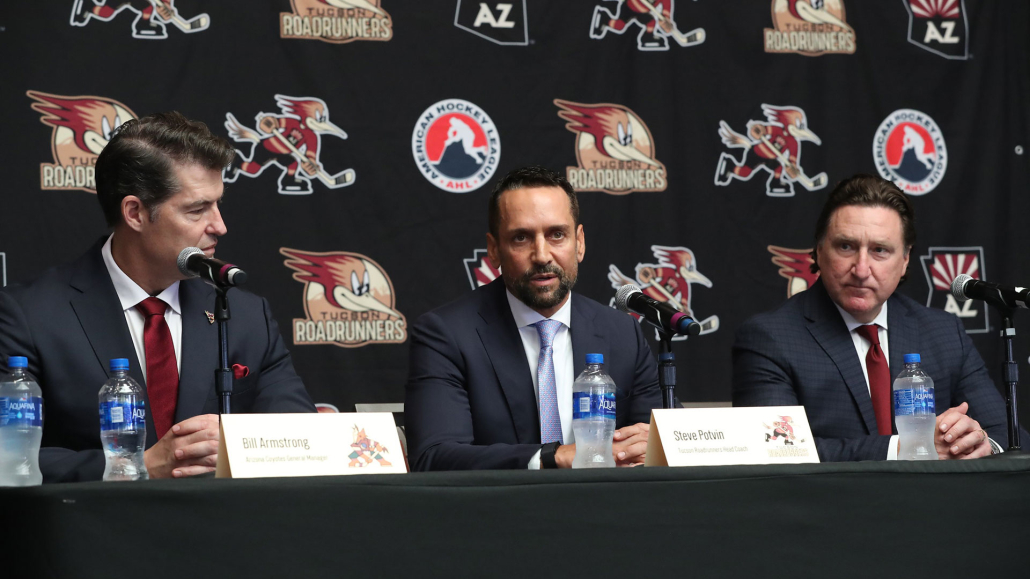 Q: Another strength of yours is that you're an Arizona guy. Your last year playing professionally was in Arizona. Have you been in the state ever since?
A: I have, yes. I think it's been 13 years at this point. My kids have grown up in Arizona, they go to school in Arizona, my son (Max) that's now playing in the BCHL has gone through minor hockey in Arizona. Aside from a few weeks here and there, we spend our time between Scottsdale and Tucson.
Q: Your son Max is getting ready for year two in the BCHL, that has to be exciting.
A: He's really excited for it, and I've loved seeing his maturation. I think for him, having his dad as a coach was tough on him when he was younger, but now he's able to understand what we were talking about all those years. He's more of a self-starter at this point and I've loved seeing it. He's been able to learn and grow with the game, and I've been so happy seeing his progress and where he's headed. He's primed for a big season this year.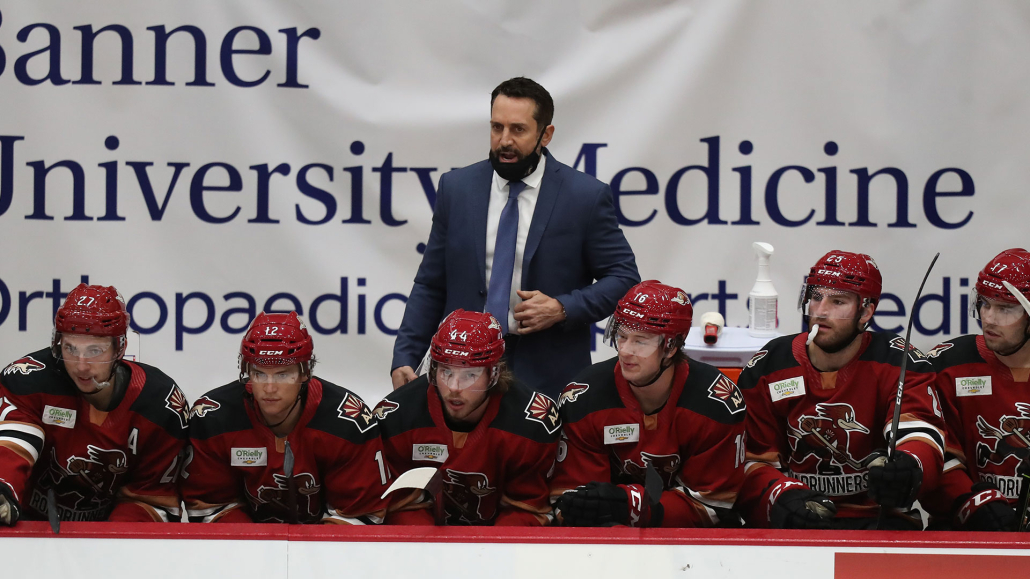 Q: How were you able to keep up with him with our games often being at the same times?
A: At the end of the night, he's playing anywhere between 13 and 18 minutes. Going online and watching just his shifts doesn't take very long and I can give him quick feedback. To be honest, I ask him to self-evaluate more than I give him my opinion. I think if he's doing it himself, it's a great way to grow his hockey IQ. I try to minimize the amount of time I'm researching and pouncing on his shifts, I try to get his feedback first.
Q: We've had a lot of hockey players come out of Arizona that you've likely worked with in your time.
A: I think if you want to become a coach, I think hitting every level of hockey is important to achieving success. Building foundations in hockey players is sometimes overlooked. When you're at the pro level, you have to start with a foundation as you would with a kid. Being able to teach from the ground floor is huge and learning how to communicate with players to see what they respond to was powerful for me. Learning how to teach to a young kid gave me the confidence that I could teach anyone.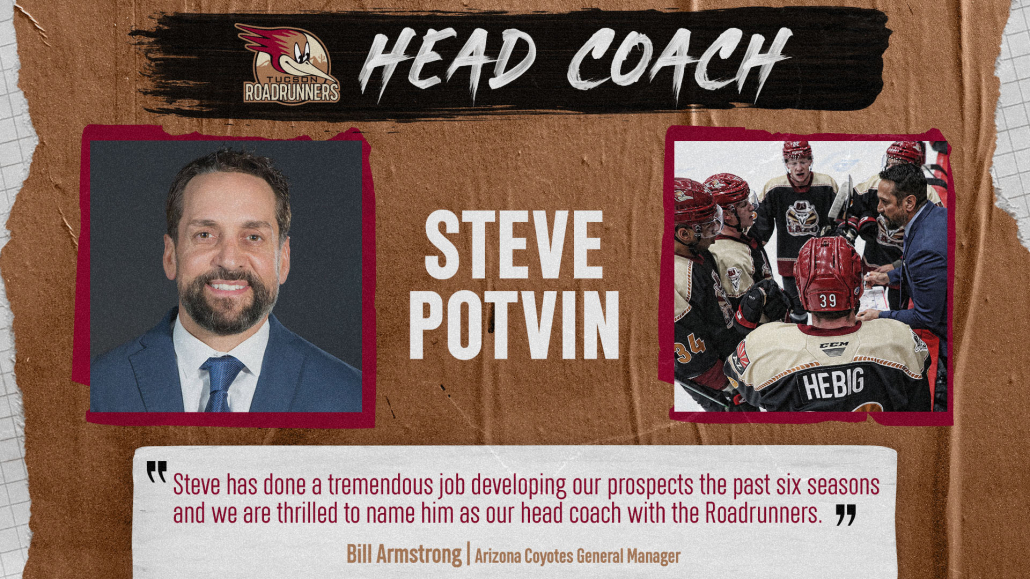 Q: We've had 20 Roadrunners make their NHL debuts since you've been behind the bench. What do you think is the biggest key to taking players in all different situations and helping them get to the next level?
A: It's a battle of attrition for both the player and the coach. The player has to understand that there's something limiting them from becoming a full-time NHL player. A lot of times, really finding the truth of what that is can be difficult for the player to hear or buy into. There's a battle of attrition for the coach also, in that the message has to be clear and concise, we have to stay consistent to the players.
Q: Give us a preview of this upcoming season. What can we look forward to with this team in 2022-2023?
A: I think it's going to be a good mixture this year. We haven't had a team that was filled with vets, and I think it's good to have veterans that have been in the lineup for a number of games. They really help us coaches shorten the development for these young guys. We need guys that are really detailed in their approach and in how they show up every day, and guys that are committed to staying with the process of growing. I spoke with [Adam Cracknell] yesterday, he's a 37-year-old man and there's no stopping his growth. At some point he's going to be a coach and he's going to be remembered for how he played and how he showed up every day. I know that the young guys are going to be watching him, and I look forward to having more veterans in the lineup to shorten that curve. But we'll also need those guys on the ice showing leadership in crucial situations. I think that's going to be a major pickup for our team.
//www.tucsonroadrunners.com/wp-content/uploads/2022/08/potvin1on1495.jpg
400
495
Jimmy Peebles
/wp-content/uploads/2019/06/web-header-logo.png
Jimmy Peebles
2022-08-19 09:44:11
2022-08-19 09:44:13
1-On-1 With Roadrunners Head Coach Steve Potvin