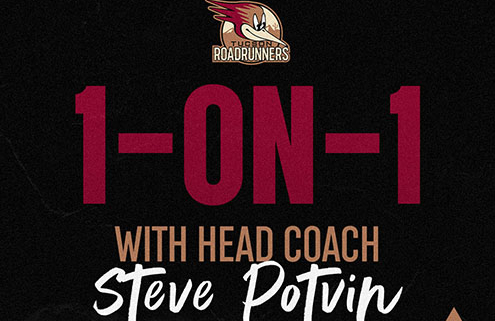 Tucson Roadrunners Head Coach Steve Potvin appeared on the season finale of Roadrunners Happy Hour on Tuesday, April 25, to share his thoughts and favorite moments from the 2022-2023 campaign. A podcast version of the full episode can be found on the iHeartRadio App or by listening below. All episodes of Happy Hour from the 22-23 season, as well as the year-round Tucson Roadrunners Insider Podcast, can be found on the iHeartRadio app
Listen to "The Final Curtain with Steve Potvin" on Spreaker.
Q: Steve, it's heartbreaking to lose in the Playoffs. Have you gotten to the part of the process yet where you're able to appreciate the success of the 72-game regular season from a team and development standpoint?
A: We did have a chance to look in a little bit, we had our End of the Season Meetings, and those are always difficult after losing. We did do some really good things in a difficult year where we had some barriers to overcome, we saw a lot of players go up [to the NHL] throughout the season (which accomplishes a major goal). There was definitely development, and that's going to be ongoing, but we're not satisfied with the end result. We definitely showed that we can play and compete against anyone, it's just about being consistent over a longer period of time.
Q: What was the feeling waking up on Sunday before Game Three after the success we saw in Friday's Game Two?
A: There was definitely some excitement. Ironically, that was one of the nights I slept the best [in Coachella Valley]. Usually, there's not a lot of sleep the night before, but it was a 3:00 p.m. start so we had a lot of energy waking up and we were ready to go. The rhythm felt a little off with it being an afternoon game, but we were excited and we were prepared. Unfortunately, we got off to a shaky start, but I think it had to do with how much we wanted it. We overextended ourselves a little bit. To try to get back after four-straight goals is difficult, but our guys didn't quit and I'm proud of them. They accomplished a lot this year, we just fell a little bit short.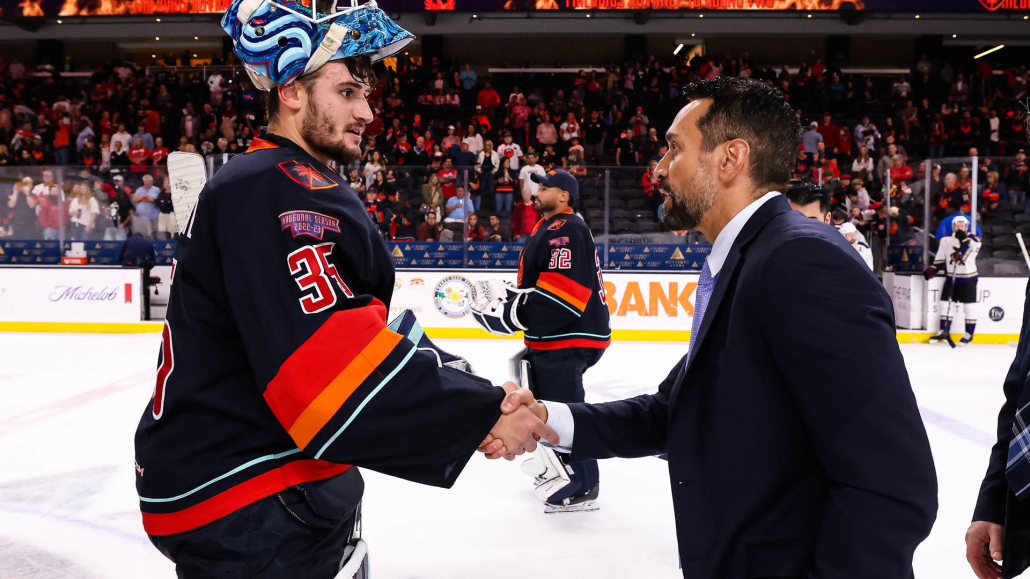 Q: The team felt like such a cohesive group this season that was always having so much fun. How was that able to grow despite a lot of movement, injuries, and NHL call-ups?
A: There was a bond being formed with the guys that were [in Tucson] that had to push [for the playoffs]. When you have to push together and have success together, that bond gets created. There were a lot of people and a lot of players with character in our locker room, those relationships are tied tight when you have that type of character in the locker room.
Q: Tell us about how close the team was during the final push for the playoffs in March and April.
A: The guys were fighting really hard to bring our team back to the Playoffs and build that culture here. They were really excited to go through with it and try to build something. We have to look at [2022-2023] as the start of something; now we have to move forward and look for ways to improve. There are a lot of areas where we'll make improvements as a coaching staff, and there are some players that will look back and see those areas. There were a lot of great people and a lot of great character, and it formed a family.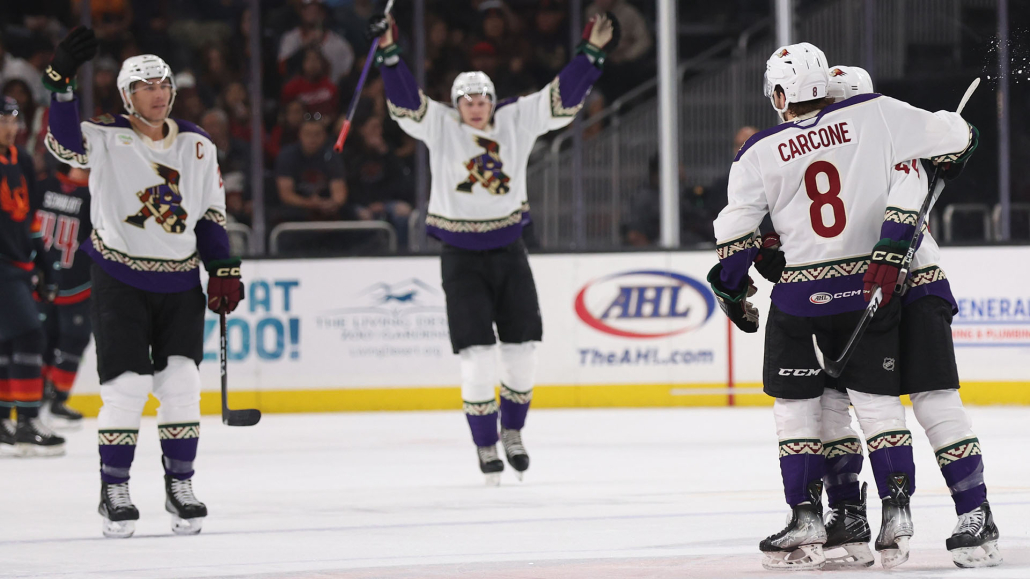 Q: Friday's 4-3 win in Game Two came on the same day that the AHL announced Calgary Wranglers goaltender Dustin Wolf as the league's MVP. Roadrunners forward Mike Carcone, who we thought was very deserving of that award, went out that night and had two goals and an assist. I think we felt his presence on the ice a little extra that night.
A: [Mike] is obviously a proud player, and he went through a lot this season. He was called up, had success [with the Coyotes], and then came back to Tucson. When he returned, it didn't stop for him, he continued on his journey. It was tough for him, and he had to push through those times. It shows his strength that he was able to persevere, push through, and finish the year as the AHL's leading scorer. Dustin Wolf is a difference maker and I know Mike fully respects his ability, but I suspect that there was some internal motivation there to push him to the next level. I do believe that without Mike, our team isn't the same.
Q: Mike Carcone has proven himself as a top player in the American Hockey League, but what do you think is the next step for him and his game?
A: We want to see him in a Coyotes uniform. Mike is obviously a very dangerous player, and he does it in a way that not many can. Mike has that same speed and offense, but he can fight, he can play physical, and you have to be on your toes defensively at all times against him. He's also a player that is underrated in the D-zone, I don't think he gets enough credit for the attention to detail he has there.
Q: This was Mike's third season with us, at what point did you look at him and think that he could potentially lead the league in scoring and be such an important piece to our team?
A: I remember our first year together [in 2021], it seemed like he had three or four breakaways per-game. There were some real clutch opportunites there, and you could see in his skating and how he was able to beat defenders one-on-one that he had the potential to do it. We saw no reason why he couldn't really push himself past what he had already done. And when he finally got that chance to play in the NHL, that just propelled him to another level. Once you play there and have some success, you bring back with you to the AHL more confidence. He had that depth and belief in himself that he could reach another level, and he did.
Q: You look at our top three scorers from the regular season: Mike Carcone, Adam Cracknell, and J.S. Dea. Their playoff stats might be even better than their career stats as a whole.
A: We're lucky to have J.S. back for another season. He was obviously a real offensive contributor, but he's another player that can operate a lot like a penalty-killer can and play some hard minutes in the D-zone. And then you have Adam, who's well-known for being a leader, but he had a career year at 37 years old. That just shows the type of commitment and passion he has for the game. It's hard to find a person at his level and at his age that can outperform his previous years. We're lucky to have those three, and they make us a real team to be reckoned with.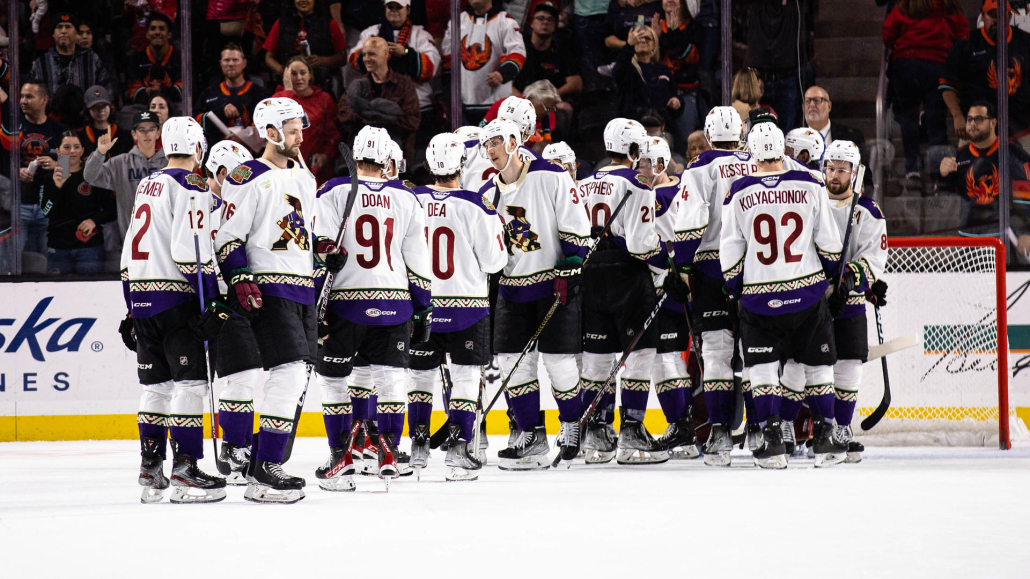 Q: Could you feel how much Tucson and the fans were behind you this year?
A: You could feel the energy, especially at the end of season when it just kept building and building. It felt almost like as we were getting better, the fans were getting more connected with us [at the same time]. The closer we got to the playoffs, the tighter the bond became between us and the fans. Our vision was to bring a Playoff game to Tucson in front of our fans, that was our mission and it'll be our mission again next season. We fell short of that this year, but we for sure felt that bond and energy from the fans.
Q: Do you have a favorite memory from this season?
A: I have two. The two games in Colorado on the road (March 25 and 26) really stand out to us as a team. I feel like that weekend propelled us to that next level. Our guys are fully aware of how hard it is to play in Colorado, they're a difficult team to play on the road and their fans are behind them as well. For us to really hand it to them the first night (Tucson won 7-1) and winning [2-1] in overtime the next night with Mike getting the game-winner, that was definitely a weekend that stood out to me. And then obviously [April 8] against Texas when we were down by four, and then came back to clinch the playoffs.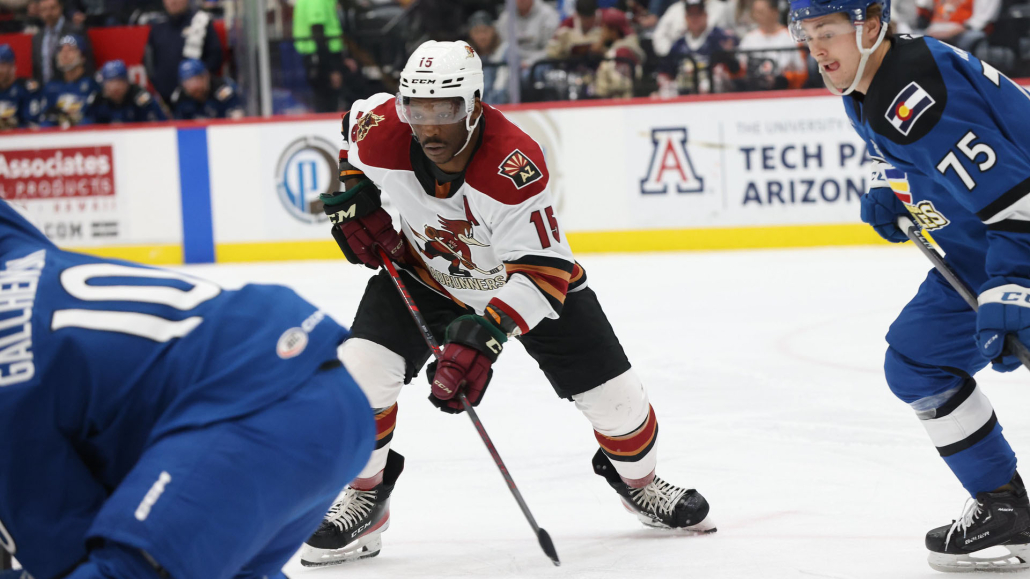 Q: Looking back on it, that overtime win against Colorado was huge in getting us some of the final points we needed to clinch the Playoffs.
A: It was monumental, it gave us that confidence that we could play against anybody, and that we could do it on the road as well. That was pretty impactful for us.
//www.tucsonroadrunners.com/wp-content/uploads/2023/04/4.26-1on1-495.jpg
400
495
Jimmy Peebles
/wp-content/uploads/2019/06/web-header-logo.png
Jimmy Peebles
2023-04-26 11:57:30
2023-04-26 11:57:32
1-On-1 With Steve Potvin