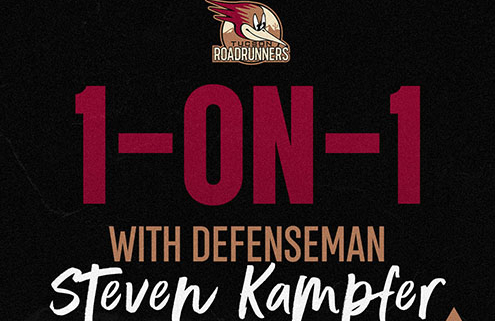 Tucson Roadrunners Defenseman Steven Kampfer stopped by Roadrunners Happy Hour on Tuesday, April 11, to preview the final weekend of the regular season and the upcoming Calder Cup Playoffs. Join Adrian Denny, Brett Fera, and Kim Cota-Robles every Tuesday at 5 p.m. on FOX Sports 1450AM and the iHeartRadio app. A podcast version of the full episode can be found on the iHeartRadio App or by listening below.
Listen to "Keeping it Real with Kampfer" on Spreaker.

Q: Steven, thanks for joining us. What have you been up to today?
A: We went out and played some golf as a family today. It was a good day to get out and enjoy some family time. We wanted to get my son Teddy out and let him run around and hit some golf balls. He holds the club like a hockey stick, so that might be the path he's on.
Q: That was a fun weekend. We were down by four, but we came back and forced overtime to clinch the playoffs. You were brought in by the Arizona Coyotes to help in our playoff push and it's been a great run so far.
A: It's been amazing being here, it's a very welcoming organization and locker room. I can't thank the coaches and the players and the staff enough for how well they've treated myself and my family coming in so late [in the season]. It's a tight-knit group and it's fantastic to be a part of it, and we're looking to keep trending in the right direction and make a long push in the playoffs here.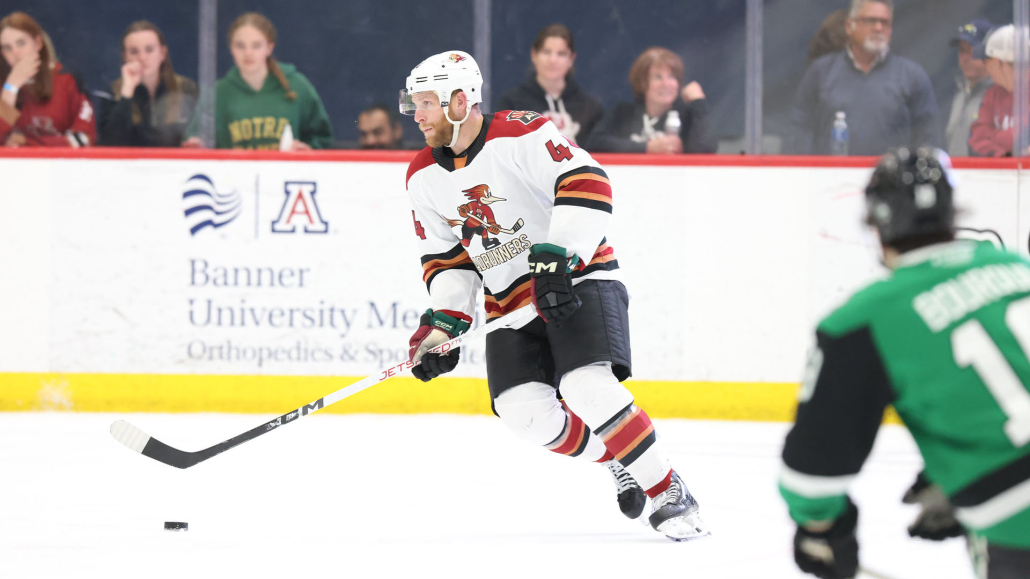 Q: Saturday's third period was electric, but what was that second intermission like for you guys in the locker room?
A: I think even before that, like after the first period, we had the understanding that we had a lot of game left in us. We started to trend in the right direction with about 12 minutes left in the second period. We were generating chances, and [goaltender Tyler Parks] had some really big saves on the penalty-kill for us. I think all we needed was a little bit of life, and once we got that everybody had that belief.
Q: We've seen this Roadrunners team do the improbable this season, and Saturday's comeback was just another example of that after a really solid road trip.
A: That road trip was huge for us. Starting off big with the sweep in Colorado and building on it throughout the trip. I always found that when you come back home after a long road trip, the first game can have teams come back a little tired. We had a late charge [on Friday], and I think it shows the resilience factor of this team and the way that we're coached. [Head Coach Steve Potvin] is very uplifting and the coaching staff is very encouraging. It's so positive and energizing, guys want to come to the rink and guys want to play and succeed because of it. It doesn't matter who's scoring and who's on the ice to us, and it's very refreshing to see something like that.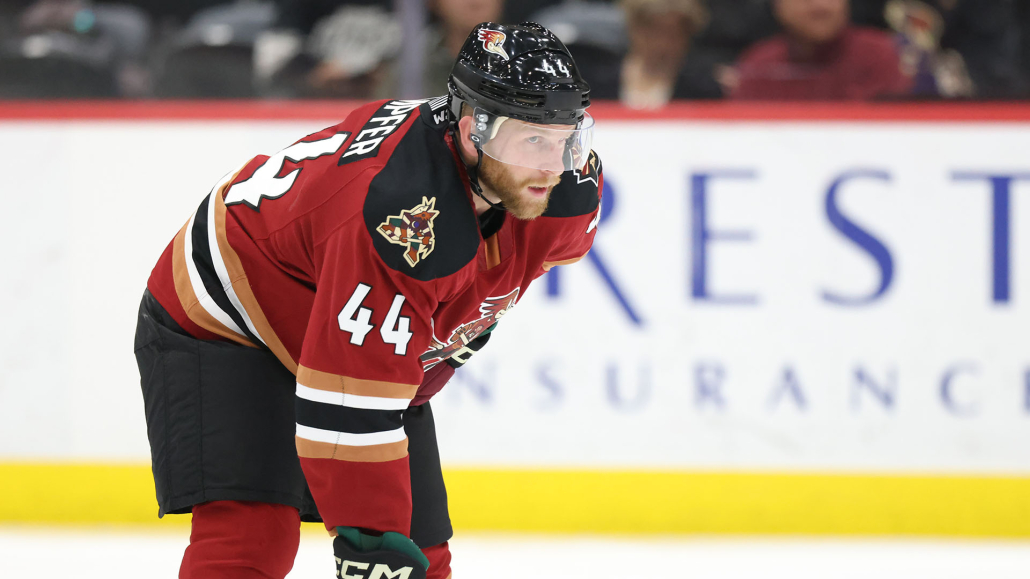 Q: With our playoff spot clinched and matchups close to solidified, how do you prepare for this final weekend of the regular season against San Jose?
A: As far as this weekend, it's fine-tuning our game and working on areas that need our improvement. It's making sure that the areas that we've been good at, we continue to get better at. When the playoffs roll around next week, everyone has to be firing on all cylinders.
Q: You're in your tenth AHL season. How excited are you to get another shot at the playoffs?
A: It's been a long time since I've been in the Calder Cup Playoffs, so the format has changed quite a bit since my last time. *laughs* Any time you get to play in the playoffs no matter where you are, you realize that it's what you build for all season long. Everyone wants to play their best and there's only one team in the playoffs that can win their last game. That's what we're looking to do, and we have another weekend here to end the regular season on a high note and be ready to face whoever we'll face in the First Round.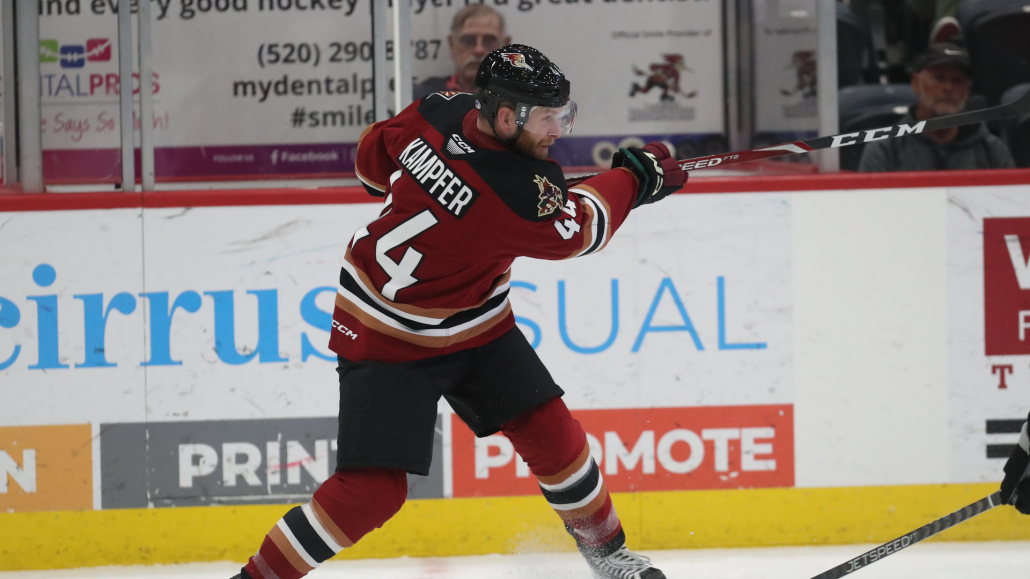 Q: What does the leadup to the playoffs look like for you guys on a day-to-day basis with practice and workouts?
A: Every day is a little bit different. At this time of the year, you're more maintaining strength than anything else. [Roadrunners Performance Coach] Parker Poore has workouts set up for us, and a lot of it is maintaining the strength that we've already put on during the year. We'll also go over some systematic stuff, power-play, penalty-kill, and stuff like that. For me, I'm probably at the rink for four to five hours a day in the workout room or on the ice.
Q: You were teammates with Roadrunners forward Nathan Smith at the 2022 Olympics with Team USA. Did you get to know him at all then?
A: I got to know Nathan last year when we were in Los Angeles before we went over to Beijing, and that was awesome. We got to really bond with the guys, we were a young team with a lot of college guys and he was one of them. He really stuck out to me as a guy that can make a difference playing at any level. He's shown it throughout the year and earned an NHL call-up, and it was great to already have that rapport with him [when I came here].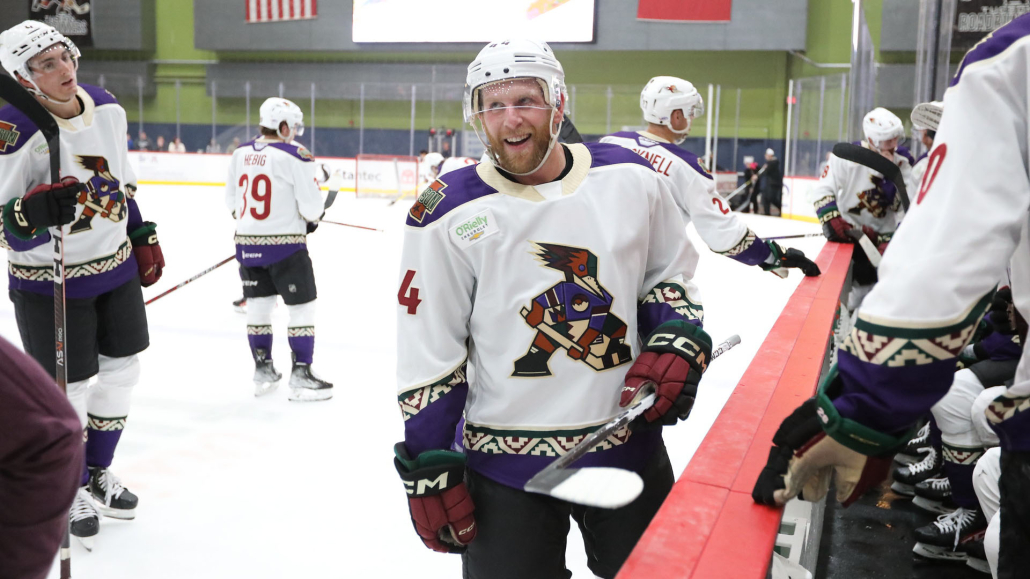 Q: We launched the #CarconeMVP Campaign a few weeks ago. It's been fun for us, but what has it been like playing with Mike?
A: You could look at the league leaders all year, and Mike was always up there at the top. I had never met him before coming here, but you can see why he's at the top of all of the leaderboards. It's awesome to watch and fantastic to share the ice with him. I can't say enough about him on the ice and off the ice, he's very deserving of all of it because of how hard he works. His work ethic, his personality, his persona, he draws guys around him and makes them a lot better. He makes guys want to be better, and you know when he has the puck on his stick he's going to make something happen. #CarconeMVP.
//www.tucsonroadrunners.com/wp-content/uploads/2023/04/495-Kampfer.jpg
400
495
Jimmy Peebles
/wp-content/uploads/2019/06/web-header-logo.png
Jimmy Peebles
2023-04-13 11:27:41
2023-04-14 14:34:03
1-On-1 With Steven Kampfer