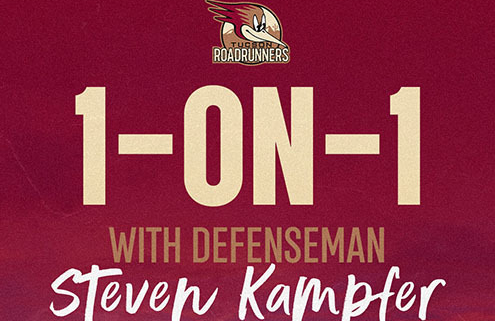 This week on the Tucson Roadrunners Insider Podcast, "Voice of the Roadrunners" Adrian Denny and TuThis week on the Tucson Roadrunners Insider Podcast, "Voice of the Roadrunners" Adrian Denny and TucsonRoadrunners.com's Jimmy Peebles were joined by defenseman Steven Kampfer after signing a one-year, two-way contract with the Arizona Coyotes. The full episode, including the Kampfer family's favorite Tucson restaurant, can be found on the iHeartRadio App or by listening below.csonRoadrunners.com's Jimmy Peebles were joined by forward Curtis Douglas following his first season in the desert. The full episode, including Curtis reacting to several teammates nominating him to appear on the Podcast, can be found on the iHeartRadio App or by listening below.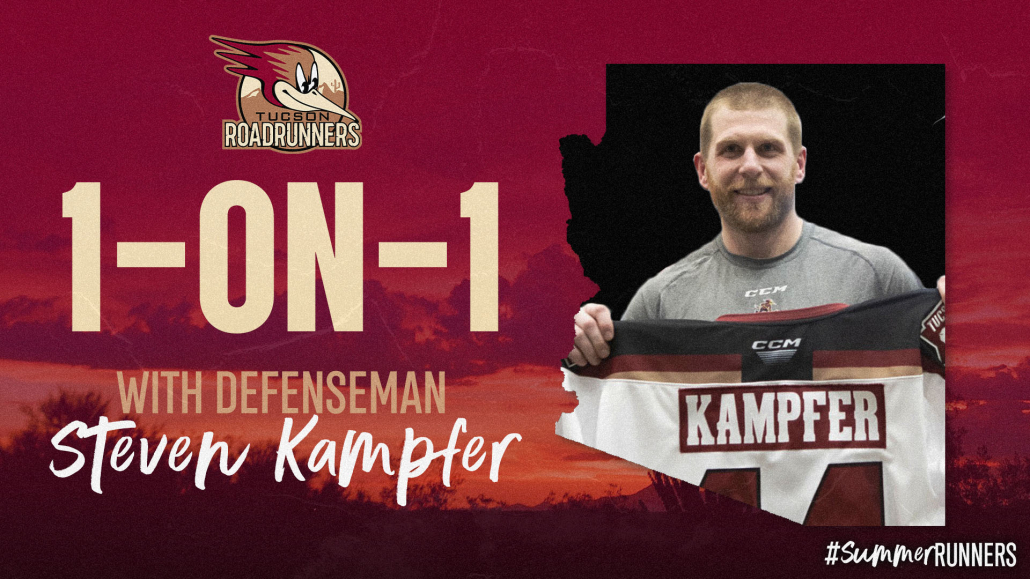 Listen to "Steven Kampfer Staying In The Desert" on Spreaker.
Q: Steven, it was a fun 15 games and a playoff series for you once you got to Tucson, and we're excited for another great year in the desert.
A: I'm excited, I loved the short period of time I was there (in Tucson). The organization, the coaches, the staff, the players, everybody treated myself and my family tremendously. It is a spot that we're very comfortable with.
Q: Your connection to John Ferguson from the Boston Bruins organization was the first thing we noticed when you acquired in March.
A: I've played pro hockey for 15 years, and I think "Fergy" (John Ferguson) has been in the same organization as me for probably seven or eight of those years. We have a pretty good relationship, and the good thing about him is that he doesn't sugarcoat things to me. If he sees something in my game or off the ice, he's the first one to let me know. I trust him wholeheartedly with that, and he trusts me and what I can bring day in and day out.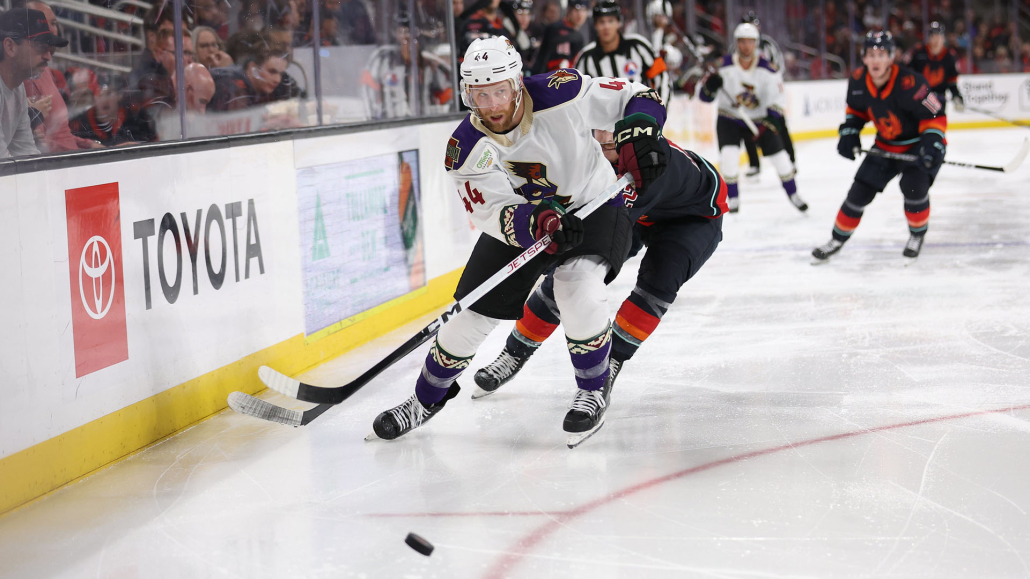 Q: You've had your share of warm weather hockey markets in your career, but what stood out about Tucson and Arizona as a whole?
A: We live in Florida in the summer, but I'm from Michigan and I grew up there. There's something nice about going to the rink in shorts and a t-shirt. It's also nice to be able to enjoy the weather and when your family is able to go and do things, there have been days where my family wouldn't leave (the house) because it was so cold outside. When you find a spot that accommodates all aspects of life, whether it's yourself at the rink, or your family, or your kids, if they're comfortable it makes going to the rink that much easier.
Q: You were born in Ann Arbor, Michigan, but did you grow up there?
A: I actually lived in Jackson, Michigan, which is about 30 miles west of that. My whole Mom's side of the family lived in Jackson. My mom, my dad, my grandma and my grandpa would take turns driving me to Detroit to play hockey five times a week. It was over an hour drive, so it was a family effort to get me to play hockey. I went back this past year for Thanksgiving, but before that, it had been probably six years since I had been back in my hometown. My family has mostly moved away, so it was more about seeing friends.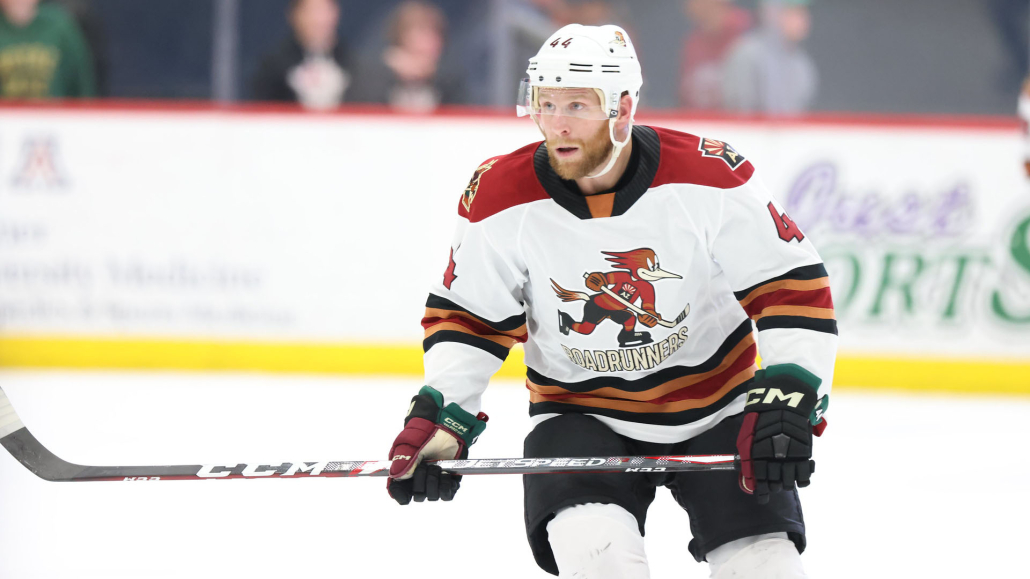 Q: You played four seasons of collegiate hockey in Ann Arbor at the University of Michigan, was that always the team you rooted for growing up?
A: Yes and no. My mom had played golf at Michigan, and in Jackson it was either Notre Dame or Michigan. Everybody in the town goes to one school or the other, you were either a diehard Notre Dame fan or diehard Michigan fan. As a kid, I wore number 5 because of Nicklas Lidstrom, but I was always a Colorado Avalanche fan because everybody in Detroit hated Colorado. I liked Colorado because of Peter Forsberg, Joe Sakic, Adam Foote, so I was always off of the beaten path when it came to choosing teams that I liked. Where I'm going with this is that my dad's whole side of the family went to Ohio State, so I always grew up cheering for Ohio State football over Michigan. My grandpa on my dad's side played golf and won a National Championship at Ohio State in 1945. Everything was Ohio State for him. Then, when I was 14 or 15 years old, we flew down to Fort Myers, Florida because my grandparents lived in Naples and Ohio State hockey happened to be playing in a tournament at the Florida Everblades (ECHL) arena. My grandpa had called ahead and arranged for me to meet with the Ohio State Athletic Director and the Head Coach of the hockey team. I went through this whole thing, and my dad was talking to the coach after and asked if they were interested in me. The first thing they said was, "your son is never going to come here, we're not good enough of a program for your son to come here." I didn't even find this out until my dad told me two or three years after I graduated college. So when it came down to it, my top three schools were Notre Dame, Boston University, and Michigan. Michigan then called me on my 16th birthday and asked me to stop in, where they committed to me on the spot and I committed that day. I had to call my grandpa, a diehard Ohio State fan, and tell him that I was committing to Michigan. He said, "I will never wear those colors, but I will always cheer for you."
Q: That was a great program you were a part of at Michigan, "Red" Berenson is a college hockey legend. Everybody knew who he was, and that had to be a special experience.
A: (Red) was amazing, both to me and to my family. I give him a ton of credit, you go there as a boy and leave as a man. He treats you like a professional every day. The way he approached the game with us, the way he taught us how to play the game, and how he taught us to treat each other and other people, was special. After my junior year, I wanted to leave and go play professionally and he told me I wasn't ready. He said, "give me one more year, and you'll be more than ready." I listened to him, and staying for my senior year was probably the best decision I ever made. I still keep in touch with him to this day.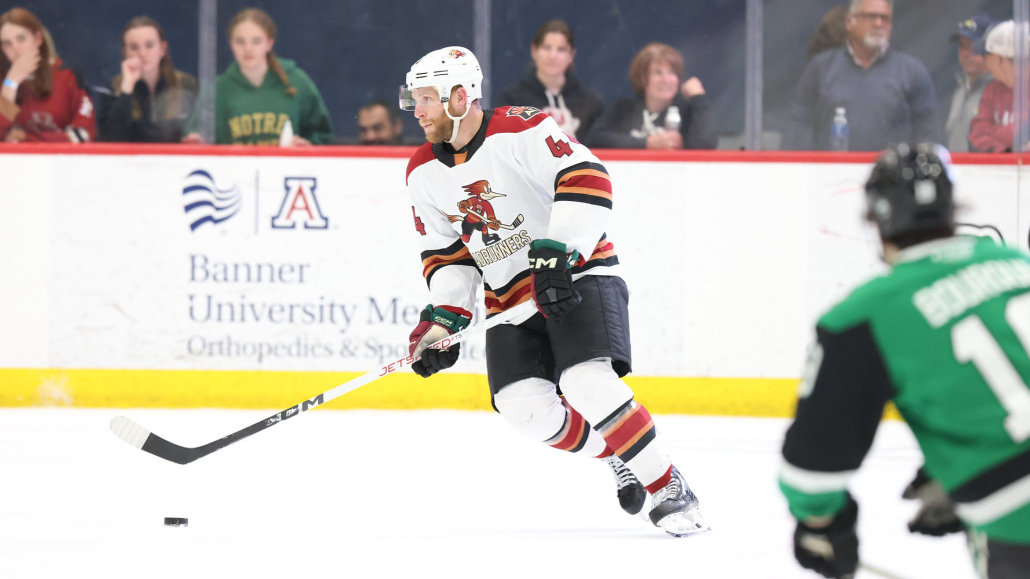 Q: Another special experience you had was representing the United States at the 2022 Olympics. What was that like?
A: It was awesome, any time you get to put on the USA sweater is amazing. For a lot of us, we probably never thought we would get to play in the Olympics. The opportunity to go there and play, and play as well as we did with a young team, it's something you'll always remember. You step on the ice for one shift, and you can always say that you're an Olympian. I wish we could have had our families there a little more, but the overall experience was great. You become lifelong friends with the guys you play with.
Q: What was it like joining your Olympics teammate Nathan Smith in Tucson?
A: It was good. He texted me the night after I got traded, and we talked for a little bit. "Smitty" is a great player and a big talent for our team. He's young, but the more he plays, the better he's going to get. His style of game is versatile, he can go up and down the lineup and play any line. Those guys are invaluable, and it shows the NHL that you can go up and down a lineup. I'm excited to see him this year.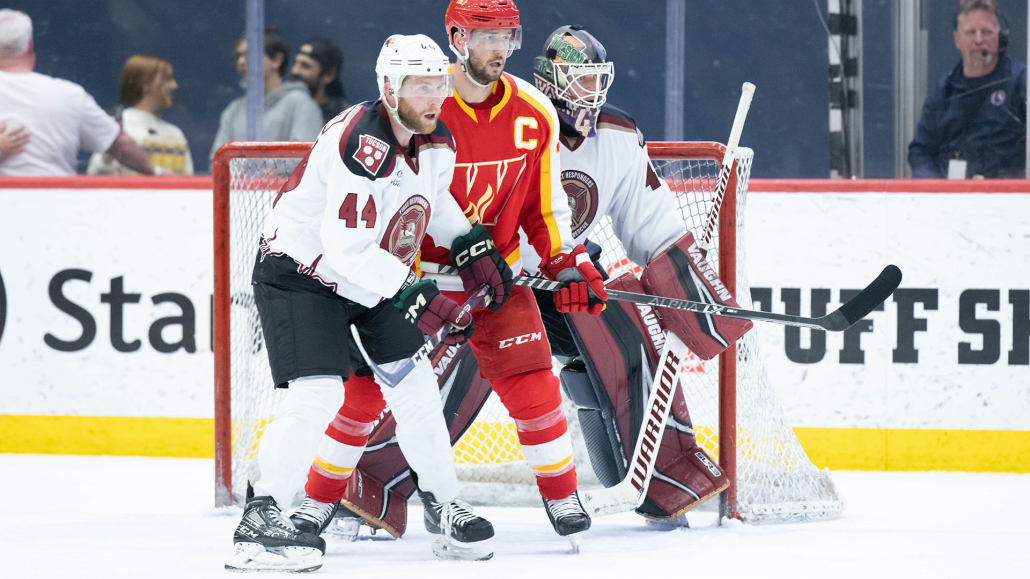 Q: What has summer been like in Florida?
A: We actually went to Phoenix for a week after the season was over, my wife's aunt and uncle live in Surprise. We stayed with them for a week, and once we got back to Florida, it was more or less getting acclimated to being back down here. We went to Disney for five or six days in May, and after that it was getting back in the gym and playing golf. We have the regularly scheduled 3 p.m. rain showers every day here now, so you have to get everything done before that.
//www.tucsonroadrunners.com/wp-content/uploads/2023/07/SKampfer_495x400.jpg
400
495
Jimmy Peebles
/wp-content/uploads/2019/06/web-header-logo.png
Jimmy Peebles
2023-07-26 12:30:00
2023-08-30 15:32:10
1-On-1 With Steven Kampfer