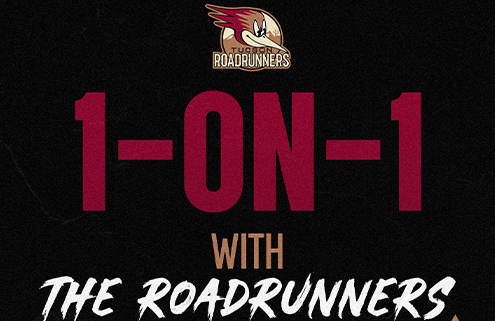 Tucson Roadrunners forwards Adam Cracknell, Colin Theisen and Ryan McGregor all joined Roadrunners Happy Hour from Tucson's Season Ticket Member Signing Event this week to talk about the season so far and the upcoming series from Milwaukee. Join Adrian Denny, Brett Fera, and Kim Cota-Robles every Tuesday at 5 p.m. on FOX Sports 1450AM and the iHeartRadio app. A podcast version of the full episode can be found on the iHeartRadio App or by listening below.

Listen to "Sign In With Us" on Spreaker.
Roadrunners Captain Adam Cracknell led the way on the air, just like he does for Tucson on the ice.
Q: Adam, thanks for joining us. Our lineup over the weekend had a different look after the trade deadline and some players moving up to the Coyotes. Tell us about that.
Adam: It's something you can't really plan for, things change quick in this business. We played with 11 forwards and five defenseman [Friday], but it was a great opportunity. There was no shortage of ice time. Unfortunately, it stinks to lose both games in overtime like that, but there was good character from all the guys. We battled, we played hard until the end, and we know how hard it's going to be to make this final playoff push. To come out with two points is huge, but we're looking for the four.
Q: What is it like for a player to go through the trade deadline?
Adam: It's a lot better when you're 37 because you'd like to think you're not getting traded *laughs* but I feel for the young guys and guys up top. I've been traded before, I've been put on waivers and claimed and you're on a flight four hours later and your life gets changed around. Luckily, we got to keep the majority of our group here, but you lose guys like Cam Dineen who is a great person and played here for a long time. Dysin Mayo too, guys like that who have put a lot of time into this organization, but it's a part of the business.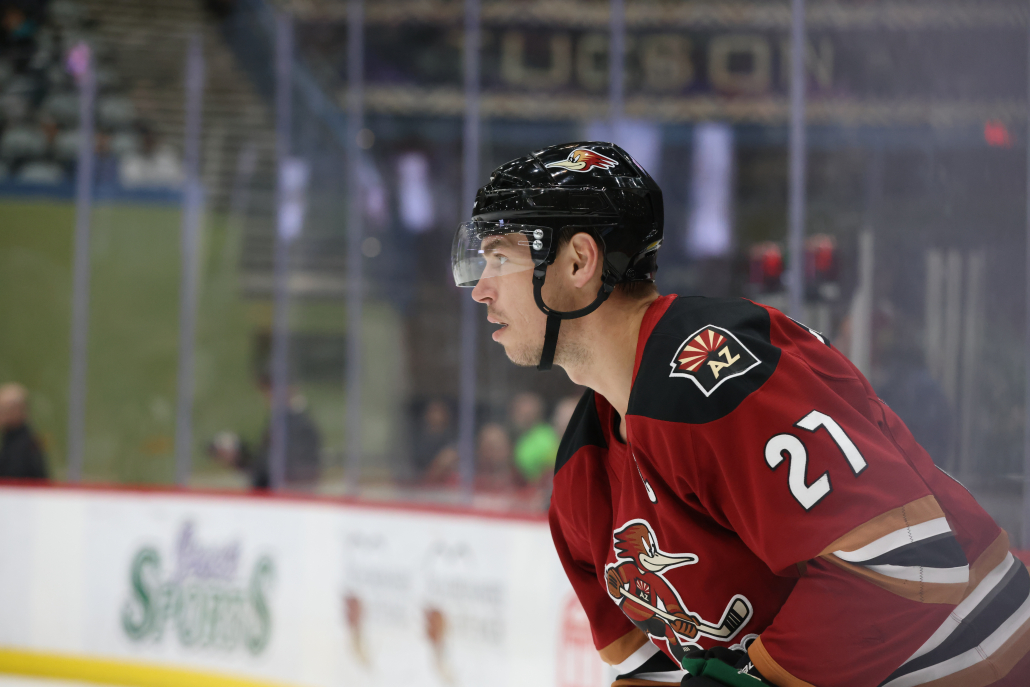 Q: It can be a stressful time of the year with the trade deadline and the playoffs fast approaching, how do you manage yourself and your health during this time?
Adam: When I get home, it's a lot easier because I have so much going on with my family and my three kids. Anything that bothers me at the rink stays at the rink, but I can see how young guys that live by themselves or with a teammate can have a hard time getting away from it. You can take advantage of golfing or other activities, but guys also understand that it's a part of the business.
Q: Do the players spend a lot of time together off the ice and away from the rink?
Adam: Definitely, especially on the road when we're all in a hotel together it's easy. [In Tucson] guys go golfing, and I had guys over the other the day for a barbecue to enjoy the day off. We try to get together because it's important for a team to stay close and bond, and we go to battle for each other.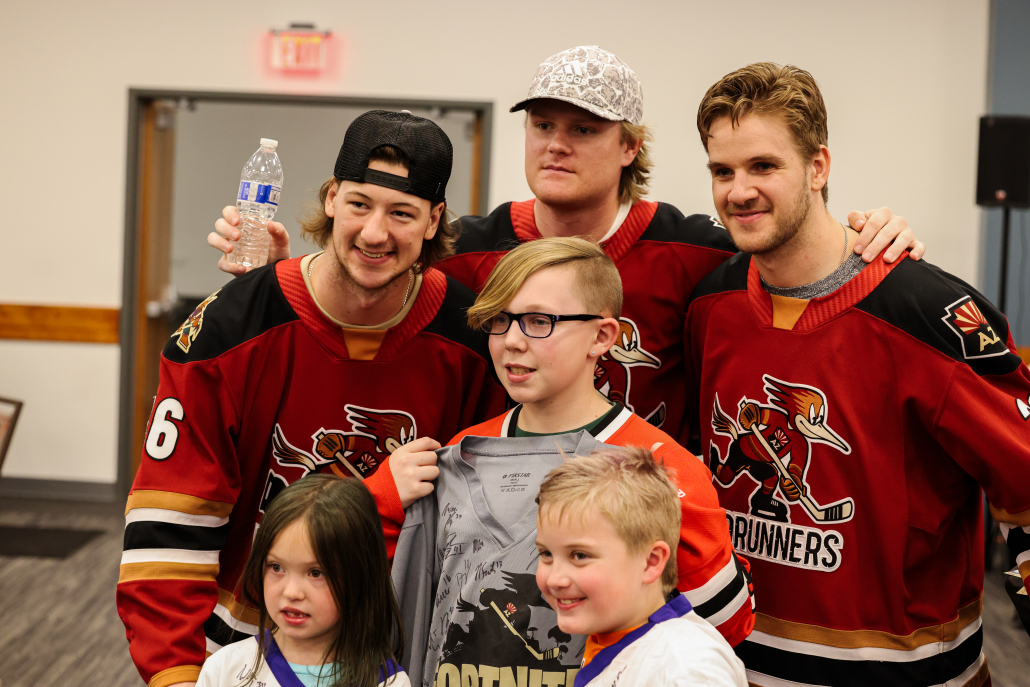 Q: Head Coach Steve Potvin acknowledged during the weekend how the trade deadline and roster movement can personally impact guys. What does that say about him?
Adam: He understands the game and the business and knows we have a variety of ages on the team. The guys that are so young and see their friends pick up and just leave, sometimes it might not register fully. There's stress when you're short-staffed and there's always pressure to win, but I think it's also a good challenge for guys. They can really step up and take advantage of the opportunity we had this weekend, and I think the guys did a great job. The way we can move forward is keep challenging ourselves and we'll get the results we're looking for.
Q: One of the new faces we acquired was defenseman Michael Kesselring from the Edmonton Oilers organization. You played with him for two seasons in Bakersfield, what can you say about him?
Adam: His size and his strength are some of his biggest assets, and he has a great shot. He's a very intelligent player and his game has grown a lot the last couple of years. He's adapted very well coming out of college and I think sometimes change is good for a player. I think he's going to have a really big role with this team.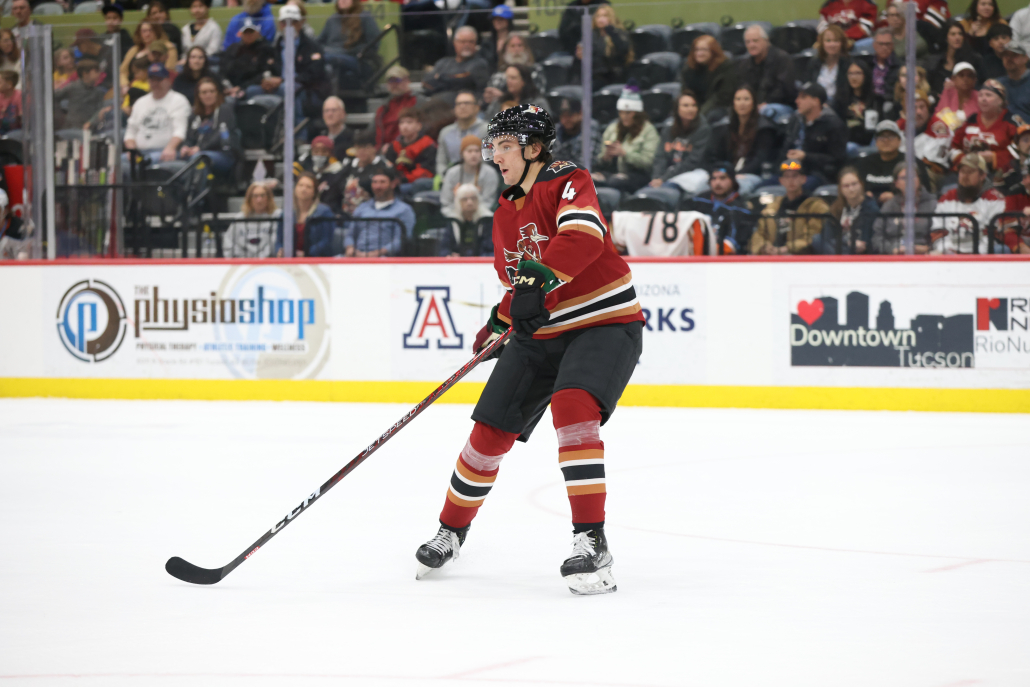 Forward Colin Theisen followed up the Captain after the 25-year-old recorded a goal and a fight on Saturday against San Diego.
Q: Thanks for stopping by, Colin. Before you joined us you spent a season at Arizona State University. Oceanside Arena is shutting down, what memories do you have from there?
Colin: I was only there for one year, but Oceanside became my home. We were really dominant at home last year, and I think that helped us play with that grit and determination and bring that next level to our game.
Q: You've spent time with both us (16 games) and the ECHL's Atlanta Gladiators (12 games) this season. What was the travel like between the two, and how was living in a city like Atlanta for a little bit?
Colin: I enjoyed my time there, the guys on the team were awesome and welcomed me in. The travel was an easy direct flight, and I'm glad to be back here with the guys.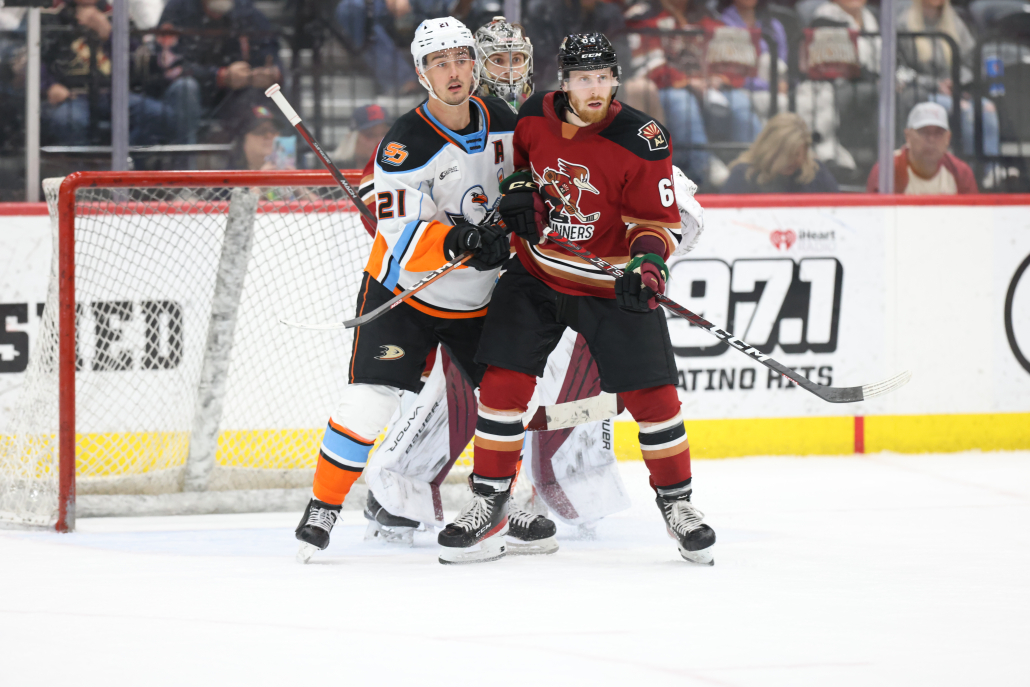 Q: Is there any banter between you and the other college guys when your teams play each other?
Colin: There is, me and my road roommate Nathan Smith did that earlier this year when Minnesota State Mankato played ASU. Unfortunately, ASU got swept so I had to wear a Mankato shirt.
Q: We're seeing more and more college players make their way to the AHL and NHL. How did you benefit from that experience of going to college and maturing through that process?
Colin: That's a great question, the maturity is the huge part. Guys are already 23 or 24 and they've been lifting a lot so their bodies are more mature. I think the biggest thing is time management, navigating classes and assignments and exams while playing hockey at the same time. You still get that mix of travel and the schedule can be grueling. I think all of that is a good mix to prepare you for the pros.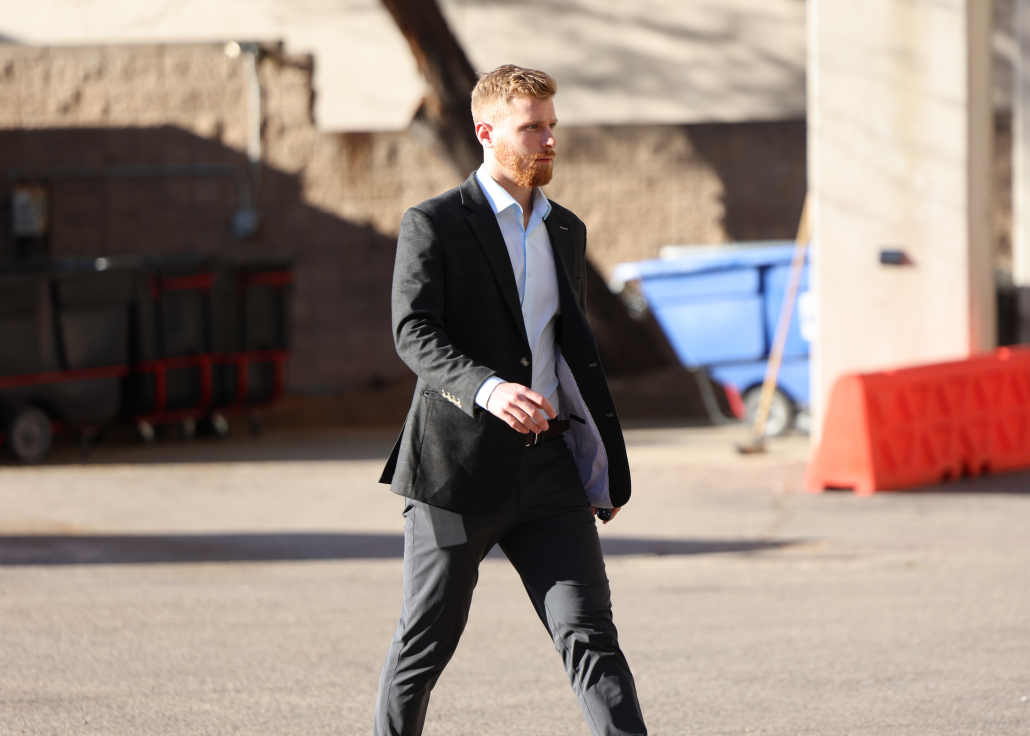 Last up was the longest-tenured member of the Roadrunners out of the three, third-year forward Ryan McGregor.
Q: Ryan, welcome to the show. You've been playing really well lately and you look to be 100% health-wise. How do you feel?
Ryan: Obviously, last year didn't go how I had hoped dealing with injuries all season. The beginning of this year I was feeling it out at first, but I think after the first month or so I've gotten back to myself. I feel 100% and I'm happy with where everything is at.
Q: What was it like coming to play in Tucson from a more traditional hockey market of Toronto?
Ryan: You see a lot of different things. Even when we were in Chicago the other week there were, people waiting outside the hotel with cards for us to sign. It shows how good our fans are here and all the support we have from them. It's awesome and we can't thank them enough.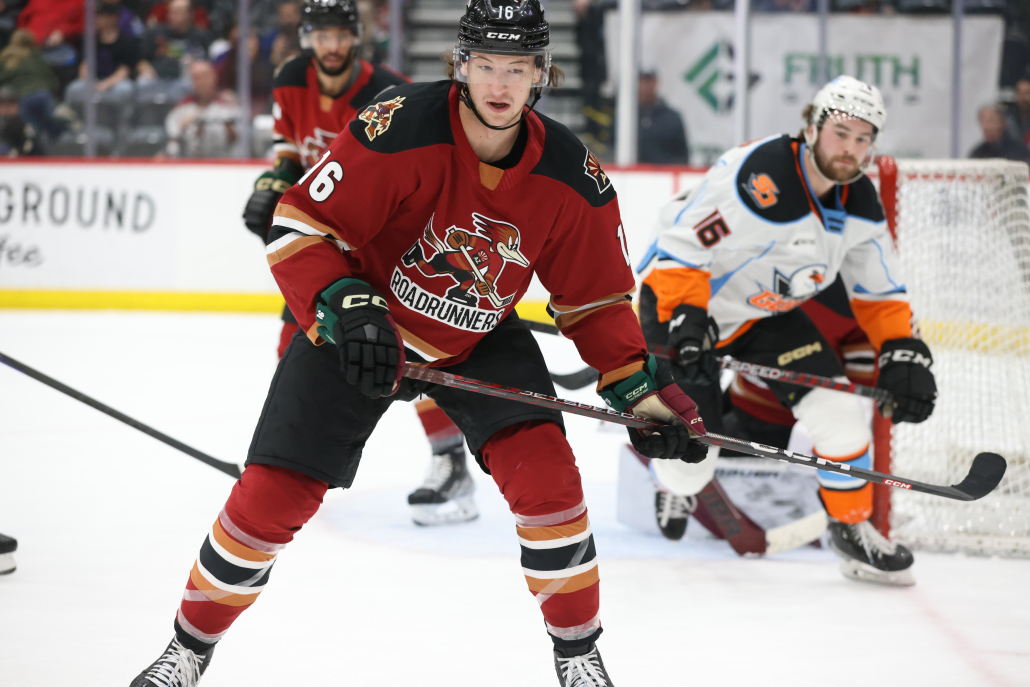 Q: It can be a stressful time of the season, how do you keep yourself in a good headspace?
Ryan: It's coming to crunch time here in the division, but I just try to stick to the stuff I've always done and keep close contact with everyone from back home. We have a good group, so hanging out with them and having fun keeps things light.
Q: Forward Mike Carcone fought former Roadrunner Quinn Wichers on Saturday against San Diego, what is like facing former teammates out there?
Ryan: It's an interesting business. One of my best friends, Cam Dineen, obviously just got traded and we play Bakersfield in a few weeks. I'll go for dinner with him the night before and see his place, but I'll put him through the endwall if I have to. It's tough, but everyone has to just get past it and keep playing.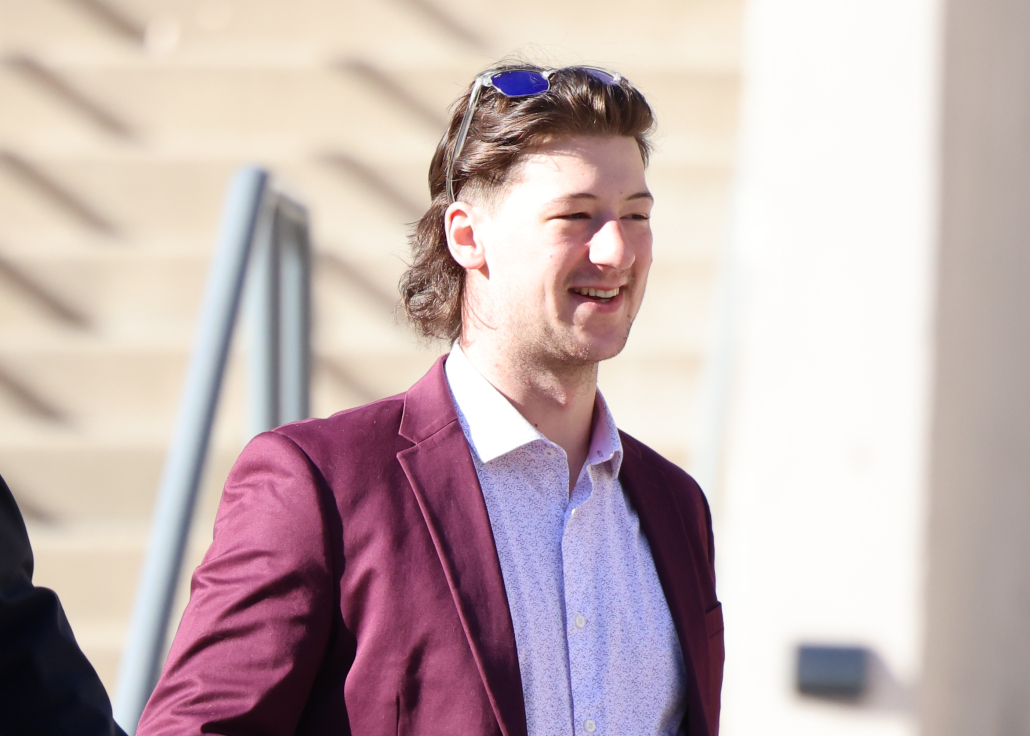 Q: Head Coach Steve Potvin seems very supportive of you guys beyond just on the ice. How has your experience been with him through almost three seasons?
Ryan: He's very personable and approachable, and he's a players' coach. He keeps it light and stays positive with you, but lets you know when you need to pick it up. I've had a lot of good coaches over the years and he's definitely one of them.
There was one final question that all three guests were asked, with all three giving the same answer:
Q: Who's the best golfer on the team?
All: Will Reilly.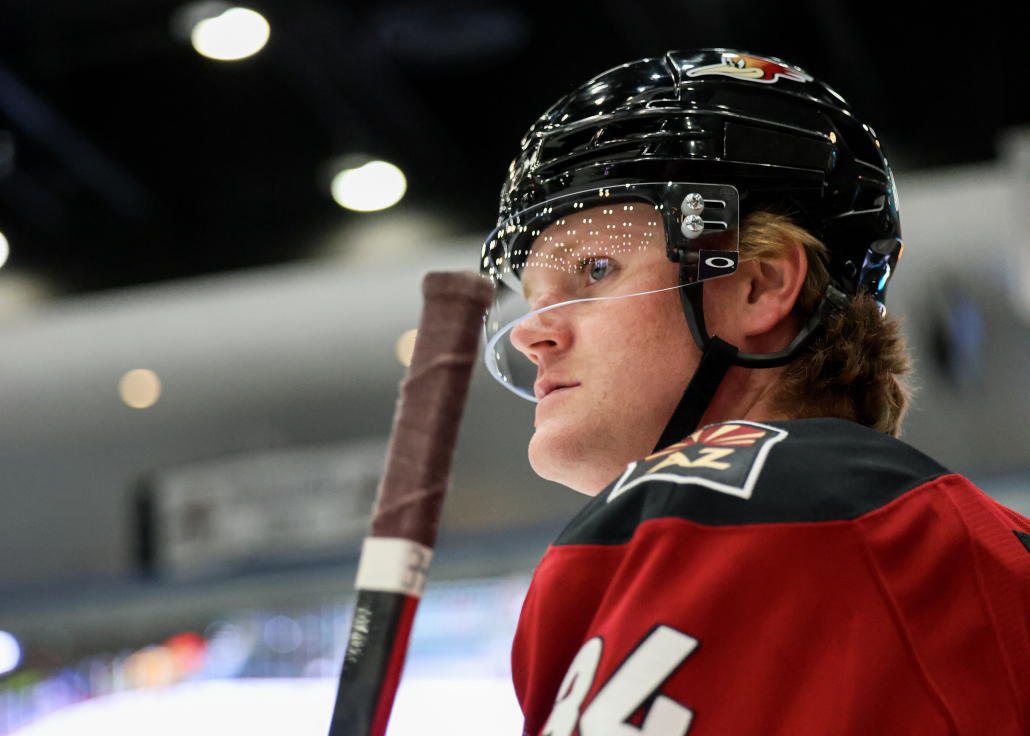 //www.tucsonroadrunners.com/wp-content/uploads/2023/03/thumbnail.jpg
400
495
Jimmy Peebles
/wp-content/uploads/2019/06/web-header-logo.png
Jimmy Peebles
2023-03-09 07:00:00
2023-03-09 10:21:08
1-on-1 With The Roadrunners