Goaltender Tyler Parks appeared on the Tucson Roadrunners Insider Podcast with Adrian Denny and Jimmy Peebles during the offseason after signing an AHL contract with the Roadrunners. This week on the Insider Podcast, Tucson.com's Brett Fera joined Jimmy to react to Mike Carcone in the AHL All-Star Skills Competition, and to look ahead to the final 26 games of the regular season. You can listen to the latest episode of the podcast below, with all episodes available on the iHeartRadio App.
Listen to "AHL All-Star Edition: With Brett Fera" on Spreaker.

Q: Tyler, we're glad to have you back on the team. How did you get reconnected with the Roadrunners after the last two seasons?
A: I had my agent in the market, and I felt like there was still a lot I wanted to prove in North America. I knew I wanted to be back in North America this season, and [the Roadrunners] felt like a great opportunity and a great fit for me. I jumped on the opportunity.
Q: All five of your appearances with the Roadrunners in 2019-2020 were on the road, so you didn't get to play in front of our home crowd. What made you want to come back to Tucson?
A: It was an awesome experience, and I'm excited to build off of my first time [with Tucson]. I'm familiar with the staff for the most part, so I'm ready to just come in and get back to work and play well.
Q: You were last with Tucson in February 2020, what do you remember about meeting the fans for the first time at our Roadrunners Give Back Bowling Event?
A: That was a great time. It was great to meet all of the fans, and everyone welcomed me with open arms. Since then, I've been with the Belleville Senators (AHL affiliate of the Ottawa Senators), the Atlanta Gladiators (current ECHL affiliate of the Arizona Coyotes) and over to the DEL in Germany.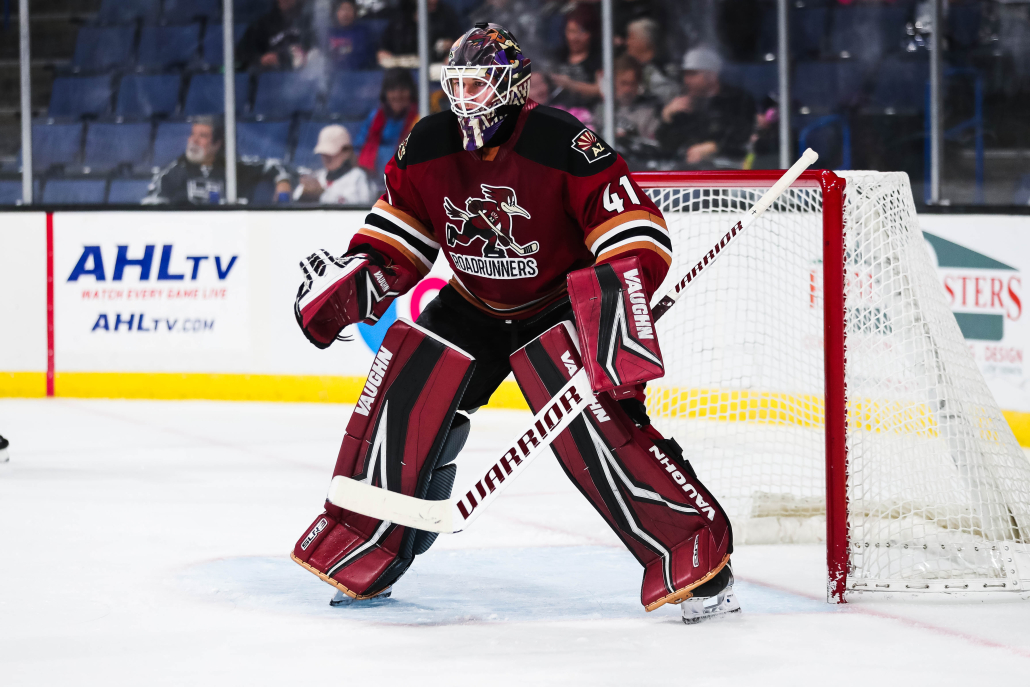 Q: Your first AHL start was a 4-2 win over the Colorado Eagles on the road. That was a memorable game for us, what do you remember from it?
A: It was an unbelievable experience. The guys welcomed me with open arms and made me feel comfortable. I had flown in for morning skate the day before and actually got put into the game the night before as well, so it was quite a whirlwind. I think that was a turning point in my career, I've felt great ever since.
Q: You're joining goaltender Ivan Prosvetov here in Tucson, who you've spent a lot of time with in Rapid City and previously with the Roadrunners.
A: He's one of my good buddies actually, we've stayed in touch over the past three years. He's a great guy who brings the best energy, he always has a smile on his face and is great to be around. I'm so excited to be reconnected with him, he's a great friend of mine.
Q: You guys are pretty much the same height, is there anything technique-wise that you two have shared or learned together?
A: We have different styles, [Ivan] is really quick and moves around while I just try to stay as big as possible. It's to see those different sides, though. There are a lot of things from his game that I've taken and used to try to improve mine.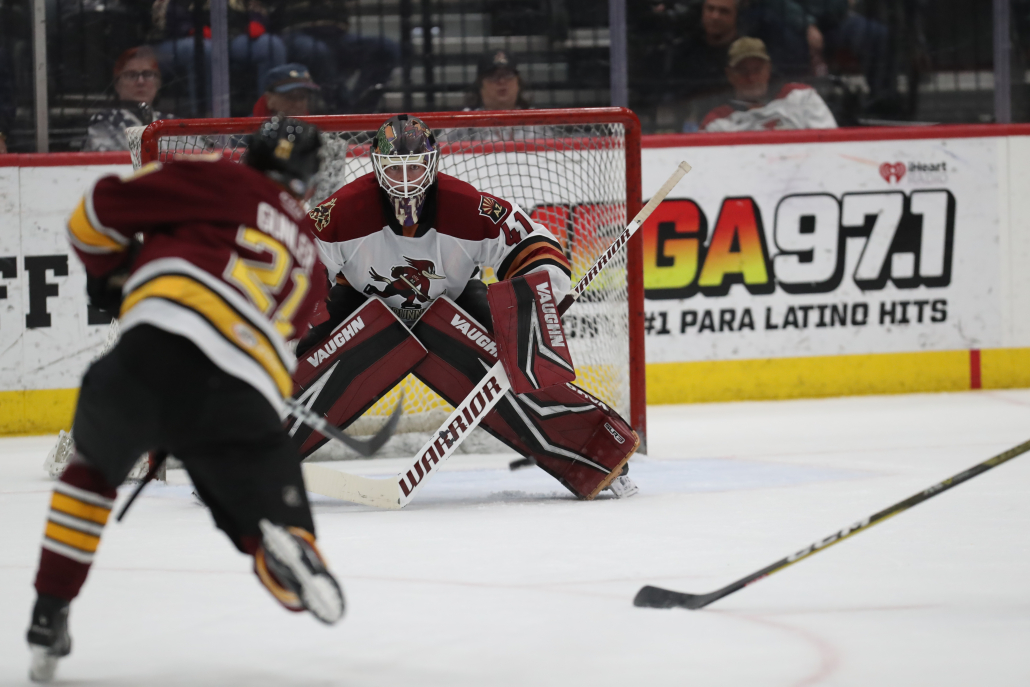 Q: You were with the Atlanta Gladiators in the ECHL last season and were tied for the team lead in wins. What does Atlanta bring to the organization as our new ECHL affiliate?
A: They're a great organization. I liked playing for [Gladiators Head Coach] Jeff Pyle, he's a great guy who wants the best out of us and is willing to do anything to help his guys. It brings a lot to the table for the development side of things, and they win some games down there too. It'll be a great fit for the Coyotes organization and for Tucson.
Q: You mentioned playing overseas in Slovakia and in Germany. What was that experience like?
A: It was good. I went over to Slovakia [in 2021] to start playing games, not knowing what North America was going to have for a season (as hockey returned to play from pandemic). It was a great experience, the goalie coach was really good and it was a good league. It's a fast game over there, and the guys train really hard.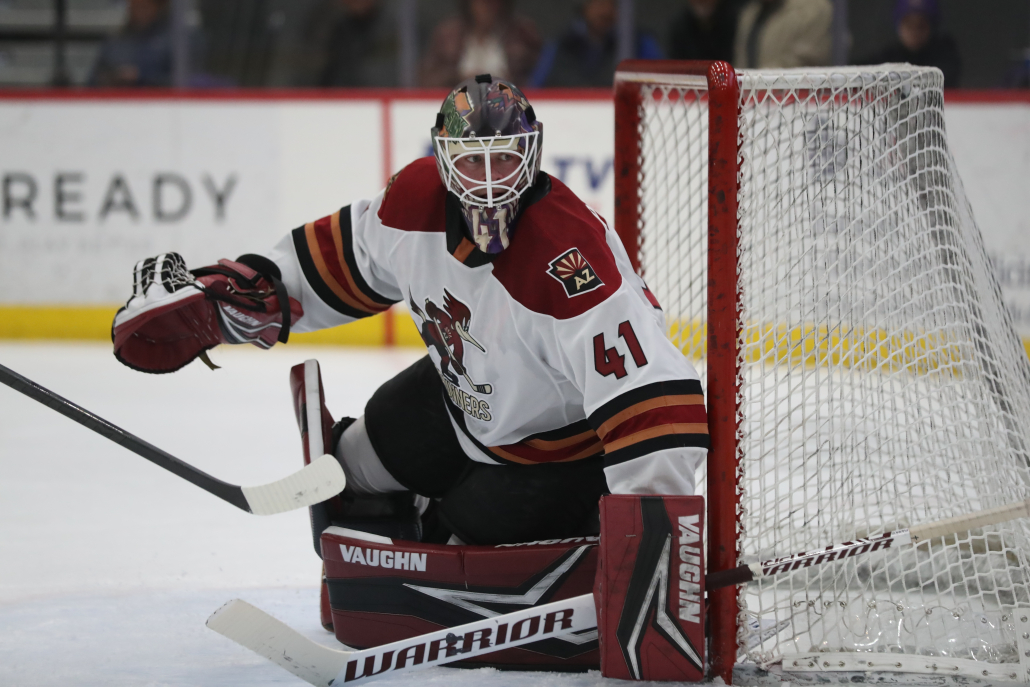 //www.tucsonroadrunners.com/wp-content/uploads/2023/02/thumbnail-5.png
400
495
Jimmy Peebles
/wp-content/uploads/2019/06/web-header-logo.png
Jimmy Peebles
2023-02-09 16:24:10
2023-02-10 10:22:21
1-On-1 With Tyler Parks