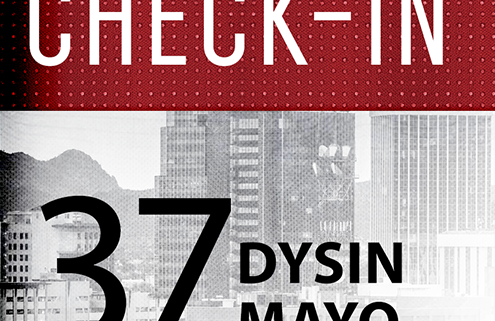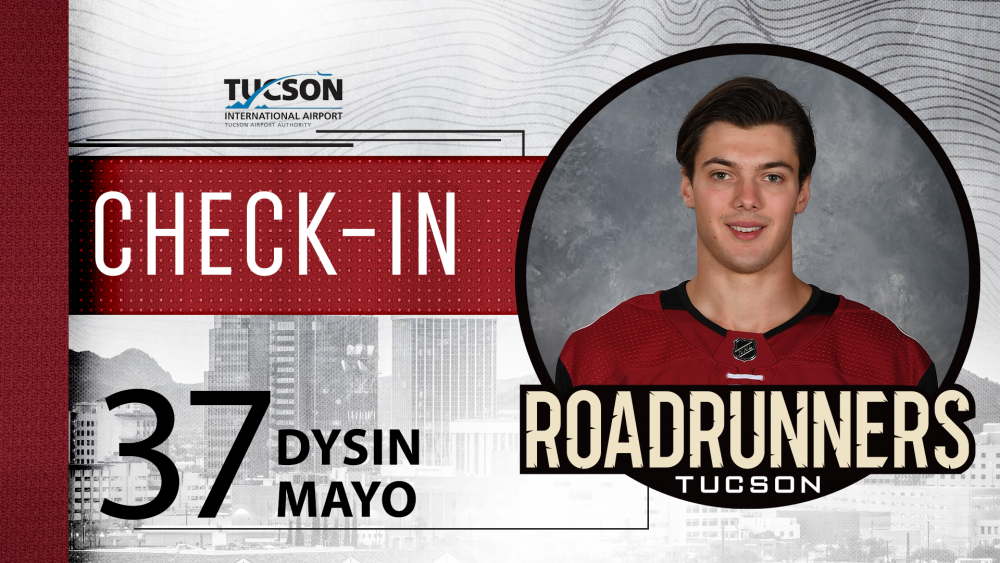 Defenseman Dysin Mayo took time this week from his home in Canada to answer questions submitted by fans on social media and email. He signed a one-year, two-way contract with the Arizona Coyotes on June 30 to return for a fifth full season with the organization. He is one of five players who have played with the Roadrunners in all four seasons in Tucson. Make sure you get your questions submitted for the next Tucson Airport Check-In.
From Kathleen
What about signing for this upcoming season are you most excited about?

Hi Kathleen, our team was having such a great year this season and we were confident that we had an opportunity to make a good playoff run. We have a lot of returning players for next season and that is what excites me most for the upcoming season. We have a great group of guys and the opportunity to build off what we accomplished this season.
From Cynthia
Welcome Back! How did you get #37 and what is your favorite cheat meal?
Hi Cynthia, thank you! #37 was assigned to me when I first started playing junior hockey for the Edmonton Oil Kings. It has no personal meaning to it but decided just to keep using it as my career went on! As for my favorite cheat meal, on about our third week of quarantine after the season ended, my wife finally convinced me to go get Chick-fil-A and now I have to say that that would be my favorite for now.
From Ysette
Congrats! Glad to have you back next year! What do you like most about the Coyotes organization and playing in Tucson? Can't say weather!:)
Hi Ysette, thank you! I am happy to be back. My go to answer for this question is usually the weather, especially right now since I haven't seen much sun since being back in Canada. My next answer would be all the hiking that is around. My wife and I love to be outdoors and to take our dog on the many hiking trails around.
From Ron
What was the best part of having Cam Dineen as a D partner for most of the year?
Hi Ron, having the same D partner for the majority of the year is very helpful. It gives you a familiarity with each other and you learn each others tendencies. I loved playing with Cam for most of the year. He is a very smart player. He has a good understanding of when to make the easy play instead of trying to force it and rarely gets caught out of position. This combined with the fact that he is a great skater, I never have to worry when I am out there that he is going to get beat. We also have very good communication with each other which makes playing with him easy.
From Mike
What was your favorite part about growing up in Victoria BC, for most people a favorite tourist destination?
Hi Mike, I definitely took growing up in Victoria for granted. Now that I am older and have lived in many different places, I love going back to the island. There is so much to do outdoors. There are some amazing backpacking trails, beaches, and tons of camping spots. It is all about being outdoors there.
From Joe
Favorite thing to do to unwind in Tucson?
Hi Joe, my favorite thing to do in Tucson to unwind is to go for a leisurely hike with my wife and dog. It is a bonus when there is running water on the trail so my dog can go swimming and we can sit and enjoy the sun. If I am really tired, then the next best thing is to lay by the pool.
Thanks for the questions fans, we'll have another Tucson Airport Check-In soon!
//www.tucsonroadrunners.com/wp-content/uploads/2020/07/Mayo490-Check-In.png
400
495
Tucson Roadrunners
/wp-content/uploads/2019/06/web-header-logo.png
Tucson Roadrunners
2020-07-10 10:16:17
2020-07-16 12:34:08
Checking In: Dysin Mayo