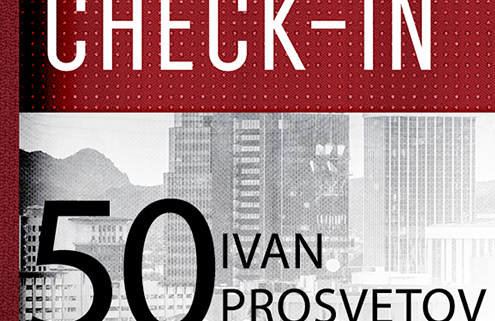 Goaltender Ivan Prosvetov took time this week from his home in Russia to answer questions submitted by fans on social media and email. He won 14 games during his first pro season with the Roadrunners and also was called-up to the Coyotes in January. He was drafted by the Coyotes in the Fourth Round of the 2018 NHL Entry Draft.
From Alison:
What is your favorite kind of music and favorite artist in that genre?
I listen to a lot of rap music, all of the guys my age are into rap music. I'd say probably 21 Savage is my favorite, there's some Russian rap too, but 21 Savage. Drake too.
From Christopher:
Are you a Coffee guy when you wake up? How do you take it?
I used to drink coffee before games, but lately I've been having lots of fruits in the morning, they give me some energy and I feel good without the coffee so I haven't been drinking a lot of coffee lately. Before games, maybe iced coffee, but we'll see how It goes this year.
From Mike:
We saw that you were skating with Coyotes defenseman Ilya Lyubushkin, anyone else that we'd know that you've been on the ice with in Russia?
Evgeni Malkin (Pittsburgh), Alexander Radulov (Dallas), Denis Gurianov (Dallas/Texas (AHL), Valeri Nichushkin (Colorado Avalanche); all really good shooters. I've been skating with those guys the last two months, they have all kinds of time to make a perfect shot on you and you have to stop it. I think you get better facing players like that. Malkin has three Stanley Cups and in our era of hockey not too many players have three Stanley Cup, it's really tough to do. It's really awesome, as a kid looking up to those guys like Malkin and having a chance to skate with him is really cool.
From Lisa:
What are you looking forward to most for your second pro season?
Excited to get back on the ice and playing hockey. It's been awhile since we had games and anything like a team practice. A couple of months ago, I got a chance to be part of the playoff routine with the Coyotes. I just want to get back on the ice and want to compete again.
From Alyssa:
What are you looking forward to most about getting back to Arizona?
Weather here is getting way worse in Moscow, it's already snowing and in Arizona it's going to always be nice. Get back to hopefully to full crowds in our rink, it'll be great to see fans and feel the energy. Watching a couple KHL games here and there's not a lot of fans and it doesn't feel like a real hockey game. Without fans it's tough, so hopefully we have them all soon.
From Rosie:
In the last eight months, what have you taken the most advantage of with the extra time?
Training a lot and in the gym. I've taken some time to rest. Been doing lots of cardio, obviously when you get ready for a season you have lots of time to do the heavy lifting, some cardio stuff, put on some weight, I've been on the ice a lot with some good shooters. Been around my family for a longer time without hockey. We never have too much time with our families with our job in hockey, we're always away. It's been good to spend time time with them.
From Diane:
What have you been able to do for fun during the offseason?
Took a vacation to Turkey in September, went with my girlfriend. Played Beach Volleyball, all inclusive food and everything, swam in the pool, good time, good views, great mountains there.
Thanks for the questions fans, we'll have another Tucson Airport Check-In soon!
//www.tucsonroadrunners.com/wp-content/uploads/2020/11/Final-Prosvetov-TUS-495x400-1.png
400
495
Tucson Roadrunners
/wp-content/uploads/2019/06/web-header-logo.png
Tucson Roadrunners
2020-11-18 11:00:40
2020-11-18 11:10:42
Checking In: Ivan Prosvetov