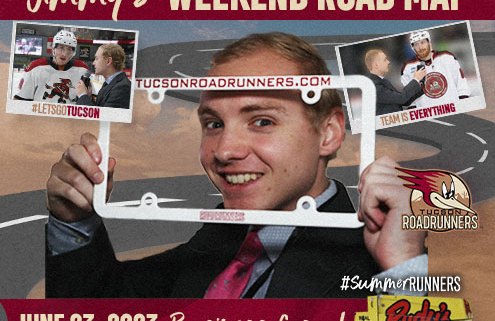 Welcome the first official Weekend Road Map of the summer, even if it's felt like summer here in Tucson since March. It's been a busy week for the Roadrunners and Arizona Coyotes, so I'll do my best of covering everything here. I'm writing this from Day 3 of the AHL Team Business Meetings here in Tucson at the JW Marriott Starr Pass Resort and Spa (simply "the JW Marriott" or "Starr Pass" for us locals). With that out of the way, let's get right into the top story of the week, courtesy of the Arizona Coyotes and General Manager Bill Armstrong.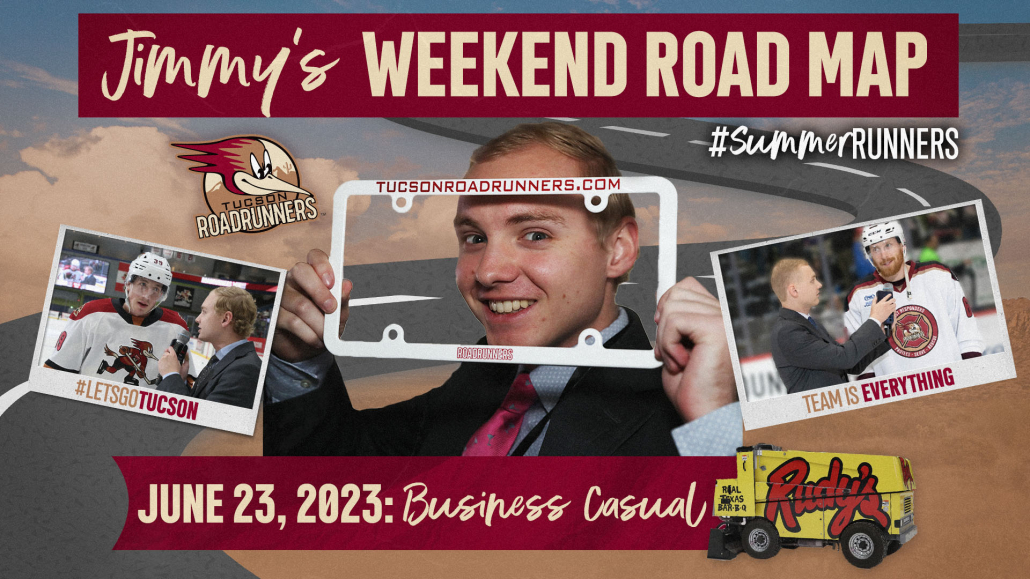 Keeping Up With Carcone
What a stretch it's been for Arizona Coyotes forward Mike Carcone. It was announced on Wednesday that Mike had signed a two-year, one-way contract with the Arizona Coyotes to remain in the desert (where he belongs, if you ask me). Before that, he won the Gold Medal with Team Canada at the 2023 IIHF World Championships. This all comes after a career year for the 27-year-old that saw him make his first AHL All-Star Appearance, be named to the AHL's First All-Star Team at the end of the season, win AHL Player of the Month honors for December 2022, and lead the entire American Hockey League in scoring. Mike had the best individual season in Tucson Roadrunners history without any debate, and it was so great to find out that he's in Arizona to stay.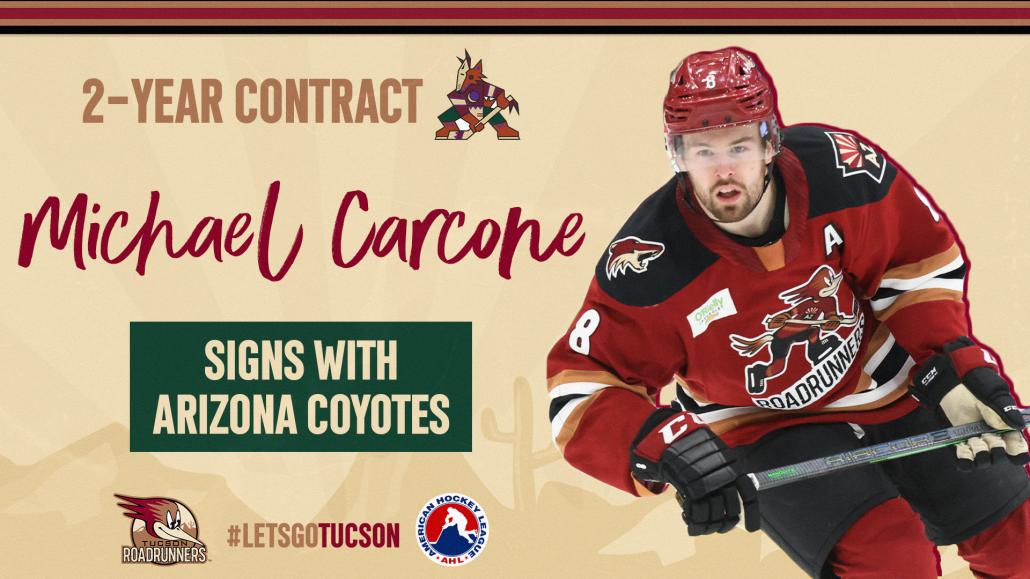 RRTV Guide
We had a lot of big news on RRTV Weekly this week, and it was all given to you once again by me (sorry about that). We gave one last shoutout to Roadrunners Alum Adin Hill on winning the Stanley Cup, and offered a rundown of our NHL Draft Party (Wednesday, June 28) and our NHL Preseason Game (October 7, 2023). We'll have more on both in a minute.
Goofball Number One Stops By The Podcast
As nominated by Adam Cracknell, Ryan "Goofball #1" McGregor joined us on the Insider Podcast. He gave us a lot of insight into having Curtis Douglas as a roommate and how much he's loved playing in Tucson for the last three seasons. You can listen to the episode below, and find all of our episodes at TucsonRoadrunners.com/Podcast or by looking us up on the iHeartRadio app. The full 1-On-1 archive that includes an article with the best from our interview with Ryan can be found at TucsonRoadrunners.com/ThisWeek. We'll have a special episode of the podcast for you next week with a carousel of high-profile guests from the 2023 AHL Team Business Meetings, which took place this week at the beautiful JW Marriott Starr Pass Resort. We may even have an early "4th of July" edition of the podcast coming out a few days later, before the month even changes to July.
Listen to "Ryan McGregor Rides To The Podcast" on Spreaker.
We Choose You
Wednesday, June 28, make sure you head to the Tucson Arena and join us for a 2023 NHL Draft Watch Party. If you have other plans, come up with an excuse before heading to the Tucson Arena to join us for a 2023 NHL Draft Watch Party. You get the idea, it's going to be a fun time. (and did we mention it's FREE?) Doors open at 3:45 p.m., and bring non-perishable food items to donate to The Tucson Family Food Project (it's not a requirement, but a little goes a long way in helping feed the Tucson community). Every donation enters you into special a raffle, and we'll also be having a separate $5 raffle for a game-worn White Kachina Jersey from this season.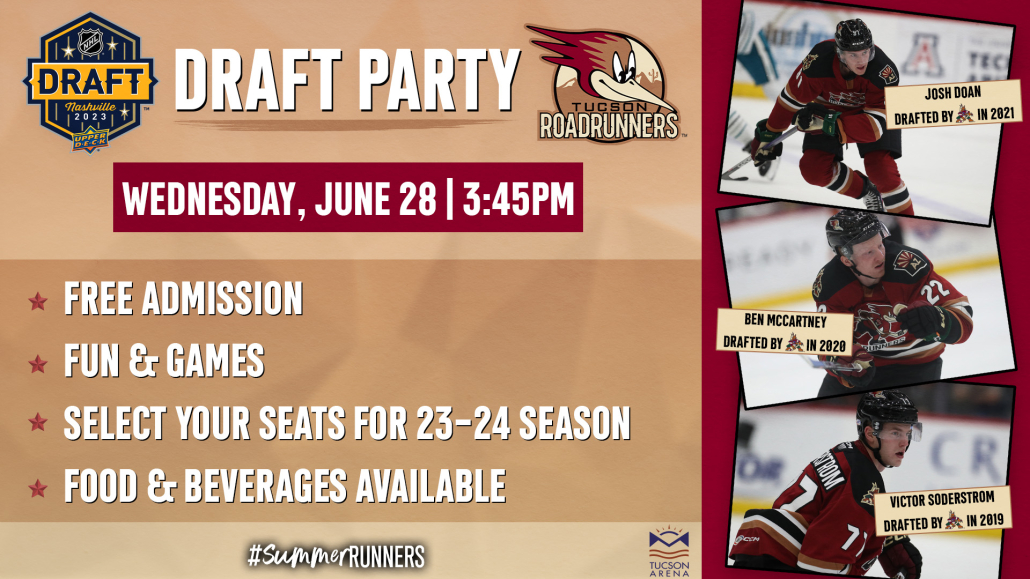 Speaking of those White Kachinas…
White Kachina Can Be Yours
After teasing it on RRTV Weekly a couple of weeks ago, there's finally a chance to get your hands on a game-worn Roadrunners White Kachina Jersey. The team made some great memories in those alternate uniforms this season, including a 6-3 come-from-behind win in their debut on November 19 against San Jose, and who could forget the four-goal comeback to force overtime and clinch the playoffs against Texas on April 8? Check out that event, which ends on Thursday, June 29, at TucsonRoadrunners.com/Kachina.
Friday Quick Fact
We were excited to announce with the Coyotes this week that their final preseason game before the 2023-24 season will take place at the Tucson Arena on Saturday, October 7 at 3:00 p.m. We'll have ticket information and more details at a later date, so let's first look back at our last NHL preseason game in Tucson. Sunday, September 25, 2022 saw the Coyotes host the Anaheim Ducks for a 2 p.m. matinee matchup in Southern Arizona. That game had eight Coyotes players that eventually took the ice for the Tucson Roadrunners in 2022-23, including the AHL's Leading Scorer Mike Carcone (that name sounds familiar). Mike dropped the gloves for a fight in front of his loyal Tucson fans, while Roadrunners Alum Christian Fischer tallied a goal and an assist. We'll be in line to see a Coyotes team that closely resembles their 2023 Opening Night roster, as the contest in Tucson will close out Arizona's preseason slate.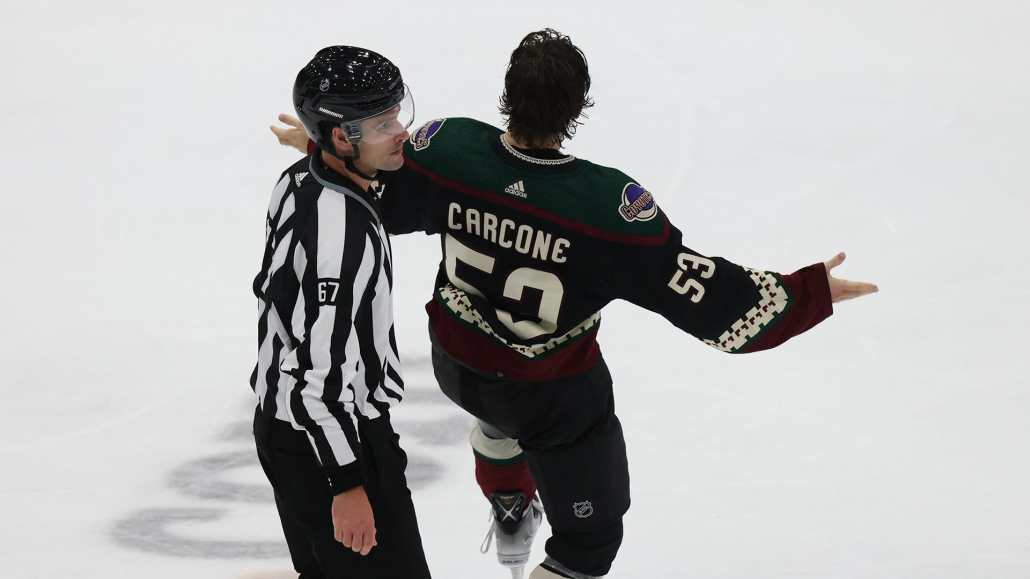 That's Mike Carcone post-fight, but what's not pictured is the roaring Tucson Arena crowd. You'll have to take my word for it, they loved it.
This Could Have Been An Email (Not Really)
This is the last time that I'll brag about getting to spend part of the week at the JW Marriott Starr Pass for the AHL Team Business Meetings (besides of course, our podcast recapping the meetings next week). I had some time on Thursday to just enjoy the scenery, so I thought I'd take the worst photo of a cup of coffee in human history. I did this to capture the beautiful backdrop of Southern Arizona (and a huge swimming pool) that Starr Pass provides. I think I have a chance of capturing the "blurry coffee photo" market with pictures like this, just you wait.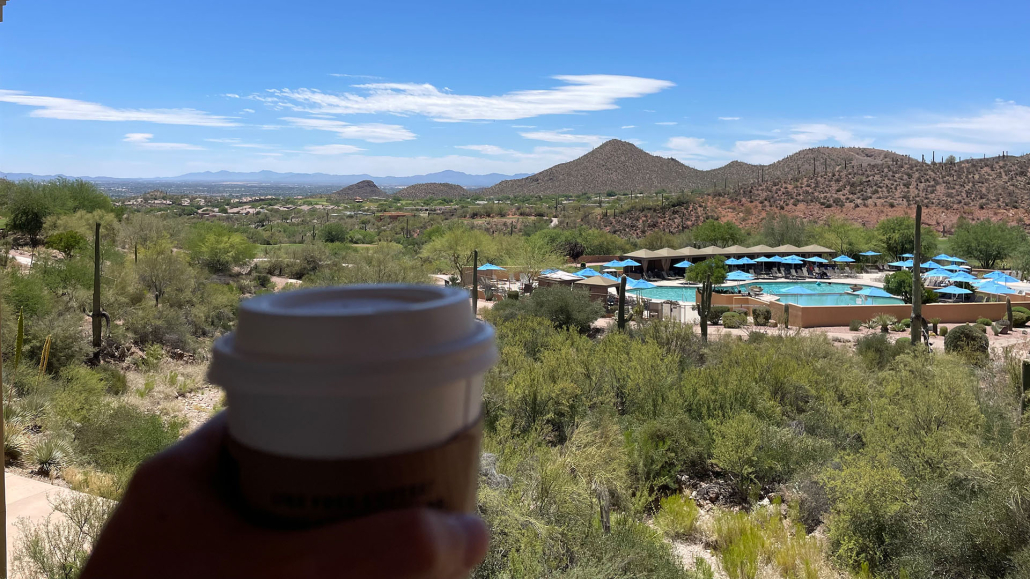 Thanks for making it to the end of a loaded Weekend Road Map! As you already know, you can email me about it at Jimmy.Peebles@TucsonRoadrunners.com and follow me on Twitter at @JimmyPeeblesAZ. This time, I'll even give you a prompt: with the White Kachinas up for bidding, what is your favorite Roadrunners jersey? Let me know your pick, have a great weekend, and I'll talk to you next week! #LetsGoTucson
//www.tucsonroadrunners.com/wp-content/uploads/2023/06/6.23-weekendroadmap_495x400.jpg
400
495
Jimmy Peebles
/wp-content/uploads/2019/06/web-header-logo.png
Jimmy Peebles
2023-06-23 07:30:00
2023-06-22 18:10:58
Jimmy's Weekend Road Map: Business Casual