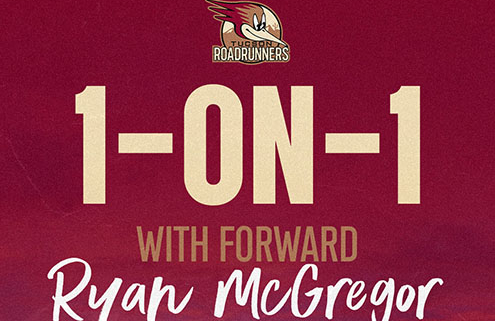 Tucson Roadrunners forward Ryan McGregor joined "Voice of the Roadrunners" Adrian Denny and TucsonRoadrunners.com's Jimmy Peebles on the Roadrunners Insider Podcast Monday, June 19 to talk about his third season with Tucson and how he became roommates with fellow Ontario native and Roadrunners teammate Curtis Douglas. The full episode, including Ryan detailing his bike ride to get coffee, can be found on the iHeartRadio App or by listening below.
Listen to "Ryan McGregor Rides To The Podcast" on Spreaker.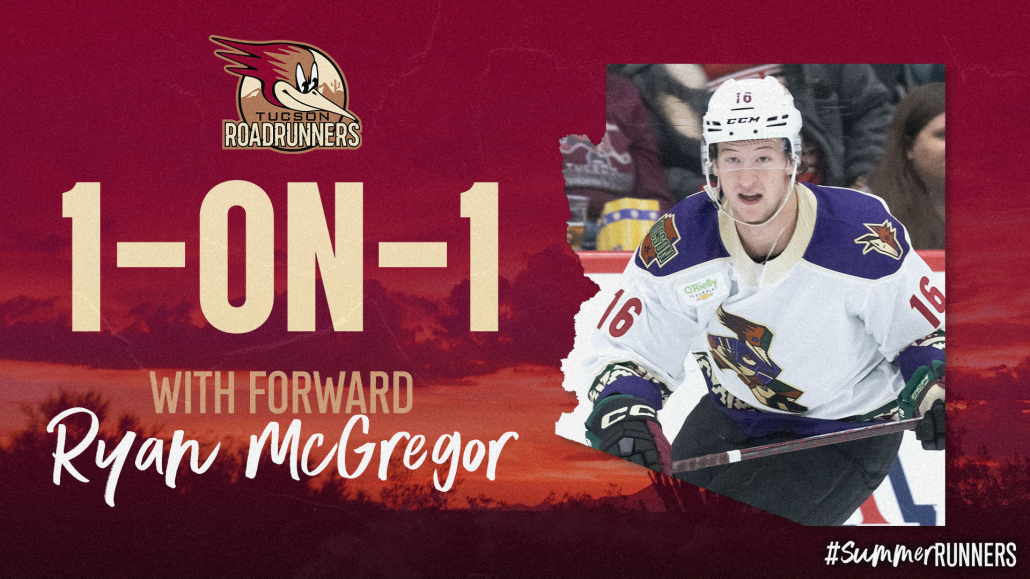 Q: Thanks for joining us today Ryan. First things first, is it true that you live near your teammate Curtis Douglas? And have you seen him since heading back to Ontario?
A: I do, we live probably 10 minutes away from each other. I saw him this weekend, were skating together. I've probably seen him a few times since coming home… [Before Tucson] we had a lot of mutual friends, but I had never really met him. I think we instantly clicked, and we've been good buddies ever since.
Q: You were back on the ice for a full season with us after missing some time in 2021-22, it looked like you picked up right where you left off in terms of development and skill.
A: Coming back from injury (in 2021-22) was a little tough to start. I was playing a little tentative, trying to feel things out a little bit. After a couple weeks of Training Camp, I started to figure it out again and have more confidence. I think it was a pretty good building year for the team, and we did a lot of good things. Obviously, we weren't happy with getting knocked out in the first round of the playoffs, but getting back there this year is going to be good to build off of for next year.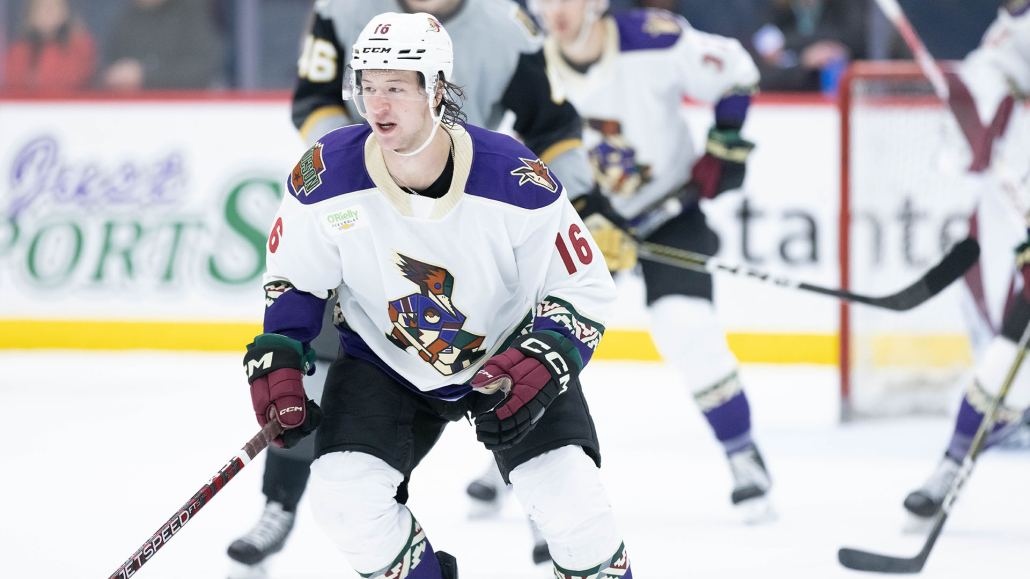 Q: What was your favorite part of this year?
A: That was my first real playoff experience, I think it was cool to get into that with the guys. And those games down the stretch where we were battling for a spot, every game meant so much. Having the team that we did, it was fun to just be with the guys.
Q: What do you remember about our playoff-clinching comeback against Texas on April 8?
A: The Texas game was a crazy one. To come back and tie it (down four goals), I actually had some buddies in town for that game too, so it was nice for them to see that. Celebrating with them after that was cool, and it felt good to clinch and be headed to the playoffs.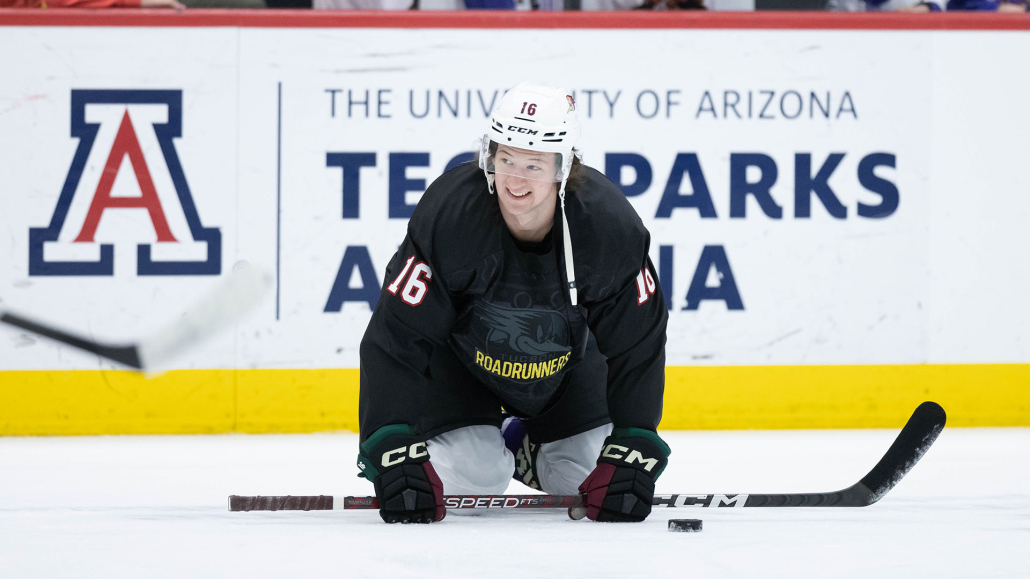 Q: After three seasons with us, does Tucson feel like a second home yet?
A: It's been awesome. I've loved every minute (in Tucson), and I'm always excited to be back after being home for the summer. Coming back and seeing the guys and being in the city is awesome.
Q: What have you enjoyed about being in Arizona for three seasons now?
A: We've had the same core of our coaching staff for (all three seasons). It's rare that you get to pretty much have the same coaches for three years, and it's been good to work with them and learn from them. Everyone that's been here has been great to me, including the equipment staff and training staff. It's been awesome.
Q: Tell us about the 2018-19 Toronto Marlies team you played a handful of games with that featured Mike Carcone, Hudson Elynuik and Adam Cracknell. Did you cross paths with any of them there?
A: I wasn't in the room a ton, but Mike Carcone and Hudson Elynuik were there when I was. It was nice to have some people that I kind of knew already here (in Tucson), and it was good to get back with them and talk about it.
Q: Have you gotten used to the two sides of hockey in the desert? You go to the rink in the morning for practice, then you can spend the rest of the day hiking or biking or relaxing by the pool.
A: It's awesome, it's probably one of my favorite things about playing in Tucson. Being able to wake up and not worry about shoveling snow or having to warm the car up. You wear shorts and flip-flops to head to the rink for the most of the year, then you get your work done and do whatever you want.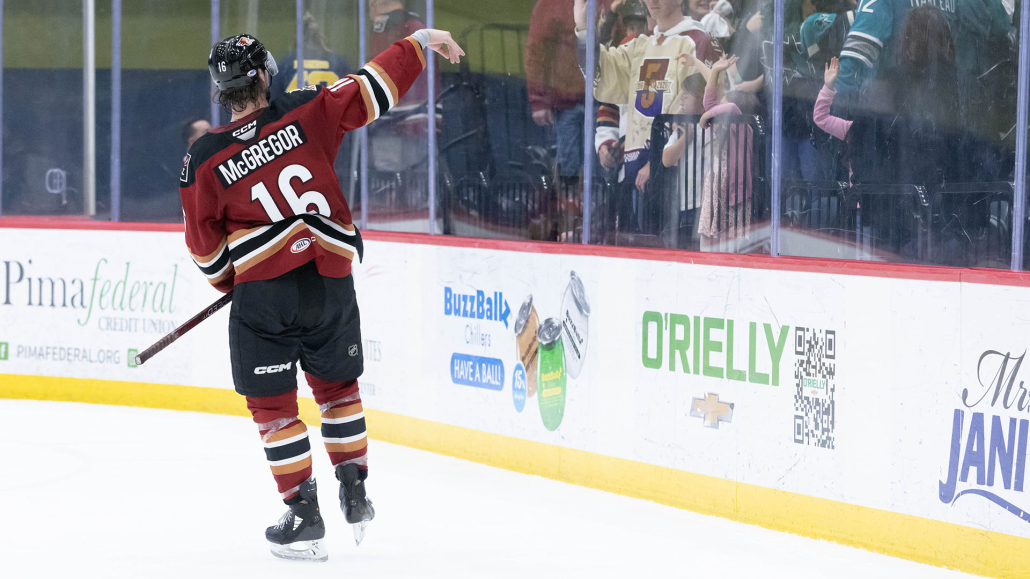 //www.tucsonroadrunners.com/wp-content/uploads/2023/06/495-McGregor-1on1.jpg
400
495
Jimmy Peebles
/wp-content/uploads/2019/06/web-header-logo.png
Jimmy Peebles
2023-06-22 17:20:57
2023-08-30 15:34:14
1-On-1 With Ryan McGregor