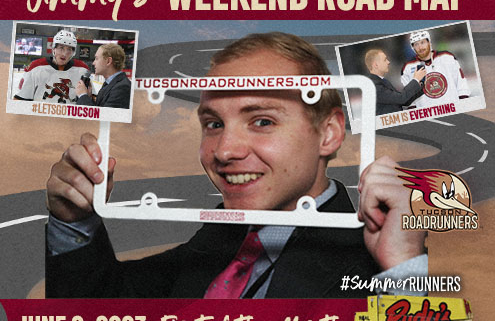 The Weekend Road Map has made it to June with a slightly new look for the new month (with the same great content, I hope). We're almost to Game One of the Stanley Cup Final between Adin Hill's Vegas Golden Knights and Anthony Duclair's Florida Panthers. Either way, we'll have a first-time champion that's also from a warm-weather hockey city, what's not to like about that? (Besides it not being the Coyotes just yet)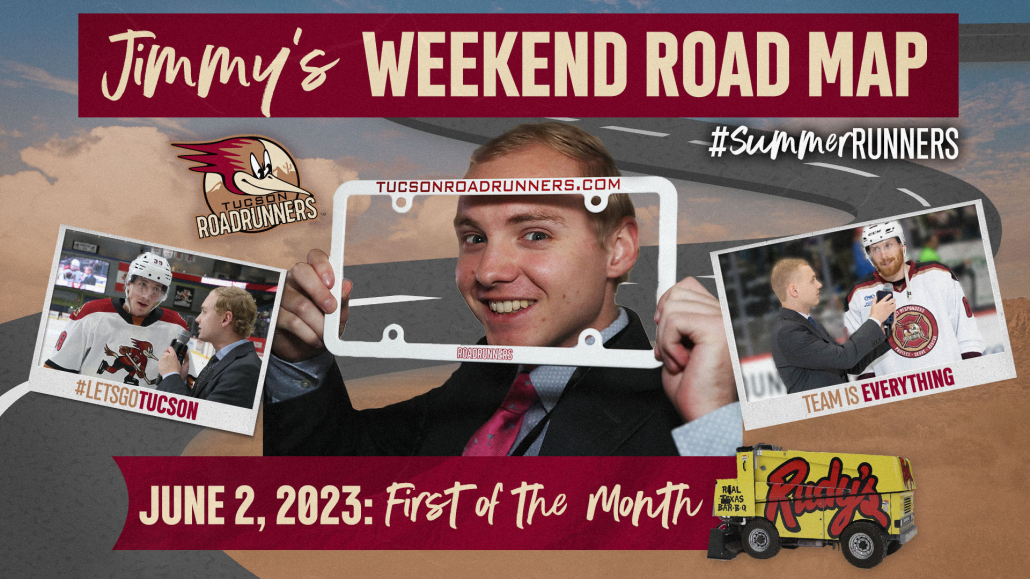 #SummerRunners Showcase
As promised, this week saw the launch of our #SummerRunners social media content. What did you think? Did you know the answer to the Tuesday Trivia question? The answer will exclusively be on our Instagram story (@RoadrunnersAHL) every week. Did you vote for your favorite highlight on Wednesday? That will be every Wednesday on our Twitter page, and I might even brag about which one I voted for when that highlight wins. As for this week, the winning hat trick was…
Mike Carcone's fourth hat trick as a Roadrunner from December 13, 2022! With 64 percent of the vote, Mike ran away with this one. That was a memorable game from the 2022-23 season, as the Roadrunners overcame an early 2-0 deficit against the Coachella Valley Firebirds to win 7-2 with a franchise record five power-play goals (two of which were scored by Carcone).
RRTV Guide
This week on RRTV, we gave an overview of #SummerRunners and what you can look forward to on our social media platforms. We also played the previous Insider Podcast clips of Travis Barron being nominated to join the show by Ben McCartney, Cam Crotty and Will Reilly. Take note of what polo Adrian wore for RRTV this week, because I showed up wearing the same one that day (NOT on purpose, I promise).
Travis Barron Takes On The Podcast
For this week's Insider Podcast, we once again took requests from our previous guests and brought on forward Travis Barron. The podcast was a day late, but no word on if it was a dollar short. It was great to have Travis on, we talked a lot about his routine and the day-to-day life of being a Tucson Roadrunner. You can listen to the episode below, and find all of our podcast episodes by visiting TucsonRoadrunners.com/Podcast or by looking us up on the iHeartRadio app. For the best of our interview with Travis (as always), check out the 1-On-1 at TucsonRoadrunners.com/ThisWeek. We're really excited for next week's episode, as we'll be sitting down with Roadrunners General Manager and Coyotes Assistant General Manager John Ferguson.
Listen to "Travis Barron Back On The Ice" on Spreaker.
Went For Gold
A quick shoutout to Mike Carcone, former Roadrunner/current Arizona Coyotes forward Lawson Crouse, other members of the Coyotes organization: forward Jack McBain, Head Coach André Tourigny, Captain Coyote Shane Doan, and all of Team Canada for winning the Gold Medal at the 2023 IIHF World Championship. Mike finished the tournament with three goals and three assists for six points with a plus-four. Former Roadrunner and current Coyotes forward Lawson Crouse notched nine points and was tied for the team lead with six goals, while Arizona forward Jack McBain tallied four points (2g 2a). Team Canada won five of their seven preliminary games before beating Finland, Latvia and Germany in the playoffs on their way to the Gold. I think the Arizona Coyotes said it best with this tweet:
Stay Golden!

Congratulations to Lawson Crouse, Jack McBain, Michael Carcone, André Tourigny, and Shane Doan for winning gold with Team Canada at the 2023 #IIHFWorlds! pic.twitter.com/RTPdm0fYIW

— Arizona Coyotes (@ArizonaCoyotes) May 28, 2023
Friday Quick Fact
Now that we're into June, I think it's a perfect time to talk about our last Teddy Bear Toss Game. This year's Teddy Bear Toss goal was scored by, well, Bear. Travis Barron netted the special score on December 10, 2022, to send the teddy bears flying down to the ice.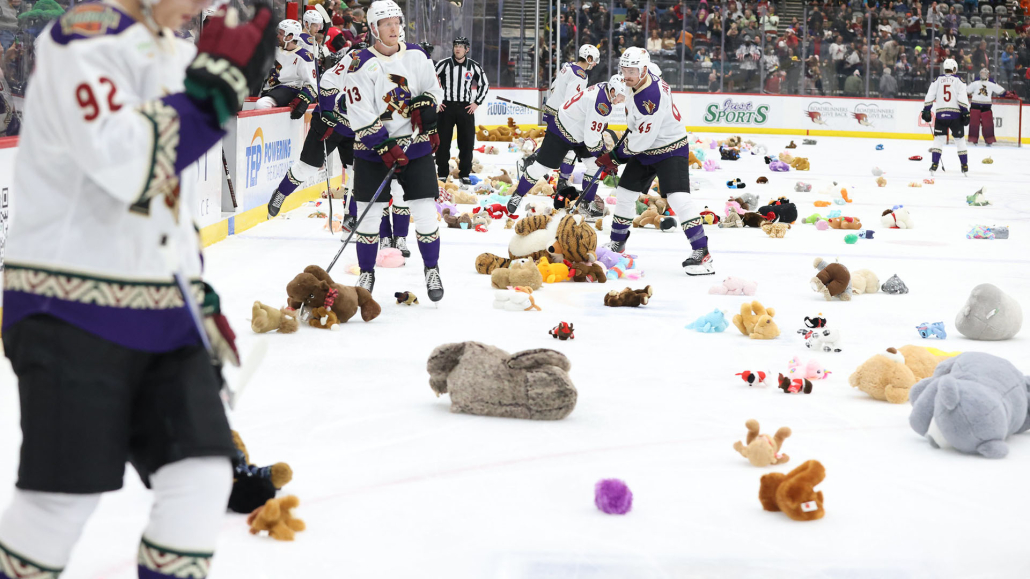 If you've already checked out this week's 1-On-1 with Travis, you might have noticed him celebrating in the White Kachinas as part of the 1-On-1 Graphic. That picture was taken in the few seconds between him scoring the Teddy Bear Toss Goal and the bears making their way to the ice. Speaking of the White Kachinas, stay tuned for an event involving them later this month…
Someone Said You Sound Like An Owl
I'll find any excuse to talk about our Jr Roadrunners fundraiser at Hooters last week, so I made sure to take a food pic to use in the Road Map. It was my first time at Hooters, so it was also my first time trying their BBQ boneless wings. I have to say, I was impressed.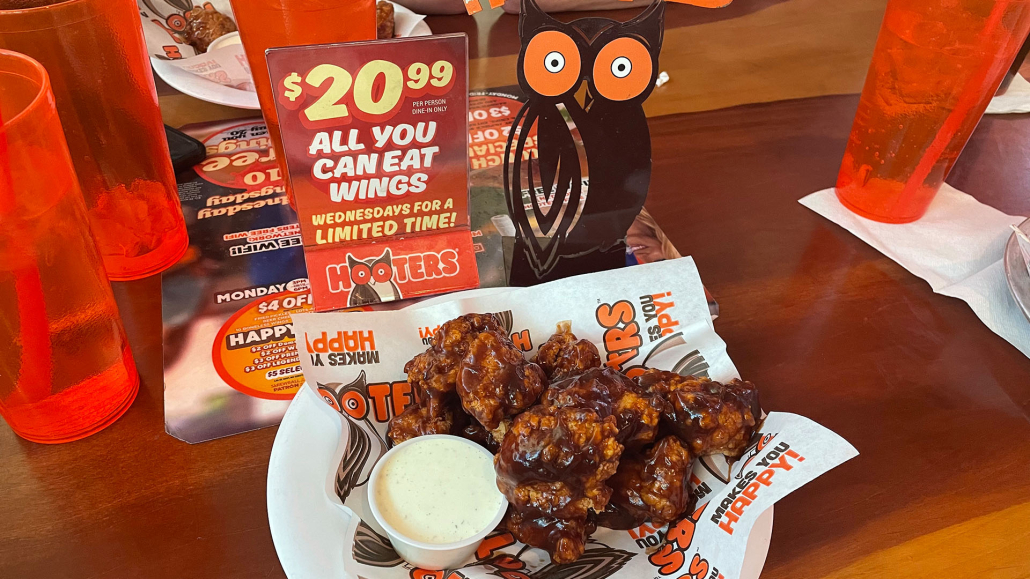 It was so awesome to see all of the Jr Roadrunners families and dedicated Roadrunners fans in attendance for the event. That type of turnout isn't a guarantee for any team at any level, it's all of you in Tucson that make those events not only possible, but special.
As always, a big thanks for making it to the end of another Weekend Road Map! Got any questions, comments or feedback? Email me at Jimmy.Peebles@TucsonRoadrunners.com and follow me on Twitter at @JimmyPeeblesAZ. Have a great weekend, and I'll talk to you next week! #LetsGoTucson
//www.tucsonroadrunners.com/wp-content/uploads/2023/06/6.1.23-weekendroadmap_495x400.jpg
400
495
Jimmy Peebles
/wp-content/uploads/2019/06/web-header-logo.png
Jimmy Peebles
2023-06-02 07:15:00
2023-06-01 12:56:10
Jimmy's Weekend Road Map: First Of The Month