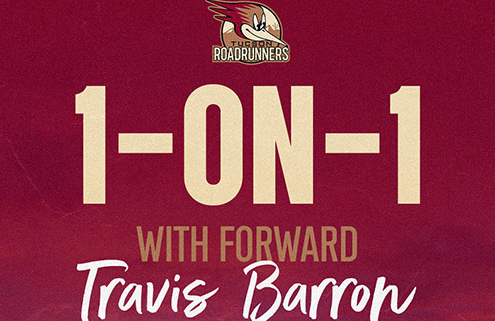 Roadrunners forward Travis Barron joined "Voice of the Roadrunners" Adrian Denny and TucsonRoadrunners.com's Jimmy Peebles on the Roadrunners Insider Podcast on Tuesday, May 30 after being nominated by each of the previous three teammates to appear on the show. The 24-year-old described his second year in the desert and his offseason routine from Ontario, Canada. The full episode, including Travis' nomination for the next teammate to join the podcast, can be found on the iHeartRadio App or by listening below.
Listen to "Travis Barron Back On The Ice" on Spreaker.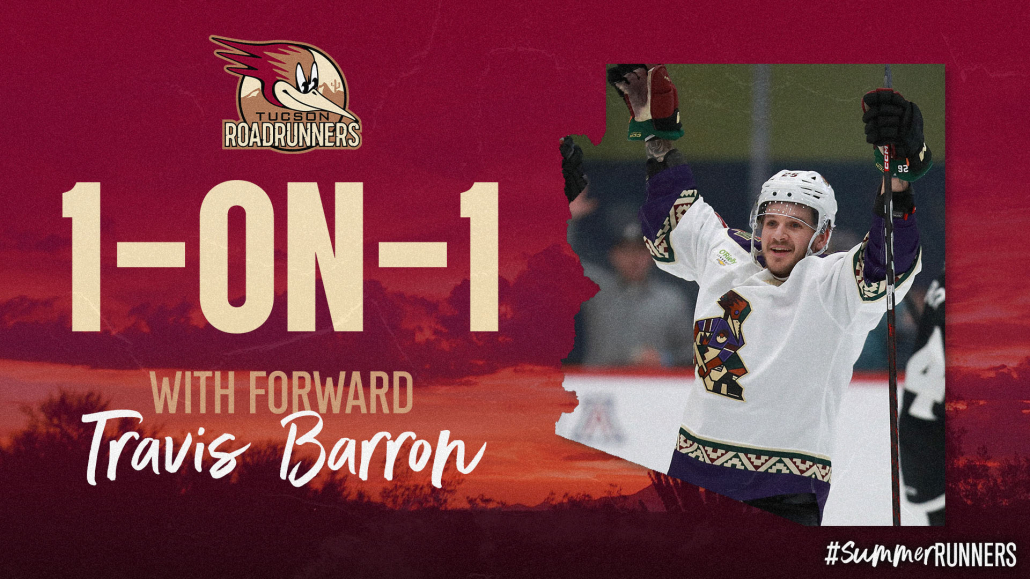 Q: Travis, welcome back to the Podcast. We hear today was also your first day back on the ice, congratulations.
A: Thank you, it's been about two and a half months since I last tied my skates. I don't think I've been off of the ice that long since I was two years old. It feels good to be back out there.
Q: Why do you think you were nominated three weeks in a row by Ben McCartney, Cam Crotty and Will Reilly?
A: I don't know. I've touched on maybe starting a podcast when I'm done playing hockey, so maybe they remembered that. Maybe they just like having conversations with me, but it's good to see I'm a hot topic.
Q: Will Reilly told us you're back home in Ontario, when did you get back and what have you been up to?
A: [I went back] the week after we lost in Coachella Valley. It's a different offseason for me, typically those first couple of weeks are right to the golf course to regroup after your season ends. For me, this offseason was straight to physio. It's been a little bit different.
Q: What do you take away from your second season in the desert?
A: I had a blast, we had a good team with a lot of good guys. We had a really special group in regards to the friendships we made. It sucks losing in the playoffs, but it was a step from the year before, and we took a really good team to the last game [of the series]. For myself, I feel like I took some big steps forward a hardnose player, and hopefully I can continue to get better.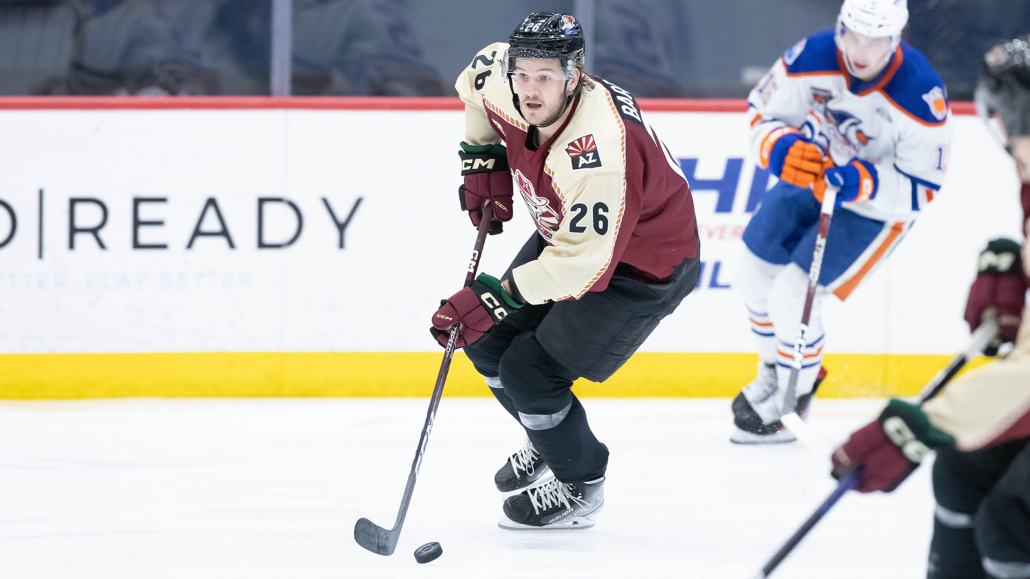 Q: You were behind some of our favorite moments at the Tucson Arena this season when you dropped the gloves and fought. Could you feel the energy our fans brought every night?
A: It's always special and fun knowing that the people of Tucson have your back. They're the backbone, and it's always positive and always fun. They're all good people, and we've gotten to know them through events that have been organized. They're passionate about the Roadrunners, but ultimately they care about us as people. They always have our backs.
Q: What have you enjoyed the most about the day-to-day life of being a Tucson Roadrunner?
A: The quality of life is unbelievable. You go to the hockey rink and you're wearing golf shorts and flip-flops, it's pretty special. Even if we're going through a tough slide, you go to the rink and it's sunny and warm when you leave. It's good and it's healthy, there's nothing to complain about in Tucson at all.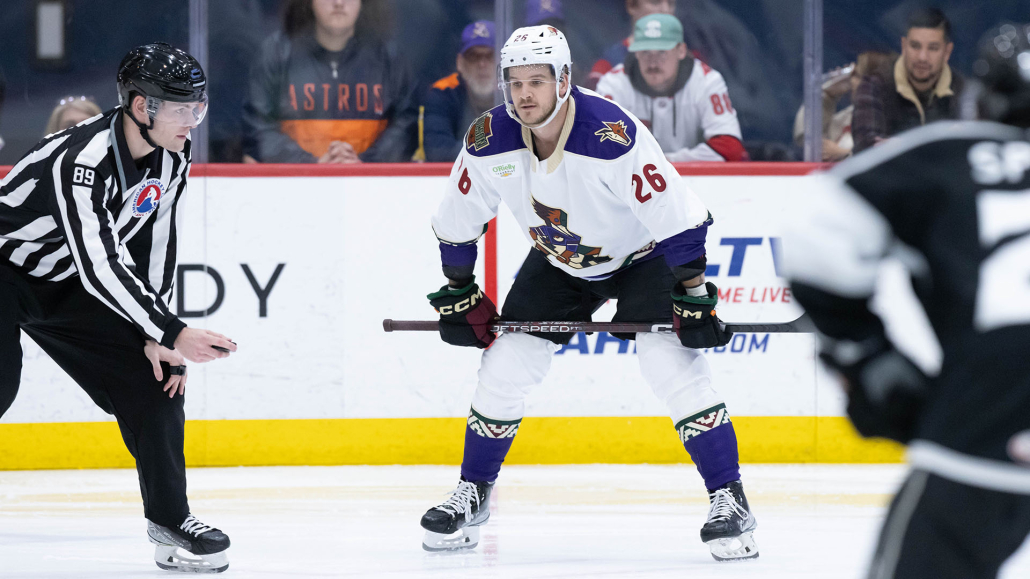 Q: What's your favorite part of the hockey routine during the season?
A: I'd argue the pregame nap is my favorite *laughs* you kick your feet up at noon and sleep until two or three o'clock in the afternoon. It's always nice to get an excuse to nap. I'd also say playing soccer before the game is a blast, it gets your mind away from it and gets you locked in at the same time. There's a good group of us that plays, it's fun.
Q: Are there any Tucson teammates that you've grown close with in your two seasons here?
A: I'd say Mike Carcone. We've grown a good relationship over the past couple of years. I had heard of him before growing up in Ontario too. Another guy would be Boko Imama. Playing against him when he was with Ontario was scary, he was a scary threat out there. He used to bark and scream at me all time, so it's been fun to be on his side. He's an awesome man, a good hockey player, and a good friend.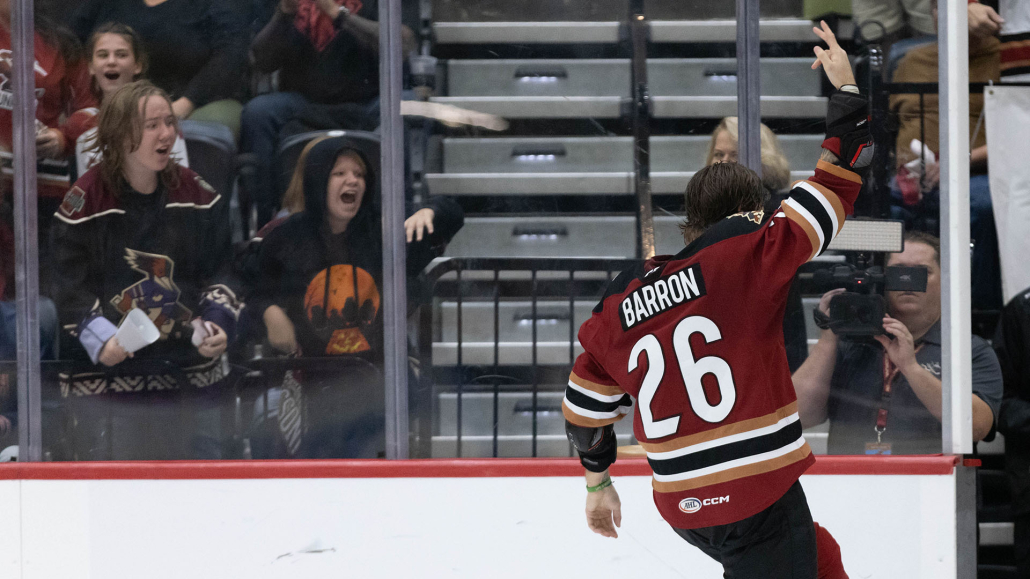 Q: Do you have any intermission superstitions?
A: I used to have a bunch growing up as a kid, but as I've gotten older I just relax and let the game happen. I feel like it was a lot to deal with mentally if you do things a certain way. You forget to do one of those things, and your mind is everywhere and your game is ruined mentally. I try to stay away from that stuff.
//www.tucsonroadrunners.com/wp-content/uploads/2023/05/5.31-495.jpg
400
495
Jimmy Peebles
/wp-content/uploads/2019/06/web-header-logo.png
Jimmy Peebles
2023-05-31 12:39:27
2023-05-31 12:39:28
1-On-1 With Travis Barron