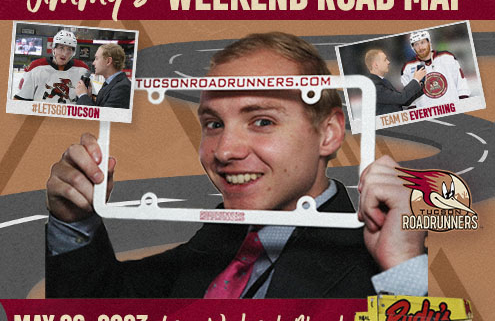 The Weekend Road Map is here before the long Memorial Day Weekend gets underway (unless you got an early start and made it a four-day weekend, lucky you). I'm getting ready for the weekend by helping clean up Alameda Street in Downtown Tucson with the Roadrunners Front Office staff Friday morning. After that, it's anyone's guess what I'll be doing.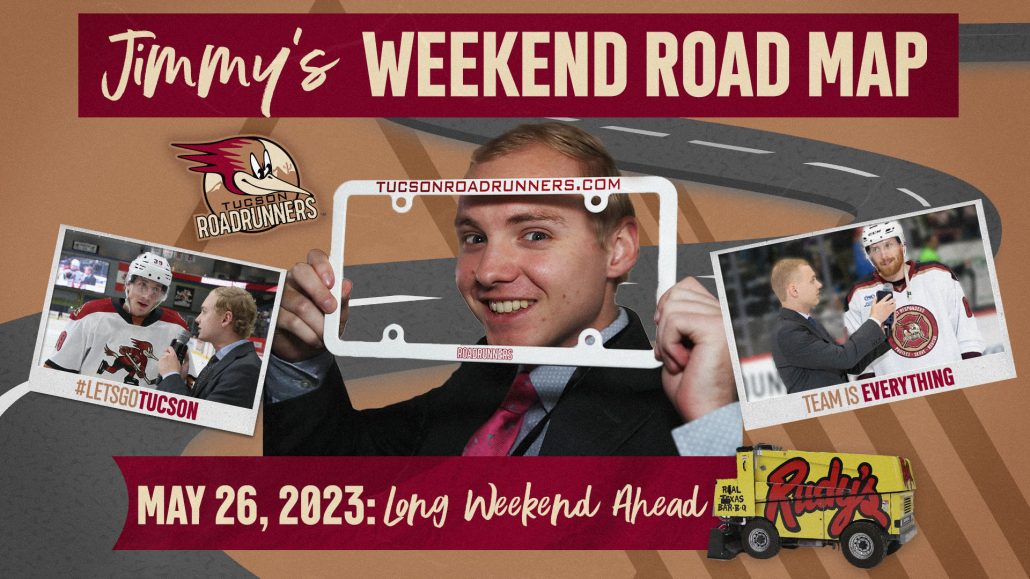 The Start Of Summer
Memorial Day Weekend marks the unofficial start of summer for some, but for us it means we'll have even more fun social media content to get you through the offseason. Be on the lookout beginning Sunday night with the return of "Sunday Night With The Guys" led off by forward Boko Imama. I was also able to steal this from the office for a sneak peek at a new feature: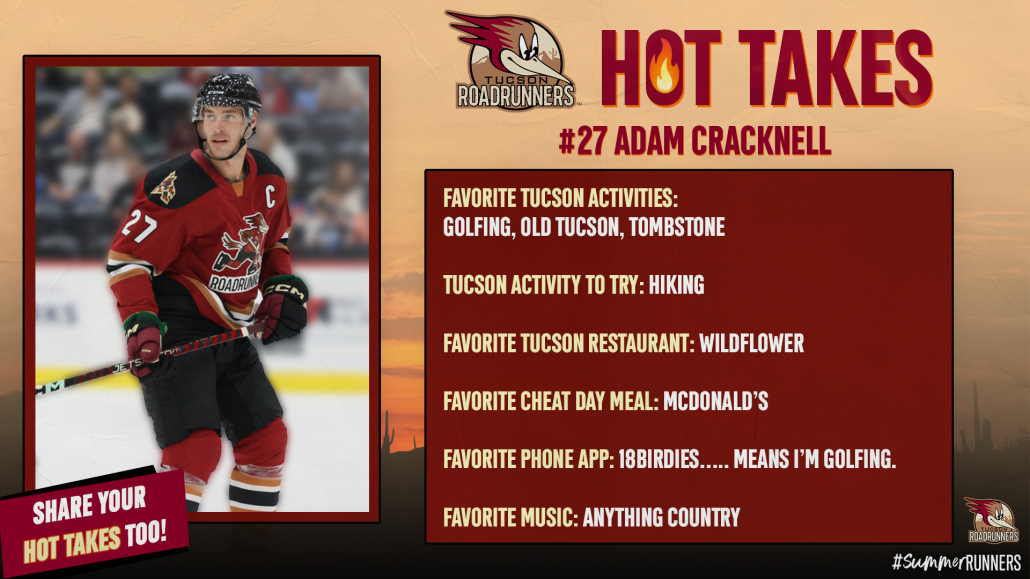 RRTV Guide
This week on RRTV, we gave a shoutout to another year one Roadrunner, Anthony Duclair, after the 27-year-old forward and the Florida Panthers advanced to the Stanley Cup Final with a sweep of the Carolina Hurricanes. The win got us one step closer to guaranteeing the name of a former Tucson Roadrunner would be etched on the Stanley Cup, as Adin Hill and the Vegas Golden Knights continue their impressive run in the Western Conference.
Anthony Duclair is one half of the Duclair-Imama Foundation with current Tucson forward Boko Imama, a newly-established foundation that the Roadrunners partnered with during February for Black History Month. Check out their website and learn more at DuclairImama.com.
Will Reilly: The Players' Choice
This week on the Tucson Roadrunners Insider Podcast, "Voice of the Roadrunners" Adrian Denny and I were joined by defenseman Will Reilly, who had been nominated by our previous guest Cam Crotty. Find out why Will was chosen and hear more about his legendary golf game (every player on the team we've asked has said he's by far the best golfer on the team) by checking out the episode below. You can also find all of our podcast episodes by visiting TucsonRoadrunners.com/Podcast and the iHeartRadio app. A quick note, next week's episode with another player nominee, Travis Barron, will go out on Tuesday rather than our usual Monday release. In the meantime, you can still read the best from Will's interview at TucsonRoadrunners.com/ThisWeek.
Listen to "Will Reilly By Popular Player Demand" on Spreaker.
A "Hoot" With the Junior Roadrunners
I hope you had a chance to head over to the Hooters at Broadway and Kolb Thursday night for the Junior Roadrunners fundraiser (if you didn't, no hard feelings, but I'll remember that). The Communications & Broadcasting department made sure to stop by to support our favorite youth hockey program, and to hang out with Mascot Dusty over dinner. The Junior Roadrunners see so much effort put into it by the players, parents and coaches, and the 12U team even took home the State Championship this season!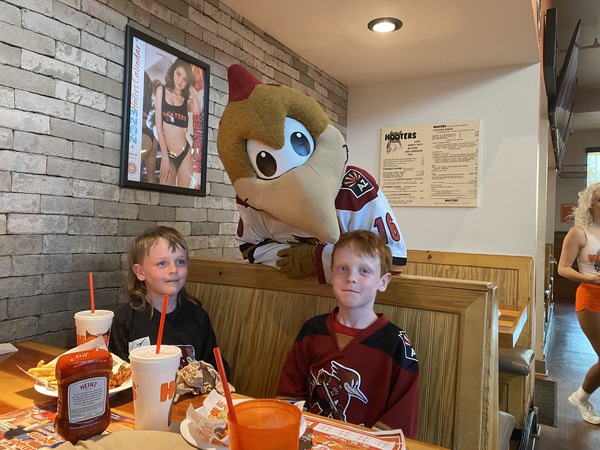 Friday Quick Fact
Speaking of the Junior Roadrunners, did you know that a number of AHL Roadrunners stopped by their practices of all ages throughout the 2022-23 season? Along with forwards Travis Barron, Nathan Smith, Hudson Elynuik, and Ryan McGregor, and defensemen Will Reilly, Devante Stephens and Cam Crotty, goaltender Ivan Prosvetov's visit to practice gave us a rare opportunity to see Ivan on the ice without goalie gear. Ivan even used a skater's stick that he "borrowed" from the locker room while he was running full-on goaltending drills (I think he said it was Ben McCartney's stick, but you'll have to ask him yourself when you see him).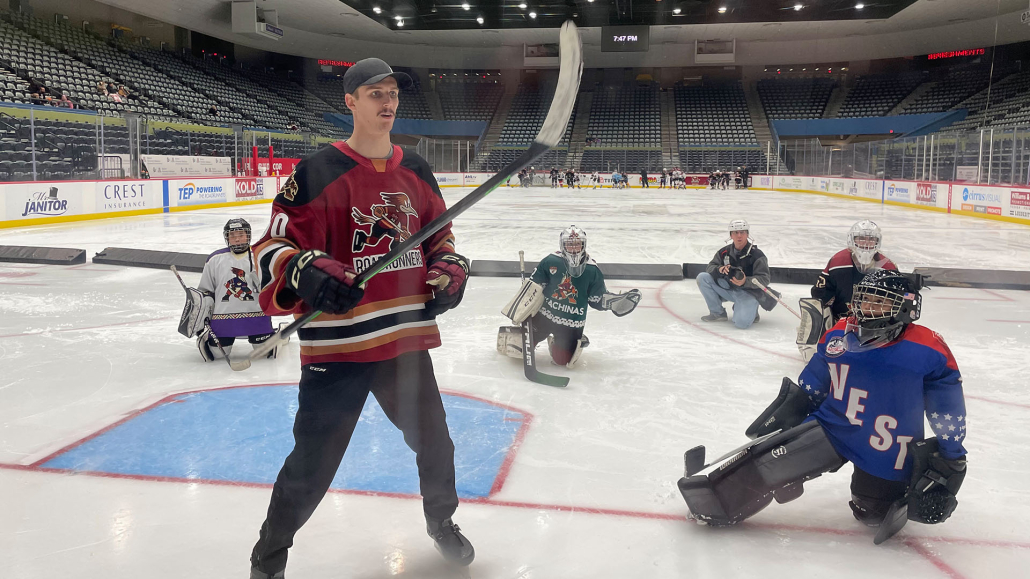 The Sol Of Tucson
Last Friday, I was able to attend the Better Business Bureau's Torch Awards at Casino Del Sol with other members of the Roadrunners front office. We had a blast, and the food was fantastic. Below is the main course, a grilled beef tenderloin with seasonal vegetables and whipped potatoes: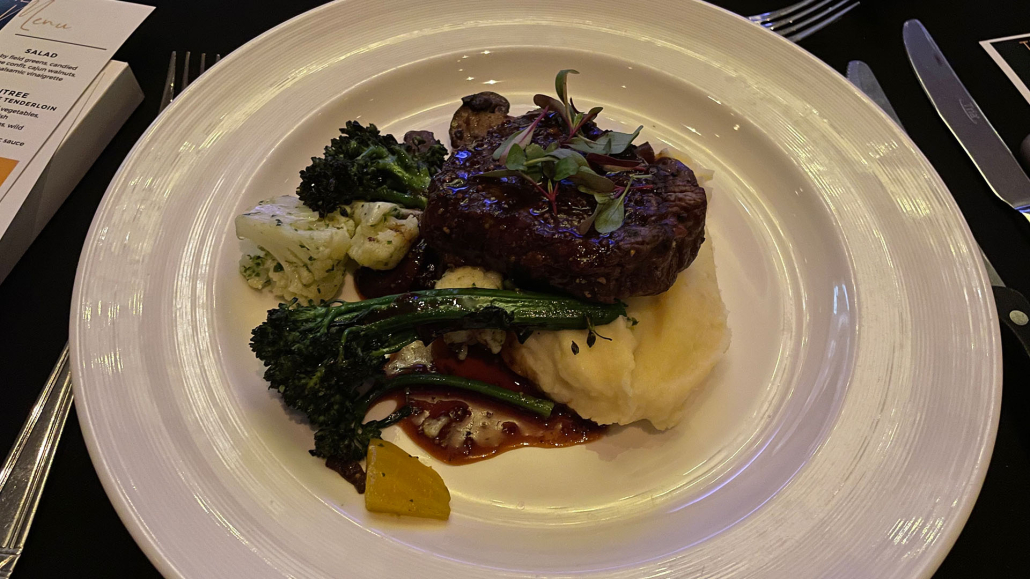 Not pictured is the dulce de leche cheesecake I had to stare at for the entire dinner before finally getting to dig in. I won't name any names (except Kim), but not everyone waited until the end to give it a try…
As always, a big thank you for checking out the Weekend Road Map! You can direct any questions, comments or feedback to me email at Jimmy.Peebles@TucsonRoadrunners.com and be sure to follow me on Twitter at @JimmyPeeblesAZ. Enjoy your long weekend, and I'll talk to you next week! #LetsGoTucson
//www.tucsonroadrunners.com/wp-content/uploads/2023/05/5.26-weekendroadmap_495x400.jpg
400
495
Jimmy Peebles
/wp-content/uploads/2019/06/web-header-logo.png
Jimmy Peebles
2023-05-26 06:57:35
2023-05-26 06:57:37
Jimmy's Weekend Road Map: Long Weekend Ahead