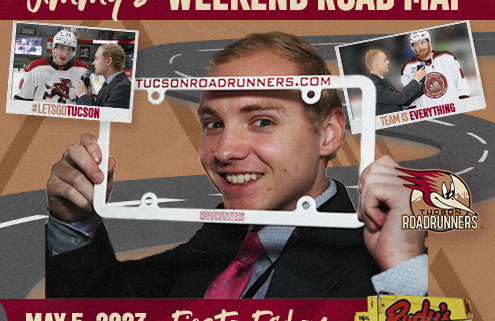 The Weekend Road Map hits the streets for a Cinco de Mayo Fiesta Friday! I'm Jimmy Peebles, you can hear me on the radio for Roadrunners Warm-Up and Postgame during the season, as well as on the Tucson Roadrunners Insider Podcast year-round. I'm so excited to be bringing you a Weekend Road Map all offseason long (you wouldn't believe how much convincing this took/they'll give anyone a blog these days, you decide) Check in every Friday for your weekend update, and to catch up on anything you may have missed throughout the week along with fun facts, food pics, and anything else I can get past my proofreader.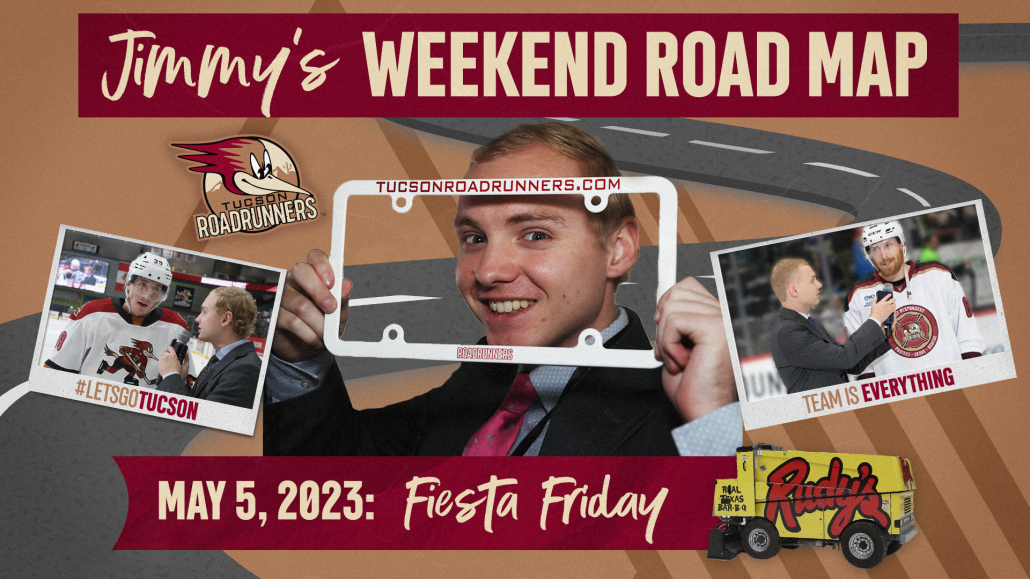 In Case You Missed ICYMI:
Earlier this week, we announced our 2023 Opening Night date (Saturday, October 21 at 7:00 p.m.) and unveiled discounted ticket pricing for Opening Night that lasts until May 31. You can find that special offer at TucsonRoadrunners.com/OpeningNight, and we'll have another ticket announcement coming sometime next week…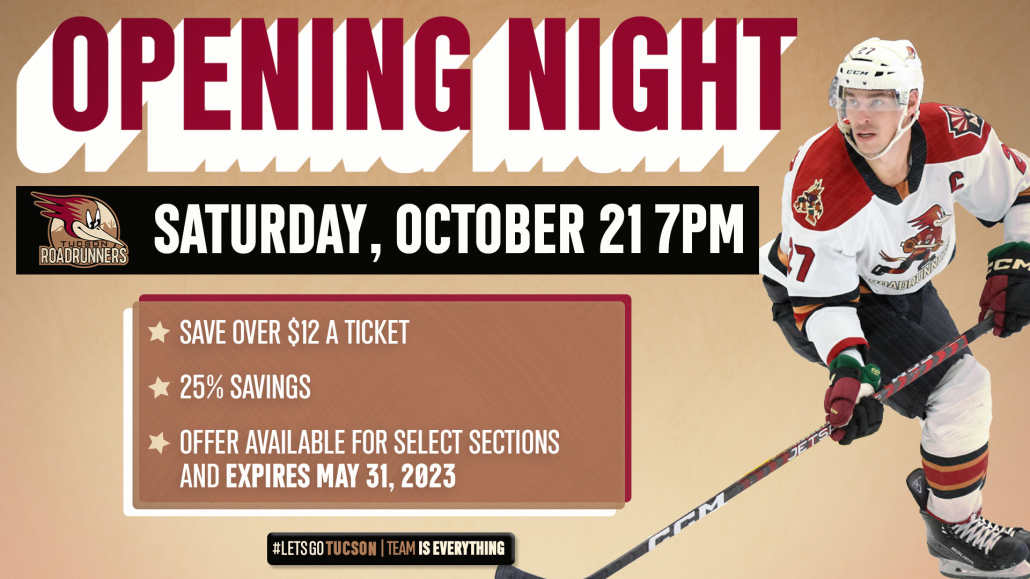 RRTV Guide
This week on RRTV, we recognized forward Boko Imama as our IOA/American Specialty AHL Man of the Year for the second-straight season. We also heard from forward Cam Hebig, defenseman Cam Crotty and forward Colin Theisen about the 2022-2023 season that saw the Roadrunners improve their win total by seven from 2021-2022 and make their return to the Calder Cup Playoffs.
Summer Listening In Full Swing
In our first official Offseason Edition of the Roadrunners Insider Podcast, "Voice of the Roadrunners" Adrian Denny and I led things off with the AHL's leading scorer and Roadrunners forward Mike Carcone. Mike gave his thoughts on the strides he and the team took in 2022-23, which included him shattering Tucson franchise records in goals, assists, points, power-play goals, and shots on goal on the way to guiding the Roadrunners to the 2023 Calder Cup Playoffs. You can listen to the full episode below or by visiting TucsonRoadrunners.com/Podcast and the iHeartRadio app. If you just want a quick read, you can find an article with the best from our interview with Mike Carcone at TucsonRoadrunners.com/ThisWeek.
Listen to "Mike Carcone Kicks Off The Offseason" on Spreaker.
We also debuted our new "Fun" Questions for the Summer, such as "what's your favorite off-day activity in Tucson?" and "what's your go-to cheat meal?" (The "Fun" will be kept in quotes until further notice). Tune in next week when we catch up with another 22-23 Alternate Captain, forward Ben McCartney.
Roadrunners Alumni On Playoff Runs
With the NHL's Stanley Cup Playoffs underway in the Second Round, former Tucson Roadrunners forward Michael Bunting lit the lamp for the Toronto Maple Leafs in Game One against the Florida Panthers on Tuesday. An original Roadrunner (2016-2021), Bunting is the all-time Tucson franchise leader in goals (74), assists (106), and total points (180), and is second all-time in both games played (260) and penalty minutes (244).
Other notable former Roadrunners on current NHL Playoff rosters:
Cam Dineen (2018-2023), Edmonton Oilers
Dysin Mayo (2016-2023), Vegas Golden Knights
Adin Hill (2016-2021), Vegas Golden Knights
Anthony Duclair (2016-2017), Florida Panthers
Friday Quick Fact
With Opening Night tickets now on sale, it's a perfect time to mention that the Roadrunners have won their first game at the Tucson Arena in each of the last five seasons. This includes the first game of the 2021 season, where the Roadrunners were the designated visiting team for a 2-1 overtime victory against the San Jose Barracuda at the Tucson Arena on February 7, 2021. We've also seen a Roadrunners player record a hat trick in each of our last two Opening Weekends in the Old Pueblo (exactly one year apart!): Laurent Dauphin against the Bakersfield Condors on October 23, 2022, and Ben McCartney against the Texas Stars on October 23, 2021.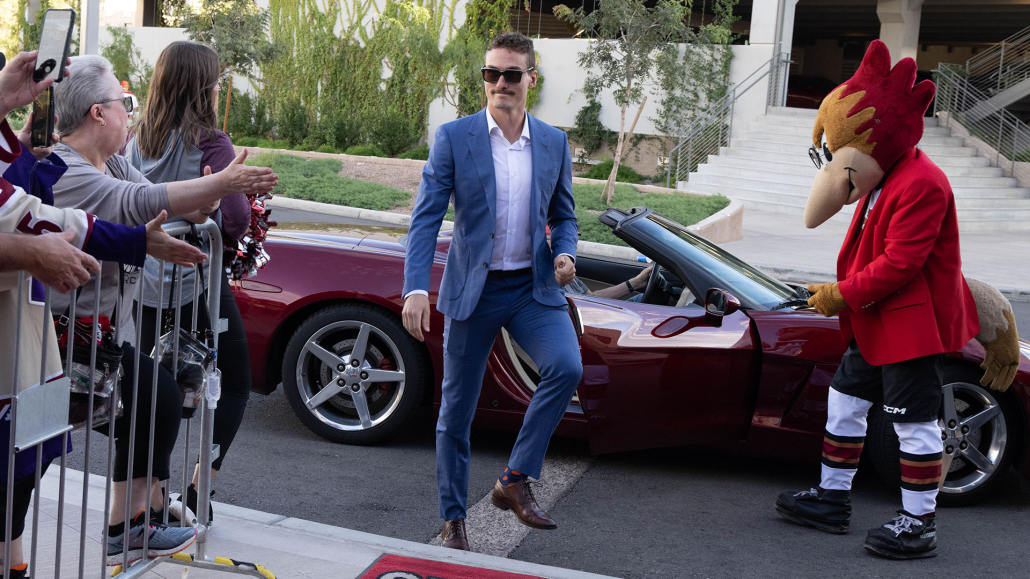 Save Room For…
In an attempt to beat the Cinco de Mayo crowds, some of my friends and I celebrated "Cuatro de Mayo" on Thursday night by going to one of our favorite restaurants in Tucson: Guadalajara Original Grill. Pictured here is the Pollo en Mole that I get more often than not: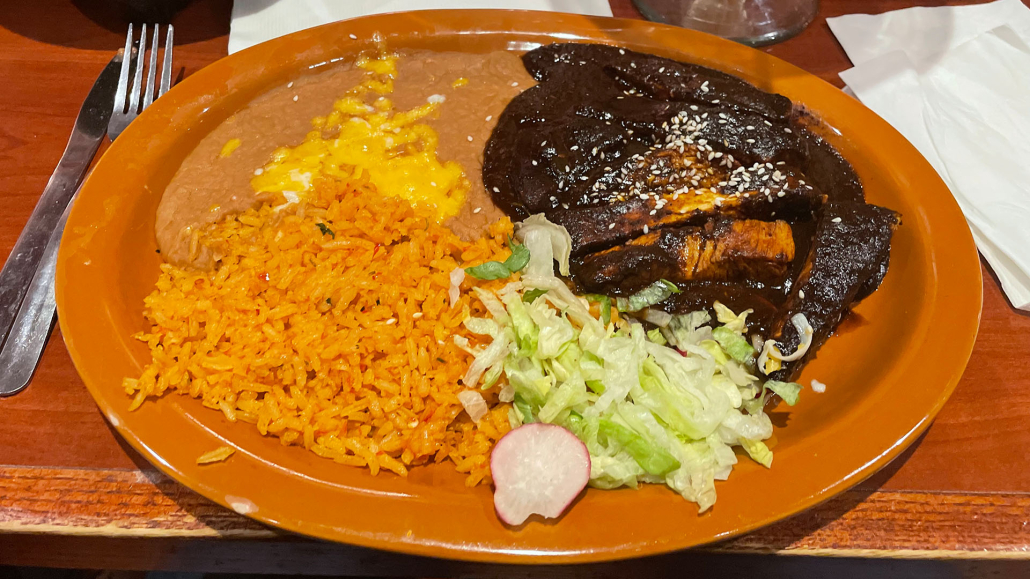 Thanks for checking out our first Weekend Road Map! If you have any feedback, questions, or harsh criticisms, don't hesitate to email me at Jimmy.Peebles@TucsonRoadrunners.com or find me on Twitter at @JimmyPeeblesAZ. Talk to you next week! #LetsGoTucson
//www.tucsonroadrunners.com/wp-content/uploads/2023/05/5-5_weekendroadmap_495x400.jpg
400
495
Jimmy Peebles
/wp-content/uploads/2019/06/web-header-logo.png
Jimmy Peebles
2023-05-05 14:53:58
2023-05-05 14:53:59
Jimmy's Weekend Road Map: Friday Fiesta