Tucson Roadrunners Forward and the AHL's Leading Scorer for the 2022-2023 season, Mike Carcone, was the first offseason guest on the Tucson Roadrunners Insider Podcast. Carcone discussed his third season in the desert that saw the 26-year-old set career highs and Tucson franchise records across the board with 31 goals, 54 assists and 85 total points. The full episode can be found on the iHeartRadio App or by listening below.
Listen to "Mike Carcone Kicks Off The Offseason" on Spreaker.

Q: Mike, thanks for joining us. Did you think you'd have a little bit more of a break before the Podcast came calling this offseason?
A: Last year I at least made it home [to Ontario] *laughs* but this year we're getting right after it, I love it.
Q: What are your takeaways from this season, both from an individual standpoint and a team standpoint?
A: I think we took strides this year. It's hard to get to the playoffs, and going and playing the second best team in the American Hockey League was a good test. It was a battle all year, and we had guys step in and help us [along the way]. There were ups and downs through it all, but I liked the way we stuck together. Our biggest strength was the people in the room and how tight we were, I wouldn't change a thing there looking back at it. We obviously want to bring the core group back and get to work again next year.
Q: This was your third season with us, and in that time we've made strides as an organization that got us to the playoffs this year.
A: Exactly. It's a process, just like it is in the NHL. We went from a very young team my first year, to taking strides last year, to making the playoffs this year. I think our goal next year is to go on a deep run, and get that experience and hopefully turn it into a Calder Cup. Everything takes time.
Q: You wore the "A" with us an Alternate Captain this year, and we saw you elevate everyone you played with on your line or on the power-play. What does that leadership mean to you?
A: To me, it means a lot. I want to be a guy that guys can lean on and look up to, somebody that they can follow. Hopefully I'm doing a good job of that, you'll have to ask them, but I just try to do what I can on the ice and be a good person off the ice.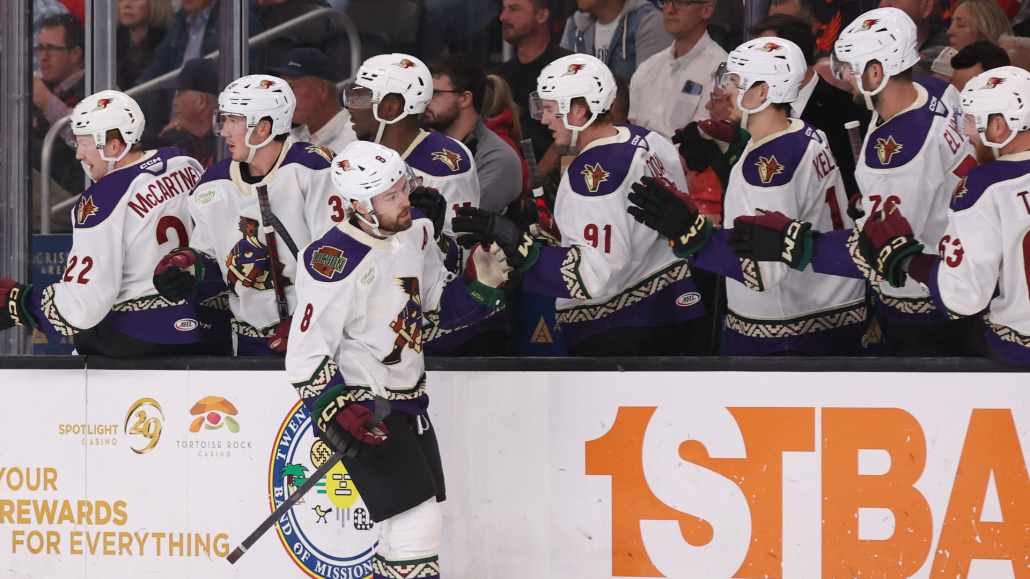 Q: Was there anybody in particular this season that stood out as having a really strong year?
A: There were so many moving parts this year, I thought a lot of guys did a good job. I thought [Nathan Smith] did a good job of coming in to a different role. Cam Crotty played a shutdown role for us on the back end, he was steady and brought a lot of leadership. [Adam Cracknell] had a career year in year 17, which is almost unheard of. J.S. Dea brought everything that was expected of him with a 50-point season. I could go on and on, but it was from the oldest guy down to one of the younger guys on the team. I'm really proud of the group.
Q: Did you know Adam Cracknell before he came here to the desert? There's a lot of similarities with him having a family and the veteran leadership that he provides.
A: I met Adam when I was traded to the Toronto Marlies [in 2018-19], but he actually got traded about a week later. He tried to get me to rent his place, but it was a little too expensive for me. It was great having him [in Tucson], he was somebody I could lean on and we played together a lot. He kept me focused through it all, and I hope I can play with him again next year. He's a great person overall with a great family.
Q: That 2018-2019 Toronto Marlies team also featured current Roadrunners forwards Hudson Elynuik and Ryan McGregor at points during the season along with Chris Mueller, who you passed for Tucson's single-season scoring record. How much of your time there overlapped?
A: It's funny how it works out, I saw [Ryan McGregor] a bit when I was there, and Hudson Elynuik was in Newfoundland but would get called up quite a bit. Chris Mueller is a good buddy of mine, we were linemates in Toronto and played together a lot. It was fun beating him *laughs* but I haven't talked to him about it yet.
Q: What have you learned from Head Coach Steve Potvin and the entire Coaching Staff during your time with the organization?
A: [Steve Potvin] is the most patient human being ever. He's willing to work with you no matter what it is or what you're going through. I can't say enough good things about him and [Assistant Coach John Slaney], those two have been so good to me and my family since I've gotten here. They're world-class people.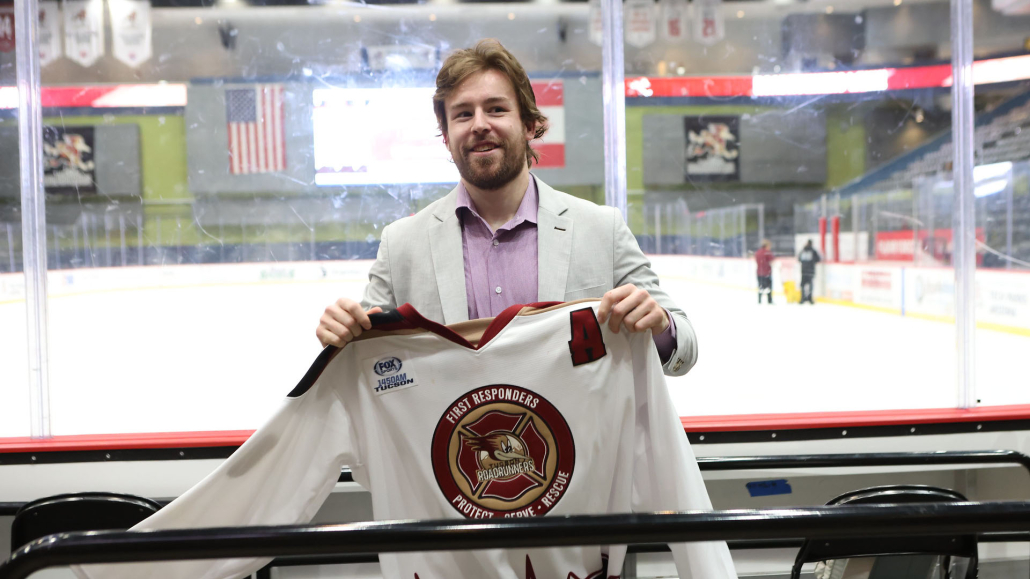 Q: From a game planning standpoint, how valuable were our coaches?
A: You don't know how many nights I've seen these guys go to bed at three or four a.m. and be right back up at six in the morning looking at video again before being at the rink all day. Going into every game, there was a trust there that they've been watching video of both us and the other team. That goes into how we're going to be better and how we're going to play against that team and be successful. There's a lot behind the scenes that doesn't get seen, and there's a reason they've been here for so long: it's because everyone in the organization knows that they put the work in. And [Assistant Coach] Zack Stortini fits right in, he puts the work in and he wants what's best for the guys. He's a great human being, and he fits our mold perfectly. I would have never guessed that playing against him, I remember him yelling at me on the ice for no reason. He was terrifying [on the ice], but he's honestly the complete opposite off the ice. Every day he showed up in a good mood, and he was great to work with.
Q: Your five fights this year were just as beautiful as your 31 goals. What goes into that decision to drop the gloves?
A: It depends on the situation, like the time of the game or what we need. Especially with our identity and our team, we had the most penalty minutes in the league, we're a team that thrives off of that. I know the guys would do it for me, so I just want to show them that I'll do it for them too. My biggest thing was showing the guys that I can do it too, and that I'd go through a wall for them.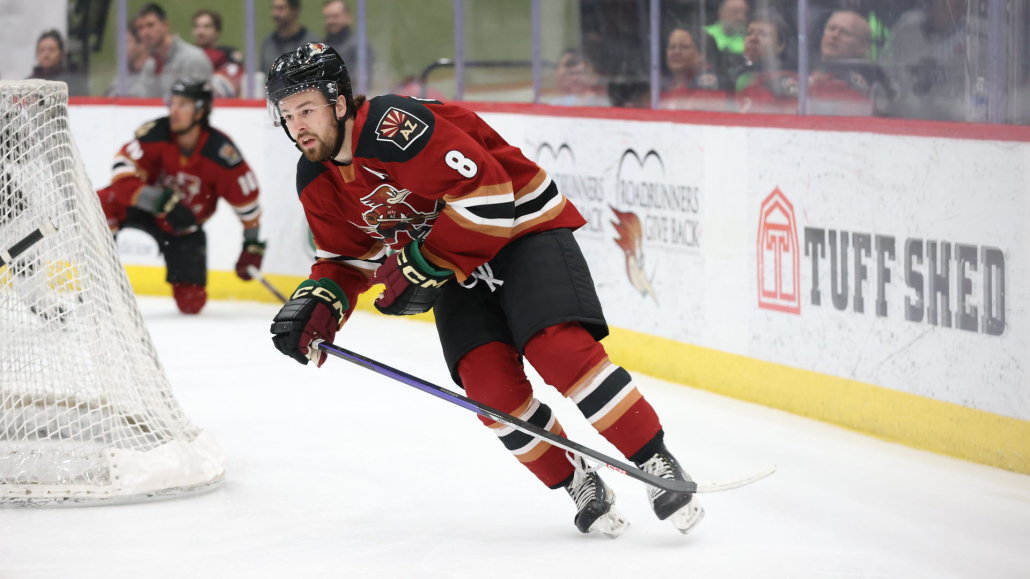 Q: When did the possibility of leading the AHL in scoring occur to you?
A: I don't think any of us really expected it, but as the season kept going I kept tracking myself and others. It came down to the last couple of weeks, and the guys in the room deserve credit too. They were doing everything they could in the last month to get me the points I needed, and that was when we needed wins. It was pretty unbelieveable for me, but I just kept playing and it happened.
Q: What do your two sons think when they see you out there on the ice at the Tucson Arena, and how have they started to get involved with hockey?
A: They love the game and they love being around the rink. I know that if I score or if I fight, they'll ask me about it as soon as we get in the truck after the game. As far as their development, they took the training wheels off of their skates this year. They're skating by themselves, getting up by themselves, Eli's shooting pucks. There's been a lot of progress and stuff to be proud of for them, hopefully we can keep it going.
//www.tucsonroadrunners.com/wp-content/uploads/2023/05/495-1on1-5.3.jpg
400
495
Jimmy Peebles
/wp-content/uploads/2019/06/web-header-logo.png
Jimmy Peebles
2023-05-03 14:04:17
2023-05-03 14:04:19
1-On-1 With Mike Carcone