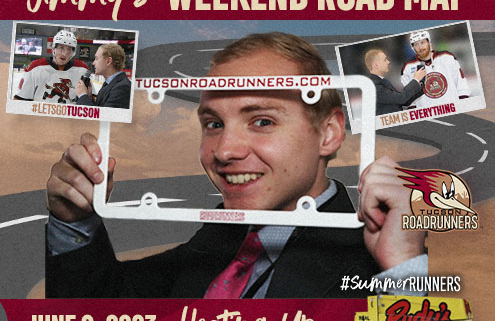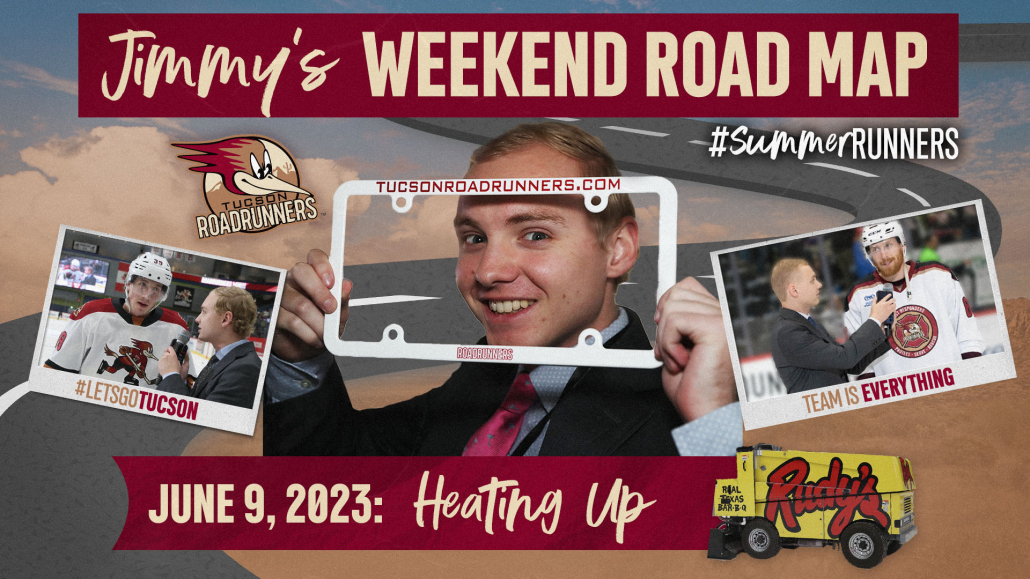 We've made it to another Weekend Road Map after the first full week of June! Whether you were browsing TucsonRoadrunners.com, you saw us post on social media, or I found you on the street and made you look this up, thanks for stopping by. It's been a fun week for hockey with the NHL's Stanley Cup Final in full swing and the AHL's Calder Cup Finals getting underway Thursday night. Also, happy birthday Barrett Hayton! Not only do we share an employer (technically), we share the same birth year. I guess I can't say you're getting old, also because you're still the 11th-youngest player to ever suit up for the Tucson Roadrunners (three days younger than JJ Moser, too).
Stay Tuned For June…
Keep an eye on our website (oh look, you're already here!) and our social media platforms for some exciting events going on in Tucson later this month. We're still DRAFTing up some of the releases and social media posts, but we're really looking forward to sharing them with you (especially in the form of not-so-subtle hints).

In the meantime, check out our new dedicated #SummerRunners page on our website at TucsonRoadrunners.com/Summer to stay up to date with any of our fun features you may have missed. Which one is your favorite? I have to go with our Wednesday "Who Did It Best?" Highlights, especially with this week's looking back at our four-goal comeback to clinch a playoff berth on April 8.
RRTV Guide
This week on RRTV, we played a clip from our latest podcast episode featuring a highly anticipated guest and gave a shoutout to a new community partner (more on both later). We were also lucky enough to see "Voice of the Roadrunners" Adrian Denny sitting on Dusty's bike, but not riding it anywhere on account of not being able to find a helmet (We're also not sure if Dusty had to go on any big adventure to get the bike back from Adrian).
A Top-Tier Podcast
This week's Insider Podcast featured our first non-player guest of the offseason: Roadrunners General Manager and Arizona Coyotes Assistant General Manager John Ferguson. John gave his perspective on the strides the organization and the players took this season, both at the AHL and NHL levels. You can listen to the episode below, and find all of our episodes at TucsonRoadrunners.com/Podcast or by looking us up on the iHeartRadio app. For what it's worth, I think our episode with Travis Barron last week was one of our best yet (and I've been on it since February 2021). The 1-On-1 with John at TucsonRoadrunners.com/ThisWeek has all of the hard-hitting questions, while the "fun" questions are reserved for the podcast. Tune in next week when we're joined by the Captain of the Tucson Roadrunners, Adam Cracknell.
Listen to "General Manager John Ferguson Joins The Show" on Spreaker.
In Case You Missed The Coach
Thursday morning saw Roadrunners Head Coach Steve Potvin join Justin Spears on ESPN Tucson's Spears & Ali. Steve talked about watching Vegas Golden Knights goaltender Adin Hill in the Stanley Cup Playoffs after coaching him in Tucson for the first five seasons of the Roadrunners. You can listen to the full episode below, with Steve appearing around the 35-minute mark in the show after some other relevant Tucson sports talk.
Friday Quick Fact
This week's Wednesday highlights were from one of the most memorable games in recent Roadrunners history, the four-goal comeback on April 8, 2023 to clinch a Calder Cup Playoff Berth. Trailing 4-0 with 21:19 remaining in regulation (though that part's not important), Tucson scored four unanswered goals to even the score with just 2:04 still to play. Colin Theisen and Josh Doan kicked it off with power-play goals on both sides of the second intermission, before J.S. Dea and Cam Hebig lit the lamp just 37 seconds apart to force overtime. After a San Jose Barracuda loss earlier in the evening, all the Roadrunners needed was a single standings point to punch their ticket to the playoffs. Texas ended up scoring the game-winning goal with 18 seconds left in overtime, resulting in what several players called their "best loss ever."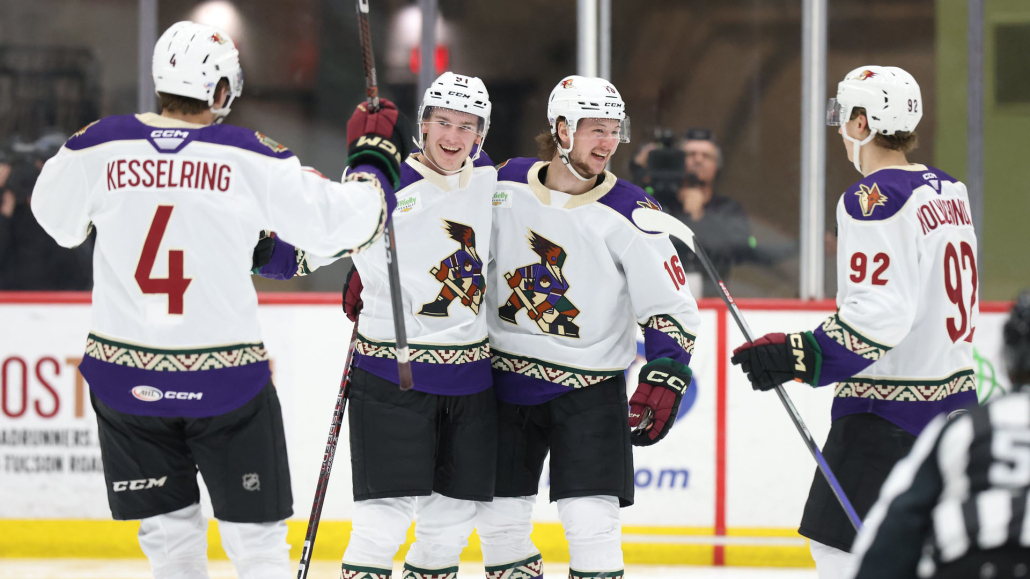 This Week's For Tucson
Instead of a Food Picture this week, I'll instead show you a Food Project, The Tucson Family Food Project. We released an article earlier this week about the Roadrunners supporting TTFFP that you can check out here, or you can go straight to TucsonRoadrunners.com/TTFFP to donate as a Roadrunners fan. We're also excited to collaborate with them in the future (with Dusty sure to get involved).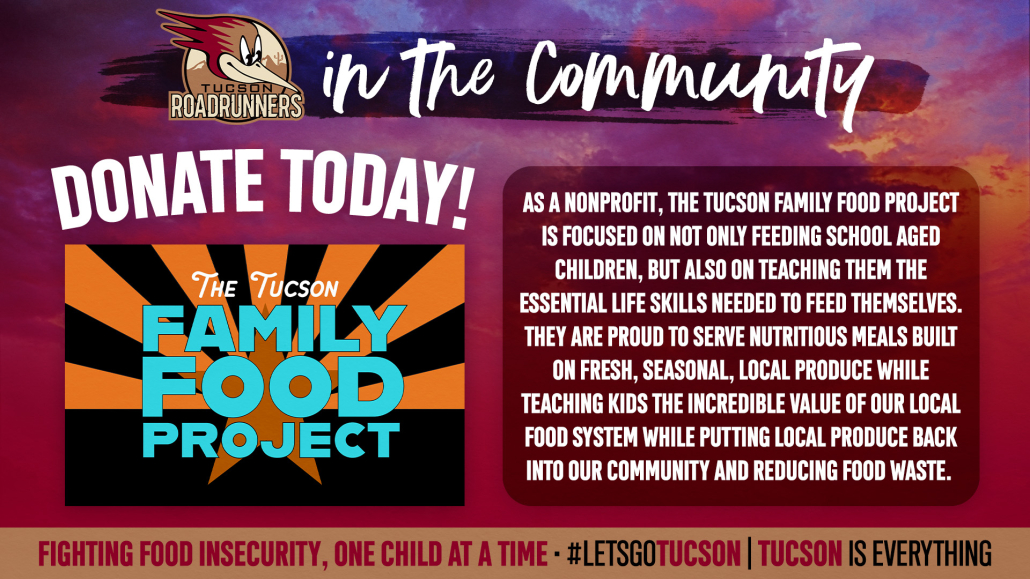 And with that, thanks for sticking around for another Weekend Road Map! Questions, comments and feedback are always welcome by email at Jimmy.Peebles@TucsonRoadrunners.com and I'm constantly checking my follower count on Twitter at @JimmyPeeblesAZ. Have a great weekend, and I'll talk to you next week! #LetsGoTucson
//www.tucsonroadrunners.com/wp-content/uploads/2023/06/6.9-weekendroadmap_495x400.jpg
400
495
Jimmy Peebles
/wp-content/uploads/2019/06/web-header-logo.png
Jimmy Peebles
2023-06-09 06:59:00
2023-06-08 14:54:47
Jimmy's Weekend Road Map: Heating Up