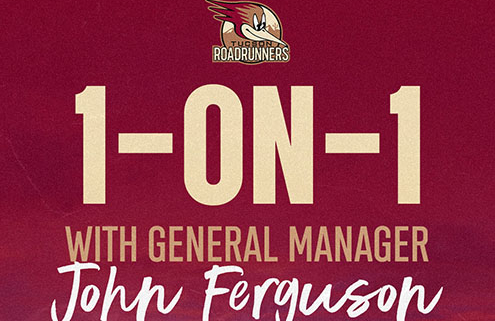 Tucson Roadrunners General Manager and Arizona Coyotes Assistant General Manager John Ferguson joined "Voice of the Roadrunners" Adrian Denny and TucsonRoadrunners.com's Jimmy Peebles on the Roadrunners Insider Podcast on Monday, June 5 for a Summer Update following the 2022-23 season. The full episode, including John Ferguson's favorite Tucson activities, can be found on the iHeartRadio App or by listening below.
Listen to "General Manager John Ferguson Joins The Show" on Spreaker.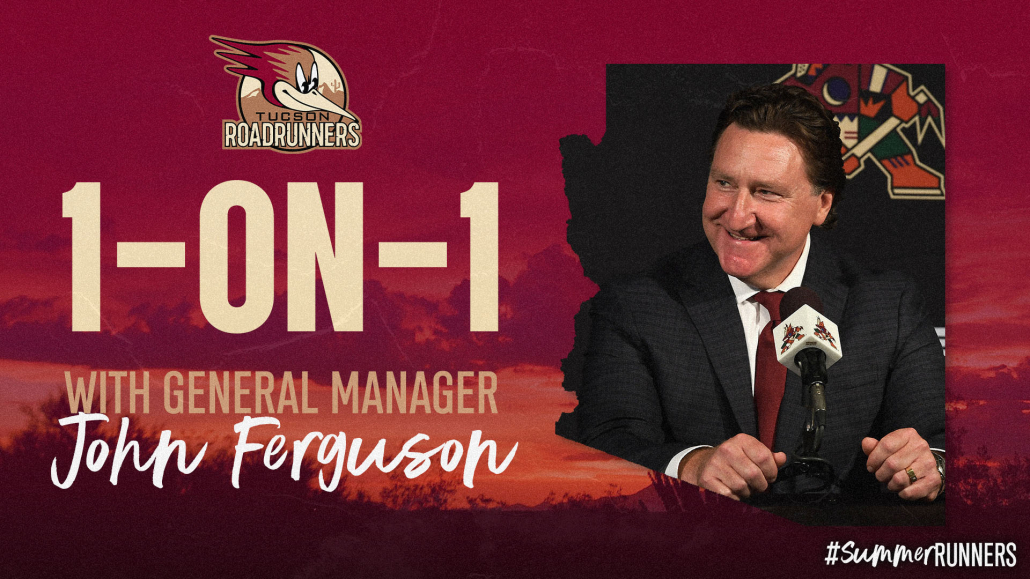 Q: John, welcome back to the podcast. You just returned from the IIHF World Championships where it seemed like we had a member of the Coyotes organization in just about every game.
A: We were very well-represented. Give the guys credit, they continue to wear the 'Yote with pride on their various national teams. Whether it was Mike Carcone, Lawson Crouse and Jack McBain with Hockey Canada, Patrik Nemeth was with Sweden, Milos Kelemen with Slovakia, JJ Moser with Switzerland, so many others. On top of that, the guys played very well.
Q: We say during the season you're in a different place almost every night. Now that we're in the offseason, what's your day-to-day routine?
A: It does vary day-to-day for sure. We got together at the Grand Sierra Resort in Reno for our organizational meetings last week. Most of the hockey is done and in the bank [for 2022-23], but our staff is doing their due diligence refining and preparing presentations for our meetings. That goes across the board between our pro guys and our amateur guys, and we've got everything on our plate as we prepare for the offseason, for free agency, and for restricted free agents. There's a lot on our plate, but we wouldn't have it any other way.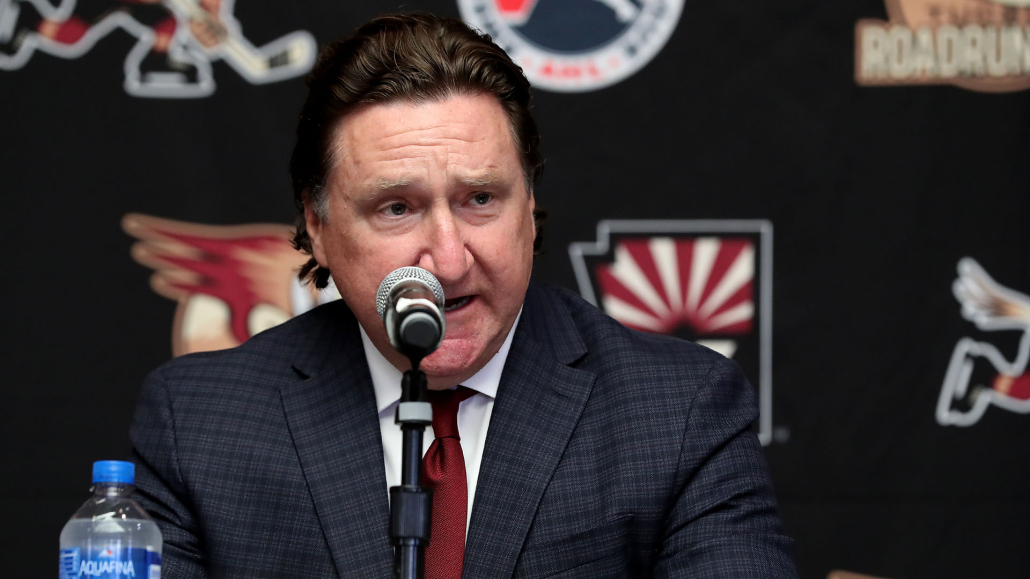 Q: What did you see from this Roadrunners team that completed comeback after comeback in 2022-23 to make it back to the Calder Cup Playoffs?
A: I think the perseverance and the ability to stay in the fight showed up, and it showed up over an extended period. We also showed up and gave Coachella Valley a good fight in the first round. It was a short series, but we pushed it to the third game and we were playing meaningful hockey from January on. Give our guys credit, we had a lot of guys coming through and we used everybody. We were proud of that, proud of the effort, and proud of the production. At the end of the day, we're never satisfied by just making the playoffs, but we were impressed that everyone stayed in it and pushed until the end.
Q: Every organization is at a different stage, we are very young, and took a lot of prospects to the playoffs for the first time. Meanwhile, Coachella Valley was a very experienced AHL team, yet we played them just as well as anybody has.
A: Every game matters and every practice matters as you develop players. At the end of the day, our business is to develop NHL players for the Arizona Coyotes in a competitive environment. We think we've done that and we'll continue to do that, but it's nice to have those results and have the players feel good about their games. It was great to have more games for a player like Josh Doan, who came [to Tucson] near the end and jumped right in. As I like to say, he grabbed an oar and started paddling, and he stayed right with us into the playoffs. Those extra games were so valuable for him, and that was just one player.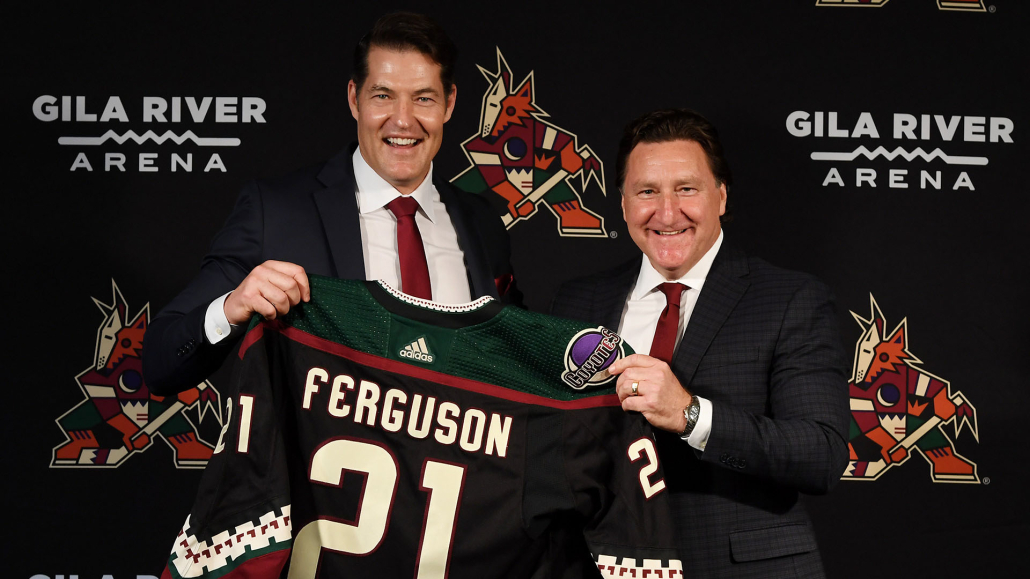 Q: The most common thing we've talked about with this team is the heart and soul that was on display every night. You and the staff have done such a great job of assembling a team that has that heart and desire, mixed with coaches like we have that can develop them and get them to the next level.
A: We assess our day-to-day operations, and we want to get results on a daily basis. Our players' horizon is daily, weekly, monthly, sometimes yearly. As an organization, our horizon is much further out. Our challenge to our coaches, our development staff and to our players is find a way to get better every day. It's easy to say, but our guys do it, and they enjoy doing it. That's why they can attack every day and feel better at the end of the day.
Q: We had so many great leaders on our team this year, from veterans like Adam Cracknell and Steven Kampfer to players that have been with us for multiple seasons like Mike Carcone, Cam Crotty and Ben McCartney.
A: It really is critical in many ways to have the right people. Character people, experienced veterans that can show the rest of the guys the right way and support the coaches in what they're implementing. It can't always be the coaches' voices, it's important that the players can police themselves a little bit. We have a number of good leaders and we rely on them.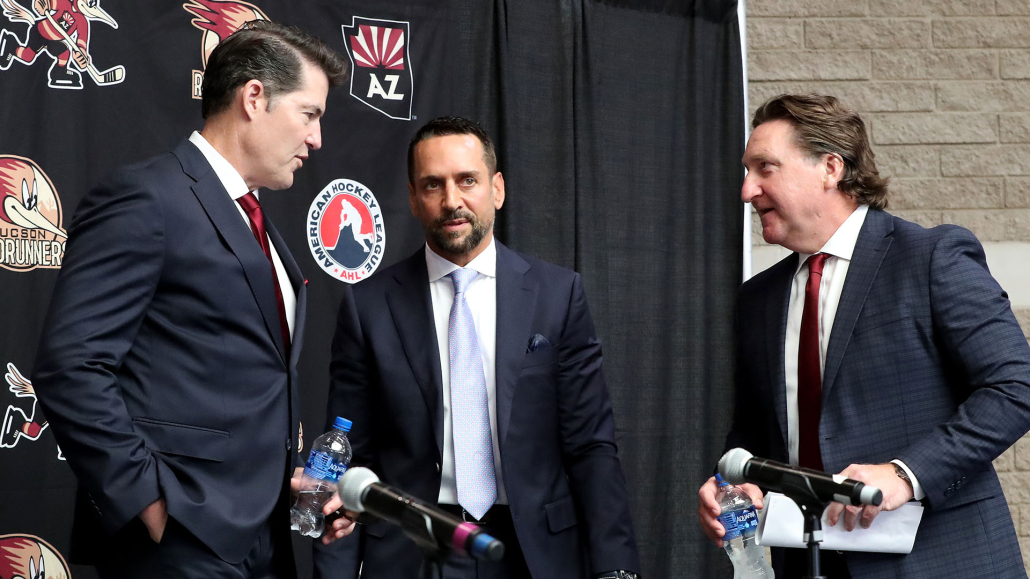 Q: Along with our leaders, we also had a lot of Olympians on our roster this year. Was there a parallel between those players and what you were looking to add this past offseason?
A: Those are National Team players, and it just happened to be the Olympics. That's probably as prestigious as an event besides the Stanley Cup Playoffs that you can have in the world. That level of experience, and having success at that level, can move their career forward. Those guys go over there, and so many of them have positive experiences. It's not just what it means for them at that moment, but they derive those experiences that they can rely on when the going gets tough at the next level. There's always going to be adversity, but it feels so much better as a pro when you get through it positively.
Q: Every year when we have players go up to the Coyotes, they are ready to play and ready to contribute.
A: It's exciting for everybody, and it's really a necessity. (Coyotes Head Coach) André Tourigny, (Coyotes General Manager) Bill Armstrong and our staff need to be able to rely on these guys, know them and grow them as they say. They're training every day, they're learning every day so that it can become a seamless transition. We want to make sure that when they get [to the Coyotes], they stay there. Everybody takes pride in guys not only earning that opportunity, but making the most of it.
Q: You mentioned Josh Doan making that jump from Arizona State University to the Tucson Roadrunners. What was it like making that happen?
A: I thought Josh made a tremendous decision for himself, and then he jumped in and made the most of his time. I impressed upon him in our exit interview to make sure his offseason is professional now that he's a pro, and I have no doubt that he's going to get it done. He'll be at Development Camp in a few months, and it'll be a good opportunity mid-summer to get an assessment of where he's at. I'm excited to see what he'll have done over the summer, and the work put in will be evident.
Q: What was it like watching a game at the Tucson Arena this year?
A: It was a lot of fun, we get tremendous fan support and we have a lot to be proud of. It's a great entertainment vehicle for families, and it's a lot of fun for everybody, including myself. It's a great place to watch a game.
//www.tucsonroadrunners.com/wp-content/uploads/2023/06/495-1on1-6.7.jpg
400
495
Jimmy Peebles
/wp-content/uploads/2019/06/web-header-logo.png
Jimmy Peebles
2023-06-07 15:27:06
2023-08-30 15:35:03
1-On-1 With John Ferguson